30 Minute Italian Meatballs and Vegetable Soup
This super comforting soup is loaded with plump Italian meatballs and hearty vegetables.  Made in only 30 minutes but thanks to my little secret it tastes like it has been cooking all day!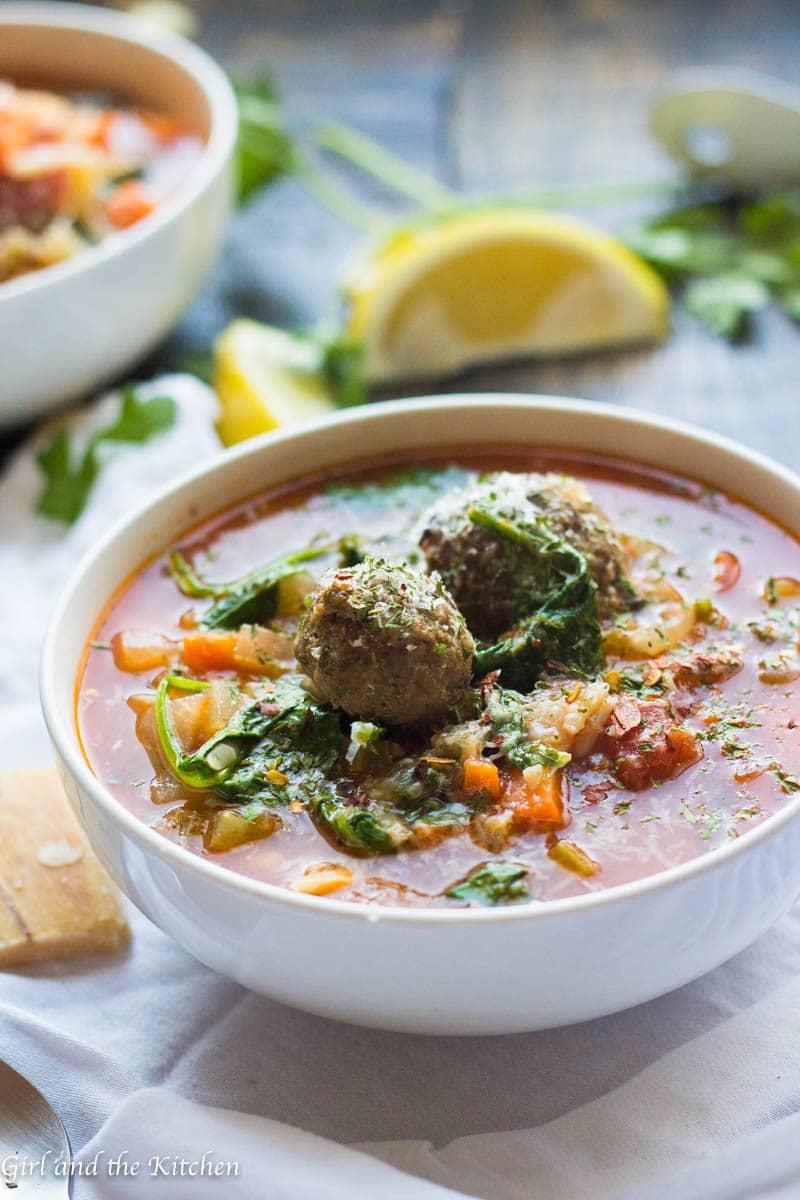 [wprm-recipe-jump]
I have recently made a major change in my life, I had an exciting new opportunity land in my lap and I took it.  I am proud to say ladies and gentlemen that I am now a stay at home blogger!  I have wanted this for so long and finally I have snatched up the opportunity to cook, write and develop new recipes every, single, day!  How awesome is that!
One of the highlights of of being a full time blogger is that…if my munchkin feels sick I GET TO STAY AT HOME WITH HER!!!  I know I sound ridiculously excited but my whole life I always dreamed of having the freedom of staying home if my kids got sick.  And working at any job no matter how incredible it is I always panicked if I had to take a day off.  So she usually went to my in-laws house, which is great because they take amazing care of her and I never have to worry.  But, I still want to be there to hold my little munchkin when she is feverish and make her feel all better.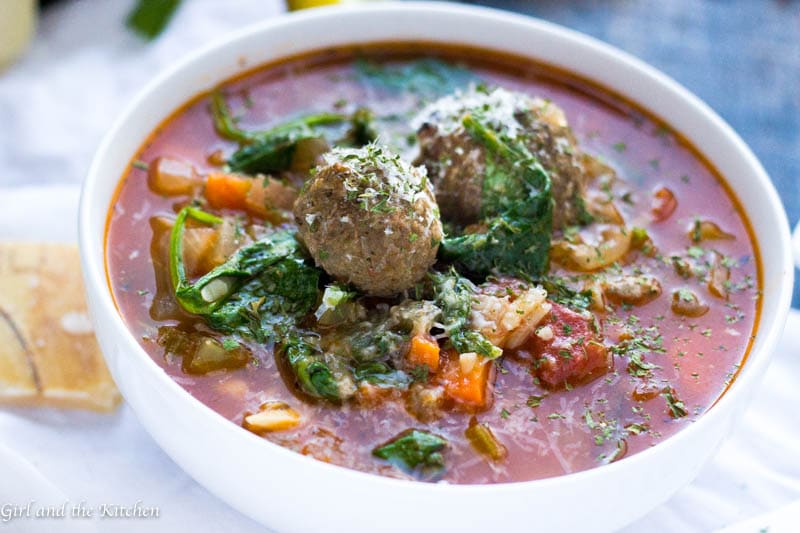 I got this opportunity way too many times in the past month sadly.  Munchkin and I both traded off being sick for nearly 3 weeks. Thankfully never at the same time so I got the chance to take care of her.  And for my munchkin there is absolutely nothing better than soup.  She craves it…fortunately even when she is sick.  And thus this beautiful soup was born.
This Italian meatballs soup was created out of necessity.  I had ground beef that needed to be used up and almost nothing else except some vegetables.  It was a Monday.  And I do grocery shopping on Mondays.  But with the munchkin sick I did not get a chance to go grocery shopping obviously so I was working with minimal supplies.
But I had very, very important supplies.  One of which are Parmesan rinds.  And those are VERY special.  They are so special that they happen to be in many of my soups, one of which is my very popular Healthy Italian Wedding Soup.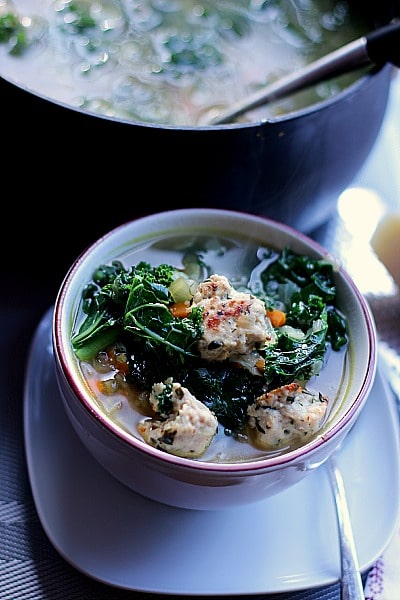 THE TECHNIQUE
 The Parmesan Rinds: This is a classic technique I learned from one of my Italian chefs back in culinary school.  The Parmesan rind adds in a salty background to the soup without overpowering it.  It makes it super savory and adds a very unique flavor that melts into all the other flavors of the soup.  This is one of the best ways to add in flavor into a sauce or a soup when your fridge seems to be running on empty.  Plus it is a great way to infuse massive flavor when you are low on time.
The Meatballs: The recipe used for the meatballs is a classic recipe that has tons of Parmesan and parsley in it.  In this case, I had ground beef in the fridge, but really this can be done with ground turkey or chicken.  In an effort to speed up the cooking process of the soup, I bake the meatballs until they are partially done while the soup is cooking with the other vegetables.  By partially cooking the meatballs they end up cooking all the way through in the soup which thereby flavors the soup even more!  Less time does NOT equal less flavor.  Trust me on this.
Sweating the Vegetables:  I start to sweat the vegetables out in the beginning to extract as much flavor as possible in a short amount of time.  This also speeds up the cooking process a bit so that the soup comes together in 30 minutes.
So, off I went to create a a healthy and filling soup for my little munchkin's sniffling, aching body.  She sat on the couch watching Moana for the 19th time, trying to quietly sing along despite not knowing any of the real words.  When the soup was ready and I called her over to eat she finally seemed to have a little excitement.   
She gobbled down the meatballs and sipped the broth and then…asked for seconds.  I watched her eat a second bowl of soup and quietly patted myself on the back.  I may be a disaster when it came to laundry but I could make my baby a mean soup and make her smile even during a nasty fever.
This whole stay at home mom thing…it just may workout as well as I had imagined.  And that is a beautiful thing.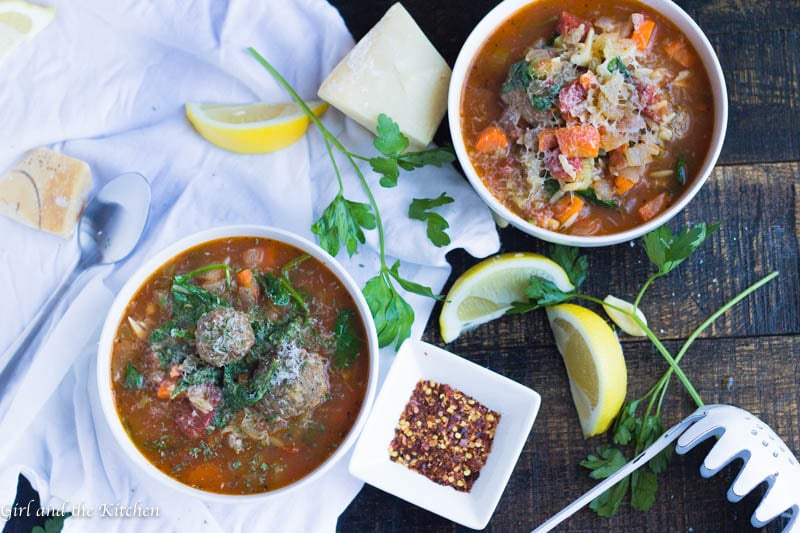 Print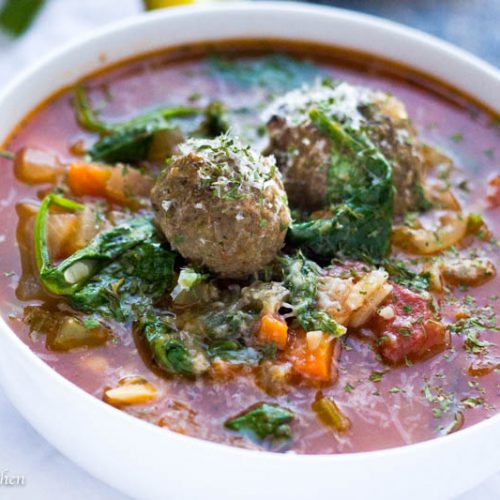 30 Minute Italian Meatballs and Vegetable Soup
---
Author:

Total Time:

35 minutes

Yield:

6

1

x
Description
This super comforting soup is loaded with plump Italian meatballs and hearty vegetables. Made in only 30 minutes but thanks to my little secret it tastes like it has been cooking all day!
---
For the Meatballs
1.5

pounds ground beef

½ cup

freshly grated Parmesan

¼ cup

milk (2%, whole, skim, all is fine)

3 tablespoons

freshly parsley (finely chopped)
salt and pepper to taste
For the Soup
1

large onion (diced)

1

large carrot (diced)

2

small stalks of celery (diced)

4

cloves of garlic (minced on a microplane)

1

can of diced tomatoes with basil

2

handfulls roughly chopped spinach

8 cups

of home made or store bought chicken stock

1

rind from Parmesan cheese

¼ cup

orzo or any other small pasta
olive oil
salt and pepper
juice of

half a

lemon
Parmesan cheese as much as desired
red pepper flakes
---
Instructions
Turn on your oven and heat up to 450-degrees.
Pour the olive oil into a large pot (6 quart will do).
Heat up your pot to medium heat.
Add the onions, carrots and celery to your pot with the olive oil and cover with a lid, you want them to sweat. You do not want any color on them. About 5 minutes.
Meanwhile combine ground beef, Parmesan cheese, parsley, milk, salt and pepper in a bowl. Combine mixture with your hands until just mixed, do not over mix or you will end up having dense meatballs.
Prepare a sheet pan by spraying it with pan spray and THEN putting parchment on top. Create a huge "X" on the sheet from one corner to the next. This is a great trick to get your paper to stick onto the sheet pan.
Use a tablespoon, melon baller, or small ice cream scoop to shape the meatballs. Do not make them too smooth, the rigid edges will allow for better browning in the oven.
Place meatballs into the oven and let cook for 10 minutes.
Back to the soup. Open the lid and add in the garlic, tomatoes, chicken broth and Parmesan rind. Allow to simmer.
Once the meatballs are done add them into the soup and let cook for another 15-20 minutes on a nice simmer.
Add in orzo and stir to combine. Let simmer until orzo is al dente.
In the meantime, cut up the spinach roughly and rinse it.
Find that melty Parmesan rind and remove it.
Adjust for seasoning and finish it off with a squirt or two of lemon. I always feel that it adds a pop of freshness. And of course shred in some Parmesan as a nice topping
Notes
The nutritional information should be used for informational purposes only.
Prep Time:

5 minutes

Cook Time:

30 minutes

Category:

Soup

Cuisine:

Italian