Thanksgiving/Christmas Dinner Plan Extravaganza
This is it! Here is your Thanksgiving and Christmas Dinner plan! One glorious turkey, 8 incredible side dishes and even an incredible no bake dessert! With my genius plan you will spend less time in the kitchen and more time out with your guests! Happy holidays everyone!
My Christmas music has been playing all week…because its after Halloween and I am a holiday JUNKIE!
No matter how much I love summer, THE holidays are my favorite part of the year! There is something magical in the air. Perhaps it's the Christmas music, or the holiday decorations or the smiling faces…whatever it is, this time of the year begs for family togetherness, despite the craziness and the quarrels…I put it all behind me for the holidays.
Thanksgiving for me has and always will be a holiday that the families get together and act like the crazy people that we are…free in all our crazed glory.
I will admit though, my first few Thanksgivings I spent more time in the kitchen and less time at the table enjoying my guests.
But over the past few years I have figured out a way to make almost everything ahead of time leaving just the few crucial dishes to be made at the last minute. Allowing me to drink and gab with all the guests and never miss an inside joke…because that would be the absolute worst.
So without further chat I give you my meal plan!
The Plan
3 Days-3 Weeks Before Dinner:

Make the Cranberry Sauce! It can stand in your fridge for 3 weeks…if no one eats it by then that is 🙂
2 Days Before the Dinner:
1 Day Before the Dinner :

Make the Creamy Dreamy Mashed Potatoes. (Check out the tutorial for how to make them ahead of time in the link!)
Make the Vegan Creamy Mashed Sweet Potatoes . (Just warm them up in the microwave or over a pot of steaming water the day of the event, add some warm coconut milk the day of the event and voila!
Make the No Bake Nutella Tart
Roast off the Turkey and Potatoes. Let rest, carve and place on a foil pan to await the next day!
Lay out your silverware, flatware, glassware, tablecloths, napkins and platters for the next day so you have everything you need to set the table with.

THE Day of the DINNER:

Run around like a chicken with your head cut off. Then realize EVERYTHING IS PRACTICALLY DONE! And breath and enjoy your morning coffee.
Make the hubs and kids (and other relatives) set the table for you.
60-90 minutes before actually sitting down for the dinner:
Put everything on the table and dine!!!!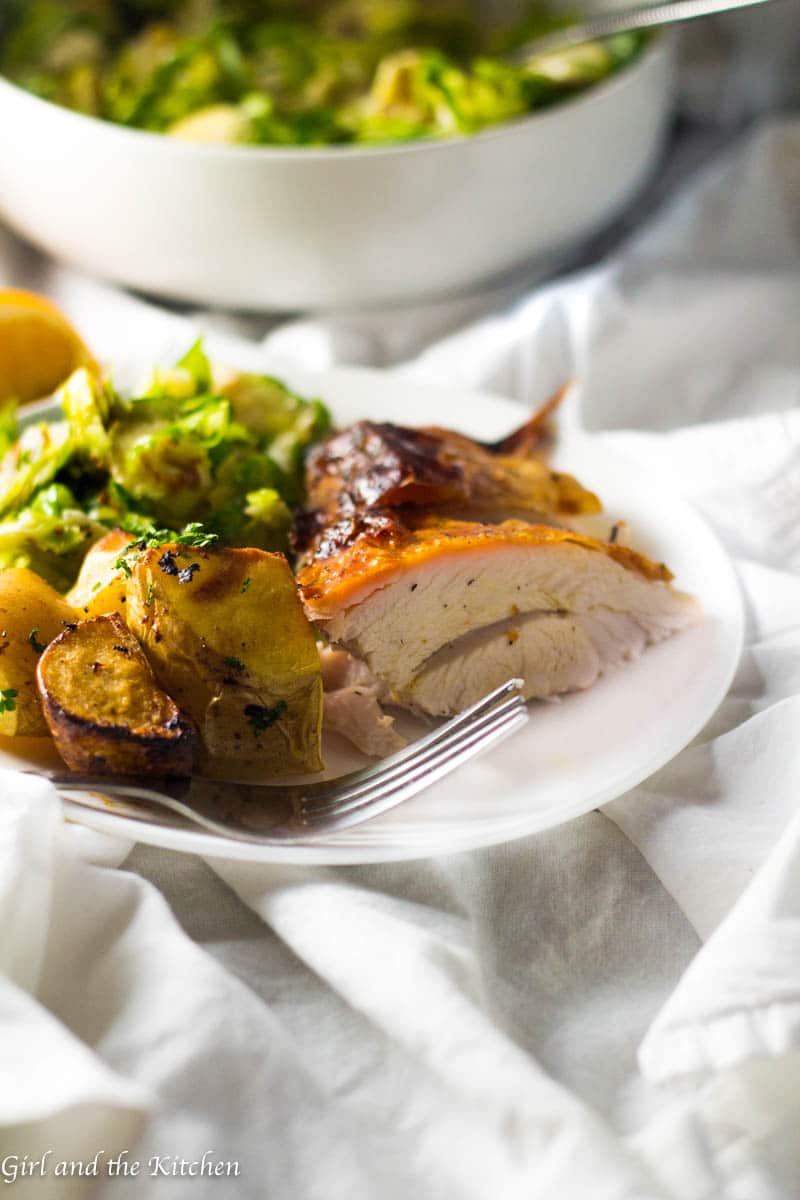 That's it everyone!!!! That's your dinner!
Cook, Laugh and Love!!!! Enjoy your dinner and your family and friends!
Happy Holidays!
Love Mila
SaveSave