Cheesy Pesto Pull Apart Bread
 This scrumptious pull apart bread full of cheesy goodness and pesto is the ideal way to use up all that fresh basil hanging around in your garden now! Plus there has never been an easier way to make day old bread taste scrumptiously delicious!
 [wprm-recipe-jump]  I admit it I love cheese…all of its gooey and cheesy gloriousness is perfection to me.  Sadly I learned that as I got older that cheese and all dairy is not my friend.  Which only means that when I do have cheese or dairy it has GOT to be worth it.  And this my dear friends SO IS!  Seriously this gorgeous cheesy pesto pull apart bread has made all the tummy aches worth it.
I just came back from my last slew of BBQ's and I just so happened to bring this colorful loaf to my cousin's house for everyone to enjoy.  Initially, they all looked at the loaf unimpressed, laughed and said, "Haha look at you finding a way to use crusty old bread."  Smirk, smirk.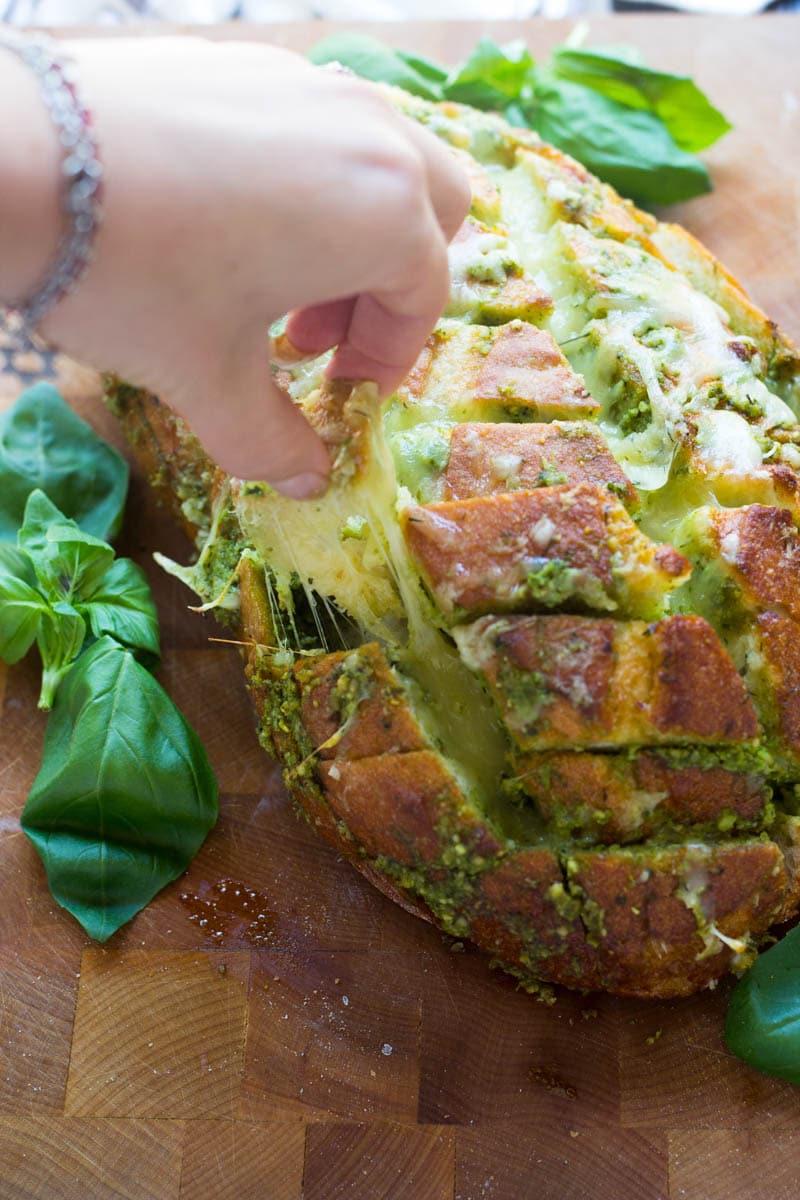 Actually little did they know, I needed to use up the plethora of basil I had growing in my garden that hubs had planted for me last week and I figured a pesto would be perfect.  However, I ended up with too much pesto and needed to figure out a plan for how to get some of this pesto into my meals.  After making chicken pesto paninis for this weeks' lunches, scrambled "green" eggs breakfast sammies and freezing a few containers, I realized I had about 1 cup still left over with no plans.
So I started thinking about the recipe I really wanted to make…pull apart bread.  In all seriousness I have been DYING to make this ever since I first saw it on Pinterest.  However, every time I mentioned that I wanted to make it for a game party or for a casual get together, everyone jumped at me begging me not to do so because of how caloric it was.  Well I am definitely a believer of the cheat meal…and frankly I had some pesto to use up.  So I slathered the pesto on the bread and decided not to tell my friends about my plans of our appetizer for the night.
Let me tell you…I had a BLAST making it!  In fact, my munchkin and I both made it.  I slathered on the pesto and she helped with the cheese stuffing and butter slathering portion.  She was also a huge fan of the eating portion, HUGE fan.  She was so proud of her 3.5 year old self that she made me dial her grandparents so she could show them what she made 🙂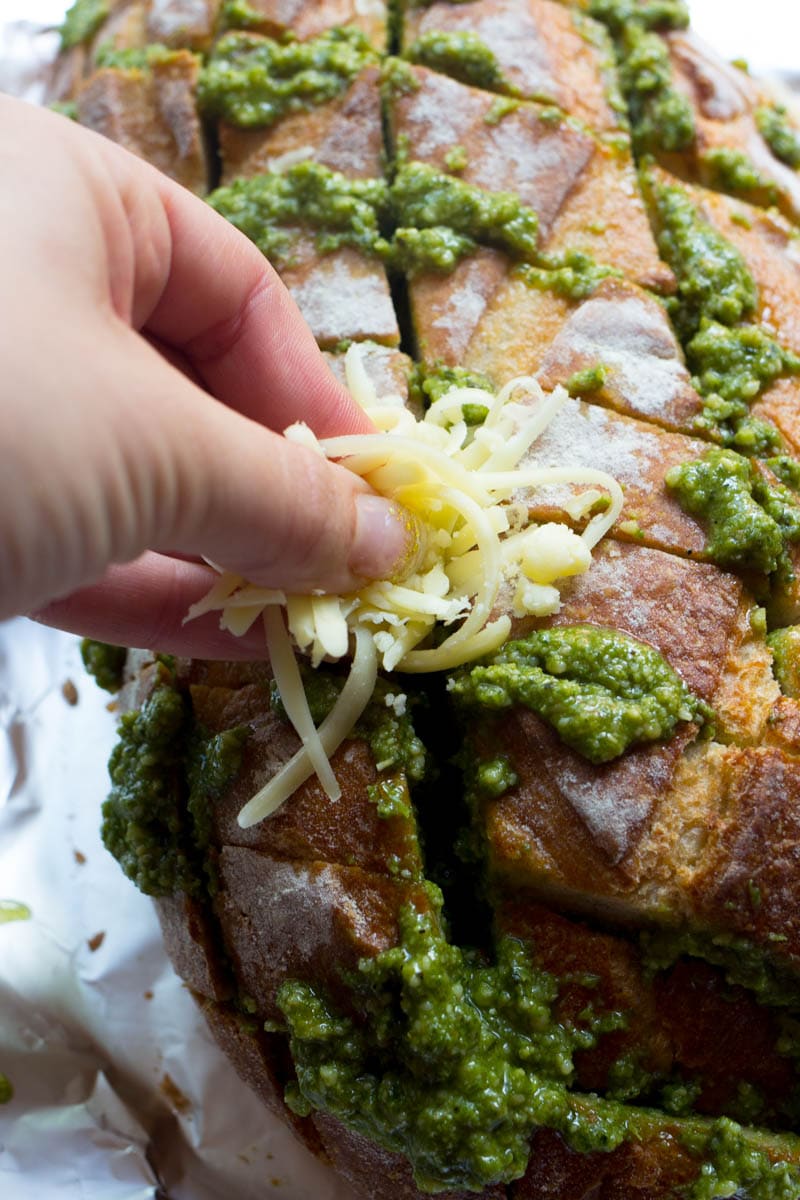 Cheese
Speaking of cheese!  DO NOT buy the shredded one of this.  Shred it yourself!  Why?  Because the pre shredded ones have preservatives in there to prevent the cheese from clumping and molding and those preservatives sometimes can effect the meltability of the cheese.  Plus if you have a shredding attachment to your food processor (which I thankfully do) it literally takes 60 seconds to shred the entire block of cheese that you plan on using for this cheesy pesto pull apart bread.
When I had warmed up the bread in the oven and served it to my friends at the BBQ, they all just stared at it for a bit.  Then one by one they all tasted it.  And as we sipped on fresh lemonades and played a fun round of "Catch Phrase" I noticed hands start going in for the cheese goodness, one by one by one.  Until all that remained were crumbs and left over melted cheese.
Not that bad of a day for leftover pesto and 3 day old crusty bread huh?
Print
Cheesy Pesto Pull Apart Bread
---
Author:

Total Time:

35 minutes

Yield:

6

servings

1

x
Description
This scrumptious pull apart bread full of cheesy goodness and pesto is the ideal way to use up all that fresh basil hanging around in your garden now! Plus there has never been an easier way to make day old bread taste scrumptiously delicious!
---
1

loaf of crusty bread such as French (Italian, Sourdough or even Ciabatta)

1 cup

homemade or store-bought pesto

1

stick of unsalted butter

3

cloves garlic (minced)

8 ounces

Mozzarella (shredded)

1

small tomato (diced for garnish)
---
Instructions
Preheat oven to 350-degrees F.
Combine garlic and butter in a microwave safe bowl and melt in microwave in 30 second increments until butter is completely melted. Set aside.
Place the bread onto a sheet pan with a large enough sheet of aluminum to cover the loaf of bread halfway.
Cut the bread into 1 inch diamonds. Ensure that you do not cut all the way through the bread to the bottom. It should still be attached at the bottom.
Use a knife or a spoon to label in a little bit of pesto in each slit. I found it was the easiest to just follow the lines with my spoon.
Next, open up each slit and place the mozzarella cheese into each, ensuring all the slits are full and all the cheese is gone.
Next use a pastry brush to brush the top of the loaf with the garlic butter.
Use another piece of aluminum to cover the top exposed area of the bread. Close up tightly and bake for 20 minutes.
After the initial 20 minutes is done, remove the top part of the foil and continue baking the bread until it golden ad crispy on the top. This will take about 5-7 minutes.
Remove from the oven, garnish with diced tomatoes and serve immediately.
Notes
Nutritional facts just for information and guidance purposes.
Prep Time:

10 minutes

Cook Time:

25 minutes

Category:

Appetiser, Vegan/Vegetarian

Cuisine:

American
[wprm-nutrition-label]
Pin For Later