Avgolemono Soup…Greek Chicken Soup with Lemon
Avgolemono soup is the classic Greek chicken penicillin.  It is a heavenly, velvety soup with a savory chicken broth, tart lemons and egg yolks.  The combination creates a smooth and comforting soup perfect for a new twist on the classic chicken soup.
[wprm-recipe-jump]
I have a certain affinity for chicken soup.  I have re-created almost every single nationality's version of chicken soup on this site, constantly in search of the perfect chicken soup to each culture.
See there is a perfect spot right up there for my new delicious Greek chicken soup, Avgolemono.  Avgolemono literally means egg-lemon.  And that is precisely what this soup is.  A simple concoction of flavors that is comfort food and healthy food all in one.  All that lemony and chicken goodness soothes the tummy and the sniffles.
I first had this Avgolemono soup at a local Greek restaurant that I frequently grabbed salads and gyros from.  One day, I wasn't feeling all that hot and ordered their signature Greek chicken soup option.  In front of me, appeared a beautiful bowl overflowing with a smooth yellow soup that had soothing aromas emanating from it.  I inhaled the soup in a few minutes, burning my tongue and simultaneously clearing out my sniffles.  
I happened to find a recipe of this Avgolemono soup in this month's Cooks Illustrated, aka my favorite cooking magazine ever!  In there they showed the science of how to make a silky and velvety soup without ending up with a gummy overly tart paste. (yuck)
Characteristically Avgolemono is a broth thickened with egg yolks with a few tender pieces of chicken and perfectly cooked rice grains interlaced.  The end result is a silky soup with a deliciously refreshing lemony finish.  The perfect end all for colds, tummy aches and general blues.
The Technique 
Avgolemono soup has a unique texture due to two important thickening agents.  Egg yolks and rice.  There are however just a few basics of this soup that need to be done right in order to achieve soup greatness.  And while they are particular they are also ridiculously simple.
The Broth: I prefer to use a rich broth for the Avgolemono soup.  The chicken flavor will really enhance the heartiness of the soup without making it heavy.  I have made it with both homemade chicken broth and store-bought and have been quite happy with the results.  Just make sure you buy a brand you trust that is both flavorful and light on the sodium.  I have nothing against salt…but I like to control my salt in my soup thank you very much.  Also, feel free to use a nice vegetarian stock or broth of your liking if you would like to make this a vegetarian option.
The Lemons: Avgolemono soup's unique flavor profile also comes from lemons.  However, I took a hint from the fine people over at Cooks Illustrated and decided to infuse that lemony flavor into the broth itself by sweating out some lemon peels along with some onions.  The result was an extremely flavorful and deep taste that came through in all different notes.  In the end, we also finish off the soup with a hefty amount of freshly squeezed lemon juice.  I do draw the line with that bottled stuff.  It NEVER tastes right.
And while it may do in a pinch when you need some extra tartness elsewhere, it will not fly in this soup.
Rice or Orzo Pasta: Some recipes call for orzo, the rice shaped pasta, but I preferred the natural thickening agents within rice instead of the pasta starch which could make this soup gummy.  Without getting too scientific, rice produces a natural thickening agent that actually changes the way liquids bond with it.  So therefore you are changing the structure of the soup and making it thicker.  I find that going with pasta would definitely make it a bit more gummy.
Eggs: In culinary school, we learned about several different thickening agents.  One of which was egg yolks, it not only acts as a thickener but also as an emulsifier (think of it in dressings like Caesar dressing.).  I was never a fan off eggs in soup, because it took on a slightly eggier taste which was not to my liking.  Funny enough, while the yolk certainly has a stronger flavor profile, it is the egg white that carries an acid within it that makes it smell more, well, eggy.  So once again the people at Cooks Illustrated decided that instead of adding all whole eggs, they would split them and add 2 whole eggs and 2 yolks. It resulted in a velvety soup with no eggy smell.  That being said, it is quite easy to end up with scrambled eggs instead of a smooth soup if you do not treat the eggs correctly.  When eggs are added to heat they will immediately start to solidify.  In an attempt to prevent this from happening in a scrambled egg type of matter we temper our eggs.  All that means is we pour in a good amount of the hot soup into the eggs ladle by ladle which simultaneously whisking the eggs.  This brings the eggs up to temperature slowly and so they do not experience the initial shock and scramble.  Science folks.
Chicken: Now this part I believe is up to personal preference.  I have made this soup MANY times already.  And while classically it is made with torn chicken pieces, I actually liked it more without the chicken.  Whereas the hubby liked it with the chicken for the extra protein boost.  Honestly, it is entirely up to you.
Thickening the Soup: While we may have talked a great deal about thickening agents in this soup there is one very obvious thickening technique I have not yet mentioned.  I decided that in order for me to achieve the velvety texture I sought after I would need to blend a bit of the soup.  Prior to placing the eggs into the soup, I took my stick blender and whizzed it around the soup a few times to break up some of the rice grains.    This created a beautiful texture.
When I made this soup this weekend for the 20th time, I served it up with my ridiculously simple and Seriously Crispy No Knead Bread.  It was the perfect vehicle to mop up the soup at the very end.
I garnished the soup with some more fresh lemon zest and just a few sprigs of dill to Greek it up a bit more 🙂  The result was lunch perfection that the hubs, munchkin and I killed in just a few days.
Print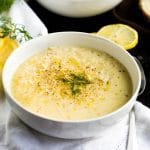 Avgolemono Soup…Greek Chicken Soup with Lemon
---
Author:

Total Time:

40 minutes

Yield:

4

people

1

x
Description
Avgolemono soup is the classic Greek chicken penicillin. It is a heavenly, velvety soup with a savory chicken broth, tart lemons and egg yolks. The combination creates a smooth and comforting soup perfect for a new twist on the classic chicken soup.
---
2 quarts

chicken stock or broth (homemade or store-bought)

1 cup

cooked chicken (optional, shredded)

1

medium onion (finely diced)

½ cup

long grain white rice

1

bay leaf

12

lemon zest strips (about

2

lemons zested)

2

large eggs

2

large egg yolks

¼ cup

lemon juice from zester lemons
sprigs of dill for garnish
salt and pepper to taste
---
Instructions
To a large pot, add 1 tbsp olive, onion and lemon strips.
Allow to sweat for 7 minutes over low-medium heat while covered. Make sure that no color develops.
Add chicken stock or broth to the pot long with the rice, bay leaf and bring to a boil over medium heat. Reduce heat to and simmer until rice is tender and stock is aromatic, about 20 minutes.
With slotted spoon, remove and discard bay leaf and lemon zest strips.
Increase heat to high and return stock to boil, then reduce heat to low.
Place stick blender into the pot and blend for a few seconds. If you do not have a stick blender, place about 2 cups of the soup into a blender and blend until smooth.
Taste and season with extra salt, pepper and lemon juice if necessary.
While whisking constantly, slowly ladle about 2 cups of hot stock or broth into egg mixture; whiskuntil combined.
Add chicken. (optional)
Pour egg-stock mixture back into pot; cook over low heat, stirring constantly, until soup is slightly thickened, about 4 to 5 minutes.
After this, do not simmer or bring to a boil as this will cause the soup to get gummy.
Serve immediately with sprigs of dill, extra lemon zest and black pepper.
Notes
1.If reheating the soup, it will get thicker. This is normal. Feel free to add a bit more chicken stock when reheating to thin out the soup a bit.
2. I really preferred the soup without chicken pieces in it. I found the soup to be more appealing in texture. However, feel free to add it in as the recipe states if you like the added protein. The chicken can also be shredded at the end as a garnish.
3. The nutritional information should be used for informational purposes only.
Prep Time:

5 minutes

Cook Time:

35 minutes

Category:

Soup

Cuisine:

Greek