This super simple Summer Corn Salad not only makes every table look festive but it is absolutely bursting with flavor! But of course the bonus is that it takes minimal effort to put together but has a huge pop of flavor!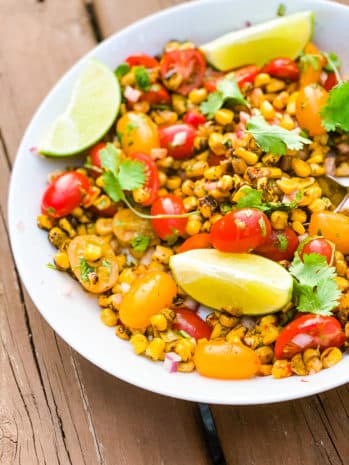 How To Make Corn Salad At Home
Summer BBQ's are literally my favorite way to get together with all my friends and family during the warm months. Of course I love grilling out all the meat for everyone and watching them devour it, but I always find myself racking my brain about which sides to bring! Well let me tell you guys, the search is OVER! This is the perfect, go-to summer salad.
We all know that summer is salad season and nothing beats this crisp, refreshing summer corn salad. I mean seriously guys I would eat this for every. single. meal if I could! It's light, super flavorful, and insanely refreshing. And the best part is it literally comes together in less than 15 minutes. I'm obsessed, my kids are obsessed, and soon you will be obsessed! Let me show you how to make this summer corn salad that will be your new side dish go to.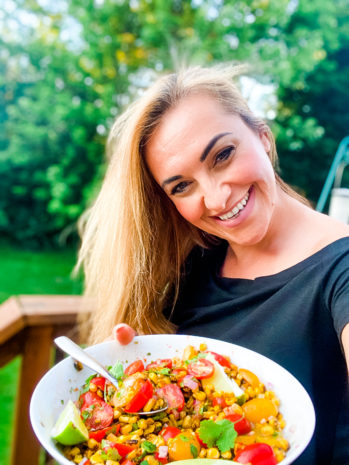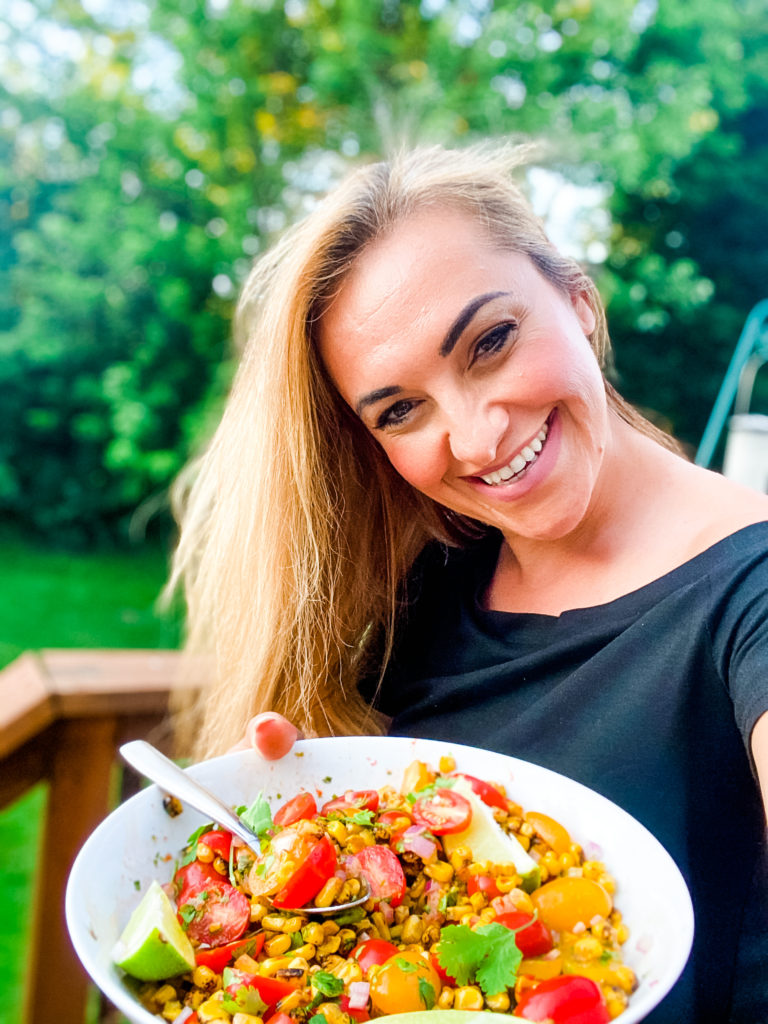 Story time
I actually did not one up with this recipe…all the credit goes to my wonderful chef and genius videographer, Maegan. She would make this for our private chef clients sometimes weekly based on their requests. I watched her make it once and asked her,
"Hey what is this salad?" and then…I tasted it… the freshness… the joy…the shear summer bliss…all of this filled my taste buds and transported me to a backyard BBQ complete with background music…and plenty of tequila…which of course pairs beautifully with this salad.
So Maegan… thank you for giving us this recipe…it has transformed my BBQ season 🙂
The Technique
The Corn:

Obviously this is the bulk of this summer salad so this is the most important! Please guys, please. USE FRESH CORN! I have made the mistake on NOT using fresh corn…and it did not end well. Trust me…this will make or break this summer corn salad recipe. Summer is the best time to buy fresh corn, so make sure you go to your local grocery store and pick out the best ears (or better yet, hit up a farmers market and have them pick out the best ones for you!). If you are picking yourself, a quick tip to picking the freshest ears is that you first want to look for the bright green husks. Then you'll want to feel them and make sure they are a little bit wet feeling. If the husk is yellow and dry, stay away!!

The Grill

: You all know how much I am obsessed with grilling. It gives the BEST flavor on literally anything you toss on there. And corn is no exception! So heat up your grill and toss on your husked corn and char it up. You can see the beautiful char in the photo above- it brings your presentation to the next level and is so stinking easy. Trust me it makes all the difference!

The Mix Ins:

Now this is where we can have some fun. I love to keep it super fresh and add in seasonal flavors. I always add halved cherry tomatoes, cilantro, scallions, fresh squeezed lime juice and of course a little salt and pepper. The tomatoes give it a super nice pop of fresh flavor that compliments the charred corn perfectly. The herby flavor of cilantro and the acidity of the lime juice balance everything out! Also feel free to add in some finely diced shallots or red onions. And if you really want to snazz up this recipe, add in some Cotija cheese! And avocado is a great add in as long as it is perfectly ripe of course! OH! Want some heat? Add in some finely diced jalapeño, serrano or even a bright red fresno!
Helpful Tools For This Summer Corn Salad Recipe:
Citrus Juicer:

Not only is this a staple in this recipe, this should be in EVERY home kitchen!!

A Grill:

Like I said earlier, a grill is my all time favorite cooking method in the summer. You need a grill! It doesn't even have to be super fancy. Any old propane grill will do!

A Nice Cutting Board:

Essential for this recipe! All of the prep work is cutting the vegetables, and a good quality cutting board is huge for doing lots of chopping!
Print
Summer Corn Salad
---
Description
This super simple Corn Salad not only makes every table look festive but it is absolutely bursting with flavor!
---
3 ears of corn, husked
1 pint of cherry or grape tomatoes, cut in half
juice and zest of one lime
3 tablespoons finely chopped cilantro
2 scallions, finely sliced
salt and pepper to taste
---
Instructions
Heat up your grill to high.
Grill corn for a few minutes on each side until perfectly toasted. 
Remove the corn off the cob by taking a knife and running it down the entire cob. 
Combine all the ingredients and toss everything together! 
Taste and season as necessary.