One Pan Roasted Pork Tenderloin with Veggies (30 Minute Meal)
This incredibly flavorful Roasted Pork Tenderloin is absurdly simple to make and filled with mustardy and garlicky flavors!  The best part is all the glorious juices from the pork act as a sauce for the veggies creating one uber flavorful one pan meal!  This is one holiday meal that most certainly will impress everyone and tire no one! Plus learn the ultimate trick to getting a gorgeously browned tenderloin in only 30 minutes!  

One Pan Roasted Pork Tenderloin with Veggies (30 Minute Meal)
[wprm-recipe-jump]
Winter is upon us in Chicago.  It has been creeping up ever so slowly and then suddenly BOOM.  It's 20 degrees outside and everyone is talking about some awful thing called the polar vortex.  Which to me sounds like something straight out of a Harry Potter movie.
There is one thing I love about winter: cuddling comfort.  I love waking up Sunday mornings and seeing snow falling onto my windowsills and frost creeping up.  One of my favorite occurrences is when the munchkin and the hubs go outside to play and I get to hang out in the warmth of my kitchen and cook comfort faves all day.
In the summers, we fight to get outside and eat dinners al fresco, take long trips with the munchkin to the park and throw impromptu BBQ's for the sake of enjoying time outdoors.  The winters are made for warm soups, comforting stews and loud conversations in our kitchen with family and friends.  And couch time.  It is also time for couch time.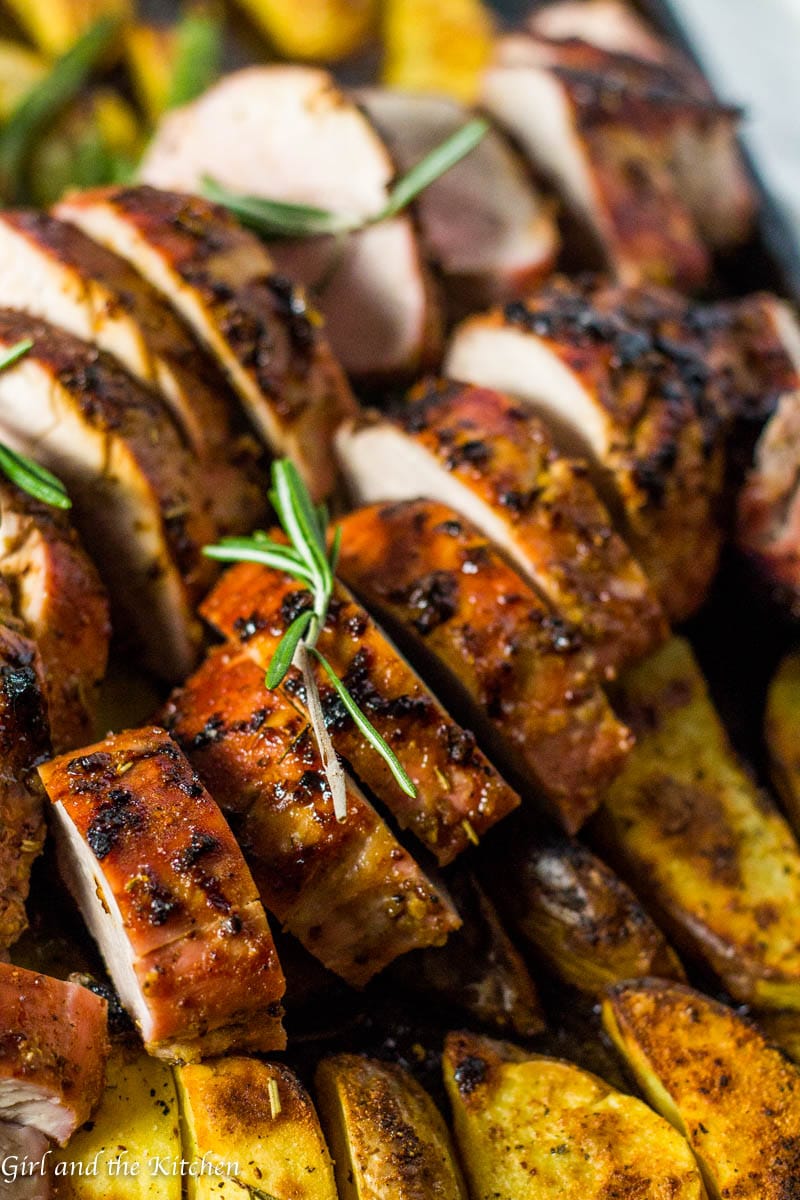 What is couch time?  Couch time is one of my very favorite past times.  Couch time is the time when I get to sit on my couch at the end of the day and let out a very long "ahhhhhhh".  Couch time is also when the hubs and I get to sit down and cuddle up with munchkin and watch a cartoon.  It is the one time that we all sit in peace and quiet without disagreements and just chill and cuddle under one big blanket.
How important is couch time you ask?  So important that I as I sit and write this post, I am set up on the couch fully wrapped in my blanket and listening to holiday music.  Couch time is my very very happy time.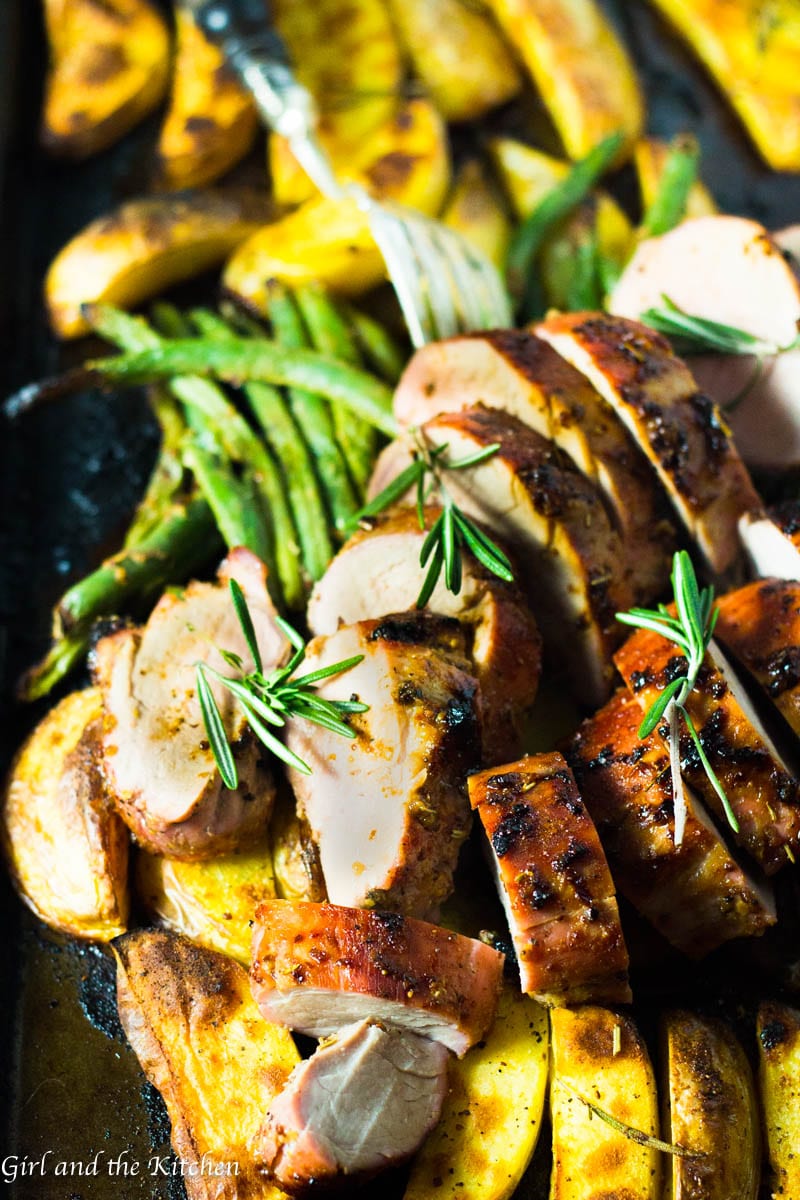 Last Friday night my only plans were to have much needed couch time and I planned on using it wisely as the kind hubby volunteered to put munchkin to bed and let mommy blog and Netflix.  But being the overly popular power couple that we are, no can do, the dinner invitations started pouring out. We received a phone call from our friends inviting us to go to dinner.  I was feeling entirely too introverted to go out and deal with waiters, people and the cold.  So I invited our friends over hoping that my fridge and or freezer held something hopeful for dinner for me.
And it did…it so did.
The hubs forgot to inform me that my friend Bill from Crestwood Family Farms had dropped off my monthly box of goodies.  And inside I found my answer to a healthy, quick and most importantly insanely delicious meal.  I pulled out 2 pork tenderloins.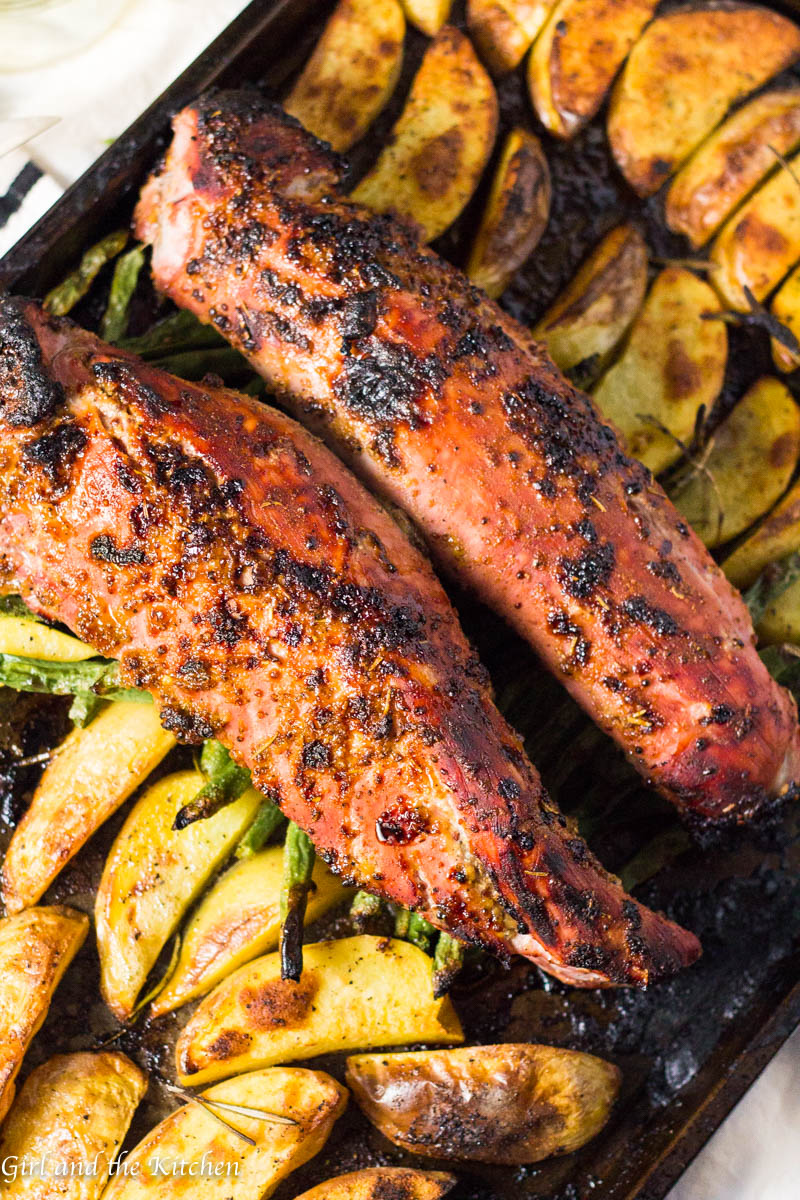 It was a blessing in disguise!  You see I have this obsession with collecting recipes from magazines I love and use on a regular basis.  And the collection hangs on my fridge pinned together with one of those oversized chip bag clips.  Cooks Country Magazine happened to be one of my favorite publications because it was a research magazine like it's sister publication Cooks Illustrated.  These magazines' recipes were based on science and plenty of trial and tribulations. So I knew…these recipes just plain worked.
So when I saw this recipe of One Pan Pork Tenderloin with Vegetables, I just KNEW I had to put my own unique twist on it.
The Technique
In reality, this roasted pork tenderloin is beyond simple.  It uses the very classic technique of roasting.  However, because the pork tenderloins are so lean it is very hard to achieve that crispy skin which is so indicative of roasting.  Because it has no skin a glaze is used to create the same caramelization that would happen if there was skin.  The original recipe called for simple hoisin sauce but I had something a bit more bold in store for this baby.
My glaze combined olive oil, garlic, white wine, coarsely ground mustard, honey and rosemary. When this baby was slathered all over my tenderloins and created the most gorgeous crust but also it created a delicate sauce that seeped into the potatoes and green beans.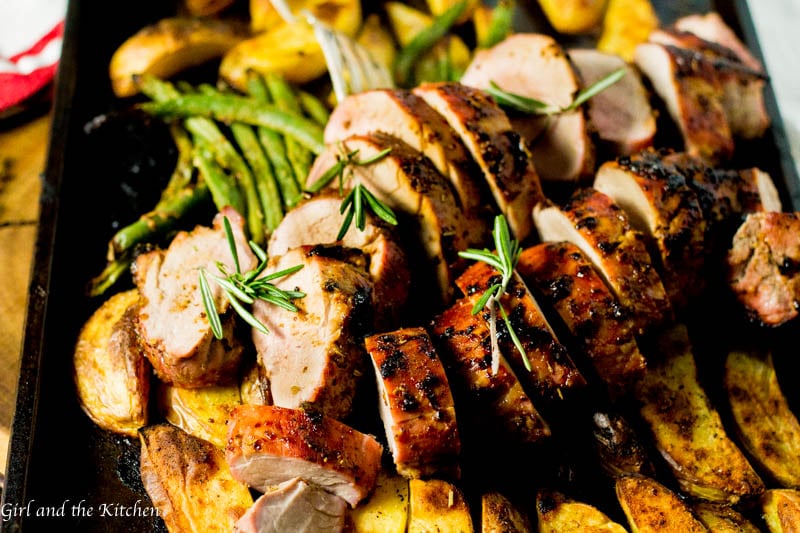 Which brings me to the very important topic of vegetables.  Potatoes and green beans to be precise.  These potatoes are so incredible.  They are crispy and tender and retain that delicate hint of mustard.  It is just too good to have one, or two, or 15.  I had 15.  I had them all.  All.
In order to attain beautiful crisp factor on both the green beans and the potatoes there are a few simple tips that need to happen.
Anything that the potatoes touch needs to have oil on it so that the potatoes can actually crisp up.  So the bottom of the pan was sprayed down with a pan spray.  You can also use olive oil but I just used pan spray.  I put the potatoes face down on the pan and then I sprayed the tops with some pan spray as well so the tops get gorgeous color.
The green beans are treated the same way as the potatoes.  However, because we are laying the tenderloins on the green beans they will need a bit more time to crisp up.  The good news is, that by laying the tenderloins on the green beans, they steam, which makes them perfectly tender and flavorful.  Once we remove the tenderloin from the oven, (it will cook faster than our veggies) we crank up the heat of the oven and let the beans and potatoes roast a bit more and get some more color.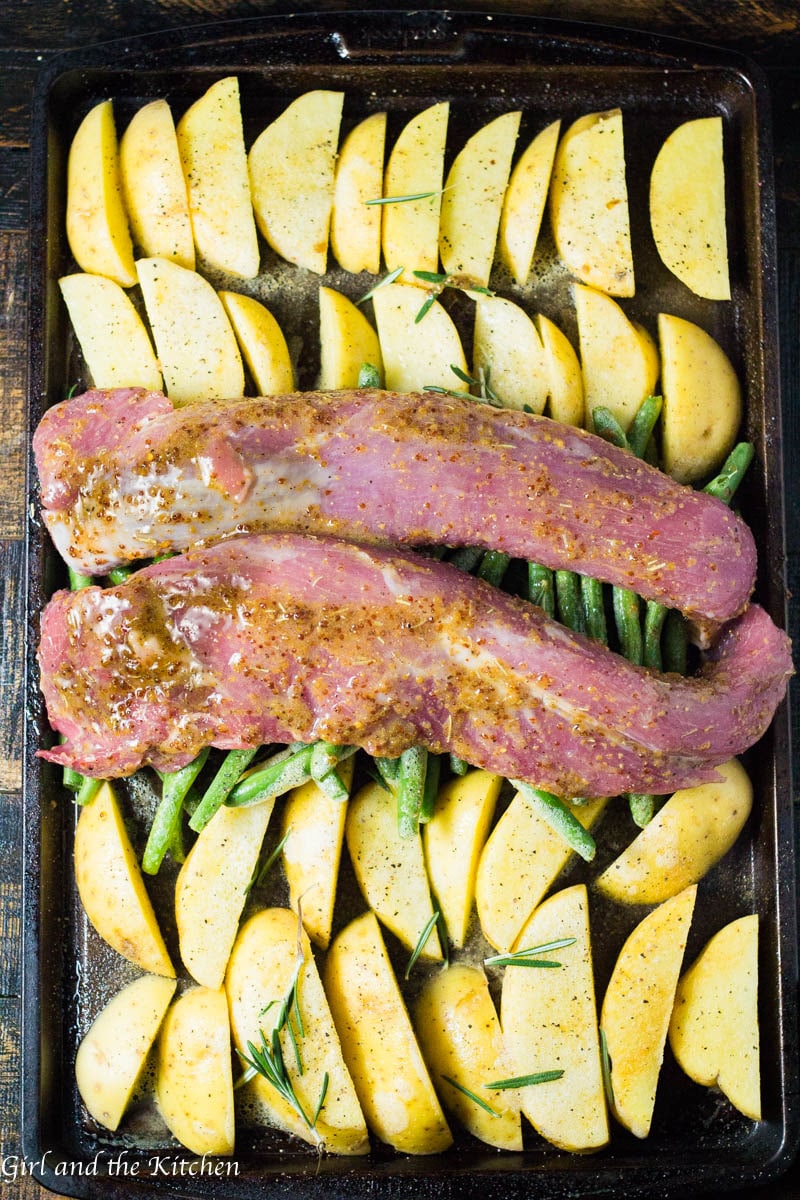 Our friends, Stan and Lilly arrived about 30 minutes into my cooking process, dressed in sweats as I had requested of them.  I filled their glasses, gave them a cheese plate to munch on and in the meanwhile they kept telling me how incredible the house smelled.  While I sliced the roasted pork tenderloins, (which were perfectly cooked may I add) I asked Lilly to stir my butter glaze for my Spicy Honey Garlic Salmon in Foil.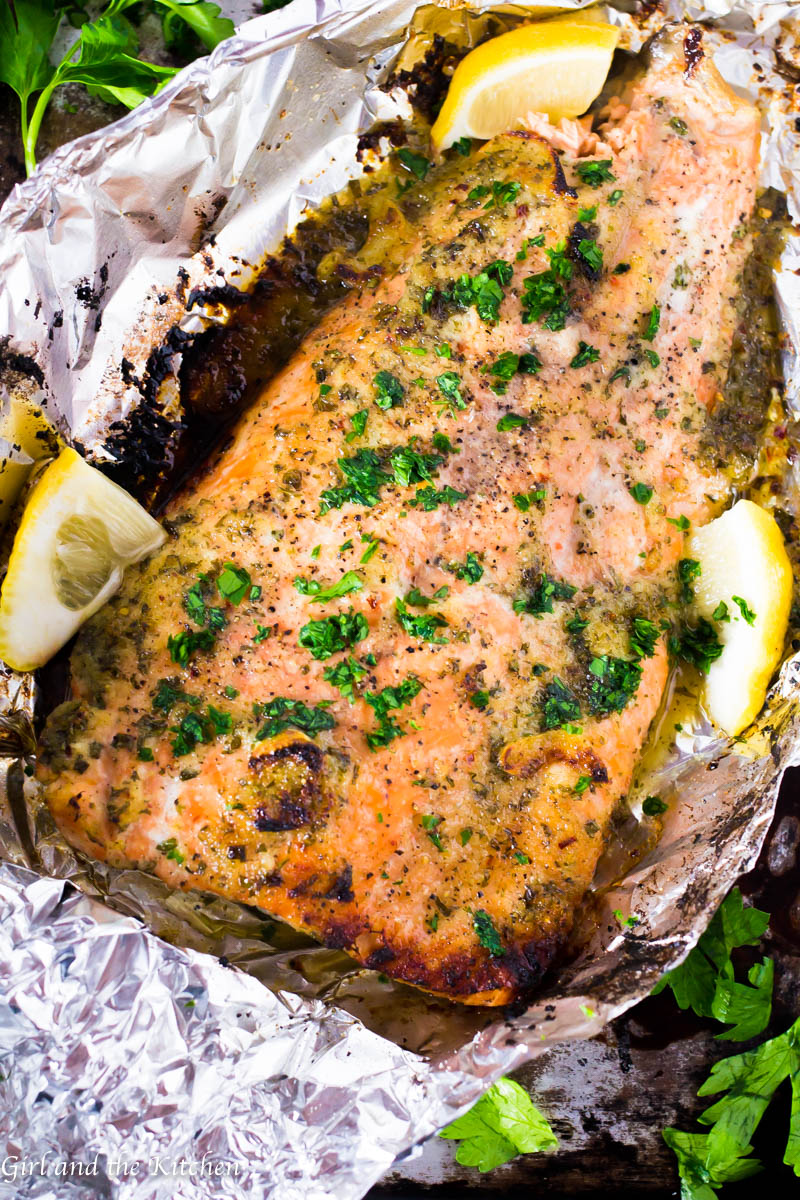 35 minutes and two entrees and two fabulous side dishes later we were all seated at the table, happily toasting our Friday.  Stan dug into the roasted pork tenderloins first and let out a loud "MMMMMM this is some darn good food.  It's as if you were a professional or something Mila." Smart ass.
Lilly commented that this was the perfect dish for her potluck Christmas party for work.  All the flavor none of the work.  Done. Deal.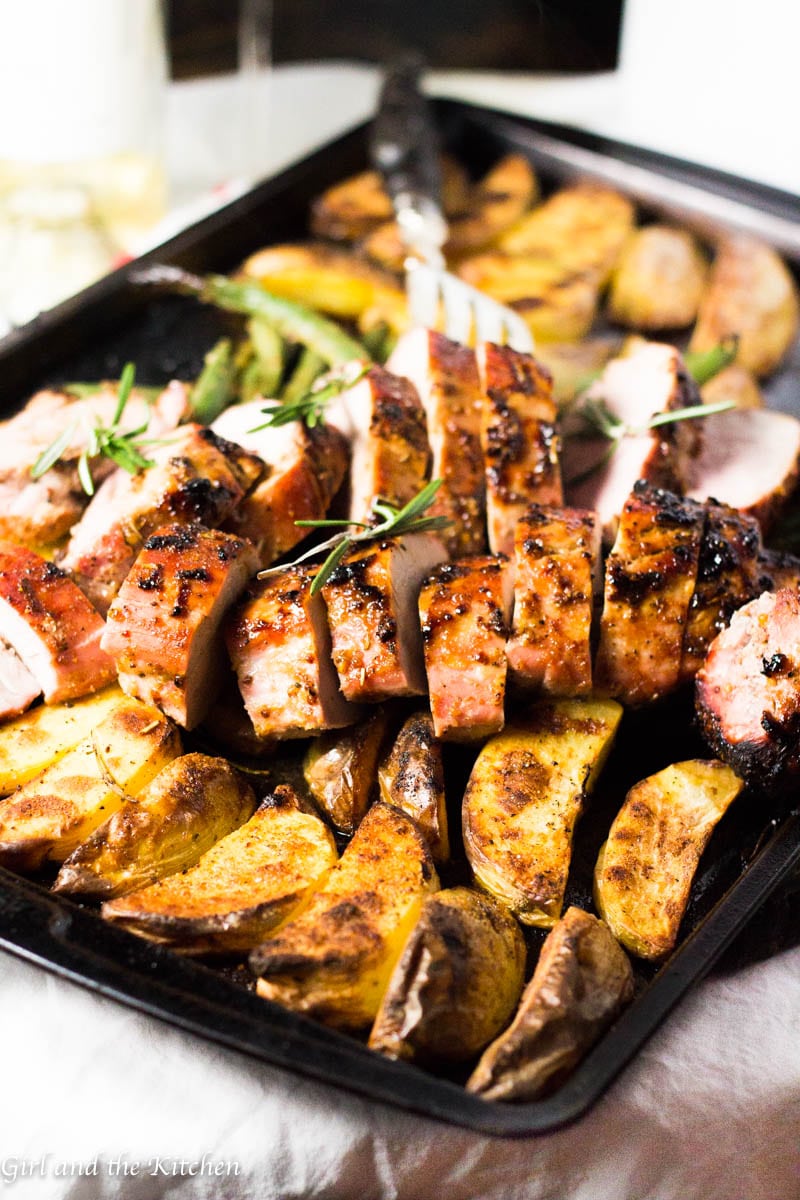 Hubs put the munchkin to bed and we all retired to the couch.  It was couch time after all.
Print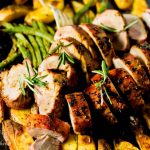 One Pan Roasted Pork Tenderloin with Veggies (30 Minute Meal)
---
Author:

Total Time:

35 minutes

Yield:

8

people

1

x
Description
This incredibly flavorful Roasted Pork Tenderloin is absurdly simple to make and filled with mustardy and garlicky flavors! The best part is all the glorious juices from the pork act as a sauce for the veggies creating one uber flavorful one pan meal! This is one holiday meal that most certainly will impress everyone and tire no one! Plus learn the ultimate trick to getting a gorgeously browned tenderloin in only 30 minutes!
---
2

pounds pork tenderloins (

1

–

1.5

pound)

1/4 cup

honey

3

garlic cloves (minced on the microplane)

3 tbsp

coarsely ground mustard (deli mustard is fine)

3

–

4

sprigs of rosemary (removed from stem and finely chopped)

3 tbsp

white wine

3 tablespoons

extra-virgin olive oil

1 1/2

pounds Yukon Gold potatoes unpeeled (quartered)

1

pound green beans (trimmed)
Salt and pepper
pan spray
---
Instructions
Peheat oven to 450 degrees.
Combine olive oil, honey, garlic, mustard, wine and rosemary in a bowl. Taste and season as necessary with salt and pepper.
Pat pork dry with paper towels and season with pepper. Brush tenderloins all over with glaze
Spray down sheet pan with pan spray or brush down with olive oil.
Arrange green beans crosswise down center of rimmed baking sheet, leaving room on both sides for potatoes.
Place potatoes face down on the pan.
Spray the potatoes and green beans with pan spray and season with salt and pepper.
Lay tenderloins, side by side without touching, lengthwise on top of green beans. Brush the tenderloins with either a knife or a pastry brush with the glaze.
Roast until pork registers 140 degrees about 20 to 25 minutes.
Move the tenderloins to a carving board and tent with aluminum foil and let rest while vegetables finish cooking.
Increase the heat of the oven to 475-degrees and return sheet to oven and roast until vegetables are tender and golden brown, 5 to 10 minutes longer.
Remove from oven,
Transfer vegetables to platter. Cut pork into 1/2-inch-thick slices and place over vegetables, pouring any accumulated juices over top. Serve.
Prep Time:

5 minutes

Cook Time:

30 minutes

Category:

Main

Cuisine:

American