Easy Vegan CRACK Breakfast Potatoes
Prepare for the easiest, crispiest and most addicting breakfast potatoes EVER!!! Once you have one you will be addicted!  Best of all, they are healthy AND ready in under 20 minutes!!!  It does not get better than this!
The potato has got to be the world's most perfect food. It can mashed, pureed, fried, baked, roasted, nuked, boiled or steamed. And can be used as a sauce, an entrée, one of many terrific side dishes (typically loaded with creamy butter and luscious cream). I love potatoes.
When I went plant based a few months ago, I rejoiced in the celebration of the all mighty potato. For the first time in what seemed to be an eternity, I was able to have the potato for breakfast lunch and dinner. Carbs are my friend and potatoes are carb friendly.  Not so good for the Ketogenics and the Atkin's peeps out there, but fabulous for us plant based folk.

I feel like our trusty potato has been given a horrible rep. It is actually loaded with tons of vitamins and is an excellent source of Vitamin K. Plus can we talk about how flipping delicious it is? Let's speak open here: I am from the Motherland…AKA Mother Russia. Potatoes were served for breakfast, in soups for lunch and as a healthy side dish to dinner. It was cheap, plentiful and the motherland was effing cold in the winter time and we needed something to keep out bellies full and warm and our taste buds blissfully happy.

Babushka and my mom always made the best potatoes. My mom was master of the mashed potato. Loaded up with sour cream and butter, sometimes garlic. And babushka's masterful young potatoes and garlic dill butter were legendary. We were a potato loving family and we were all fairly thin…except my brother and I…our bodies resembled Gollum's from Lord of the Rings…My Precious…

Somewhere in high school I started avoiding the potato like the plague. I am not quite sure when this abomination of an idea happened. But it was like a disease. EVERYONE started avoiding the potato. White=bad. No more white. Except white suits, those are always a bold and fabulous fashion statement. I think Oprah had something to do with this cult statement, she typically has a hand in starting these trends.
I of course rebelled and had my lovely potatoes when I could. What can be better than creamy dreamy mashed potatoes? Or crispy hash browns. How about perfectly crispy potatoes that are done in under 20 minutes? These potatoes are just that.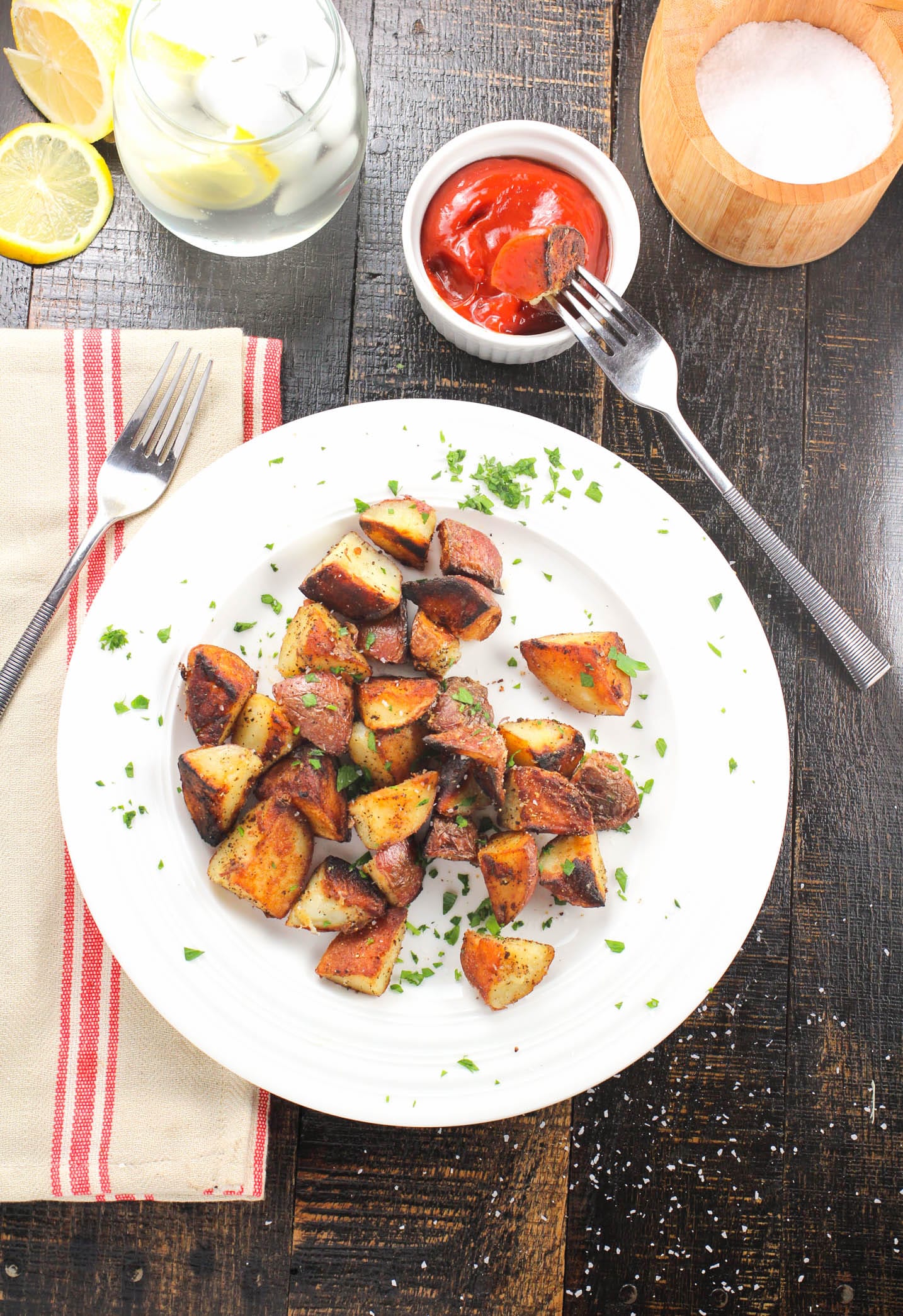 There is a really interesting method used in the preparation of these potatoes. It requires pre-cooking the potatoes just a tad and then crisping them up in hot oil on a pan. The idea behind this is that it cooks partially on the inside with getting any color on the outside. So in the end you get perfectly cooked, soft, tender potatoes on the inside and gloriously brown and crispy goodness on the outside. I learned about it first in culinary school, perfected it after careful experiments at home and it was just simplified for me when I read a blog post from one of my fellow bloggers, Minimalist Baker.
She posted these gorgeous potatoes on her blog and I thought I must have them. She did something very interesting when pre-cooking them. Typically, when I precook my potatoes, I parboil them first. She did something slightly different : she nuked them. I scratched my head a bit when I saw this… What? But it made perfect sense and it was EASY! Just stick the washed potatoes in the microwave and that's it. You are good. Then just cut them up and pan fry them in some butter or dairy free butter. This part was actually fun. I stood over the pan and watched as each potato quarter got glorious and brown in just minutes right in front of my very eyes! It was…magic. Potatoes this good only need a healthy handful of good Kosher salt and some fresh herbs on top.
While making them, hubs came up behind me and grabbed one, then another and another annnnnd another. "Damn it Mila, these are crack potatoes!" They are…they really are. Unlike crack however, they will do your body good.
Print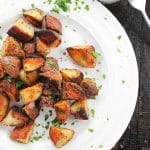 Easy Vegan CRACK Breakfast Potatoes
---
Description
Prepare for the easiest, crispiest and most addicting breakfast potatoes EVER!!! Once you have one you will be addicted! Best of all, they are healthy AND ready in under 20 minutes!!! It does not get better than this!
---
1

pounds red potatoes

3

–

4

tbsp vegan butter
salt and pepper to taste
chopped parsley
vegan spray oil
---
Instructions
Wash potatoes and place them in the microwave for 3-4 minutes until they are just soft to the touch.
Add the vegan butter to a medium sized pan and turn up to medium high heat.
Cut the potatoes into quarters while still warm and place onto pan. The key is to let each side cook for 2 minutes and then flip them carefully. Once they are all browned remove from pan spray with the pan spray lightly, then season with salt and pepper. This pan spray helps the salt and pepper stick to the potatoes.
Category:

Vegan

Cuisine:

American