Vegan Moldovan Roasted Eggplant Salad
This roasted eggplant salad is a perfect snack or salad for any time!  Filled with smoky eggplant and juicy tomatoes, this salad is great spread over some crusty bread or as a side to any meal!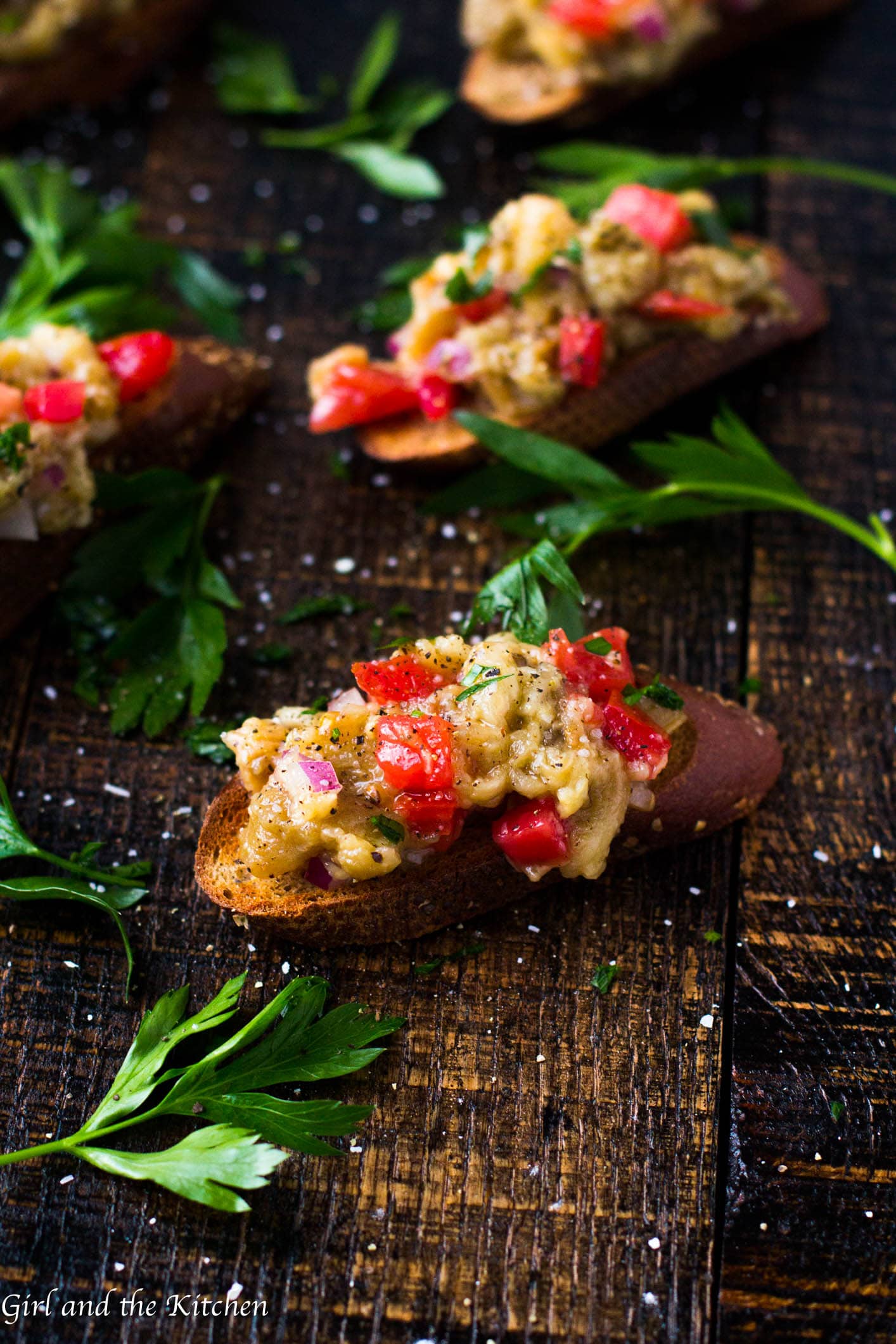 It is no secret that I did not eat much as a child. If I did eat, then it was usually only my mother's food. I never ate at any one's house or restaurant. Being the picky eater that I was (and am) I was always afraid that other people would try and slip something in my food that I did not like.  And then I would start gagging at the table…and make a scene…Apparently making a scene has always been my forte 🙂
My mother quickly learned that I was best fed with food from her kitchen and usually her hands.  I didn't like a lot of veggies as a kid .  I stuck to cucumbers, tomatoes and of course the glorious potato.
My babushka however, did not accept my lackluster appetite and continually tried to lure me in with different foods.  My mom would always shake her head knowing that the end result would be me gagging and turning my nose at anything that was mildly unappealing to me.  I was a bit over exaggerative and dramatic when it came to food.  Yet another quality that stuck with me 🙂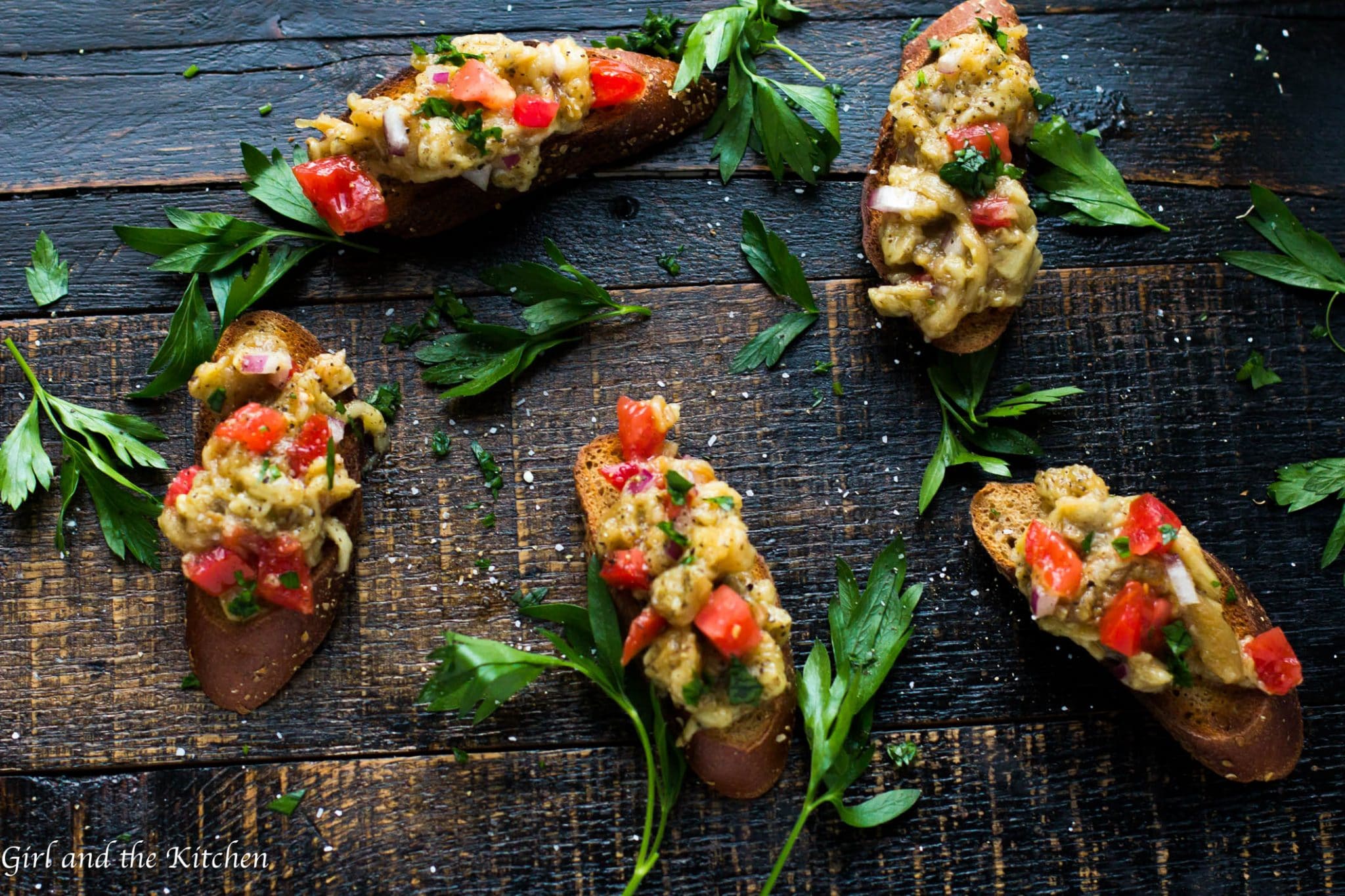 Babushka won the battle of food on occasion, receiving a standing ovation from the family, knowing what a difficult little monster I could be when it came to anything foreign tasting.  And babushka had a recipe box in her head full of Romanian, Moldovian, Russian and Jewish recipes.  If the rest of the family loved a recipe I was sure to hate it and the case was closed.
In the late spring and all through the summers, when tomatoes were perfectly juicy and ripe, babushka would whip up the family's favorite roasted eggplant salad.  It was a classic Moldovian treat, full of ripe tomatoes, sharp red onions and plenty of salt and coarsely ground black pepper.  She usually drizzled it with sunflower oil, the preferred oil of the Soviets 🙂  Sometimes we smeared it on dark sour dough bread, other times we just ate it as a side dish to any entree.  The spring and summers were a time to indulge in all the fresh veggies that the bountiful markets had to offer us so my mom and babushka liked to keep dinners light.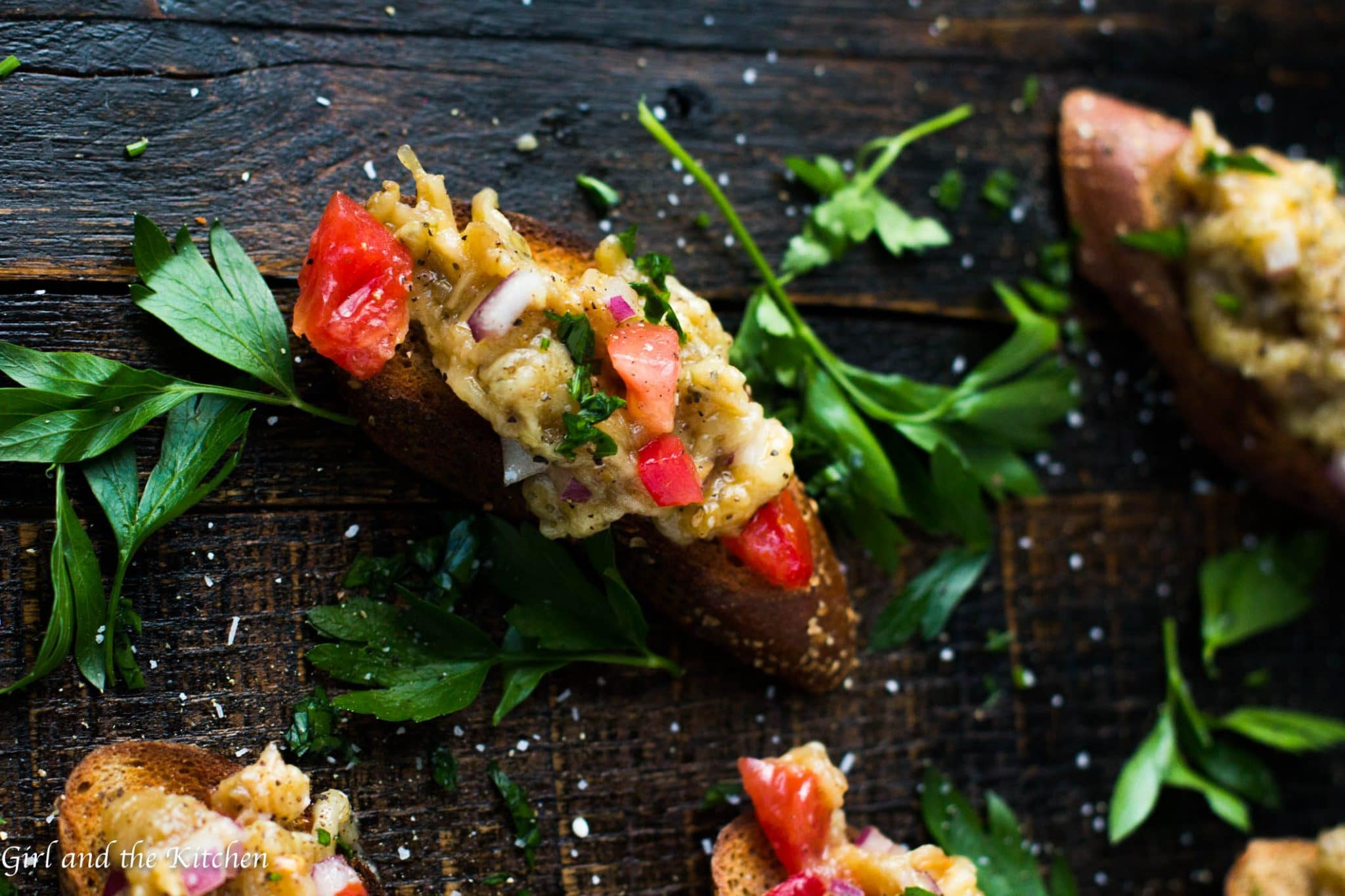 Babushka shoved a piece of bread into my mouth with this roasted eggplant salad during a family dinner one night.  The family sat there and waited for me to spit it out and start my usual gagging and crying bit.  But I didn't… because it was flipping magical.  The shear simplicity of this dish spoke to me.  I never liked complicated or overpowering flavors or textures as a child, so a dish this simple was precisely what the doctor ordered.  My babushka smiled as I chewed and grabbed the rest of the bread from her hand and demanded more.  "Finally!" Babushka exclaimed.
Considering that my diet is now 95% plant based this salad has been present in my house every week for 3 weeks now.  And I have yet to get sick of it.  I have had luck finding the most adorable and tender baby eggplants in the supermarkets around me and they have served me well.  I typically roast these little bad boys in the oven when the weather strikes me as too cold.  However, in the warmer months I always throw them on the grill.  The smokiness that I get from the open flames is something special.  I love to slather it on Russian dark sour dough bread.  It's flipping fantastic!  It's a little sour, super flavorful (because of the molasses in there) and perfectly crispy.  I always add in plenty of fresh tomatoes and finely diced red onions.  And on the top I grind a ton of fresh black pepper…because it truly needs nothing else.
Chef tip: Soak the red onions in cold water for a minute or so.  This will prevent the onion from being too smelly and will take some of the edge off of the sharp flavor.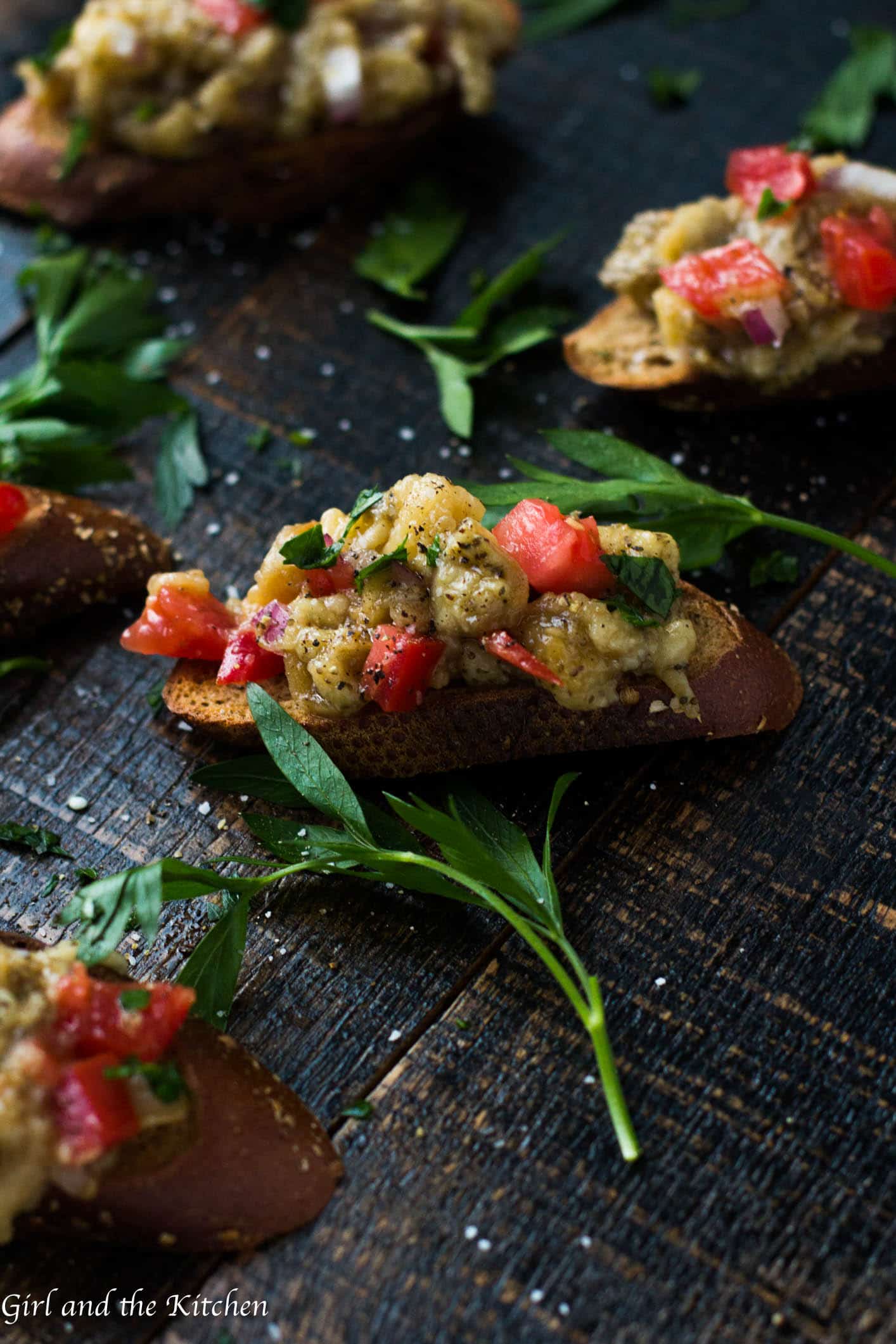 I suppose I am glad my babushka won this battle over me, because to this day, every time I eat this, I am transported to my kitchen back in the old country.  If I close my eyes I can hear my mom and babushka gossiping and laughing, my dad chewing away telling my mom that no restaurant can compare with the food on this table, and my brother and I usually bickering in between bites trying to blame each other for the latest mishaps in the family.
For me this kind of food is the most important one of all…one that has forever left its footprints on your heart and with each bite those memories slowly make their appearance in front of you if only for a moment.
Print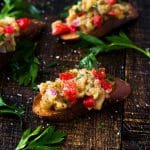 Vegan Moldovan Roasted Eggplant Salad
---
Description
This roasted eggplant salad is a perfect snack or salad for any time! Filled with smoky eggplant and juicy tomatoes, this salad is great spread over some crusty bread or as a side to any meal!
---
3

large eggplants or

4

–

5

baby eggplants if you can find them

1

tomato (diced)

1/2

of a red onion (finely diced and soaked in cold water for a minute)

1 tbsp

olive oil
salt and freshly crushed black pepper to taste
---
Instructions
Preheat your oven to 450 degrees F. Or preheat your grill to medium high.
Wash and dry your eggplants well. Place them on a baking sheet or roasting pan.
Poke some holes in the eggplants with a fork to give the steam somewhere to go. Otherwise these babies will blow up.
Pour some oil on top of the eggplants so that they don't dry up while cooking.
Place in the oven or on the grill and cook for about 30 minutes. Or until they look deflated.
Place them in a bowl and cover with plastic wrap so that they can "steam". This process will make the removal of the skin much easier. If you have time, let the eggplants cool, it will be easier to handle them while removing the skin. If you are like me and you don't have time, then just put on some rubber gloves and work fast!
Cut off the stem and remove the skin by simply peeling it off. If any flesh pulls away from the eggplant with the skin, just use a knife to scrape it off.
Drop the cleaned eggplants into a colander and leave to drain for about 10 minutes. Usually, if I haven't had time to cool them, I place a bowl underneath the colander and stick it in the freezer. That way it drains and cools at the same time!
Place the eggplants on a large cutting board and run your chefs knife through it a couple times. Just rock your knife back and forth to create a paste. Place in a bowl and smash up a bit more with a spoon, just so that it's one "paste".
Chop up your tomato and onion finely. Add to the eggplant mixture along with salt, pepper and good extra virgin olive oil.
Spread on some good crispy bread, crackers or serve alongside your favorite entree.
Category:

Vegan

Cuisine:

Moldovian