Ukrainian Green Chicken Soup…Зеленый борщ
A hearty Ukrainian style chicken soup loaded with tons of fresh herbs and veggies!  Perfect for the spring time when all the fresh greens start popping up and we still need some warm comforting soup.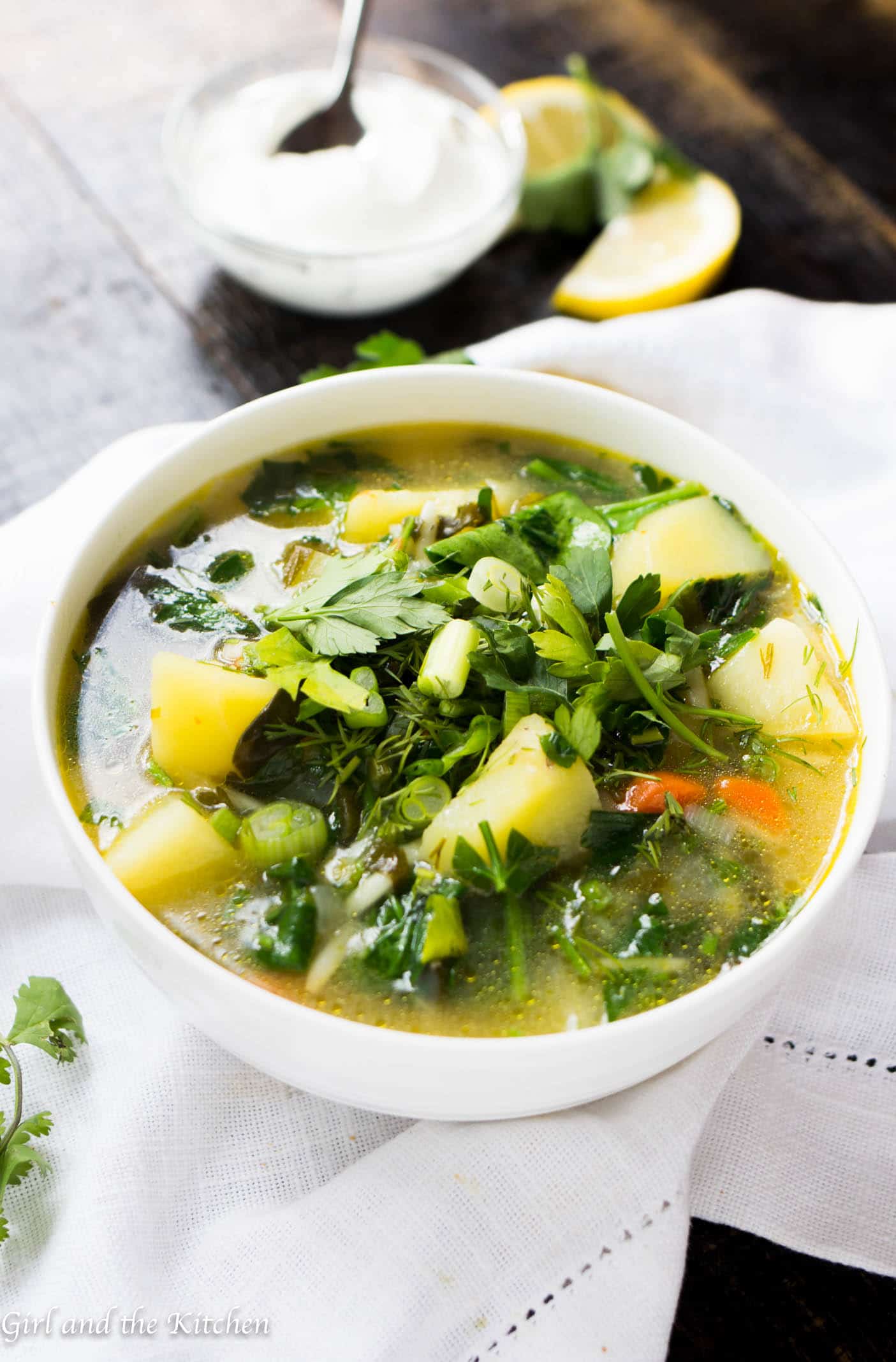 As I have mentioned many times before, I grew up in the motherland of Moldova…once a republic of the former USSR.  Our food was highly influenced by the bordering countries of Romania and Ukraine.  This little gem is an influence of the mighty Ukraine.
Ukraine just so happens to be where the hubs is from and constantly preaches to me of why it is the the greatest of all previous republics.  (Imagine the dad from my Big Fat Greek Wedding and his preaching of why Greece is great…almost like that…)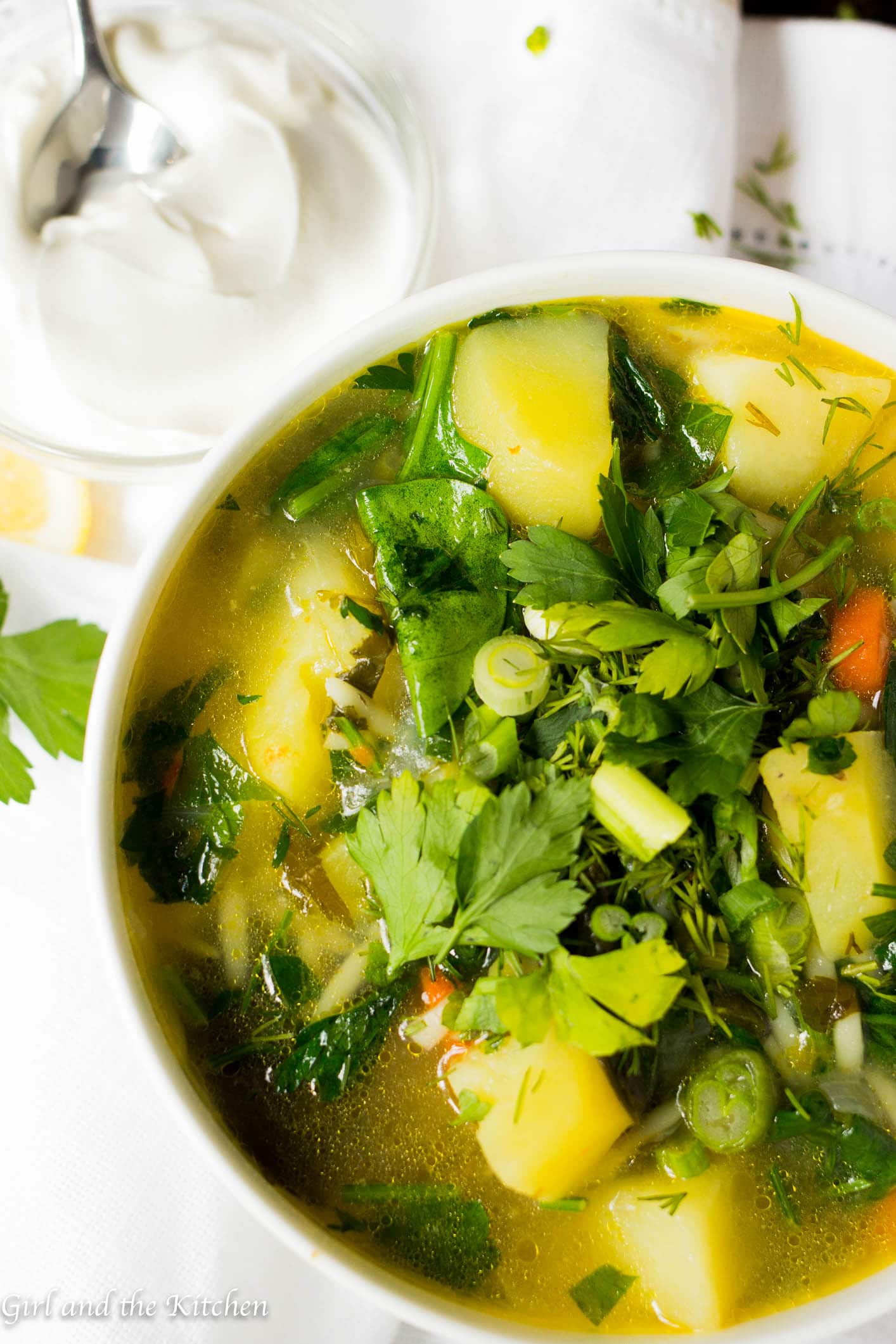 My mom's cooking was unique because she really did take her influences from all over the place.  When we moved to America she incorporated a healthier take on our favorite foods and switched out chicken with some dishes that usually had beef.  She was the first person that showed me that flavors never have to be compromised when going healthy.
My mom and babushka (grandmother) always cooked with what we had in season.  This was not a choice they made mind you.  This was the only option they had in the motherland.  We used what was in season and either fermented or canned it for the rest of the year.  My mom and babushka were brilliant at canning and fermenting.  At the end of the fall as winter approached, my mom, babushka and dad all stood in the kitchen each taking on a different process of the canning conveyer belt.  They did this so that we could eat tomatoes, cucumbers and jams all through the winter.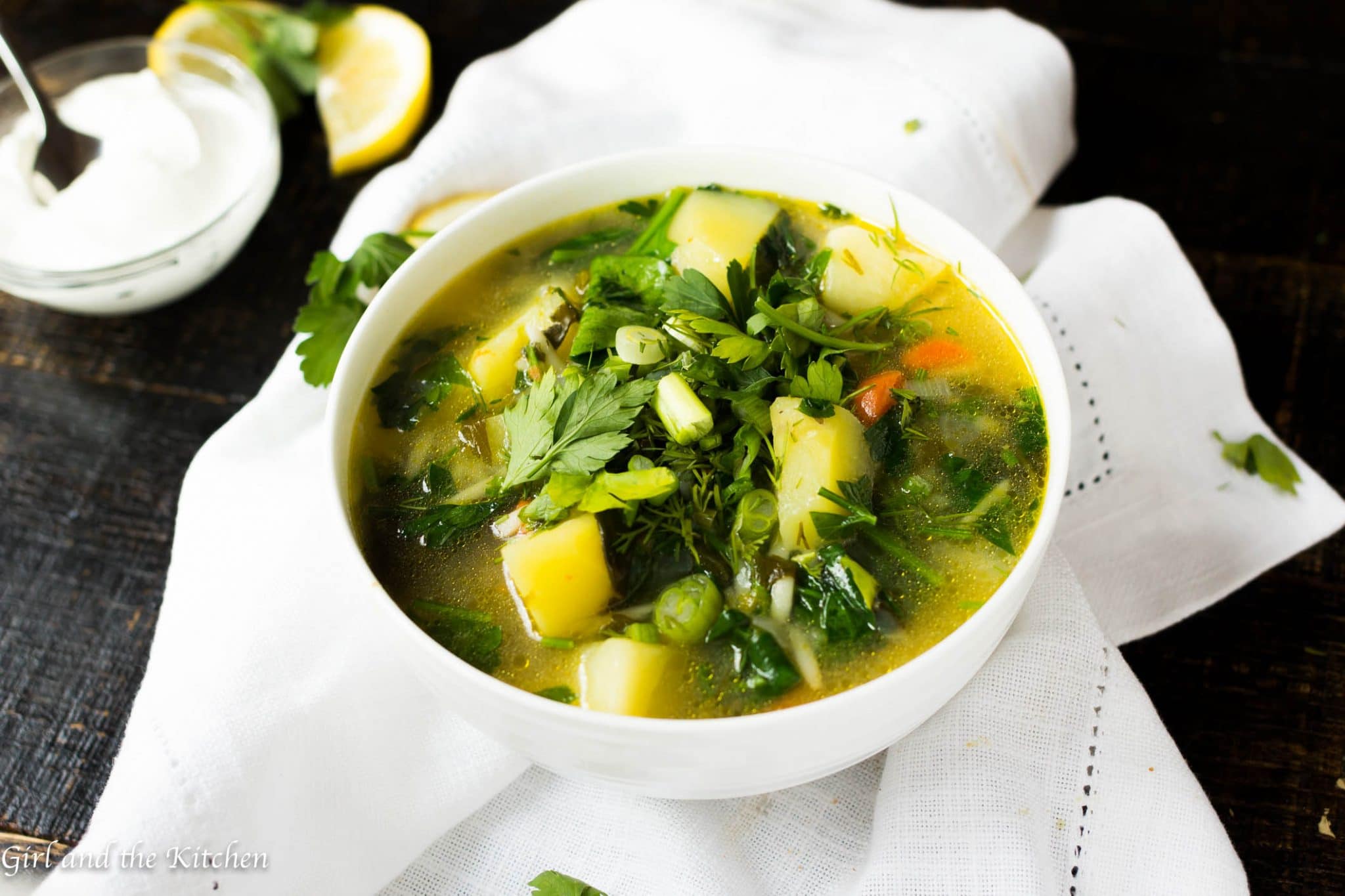 In the spring, all the wives and mothers rejoiced as their favorite leafy green would start to erupt from the ground.  Shavyel, or sorrel leaves would grow only in the spring and this beckoned for all the housewives to make the Ukranian classic Green Borscht.  I always found it odd that this was called a borscht…Because to me a borscht was reddish purple in color and full of beets and cabbage…sort of like this Ukranian gem, aka my father in law's Ukrainian Borscht.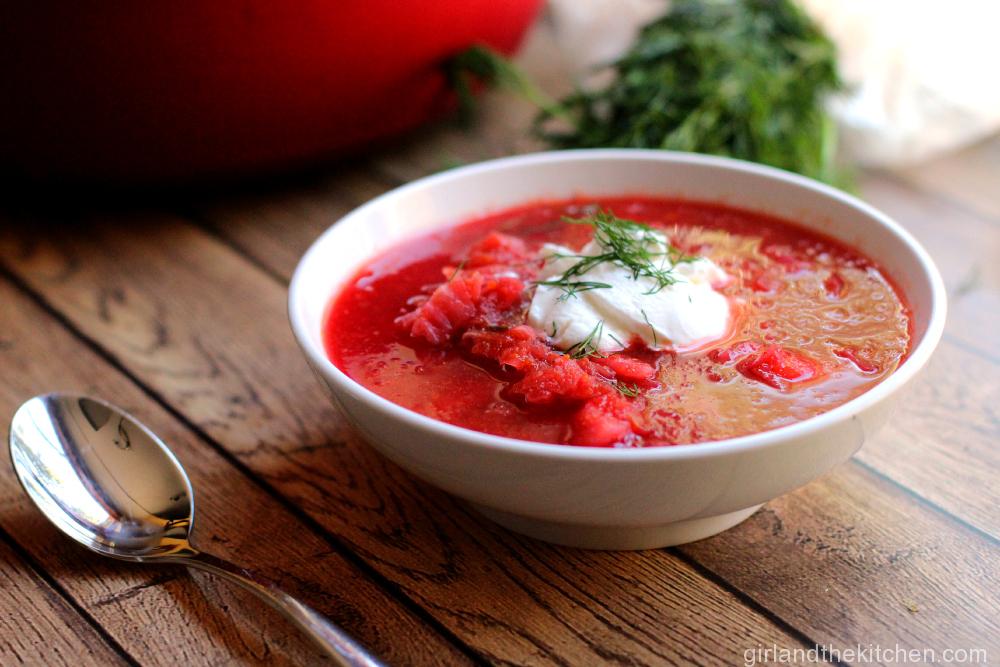 SORREL
But the green borscht that was made with the sorrel leaves was different.  And where the red borscht was full of hearty cabbage, beets and based on a flavorful beef broth, this green borscht was light and loaded with greens and bright flavors.  The sorrel is similar to the spinach leaf except it has a very lemony flavor so it made the soup perfectly tart.  It was the perfect welcoming dish for the spring.  The Ukrainians traditionally finished it off with a nice hard-boiled egg and a sprinkle of fresh dill and parsley.
Unfortunately when we emigrated to the states in the late 80's sorrel was nowhere to be found.  So my mother, being the wonderfully innovative cook that she was, used baby spinach and a few squirts of fresh lemon juice.  My mom always served it to us with Ukrainian black bread (a sort of sour dough) and a healthy helping of sour cream.  It was wonderfully flavorful and incredibly fulfilling.  To me this always seemed like a chicken soup…just with tons of greens. And anything that resembled a chicken soup I could devour with no issues!!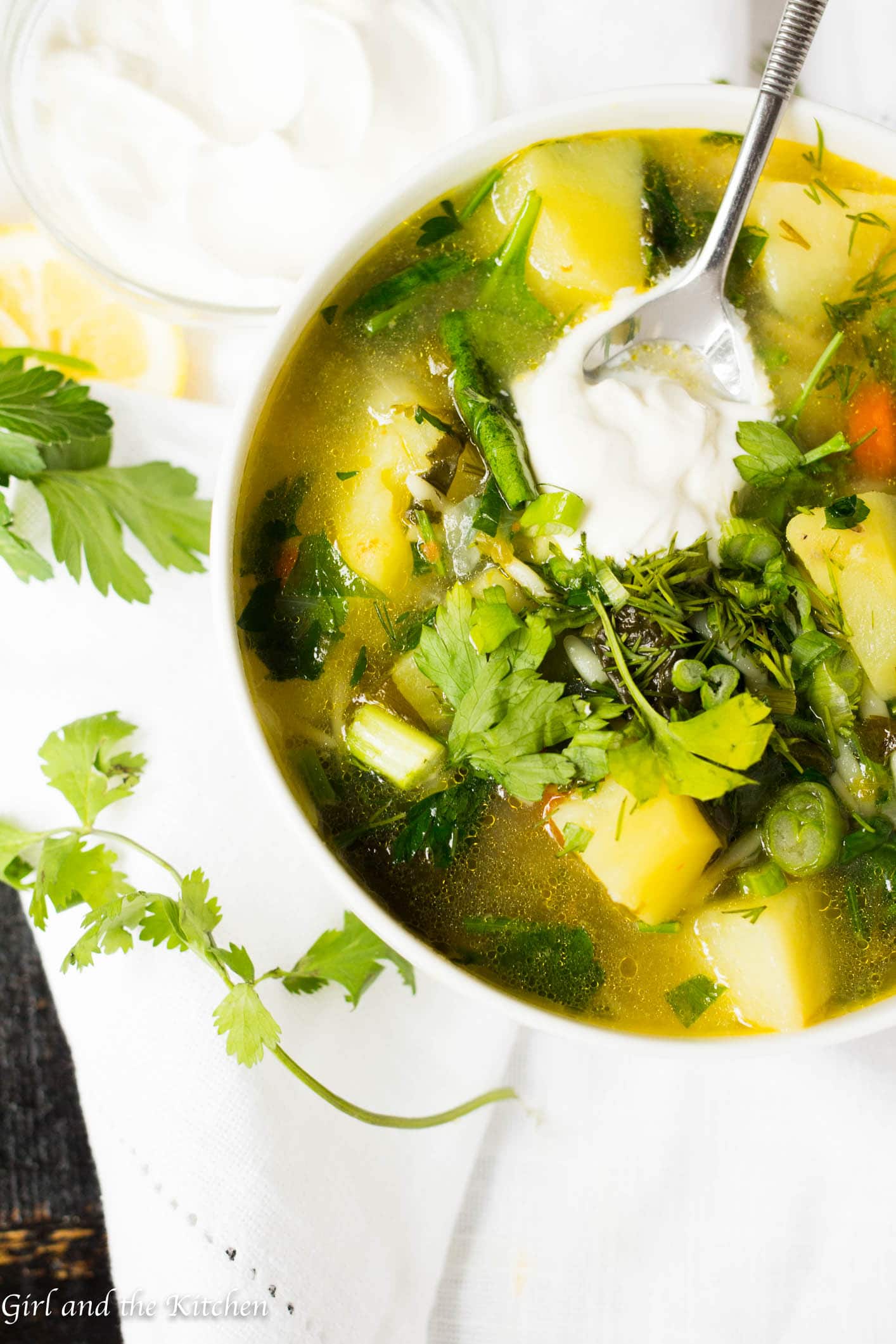 So when spring rolls around or I only have greens and herbs left in my fridge this is always the ideal soup for me to make.  This was the case last Sunday.  Munchkin takes after me and the rest of the Russian community, that a soup is a must for lunch.  So while she napped I cleaned out the fridge and made this incredible soup.  Truth be told, it had been awhile since I made it and I was so glad I did.  Because it was incredible.  Munchkin and I sat next to each other, happily slurping up while I watched her enjoy the green chicken soup with the same eyes as my mom did when I ate.
Happy spring eating everyone!
Print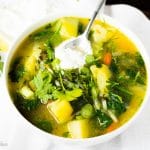 Ukrainian Green Chicken Soup…Зеленый борщ
---
Author:

Total Time:

55 minutes

Yield:

6

people

1

x
Description
A hearty Ukrainian style chicken soup loaded with tons of fresh herbs and veggies!  Perfect for the spring time when all the fresh greens start popping up and we still need some warm comforting soup.
---
3

chicken breasts bone-in (skin-on)

7 cups

of water

1

onion (chopped)

2

carrots (cut into half moons)

1

bunch dill (Chopped)

1

bunch parsley (Chopped)

1

bunch scallions (Chopped)

4

–

5

Yukon Gold potatoes (cut up into bite size pieces)

2

–

3

cups baby spinach (roughly chopped)

1/4 cup

of rice
juice of

half a

lemon
Salt and Pepper to Taste
---
Instructions
Add chicken and water to a large pot. Allow for it to come to a boil and skim all the foam off the top.
Once the broth is clear and no more scum comes up then add in the onions and the carrots.
Allow this to simmer for 15 minutes then add in the potatoes and the rice.
Once the potatoes are ready, add in scallions, dill, parsley and the spinach.
Incorporate everything in and add in salt, pepper and lemon juice. Taste and adjust accordingly.
Serve with sour cream and delicious sour dough bread.
Notes
I have rarely seen sorrel in the stores so I have to use baby spinach. If you can find sorrel, of course use that instead of the baby spinach and just remove the lemon.
I use Yukon Golds because of their similarity to the potatoes we had back in the motherland. Plus they tend to be creamer and add to the beautiful golden richness of the broth.
This broth will not produce a lot of "scum" aka the coagulated blood and proteins that come off the "first boil" of the soup. Since we are using bone in chicken breasts and not the dark meat there will be far less scum coming off the chicken.
Prep Time:

10 minutes

Cook Time:

45 minutes

Category:

Soup

Cuisine:

Russian