How to Make French Onion Soup: Easy Recipe
Yes you should learn how to make French Onion soup at home! It's easy because once you learn the technique the rest is easy and cheesy!
Learning how to make onion soup was something that I yearned for as a kid. I first tasted this soup at a restaurant I worked at as a kid. It was of course served in its traditional crock with the bubbling cheese threatening to burn my mouth. I suffered through the burns (because it was obviously worth it) and slurped up every bit of broth and cheese. Despite already being an excellent cook at the age of 16, I believed that the art of cooking a French soup needed to remain a job for the restaurants.
Cooking Onion Soup at Home
Of course it was not until culinary school that I realized how silly I have been. After numerous chefs taught me their techniques and special and unique tips…I took away the most important pieces from each chef and carried on. And you better believe I perfected my very own rendition of the ultimate French onion soup.
As it turns out…techniques are always the most important part. (But you already knew that didn't you)
So, YES YOU CAN make traditional French onion soup at home!! I am going to show you just how easy it is…because lets face it…everyone should learn how to make classic French onion soup at least once in their life 🙂
The Technique
The Onions: Okay, this one is pretty obvious guys. To make the most delicious and comforting onion soup with French recipe you are going to start with… drumroll… a whole lot of ONIONS! And I mean a lot- we're talking like 5 pounds people! Just wait…when all these onions break down… it will literally be 60% LESS. It is like that whole baby spinach idea…put a pound of spinach in and all of a sudden when it wilts you have 3 tablespoons of spinach! This is similar 🙂 Now you want the onions to be sliced thinly so that they will caramelize into that beautiful, rich broth that we all know and love in a onion soup. And that my friends is the REAL magic in learning how to make a French onion soup; the flavor comes from those caramelized onions…so have patience (but more on that later) Here's the logic…the smaller the slices, the faster they will break down…the faster they break down, the easier it becomes to get that jammy onion consistency that we are looking for with caramelization. Ok, you get it. In order to get thinly sliced onions and to save so so much time, you NEED a mandolin. This is an amazing tool that will help you slice basically anything into uniform pieces! I use mine alllll the time- just be careful- that blade is sharp! Don't have a mandolin? No worries…just start practicing those knife skills! Need to learn? Make sure you check out my post on slicing and dicing techniques!
More Onion Information: The type of onion is important here too because… I like to be controversial and use sweet onions. Now, may French chefs would have none of that. But I am my own person and sometimes teeny itty bitty short cuts do really magic for us. So when I was learning how to make French onion soup… I noticed that sweet onions make all the difference. My French chefs sometimes said that they would add sugar to their onions…sooooo I decided to switch things up and forgo the sugar and instead use sweet onions. FYI…Vidalia onions are not necessary it's essentially a brand of an onion. Just go for regular sweet onions and if you cannot find them go ahead and use regular onions.
Patience: Time for the most crucial of steps 🙂 CARAMELIZATION! For this step you are going to need to dig deep and find all of that patience within because this takes time- but trust me it is SO worth it. The low and slow method- where you cook on low heat for a long amount of time- is the key to making onion soup with French recipe. Why? Because the longer those onions simmer, the more the sugars will break down to create that delicious base for your soup. Okay let's get to it. Make sure you start with plenty of butter and olive oil in the bottom of a wide pot or Dutch oven on LOW heat. Why a wide pot you ask? Because the more surface area you have for those onions to simmer, the more caramelization you are going to get. So throw those onions in, give them a good toss in the butter EVOO mixture and then let them cook on medium heat for about 20 minutes. THEN…you are going to want to step away but not too far. Maybe go fold that laundry you've been meaning to get to, have a glass of wine or just binge another episode of Real Housewives or 90 Day Fiancé (that's what I do at least) . During this initial 30 minute period…you are going to want to stir the onion occasionally and possibly deglaze with water…but we will get to that in the next step… After that 30 minutes we are going to turn our attention back to those onions. Go ahead and turn up the heat to about medium and then you are going to just stir occasionally until you achieve that gorgeous, brown, jammy texture. The whole process should take about 60-70 minutes. Remember what I said about finding that patience? Trust me on this… caramelized onions are an art form and we are going for the ultimate Monet here.
Deglazing: This is a super important technique. Deglazing means, pouring in a liquid (usually an acid but not necessarily) into a pot or a pan to pick up the caramelized bits from the bottom of the pot or pan. In this case, it also helps start pulling out more sugars out of our onions. And this leads to that super jammy consistency. It also helps speed up the caramelization process a bit. Which as we know already requires a great deal of patience…so a bit of speed will definitely help us out in that department. This can be done while the onions are caramelizing. Additionally we also be deglazing with Cognac (or any other liquor you prefer) after caramelizing the onions. This adds an extra boost of flavor and it brings up lots of golden bits from the bottom.
Crostini: Look…crostini are totally and completely glorious. But you gotta make them right. They have to be crispy and crusty so that they stand up in the broth without instantly getting soggy in the broth. I got you covered on this one 🙂 Check out my actual post to make these gorgeous crostini!
The Cheese: Look let's be honest…we all pick up that glorious cheese that has melted all over our soup crocks. It's not just me right??? So the type of cheese that is classic in a onion soup is Gruyere, which is a particularly smelly Swiss cheese but it tastes fantastic. You can substitute with a classic Swiss cheese as well, just make sure there is plenty of it because you want it to melt all over 🙂
The Stock

: So I really do love homemade beef stock…BUT no one has time for that do they?! So go ahead and use a good quality stock or even better, bone broth! They have more flavor and less gross fake ingredients. Most importantly, look at the label. The ingredients should be easy to pronounce and should be recognizable!

The Soup Crocks

: So now I'm going to introduce you to the ultimate finish. The finale if you will. These soup crocks are CRUCIAL to achieving that beautiful, cheesy, bubbly French soup I've been telling you about! Why are they so special? So many reasons. First of all, they are really deep but not wide. This gives you that perfect soup to bread to cheese ratio. No one wants a tiny bit of soup with an overwhelming amount of cheese and bread right? Right. With the Soup Crocks there is plenty of room for all 3. This will also help to keep your soup nice and hot as you enjoy it. Second, they're oven proof and broiler safe. This makes it super easy to make little individual portions of soup that can go straight from the oven to your table! No hassle. No mess. And that broiler safe part? So ideal for getting that bubbly cheesy crust on top. And lastly- I mean just look at how cute those little handles are! Perfect for holding on and digging in to that delicious, warm, cheesy broth!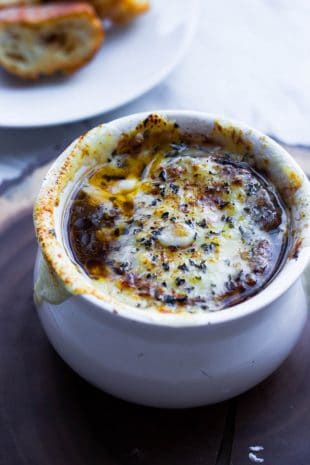 Helpful Tools for this soup recipe
Print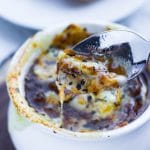 Onion Soup with classic French recipe
---
Author:

Total Time:

1 hour 10 minutes

Yield:

4

1

x
6 tablespoons

(

90g

) unsalted butter, plus more for toasts

3

pounds (1.4kg) yellow or mixed onions, sliced 1/8 inch thick
Kosher salt and freshly ground black pepper

1/2 cup

Cognac or brandy

2 quarts

chicken stock

3

–

4

sprigs thyme

1 teaspoon

cider vinegar (totally optional) but I love the slight bite it gives it
LOADS OF CHEESE
---
Instructions
Add olive oil and butter to a pan that is set to low medium heat.
Add the onions into the pan and allow them to start sweating.  Season with salt and pepper.
Let this sweat out for 20 minutes!  Do not touch! 
Let's multitask and go ahead and make those crostini.
Taste the onions for seasoning.  Adjust as necessary. Let them cook over low to medium heat for about 30 more minutes.  
Let's flambe! Add in your cognac (or other choice of liquor) FROM A GLASS not from the bottle! With a long stick lighter go ahead and light the mixture on fire and allow the alcohol to start cooking off.  
Add in your stock or bone broth. Taste and adjust seasoning.
Allow to come to a boil then simmer for 5-10 minutes.
Place crostini into your soup crocks and cover completely with soup. Cover with cheese
Place under the broiler until melty!  OR you can use a blow torch to really get cheesy! 
Prep Time:

10 minutes

Cook Time:

60 minutes
Keywords: French Onion soup, French recipes, soup recipes, comfort recipes