How to Make Chicken Milanese (with Arugula and Tomato Salad)
Learning how to make Chicken Milanese with Arugula and tomatoes is beyond easy. It is a super crispy and lemony recipe stemming from Italy that is the perfect weeknight quick and easy dinner meal but fancy enough for a dinner party!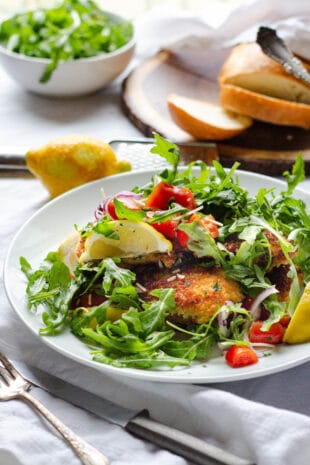 How I Fell in Love with Chicken Milanese
Would you believe that I only learned how to make Chicken Milanese AFTER culinary school? No this particular meal full of delicious textures and flavors I learned on a whim after a client of mine had been ordering it for months and sheer curiosity finally caught up with me.
Ages ago, when I was in my bachelors program for restaurant hospitality and management I used to serve at an Italian restaurant in the north shore suburbs of Chicago. It was significantly better pay to serve than cook! So that's what I did. I had my regular clients at this restaurant, some who would ask for my station by name!
There was this one couple who came in every Tuesday and Saturday. She had the most incredible diamond collection (as she should, her husband was a jeweler). She always ordered the same exact thing: 2 cups of minestrone to start and a Chicken Milanese to share.
I never understood why they looked this one massive chicken cutlet with a huge baby arugula salad on top! It sounded a bit cumbersome to eat and I did not get the whole idea of an upside down meal essentially.
But then I tried it and it was:
Crispy
Tender
Zesty
Earthy
DELICIOUS
I marched right into the kitchen after tasting the Chicken Milanese for family meal one day. And said to the Chef "Chef Mike, why is this Chicken Milanese so damn good!? Please teach me how to make Chicken Milanese!"
Chef Mike laughed and told me it's a simple breaded chicken cutlet with a lemony baby arugula salad on top. That was all I needed to hear and I proceeded to go home and taught myself how to make Chicken Milanese for me and my hubby (he was only my boyfriend at that point).
The Technique
Thin Cutlets:

One of the trade secrets to a perfectly cooked chicken breast is to make sure that the meat is the same thickness all the way across- that way all of the parts of the breast are done around the same time. Many grocery stores sell pre-cut/thinly sliced chicken breasts, but you can also totally do this yourself! All you have to do is cut the chicken breast in half horizontally, and then pound the thicker portions with a mallet until the breast it all relatively the same thickness. Thin cutlets are also great because they are very quick to cook, so it's perfect for a weeknight dinner.
Breading

: What truly makes this dish so crave-able is the chicken's coating. Breading your chicken creates a wonderfully crispy crust, but also leaves the inside of the breast super moist and tender. I only use two steps to bread the meat: 1) an egg wash, and 2) a flavor-packed panko coating. In the panko mix goes lots of lemon zest and parsley to really brighten up the meal.

Frying:

Chicken Milanese is best when shallow fried in hot olive oil. Shallow frying is a super easy technique that is not at all as intimidating as people make it seem!

1) Heating up the oil: Start by pouring some olive oil in your sauté pan. The oil should come up half way up the chicken. Turn the heat on to medium-high. You should wait to put the breaded chicken into the pan until your oil is hot (~325 degrees)! Waiting for your oil to heat up is absolutely crucial to a good fry, so don't be impatient! Pro tip: Sprinkle a few crumbles of Panko bread crumbs and see if it starts sizzling. If it does, go on in and slowly add your chicken. If the oil is so hot that it's scalding and smoking in the pan without anything else in it, then the oil is too hot to cook in and your breading will burn before the chicken cooks. If your oil gets too hot before you are ready to fry, take it off the heat until it stops smoking.

2) Perfectly Brown All Around: When learning how to make Chicken Milanese it really is crucial to learn how to get that glorious brown crust. Flipping the breasts halfway through will get you that gorgeous crust all the way around the breast! Check the chicken after 2-3 minutes in the pan (remember this goes quickly because we are using thin cutlets). If the side is golden-brown in color when you check it, flip it and cook the other side for approximately the same amount of time as you did for the first side. You'll know the chicken is done when the breading is golden-brown and crispy, while the meat is fully opaque but still tender on the inside. Additionally- when chicken is fully cooked its juices run clear- NOT pink. Meat thermometers are great to ensure that you are cooking to the appropriate doneness. If you do have a thermometer, an internal temp of 165 degrees Fahrenheit is necessary for poultry. Pro tip: If you will be reheating these in the oven for serving later, cook them to 155 degrees instead so they do not overcook.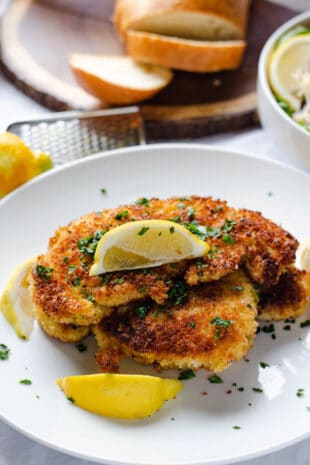 3) Cooling: Now that you've worked so hard for that perfect cook, you want to keep the breast crispy until it's ready to be eaten. Remove the chicken from the pan and either place it on a cooling rack OR a plate layered with some paper towels. This will help the chicken rest without the excess oil seeping into the breading and prevent it from ruining all your work and turning soggy (yuck).

Seasoning! Once you place the chicken down to cool, make sure you give it a generous seasoning of salt! You want to season while the oil is still piping hot on the chicken to help the salt stick to the breading as much as possible.
The Lemon: This Chicken Milanese just would not be the same if you did not add this final squeeze of lemon while its warm! I never do a lot, just a touch will do, but there is something to be said about adding a lemony touch to a crispy chicken cutlet. It just makes everything feel better.

The Perfec

t

Pairing: I would not be doing you any justice while teaching you how to make chicken Milanese without a beautiful tomato and arugula salad accompaniment! Breaded meats are typically associated with super heavy and sluggish feeling meals, which is why it is so important to make sure that you balance the breading with something very light and packed with flavor. We already made a great addition by adding lemon zest to our breading, but to make it feel a little more grown up and less like you are eating just a chicken tender…we've paired this chicken with a gorgeous tomato and baby arugula salad. The best part is, they are simple every day ingredients that really elevate this Chicken Milanese!

Baby Arugula
Cherry/Grape Tomatoes
Thinly Sliced Red Onions (I use a mandolin)
Shaved or Shredded Parmesan
Lemon
Olive Oil: I really like using a super fruity olive oil like this one
Salt and Pepper
A meal for all
Whether you're making this for picky kids, a romantic date night, or a comfort meal for grandma, chicken milanese always hits the nail on the head. It's simple to learn how to make Chicken Milanese, but it has all the elements needed to make it look thoughtful and beautiful. Trust me…this is will be the recipe that you cook up for guests and family dinners alike! Talk about turning plain, boring chicken breast into a magic meal 🙂
What you'll need
Want the Video?
Head on over and see the entire video here!
Print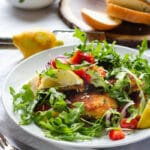 How to Make Chicken Milanese (with Arugula and Tomato Salad)
---
Author:

Total Time:

16 minutes

Yield:

4

-6

1

x
Description
Learning how to make Chicken Milanese with Arugula and tomatoes is beyond easy. It is a super crispy and lemony recipe stemming from Italy that is the perfect weeknight quick and easy dinner meal but fancy enough for a dinner party!
---
1.5

lbs Chicken Breast, cut in half to make thinner, or buy already pounded out chicken cutlets from butcher
Kosher Salt and Black Pepper as needed

2

Eggs plus 1 Tbsp of water for egg wash

1.25 Cups

Panko Bread Crumbs

1

Lemon

2 Tbsp

Finely Chopped Parsley

1/4 Cup

Good Parmesan (Grated or Flakes is great)

2 Cups

of Baby Arugula 

1/2

a Red Onion, Thinly Sliced

1 Pint

of Cherry or Grape Tomatoes, Cut in Half
Good Olive Oil for the Dressing
Every Day Olive Oil for Pan Frying
---
Instructions
Combine the eggs and water and add in salt an pepper to taste. Whisk to combine.
Add salt and pepper to panko to taste.  Add in zest of half a lemon and the chopped parsley, mix to combine.
Dip each chicken cutlet first in egg then in panko.  Set aside on a plate or cutting board.
Pour enough olive oil into a sautee pan and turn to medium high heat.
Check if the oil is bubbling by dropping one piece of panko in to see if it sizzles lightly.  If it does it is ready
Carefully lower the chicken cutlets into the oil by lowering them, away from you. (See Video)
Cook for 2-3 minutes and once golden brown flip the other side and cook for another 2 minutes.
Once the chicken is cooked through, set aside on the paper towels or the cooling rack.
Combine baby arugula, tomatoes, red onions and parmesan in a bowl.  Drizzle on some fruit olive oil, lemon juice and salt and pepper. Mix to combine
Place the baby arugula salad on the chicken Milanese and enjoy!
Notes
Use your left hand for the egg and the right for the panko.  This way you will not get mummy hands when dipping! 
Prep Time:

10 min

Cook Time:

6 min