A Foodie Guide to New Orleans
A comprehensive review of lovely New Orleans from a foodie and a hopeless romantic. Featuring restaurant faves, fabulous dives and stories galore!  Get ready for the ultimate review for your Nola trip!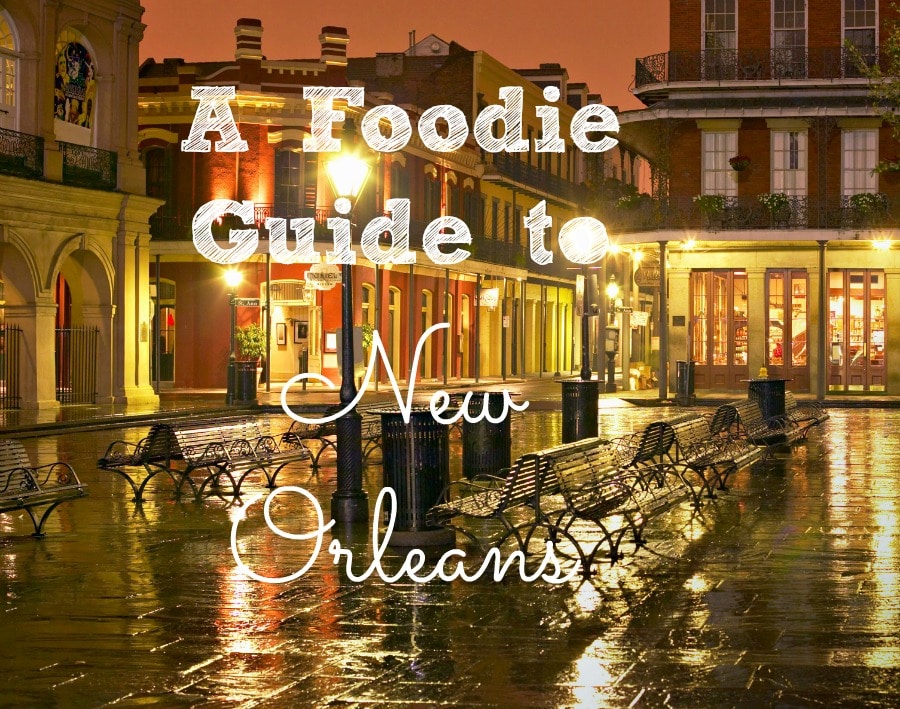 "In the spring of 1988, I returned to New Orleans, and as soon as I smelled the air, I knew I was home.  It was rich, almost sweet, like the scent of jasmine and roses around our old courtyard.
I walked the streets, savoring that long lost perfume." ― Anne Rice, Interview with the Vampire
I've dreamed of going to New Orleans, or Nola as I like to call her, since the day that I saw one of my all time favorite movies, Interview with the Vampire, when I was only 16.  When I read the book sometime in my early 20's, Anne Rice's words transported me into this magical Nola that Louis (AKA the legendary and gorgeous Brad Pitt) called home.  I felt that I had to experience and feel this beautifully strange city for myself.
Three years ago, I gave my husband a trip that we would remember forever.  I gifted him a romantic getaway for two to Nola.  NOLA reminded me of every book I ever read about the south.  I expected to see and hear it all there.  The heavy southern drawl, the fresh scents of giant magnolias, the plantation style houses, dinner balls with mint juleps and fancy dresses.
We were both completely in awe of Nola.  She seemed to take you in and break off a piece of herself for you to savor.  It was cozy and romantic.  We cuddled in quiet corners of loud restaurants filled with music.
We walked through the cobblestone paved streets at night and stared at the old time light posts.  We did in fact meet many people with that Southern drawl that was a bit too much for our fast paced Chicago minds. We took pedicabs when our tired feet needed a break and listened to the young drivers tell us stories of New Orleans and which were the best dives in town.
Hubs and I…are both foodies…so we appreciate any and all dives. We ate sweet and light beignets at Cafe du Monde beignets, (because no others are as good).  We went off the beaten path and got some boiled crawfish and steamed crabs(for him) and deep fried alligator (which tastes like chewy chicken). Prior to eating some gator, we took a break from the French Quarter and went to see the gators in the bayous, where I bravely made out with a baby alligator.
As we flew away from this special city, hubs and both decided this was not our last.
Earlier this year, unexpected circumstances led me to have a last minute trip to Nola with 2 girlfriends.  This is where this story begins.
"What's there to do in Nola?"  Asked my blond friend Kate, who was the culprit behind this last minute trip.
Describing NOLA to someone who has never visited is not an easy task.  Nola is…unique.  What is there to do in Nola?  Well there is the French Quarter, the shopping, the hundreds of incredible restaurants, the ghost tours, the historic tours, the Riverboat tours, the French Market, the cobblestone walkways, the historic buildings, the hanging verandas covered in ivy and random flower pots.
Kate convinced our friend Lilly and I to embark on this trip with her and surprisingly the hubs only encouraged me to go.
We arrived late on a Saturday night and we all found our hunger instantly awakened.  Not even bothering to unpack, we stepped out of our room and right onto Canal St.  And then, we somehow made a turn that led us down,  the horrendously loud, dysfunctional and smelly Bourbon street.
Mostly known for its debauchery and beads, Bourbon St. is the main attraction for nightlife.  Walking down the street you are instantly overwhelmed with clumsy, intoxicated people of all ages and sizes. All of them seemingly bouncing off each other, the walls and the posts, sort of like a human pinball machine.  If you are sober (which we still were) it is quite the sight to see.
Girls in short skirts and dresses walked barefoot through the wet and sticky cobblestone roads  that were at this point covered in everything gross imaginable. Why barefoot? Because their heels were broken.
Which leads me to rule #1.  I like an idiot…wore heels almost every night when we went out with my husband in Nola…I also had him to support me…but most people do not… so:
Tip #1: AVOID heels at all costs that are even moderately difficult to walk in, in Nola, but especially on Bourbon Street.  Or risk breaking a heel, an ankle or your face I learned my lesson the first time I was there with hubs.  Had he not been holding me by the arm I would have for sure ended up one of those chicks laying on the floor or worse, with a broken heel.
See flats…I learned my lesson this time around 🙂
As we walked through drunken Bourbon St.  we all quickly grew tired of the not so pleasant smells and turned off onto another street.  It was seemingly quiet and super romantic.  Once we got away from the chaos of Bourbon we were all overwhelmed with the quiet romance that the cobblestone streets have to offer.
People walked hand in hand sometimes speaking foreign languages all seemingly entranced by the quiet beauty of this historic town.  We stumbled upon a corner restaurant that seemed to have charm and most importantly food and alcohol.  As we walked in we were greeted with a warm good evening right outside and were ushered in.  Our hostess had a heavy Southern accent and gushed with Southern hospitality.
We sat down and instantly welcomed a round of drinks that we had all desperately needed to begin this getaway/celebration.  Considering how hungry we all were, I was mighty impressed with the small amount of food we had ordered.  Kate ordered a giant platter of fresh oysters, simply served with lemons, hot sauce and horse radish.
I ordered the French onion soup and Lily ordered the grilled oysters with a yummy lemon, butter, garlic sauce.  She offered one up to me and despite the fact that I am not an oysters fan, I accepted and was happy when I did.  They were tender, savory and sweet.  Plus the garlic butter was a perfect combination to the warm sliced up bread they gave us.  
We left the restaurant with full bellies and tired eyes.
In the mornings, the French Quarter is completely different.  Stepping into the French Quarter transports you into a time less known, with only the modern cars as a sign of modern times.  In the mornings, even Bourbon St. seems normal and beautifully historic with only the beads hanging of the electrical wires as a giveaway for its more sinful times.  As you walk through the tiny and narrow streets, you are reminded how old this city is as you look at some of the crumbling buildings and the architecture that points to a different time altogether.
One of my favorite things about New Orleans is the southern charm that the food scene still has.  They seem to hold onto their strong Cajun and Creole food roots, incorporating it into every menu and every cuisine style.  Some of the most accredited restaurants in Nola, feature a very grounded and basic Creole recipe that is done juuuuust right.
For breakfast, I decided to go to mine and my husband's favorite breakfast restaurant in Nola,  Camelia's Grill right in the French Quarter.  (FYI…due to legal issues they have renamed it to just The Grill)  Along the way on this super foggy and misty walk, we stopped in front of one of the longest and only running street cars to take a picture on Canal St.  Just looking at that picture now, it almost seems like a scene out of a historic movie.  It all looks super imposed, as if we are photoshopped into there.
It looks like a page out of "Interview with the Vampire."
As we continued walking to the restaurant, sipping the horrible hotel cappuccino I had regrettably shelled out $7 for, I noticed the grumbles in my tummy getting louder and louder.  And I noticed speeding up my walk, leaving Lily and Kate behind me enjoying the scenery, clearly not as bothered as I was by their hunger.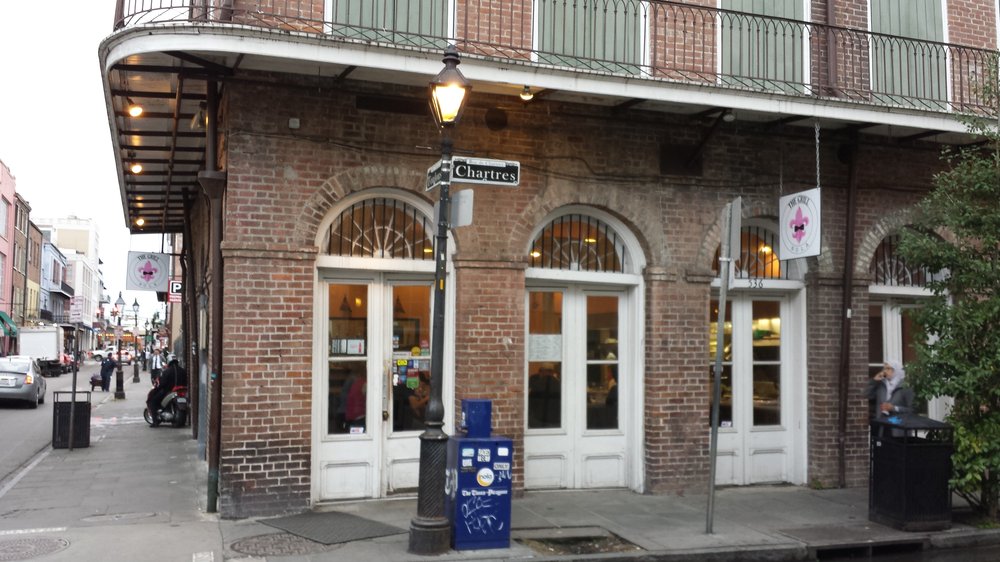 I was instantly excited when we turned the street corner and I saw the signature bright pink fleur de lis   sign.  Life was suddenly better 🙂
The Grill is one of the few diner style restaurants of its kind in the states.  It has the unique 1950's nostalgia written all over it amid its formica covered marble like counters and low green bar stools.
There are no reservations, no snooty maitre'd.  There is a hostess, who serves as the cashier mainly, who greets you with a "How you doin?  How many!?" All while yelling simultaneously at the waiters in her heavy Southern accent.
"3 of us please."  I say, trying to mimic her southern accent.  (It's just something I do, my ears hear an accent and I instantly adapt and mimic.  It's yet another thing that makes me special.)
Our hostess looks around the full restaurant and its winding formica counters and says, "If you see a seat it's yours!  But I don't see any honey!!"
We did not see an open stools either.  Fortunately we were the next in line.  Yet that did not quiet my angry belly at this point.  Suddenly, out of the corner of my eye I saw 3 people grabbing their checks and standing up.  Before they were even out of their stools, I was practically on it, terrifying them in the process.
"Ours!  These are ours!" I screamed to my friends. I think they wanted to pretend they did not know this crazy eyed, hangry person.  But they made their way over and asked the waiter to at least bring me a coffee before I ate the counters.
Our waiter was this guy.
I remembered him from my previous trip to Nola and I was happy to see him…mostly because he was already holding a steaming cup of coffee just for me.
"Well, well, well…look who stumbled into our swanky establishment!  How may I be of service to you fiiiiiine young ladies,"  He flirted with us.  I was so overwhelmed by his hospitality and warmth I almost forgot about my hangry tummy.
"I will need some more half and half please," I quickly retorted in response to the 2 measly half and half's he gave me.
" Well sure sugar…but why are you in such a hurry.  Calm down, relax, melt into the seat and just listen."  And with that, he slowly strolled towards the open kitchen and went into song, singing "You Are My Sunshine," which just so happens to be the state song.  The restaurant suddenly stopped buzzing with conversation and a quite lul came over everyone as we listened to our waiter sing this old time song.  I particularly felt emotional towards it because it was the lullaby I sang to my munchkin every night when I used to cradle her in my arms.
As he continued singing, he returned back to me with two handfuls of creamer, finishing his song just at the perfect moment of delivery.  Everyone clapped and then they dived back into their conversations and eating forkfuls of food.
"Is that enough for you sugar?" He asked me.  I nodded in agreement and smiled as I sipped my slightly tan coffee.
"Now, what can I get for you fiiiiiiiine ladies this beautifully foggy morning?"  This guy never stopped, the compliments and positivism kept radiating out of him with every sentence he spoke.  We all smiled while blushing a little, giggled and basically behaved like 14 year old high school girls.  Once we finally got our composure together we read off our orders.
"Hungry ladies!  That's right!  We like our girls nice and soft down here!  No one needs to gnaw on em' bones."  He proclaimed before walking away to yell our order out to the line cooks.
"Did he just call us…fat?" I asked my friends in complete seriousness.  They laughed.  I wasn't kidding.
Our food arrived in absolutely no time.  I had the fluffly buttermilk pancakes with a side of bacon. Because bacon is awesome.
Kate ordered a classic dish with eggs, bacon and some grits.  And Lilly just ordered grits and an omelette.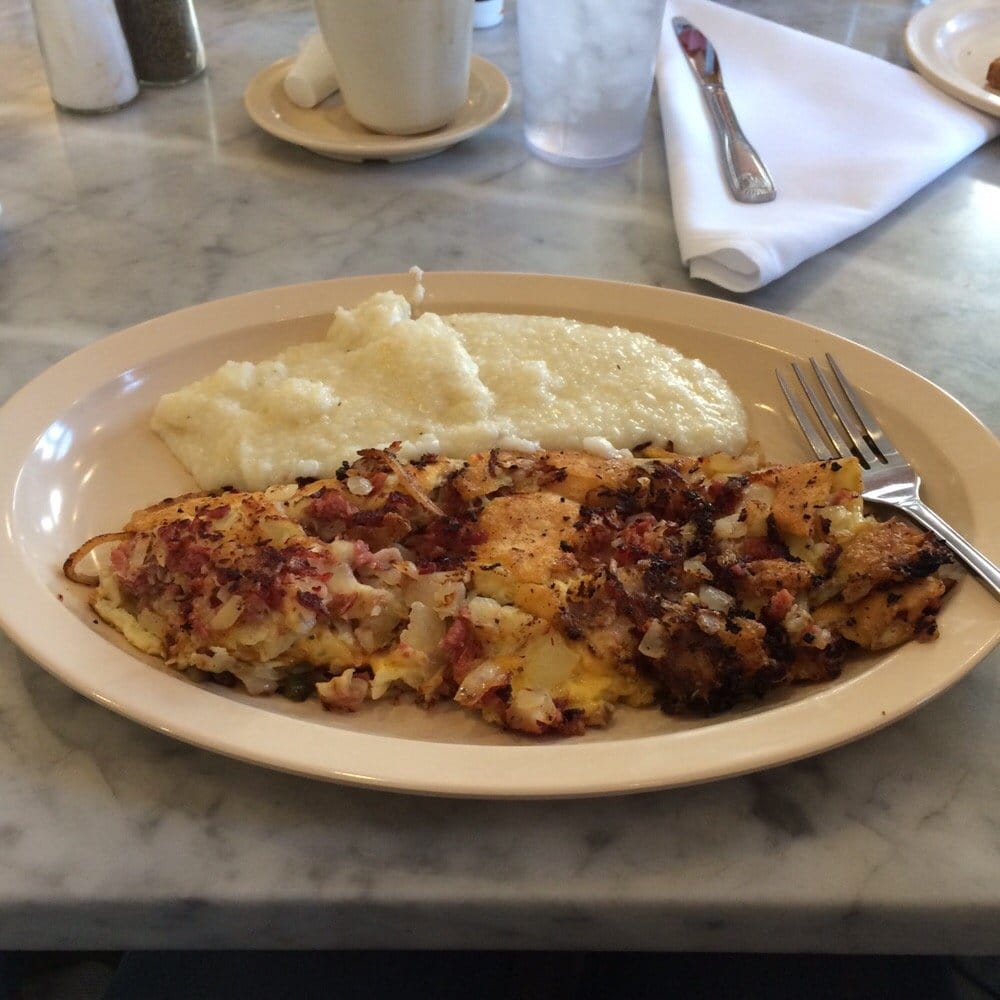 It was good.  Really good. A hearty stick to your ribs breakfast that sometimes one just needs.  Our waiter checked up on us several times during our meal and sang us a song or told us a joke or commented on how beautiful we were.  Needless to say it was always nice to see him.
We walked out, or should I say rolled out of this establishment a bit fatter and much happier.  One of the benefits of eating a lot in Nola, is that you sort of have to walk a lot in order to truly get a taste for the city.  We went on to walking around the many little side streets of the French Quarter, stopping along every corner to take a picture to remember this special town.
This is a haunted pharmacy…and it looked as much.
After several streets, we reached our destination: Jackson Square.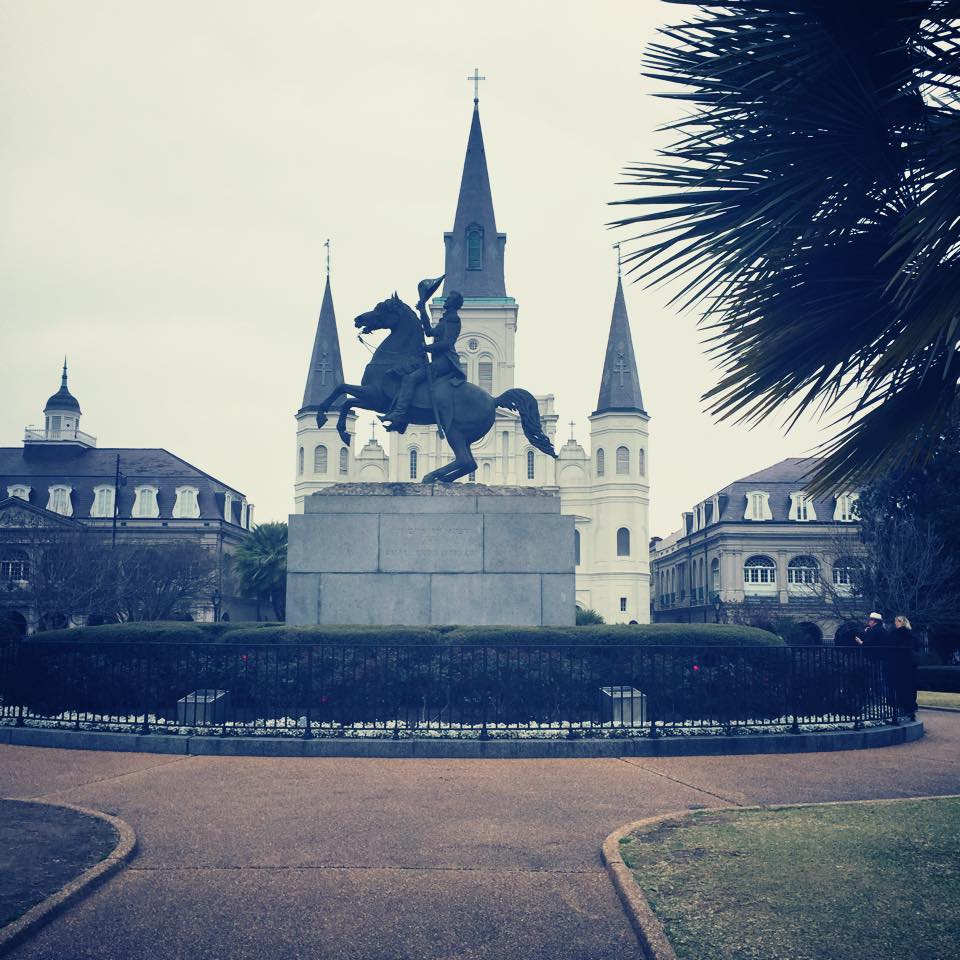 Jackson Square was originally known as "Place d'Armes," but was later renamed in honor of the Battle of New Orleans hero Andrew Jackson.  It has gorgeous historic buildings, each with its own soul and story.  And the tall steeples that are seen behind the Jackson statue is the St. Louis Cathedral, the oldest Catholic Cathedral in continual use in all of the US.  It has beautifully ornate ceiling murals and a silence about it that can even be heard during a busy Sunday mass.
Jackson Square draws many artists, musicians and street artists into its open arms.  It beats to its own rhythm, each corner of the square alive with song and heart.  The first time I was in Nola, I walked into the square and was instantly overwhelmed with emotion.  Perhaps it was the pregnancy hormones or perhaps it was this magical place.  My quiet thoughts were interrupted by a beautiful song.  Out from the heavy humidity that clung to the air emerged a beautiful sound.  A strange man had broken into one of the most heart wrenching renditions of "Amazing Grace" that I have ever heard.  It was being sung from the depths of his being and as he sang with all his might he had tears streaming down his face and I noticed I did too.
"Sap," said my husband to an already emotional me.  But you could see that he was as moved as I was.
My friend Kate is an artist.  And having come from such an artistic family she was enthralled by the beauty and uniqueness of Jackson Square.  She walked around all the the painters and quietly looked at them.  She  said this place had reminded her of the streets in Lvov, her hometown in Ukraine.  Later when she showed us a picture of her hometown, we had to agree.  It was indeed very reminiscent.
We were so distracted by the many sights and shops of this little square, that we literally forgot our umbrellas somewhere.  We all assumed it was forgotten during one of the many selfies we were taking.
I love this photo particularly because we attempted to photobomb Kate…But instead were photobombed by THAT guy bending over.  Awesome.
Next we proceeded on walking across the street to see the Mississippi River.  However, upon approaching it, we suddenly lost sight of it.  The fog was so dense and deep that we could barely see beneath our feet.  It was truly an incredible site.  It was eerie.  There was a silence that was only interrupted by the rocks shuffling beneath our feet and the occasional sound of the streetcar bells.  As with most of New Orleans it felt strangely normal.
Fog selfie…
As we walked away from the river, I noticed the familiar aroma of deep fried happiness filling my nose.  Cafe Du Monde, was in sight.  However we were still quite full from breakfast and vowed to come back when we had earned this deliciousness with hunger and lots more walking.
I'll see you soon Du Monde.
Nola is unique not only for its culture, but because of its people.  Hipsters are not a trend here.  They are a reality and practically a lifestyle.  Free from the chains of life, they roam the streets dressed in top hats smoking pipes and humming an unfamiliar song.  Sometimes they erupt in song on street corners, singing a tune, or as a part of a band, sometimes belting out music so good that it belongs on an album.
We continued our exploration of Nola with a walk down to the French Market.  Essentially a large flea market, complete with restaurants, farmer's market, juice bars, ice cream stands, local vendors selling art, bath salts, hand made jewelry and the best prices on touristy souvenirs.
Tip #2: If you plan on buying souvenirs this is the place to do so.  They have a huge variety of t-shirts, plates, alligator heads, anything your heart desires.  Except they are better priced and are open to bartering which is always fun.  
After all our bartering we worked up quite the appetite.  And started thinking about lunch.  My favorite part of being on vacation or on a trip, is that the toughest decision of your day is figuring out dining options.  Life cannot be more blissful than that.
I told the girls we have to go to Acme oysters.  They are pretty much a must have.  When hubs and I went… it was the first place I took him and it was the last place I took him before we got on the plane.  He loved the oysters, pulling up a seat at the bar and watching the guys shucks hundreds of oysters.  It's also a great way to get advice and helpful tips on all the great dives and hot spots in town away from the tourists.  Because there is NOTHING worse than a tourist trap!
Tip #3: Tourist traps… One of the biggest tourist traps hubs and I encountered when we went was Deannies Kitchen.  It's right in the heart of the French Quarter.  And the food is awful.  The craw fish were salty, the onion rings were huge and greasy, the fried fish was tasteless and salty.  Plus it was 1.5 hour wait.  A lot of places recommend it, but trust me on this one.  It is not worth the wait.
Hubs is a HUGE seafood fan.  So for him, being surrounded by so many oysters was pretty much heaven.  His first time there he had 2 dozen oysters: 1 dozen charbroiled and 1 dozen raw.  I had none.   If you recall, I was preggo and just the smell revolted me.
So considering what fans Kate and Lily are of oysters Acme was a must.  Naturally, due to the popularity of the restaurant, we were encountered with a wait.  But this was just another opportunity to take some pictures in the gorgeous Nola scenery.
I look at these pictures and I am still amazed at how insane looking the backgrounds are!  The perfect awnings, the decrepit beams, the low hanging fog…everything just looks like it was placed there for a movie scene.  Except that guy so casually ruining our photo.
The balconies along with their ornate windows and pastel shutters… a decorator's perfection.  Apparently, judging be her facial expression Kate isn't impressed.
Once our turn was called, we were seated at the bar and were promptly greeted by the big burly men behind the bar who were shucking oysters.  We removed our coats and scarves only to quickly put them back on as we realized we may develop hypothermia without them.  The restaurant was kept ridiculously cold.  My assumption is that it's to preserve the freshness of the oysters…but then again the ice does that just fine as well.
Acme…is a cool place but the ambiance leaves much to be had.  Aside from the ridiculous cold,  it is dark and very loud.  But they do have a really great crisp and spicy bloody mary and they do not go shy on the vodka.  The oysters are great though.  Super sweet, pleasantly plump and  cold and fresh, just how an oyster should be.
Kate ordered these.  And she was quite a fan.
I ordered the char grilled ones and liked the first bite.  I dipped the bread into the leaked out butter sauce and it was fantastic.
But then it happened.  I bit into a piece of the shell and I literally cringed.  It was hard enough for me to learn to like these slippery suckers…but then I had to deal with shards?  I brushed it off and went in for another bite.  CRRRRUNCH. There it was again.  Nope.  That was it.  I was done.  I had only eaten half a dozen out of my full dozen but I was done.
"You guys have it.  My oyster experience is ruined.  I can't."  I said to the girls, pushing it as far away from me as seemingly possible. I was absolutely scarred.  And to make matters worse, I still had little pieces of shards somewhere in my mouth that occasionally announced their presence by scratching between my teeth.  Lovely.
Regardless of how little oysters I ate, I had my fair share of bread and butter dipping so I was pretty full.  However, the waitress came around and told us about a dessert they had.  Caramelized pecans with more caramel and ice cream.
"Sure, why not.  We will have one."  Kate said.
At this point we were all tired, a bit dazed: Kate and I from our bloody mary's and Lily from her gluten coma and just wanted to go rest in our room.
But then this happened.
In all seriousness, this picture does the dessert absolutely no justice.  The girls and I devoured this dessert in a heart beat.  I even attempted to stretch my tongue to lick the bottom of the martini glass, with no avail unfortunately.  I know, I'm one classy lady sometimes.  I did however, manage to smear some of it on my leather jacket…served for a nice snack later.
We paid the bill and left.  Considering how dark and dreary it was inside Acme, we were pleased when the fresh air blasted at us as we walked out the front doors, glad to be out of the polar ice fridge.
We all agreed that we needed some time to regroup and to gather some strength for the ghost tour we had planned later on that evening.  And headed back to the hotel.
Along the way Kate noticed a great shot and forced poor tired and hazy Lily and me to take some pictures next to a trumpet man.
Several hours after we had napped we were feeling refreshed and headed off to the ghost tour that met across from the famous Cafe Du Monde.   Not yet my precious beignets…soon our time will come.
We arrived to the ghost tour and were unfortunately met with a strange and perpetual mist.  Nola had decided to set the undertone for our evening…and it may have been wet, but it was perfect.  The fog hung low, hugging the buildings and the trees in its cool embrace.
We had an awesome guide.  With lots of personality, humor, honesty and historical knowledge.  He started like this:
"New Orleans is an interesting town.  For instance, my real estate agent is also a Voodoo queen and cleaned my new home of all and any bad spirits as a special service."
This was not as much a ghost tour as it was a historical tour with ghost stories woven in.  I appreciated him for what he said.  He did not cover up any of the ugliness that went on in the horrible plantation years of the south.
"There were no slaves sitting on winding white verandas happily playing a banjo as "Gone With the Wind" had led you to believe.  Those times were not the good ole' times Hollywood painted them to be.  New Orleans, was built on blood.  Innocent blood."  he said.
They were horrible, times where human beings were treated worse than cockroaches.  It was a time of utter misery and sickness for most and a time for celebration and power for the few and lucky and very undeserving ones.   Walking through Nola, in this heavy midst, listening to these stories from a sad and distant past, I felt uneasy.
Thankfully we finished the tour slightly in an upbeat manner inside of what used to be a bordello.  Fantastic.
After our 2 hour tour commenced, I realized what a hunger I had worked up.  So we hauled it to the restaurant choice for the night…Cafe Amelie.
Cafe Amelie is hidden away on Royal St.  It is quaint, romantic and the food is ridiculously delicious.  This was easily the best meal we had while in Nola.  And without a doubt the best ambiance.  It is hidden behind ornate wrought iron gates and upon enter it in the evening, as we did, this was our view.
That house is Amelie Cafe, but as you get closer you realize that in front of it is a beautiful courtyard.  Complete with fully mature trees reaching towards the sky with ivy draping them like pearls.  Twinkle lights hung from the table umbrellas and loud sparks flew from the roaring fire pit that was conveniently surrounded with benches.   The place seemed to glimmer.  It made perfect sense to us after the night we had that we would end up in a magical place like this.
It was a chilly night.  At this point it had probably dropped to 60-degrees and the mist wasn't helping the temperature or my hair for that matter, which had at one point been beautifully wavy and now transformed into more of a wet and shaggy afro-like coiffure.  In an attempt to stay warm, I demanded that a heat lamp be dragged to our table so we could enjoy the outdoors like civil people.  Fortunately , the hostess was happy to do so and we sat happily at our table, basking in the warmth from the heat lamp under the protective arms of the trees.
We ordered some mighty fancy drinks and continued to hungrily stare at the menus, unaware of the drool starting to pool in our mouths.
We ordered their pulled pork poutine, brussel sprouts and dates, beet and goat cheese salad and then we split a roasted lamb shank, shrimp and grits and a red snapper.
This…is the poutine with pulled pork.  Classically, poutine is a French-Canadian dish consisting of french fries and a brown gravy.  Having never eaten a classic poutine, I have nothing to compare it to and I have to say…it doesn't sound too appealing.
But this…this was something else.  We were served a beautiful and steaming plate.  A bed of perfectly roasted tender fingerling potatoes made the bed of the plate and piled high on top was tender, smoky and spicy pork that seemed to melt into me as I ate it.  It was so very simple and incredibly delicious.  INCREDIBLY.

The girls fancied the simple goat cheese and beet salad that was paired with roasted walnuts and a balsamic glaze along with some greens.  I am not a fan of beets so we just agreed I would have more of the poutine…I did not argue…I thought that was terribly fair.
Our next plate was the roasted brussels sprouts.  I am a fan of roasted brussels sprouts regardless.  However, these were not just plain roasted brussels sprouts.  They were roasted to a crispy perfection, accompanied with sweet and chewy dates, tossed with salty pancetta and lightly dressed in a homemade balsamic glaze.  I fell so in love with them, I vowed to make them at home.  And I did. You check it out here! 
Lily, who had not yet had the perfect grits experience, decided that we had to have the shrimp and grits.  I was perfectly happy with this since I do not eat shrimp and I could instead chow down on some more of the poutine…again terribly fair.
We took a break in between courses to give our bellies a break and ordered another round of drinks.  Life was good.  Our tummies were happy, our bodies were warm and our brains buzzed with excitement from the few drinks we had already consumed.
The red snapper dish was fantastic!  Perfectly cooked to a flaky and tender perfection only to be finished off by a bright citrus beurre blanc and simply served on top some butter roasted potatoes and green beans.  We gobbled that up without even blinking.
The lamb shank that we ordered is unfortunately not pictured.  My lack of self control and alcohol induced cluelessness was to blame for the absent picture.  But it was incredible.  Melt in your mouth tender, flavorful and perfectly seasoned.
At the end of the dinner, we were all stuffed to perfection and we did have dessert…however my memory became fuzzy at this point clouded by the tequila and the poutine.
Despite having an incredible meal and perfect company the best part of the night was yet to come.  When our waitress came and gave us the bill and asked if there was anything else she could do, I said,
"Yea a blanket would be great," I proclaimed sarcastically and totally serious.  She smiled and said,
"No problem be right back."  She hurried back 2 minutes later with a huge warm quilt.  I looked at her practically with tears in my eyes.  I have always complained that restaurants should give out blankets so they can sit longer outside on those "iffy" nights.  When I host my outdoor BBQ's at home I am considerate enough to hand out blankets and quilts to all my friends who are chilly so I always thought fine dining establishments with outdoor areas should do the same.  And finally I had encountered one.
We settled the bill, grabbed the quilt, our drinks and went to sit down on one of the four benches in front of the fire pit.  As we sipped our drinks and shared a  cigarette, stories started flowing.  We talked about life, childhood, marriage and children.  Stories of heartbreak, sadness and laughter seemed to melt into each other.  We were sad for each other and yet we found a way to laugh with each other.  We interrupted each other's stories with our own tales and agreed with each other's woes.  It was everything that a girl could want from a girl's night out.  We stared at the bright fire in front of us letting it wash our faces over with its warm glow.  There was nothing that could take the perfection of this night away from us.
We walked slowly back to our hotel only to stop to take pictures with the police officer's horses parked outside.
It was beautiful and strong.
And then it pooped.
Lovely.
We continued to walk down to our hotel and Kate stopped and said, "Wait, this is how I want to remember this."
She snapped a picture and upon looking at it we were all blown away.  The stories from our ghost tour seemed to come alive.  It was surreal.  For a moment the shadows had no faces, only dark silhouettes outlined by the moonlight.  Everything seemed to float in this fog, including the seemingly mysterious strangers wearing long coats and over-sized umbrellas.  The girls kept walking and I just stood there staring into the night…half expecting my Louis to walk towards me. He could make me his vampire bride…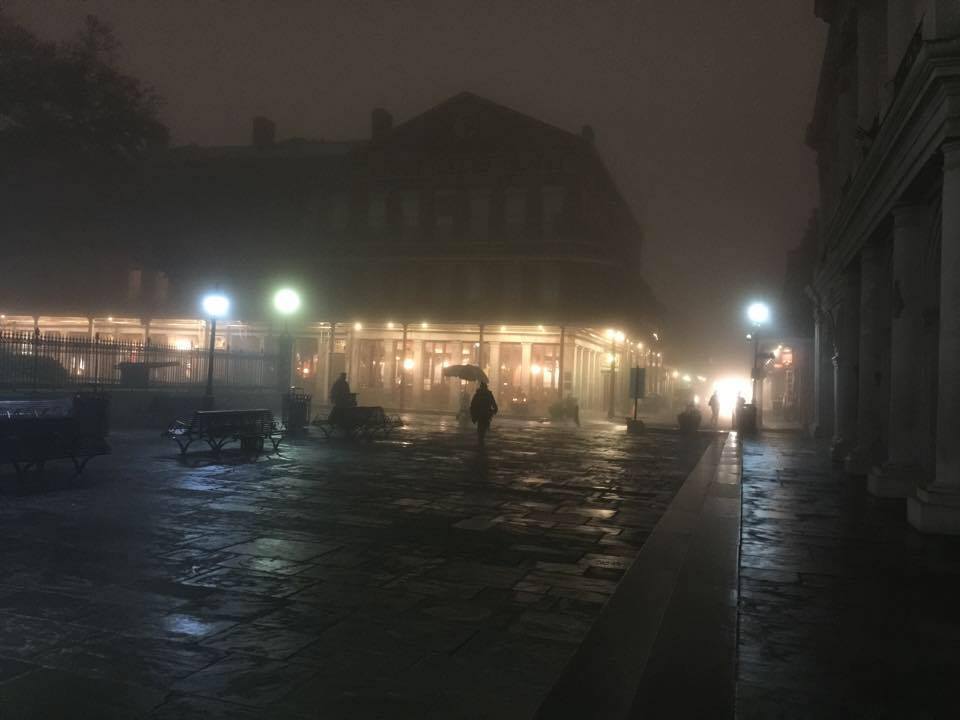 On our way to the hotel, we heard a local bar with great live music.  Kate, dragged us in and we were greeted by the stage immediately.  Upon it, a man who must have been in his 60's was saxophoning his heart out…
to a crowd of about 12…the 3 of us included.
After he saw us walk in…he proceeded to serenade us with jazz tunes and current pop hits alike.  Once  he started belting out his slow and romantic hits we high tailed it out of there, sweaty and dizzy and welcoming the refreshing cool air outside.
We slept like babies that night, dreaming of misty nights and foggy days.
The next morning we awoke to a humid and extremely warm day that forced us to change outfits and accessorize with sunglasses instead of umbrellas.  Finally, a nice warm day had settled in and we had decided to spend it in the historic and beautiful Garden District.
We wanted to experience the real New Orleans on the streetcar.  It was cheap, entertaining and hot.  It takes you all the way down to the Garden District through St. Charles Street and along the way you get to sit with the locals and see some interesting sights and places that are not all too familiar to the French Quarter.
Naturally, I had wrecked my brains for where to go for breakfast in the Garden District, breakfast is damn important and it was my duty to choose the ultimate spot.  I decided on a tongue twister of a restaurant with glowing reviews: Atchafalaya
We found Atchafalaya nestled in between historic houses on a quiet street corner just blocks away from the main shopping on famous Magazine St.  We sat at the very table pictured under the umbrella and waited for our waitress to come and greet us.
It was a perfect sunny day and we all welcomed the sunshine after several dreary, foggy days in the Quarter.  It was interesting…each part of Nola painted its own picture on the canvas with the weather: French Quarter moody, cloudy and a tad distant; Garden District: Bright, sunny and welcoming.
The food ordering took entirely too long on our part.  Everything looked incredible and everything needed to be devoured.  So we decided to each order one or 2 things and split it.
I ordered the a simple French Toast that was fancied up by a bananas foster loaded on top.  Not pictured is my obligatory crispy bacon that I like to accompany every single one of Nola breakfasts
Lilly ordered the Duck Hash with poached eggs, duck confit, garnished with blackberries, mangos and bacon dressing.  It may sound odd but it was legendary.  The combination of sweet and salty and creamy was just out of this world.  We all devoured this dish with zero regret.
 Kate ordered the Eggs Atchafalaya served with lump crabcakes, fried green tomatoes, poached eggs and their signature hollandaise sauce.  I for one was thankful that I did not eat seafood because I was thoroughly enjoying my French Toast experience.
We got up from the table and were thankful we had a walk ahead of us through the Garden District.  I felt pleasantly full and unnecessarily warm.   Walking through the Garden District we were all enthralled with the romanticism of the city.  It seemed like another world away from the artsy French Quarter.  
As we walked through the streets we would constantly trip on a tree root that was erupting from the side walks.  Hundreds of year old trees reached high into the sky; their limbs reaching for each other like lost siblings who had found each other.  Magnolia flowers, some the size of my head opened up in elegant courtyards one petal at a time, anxious to tell the tales of a distant past.
We found several tour guides hauling their groups along the Garden District on every corner and sometimes we stood in the back and listened to their tales, until we got bored and moved onto another group.
Very economical of us I thought.
Several of the houses still had their multicolored beads strung all over the houses; left over decor from the loud Mardi Gras celebrations just weeks ago.  It seemed bizarre to see such old homes with their ornate balconies and perfect architecture have tacky colored balls and huge masks strung through.  But this is Nola…and Nola likes it this way.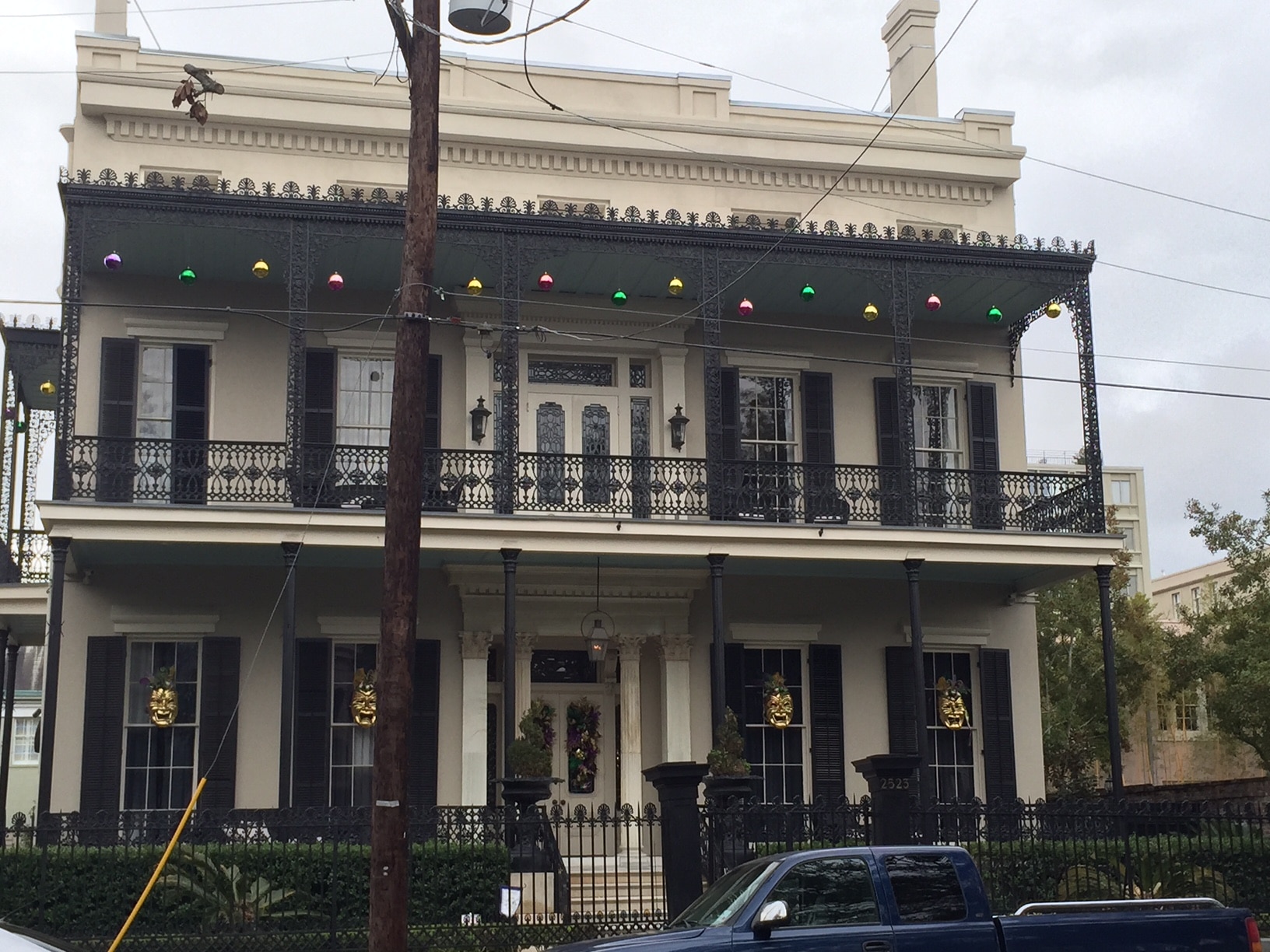 We passed by the Commander's Palace, home of the world famous turtle soup and took a selfie.  I am not quite sure why we all look like we are straight up hood, as if we are in Compton and not in the elegant Garden District.
We passed a beautiful building that had been transformed into an all girls school.  Adorable little girls in uniforms ran around carelessly and freely screaming with glee.  Seeing the little girls and hearing their melodic laughter tugged at my heart strings gently, reminding me how much I missed the joyous laughs and giggles of my munchkin back home.  And a little part of me was glad to be leaving Nola the following day.
A delicate roll of thunder seemed to quietly pass through the Garden District, politely warning us to get cover.  We jumped on the next streetcar and practically as soon as the doors closed it started to pour manically.  The rain only increased as we reached our stop and we all huddled under the canopies of the store on Canal Street before we braved it into the rain.  We bolted for the hotel doors only half a block away and were surprised how refreshing the cool rain felt on our overheated bodies.  We arrived to the hotel and decided to catnap before having an early dinner.
For dinner that night, we decided on the famous Cochon outside of the French Quarter.  We welcomed the 20 minute walk to the restaurant in the lovely warm evening, fully knowing that the freezing temperatures in Chicago were waiting for us the next day.
Cochon is translated to pig.  And it is fantastic.  It is based in the similar tapas style that most restaurants are serving nowadays and we were more than willing to taste everything it had to offer.  Kate convinced me to order a pitcher of their strawberry beer.  Apparently, I had forgotten that I do not drink beer but instead decided to enjoy an ENTIRE pitcher with my girlfriend.
I wonder about myself too sometimes.
The girls and I realized how hungry we were and I was so grateful when the warm buns with butter arrived.  They were similar to a brioche buns and served with perfect, room temperature butter.  They were devoured in about 3 minutes.  Lily realized she was a slave to these buns and informed us we may need to carry her back because she is going into a gluten overload.
Since we would be consuming loads of pork and heavy foods we decided to have some greens.  And I am SOOOO glad we did.  This Cucumber and Mint salad was phenomenal! Super simple and fresh with just the right amount of acidity and heat in its chili red vinegar vinaigrette.  We were such fans, we ordered two to accompany the rest of the meal.
I am a huge fan of mac and cheese.  HUGE.  Every where we go that has a gourmet version of mac and cheese, I am sure to order it. This was no exception.  I must say, while it was good…it wasn't great.  I have had great and amazing…this fell below that.  But I still somehow managed to devour half of it.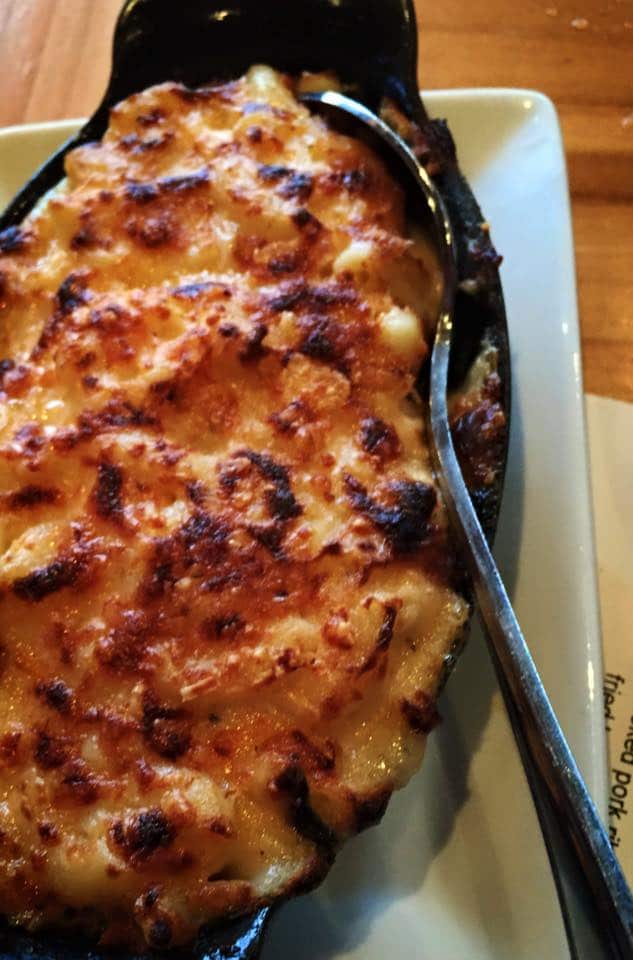 It was nice to have the beer to chase down some of the gluten with more gluten… I then realized why I do not drink beer…it makes me feel slow and hazy…
We had these little beauties.  And they were divine.  Braised pork cheeks served with grits, almonds and a grapefruit pickled salad.  It was fab! I particularly loved the salad on top because it cut through the heaviness of the dish.
We had an awesome beef short rib with what they call a potato risotto…a play on words on what was basically finely diced potatoes.  Nonetheless, it was delish and we devoured it as well!
3/4 of a pitcher of beer and 4 courses later, I was stuffed, dazed and a bit drunk.  We opted out of dessert and decided a nice long walk to Cafe du Monde was in the cards for us.   As always the walk was nice.  We strolled rather than walked, plastic cups of beer in hand, occasionally swaying into each other and laughing at our drunkeness.
TIP #4: Speaking of walking, I used Google Maps and Apple Maps to get us everywhere!  Turn by turn instructions while you walk at times a bit inebriated is quite helpful.  
When we arrived at Cafe du Monde  the smell of sweet beignets completely took over us.  We took a seat and I ordered 2 orders of their delicious doughnuts and a few cafe o'lait's.
TIP #5: Ask for light powdered sugar.  Or else they will bring you enough powdered sugar to build Mt. Everest!
Seriously I had forgotten how flipping amazing these are.  I remember eating them when I was pregnant and thinking, "they are ok." I must have been clinically insane back then.  It must have been those pregnancy cockroaches, otherwise knows as hormones.
These are the bomb.com!!!! I ate 3 and could have 33 more.  See…and that's it light powdered sugar…imagine the regular orders!  I halfway considered stealing some of the girls beignets but agreed to lay off as I was certain we would have another Du Monde stop before the night was up.
Tip #6: Practically across from Cafe Du Monde is another beignet spot.  Not worth it.  Cafe Du Monde is the original beignet spot…and that will be the only place we shall go!
 That night we decided to go to Frenchman St.  A place where the locals like to hang.  Full of artists, musicians, bars, great dives and music of all type.  Bourbon Street is for tourists…Frenchmen Streets is for locals.
 We were tired at this point and I decided to let our legs rest up and grab one of the peddy cabs or rickshaw…It's basically a bicycle cab and the drivers are typically cute young boys who have plenty of stories and recommendations.
We had to be split up, so I got my own cab.  My driver or peddler, was a cute tall guy from New York.  He even had the accent.  After a short ride and several compliments I walked away from my cab feeling refreshed and with a crumpled up phone number in my hand.  Excellent, I got hit on by a 25 year old….MILF status achieved.
 We walked down Frenchmen Street and were welcomed by all the different bars and jazz clubs.  We stopped in a few but none seemed to be on our wave length.  Swingers music billowed out of a nightclub that waved us down but we decided to walk a little further.  Hidden in the corner was an adorable outside restaurant/cafe with a full band and bar outside.  Green uplit palm trees wrought iron tables and plenty of positive vibes welcomed us as we walked through it large, black gates.
We grabbed one of the open tables, snatched a few drinks from the bar and put our legs up to enjoy the lull jazz and our own conversation.
Kate was prepared for such an occasion and she removed a water bottle that we had earlier filled with the tequila stash from our room.  We ordered some pineapple juice from the bar and enjoyed our tequila and pineapple on the rocks.  Again quite economical (and Russian) of us.
The music got a little louder, we got a little louder as our stories took us back to memory lane about how we met our significant others, how we met each other and how much we would miss these types of warm girls nights when we got back to Chiberia the following day.
Several hours later we started walking back to the hotel down the main street of Chartres, laughing and bumping into each other along the way.  Our tequila induced buzz felt great and while the mist that started to gather in the air was not doing anything for our hair, it felt cool and refreshing.
Strange figures would sometime emerge out of the mist as we walked…sometimes humming a tune, sometimes texting away, one in particular emerged on a unicycle outside of Jackson Square and momentarily caused me to question his sanity…but then I realized we were in Nola… and so I jumped back into the song that Kate and I were singing before the unicycle interrupted us.
I had an agenda… I was going to Cafe du Monde one last time.  It was thoroughly enjoyed again.
We ate, we sang, we ate and we drank.  After Kate and I had a night cap in our bed we eventually passed out to the sound of the bickering "Property Brothers."
The next morning was Kate's birthday.  Due to my mild tequila hangover, I forgot and did not remember until a stumbling Lilly ran up to Kate and hugged her and wished her a happy birthday.  I felt like an ahole.
"No problem," Kate said, "You have all day to make up for it."
We had a short day, so we made the best of it.  I decided that we needed to go on the Natchez Steamboat to incorporate some more history and boating into our trip.
It was a beautiful and very hot day and so I braved to put on my flip flops.  The brilliant nautical navigator that I was, I forgot that the boat would be chillier since we were on the water.  And so here I sit, wrapped up in my sheer scarf, pissed, cold, hungry and trapped on a boat that had at this point been playing non-stop renditions of old time favorite jazz tunes.
I love that I am pouting like my 3 year old in this picture.  Apples don't fall far from the trees…
The steamboat was fun…but entirely too long.  They need to cut that down to half the time.  Half of it is educational and the other half is clearly just a reason for them to extort money out of the passengers by selling them over priced and watered down drinks.
However the big wheel thingee is great for pictures.
Tip #7: Do NOT buy the tickets on the steamboat with the option to eat their lunch.  It is not good at all, over priced and entirely unnecessary considering Cafe Du Monde is practically next door.  
 When the ride was over, we practically ran off the boat and down to the French Quarter to enjoy an Al Fresco lunch.
We walked up to an adorable restaurant on Royale Street because we wanted to hit the great shops there.  Upon entering the restaurant, our clueless selves realized this was the SAME place we ate when we first arrived in Nola.  How very serendipitous!
The Royale House had once again welcomed us with open arms and escorted us upstairs to their tiny veranda.
Tip #8: There are MANY incredible restaurants on Royale St.  If you happen to be in town on a Friday, stop by Galatoire's for lunch tea.  The fancy ladies come out in all their Southern get-up including fancy hats.  When hubs and I went to Nola, we ate at Irene's which was AMAZING!!! It is run by a little old lady who started it ages ago.  Service was spectacular, drinks were grand and the food was fantastic!
The view was spectacular, the food was wonderful and the weather was blissful.  We sat high above everyone and looked over at the gorgeous historic scenery.  It was the ultimate last meal in Nola.
We drank bloody mary's, ate oysters (shard free thank God) and enjoyed the view.
Kate agreed it was one of her favorite birthday celebrations.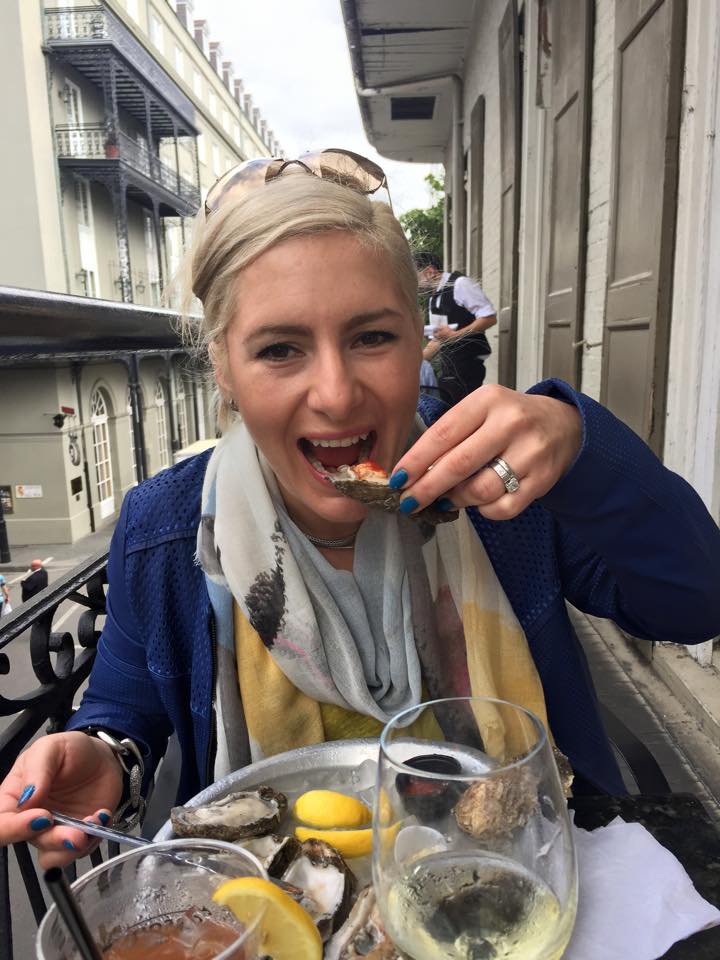 We were all slightly buzzed and so we decided some shopping was in order.  We had not purchased any souvenirs yet so what better way then to cram them into the last hour we had before leaving for the airport.
This was not a great idea.  Somehow our somewhat inebriated selves got split up in the midst of our shopping, only later realizing we were all in the same store only minutes apart from each other.  Geniuses.
We had to practically run back to the hotel to grab a cab and head off to the airport. Fortunately, we could count on the poor aviation schedules of United and our flight had been delayed.  Awesome.
Once on the plane we scanned through our many pictures from Nola.  And were glad there were so many.
 You are always on our heart Nola…always.