A ridiculously creamy and luscious sauce that is loaded with garlic and silkiness.  This dairy free alfredo sauce are what all vegan dreams are made of.  
A few years ago when I went vegan  (Note:  I remained a hard core vegan for over 5 months…at which point I added in fish and eggs) one of the most unimaginable tasks was giving up creamy sauces.  Certainly I did not have them often, but being the overly anxious worrier that I was,  I was already starting to look forward and panic about what would happen when I suddenly, that one time a year, would want a creamy sauce.
That time did come.  It happened to be a particularly cold and cruddy day.  I had a bad day.  A horribly awful day that called for a warm and creamy sauce that adorned perfectly al dente noodles.  At this point I was a true vegan and refused to eat anything that even smelled remotely like dairy.  Naturally, I began to search out alternatives to dairy and how I could conquer my creamy desires without giving up on my vegan beliefs.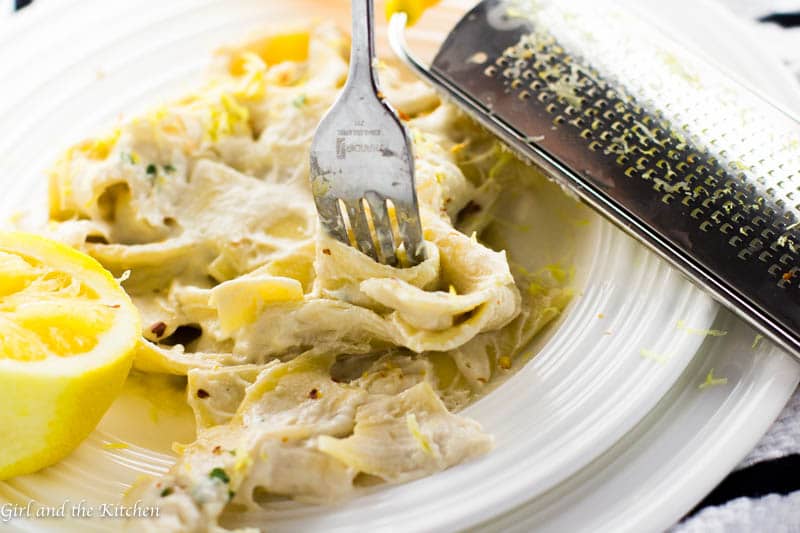 I researched and before very long I had discovered that nuts, in particular cashews, were used to create creamy sauces for all vegans and non vegans alike.  I was stunned.  Genuinely and honestly stunned.  But most of all I was not convinced.  There was no way in hell that pureed nuts would replace my cream that I still secretly loved so very much.
But I am happy to say…I was wrong.
Cashews could in fact be creamy and delicious…and even fool regular carnivores and dairy eaters into believing they were eating a ridiculously rich and caloric alfredo sauce.  It was just THAT good.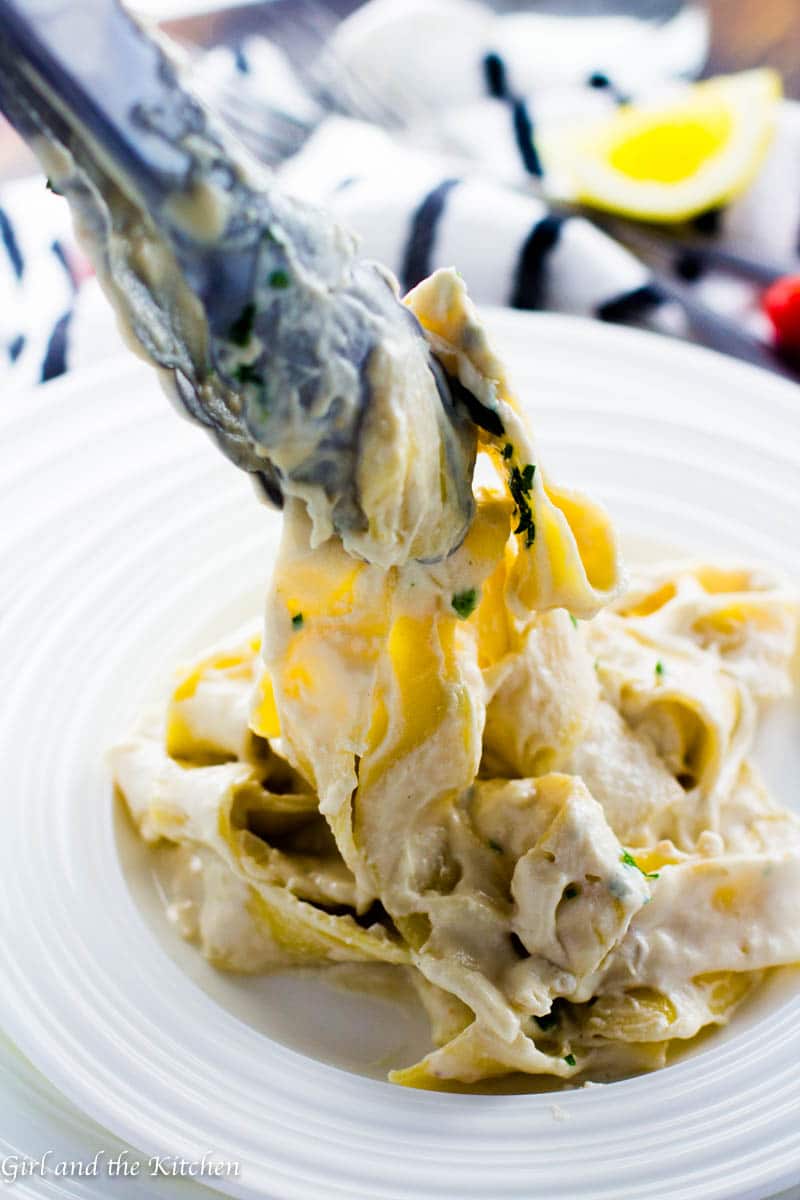 Look at that creaminess…would you think this was not a classic alfredo sauce?  I did not think so.  Dairy free alfredo sauce as it turns out is a reality and its delectable.
The key to ensuring that this sauce pleases all vegans and non vegans alike is the slow sweating of the aromatics.  I used dairy free butter to "sweat" shallots, garlic and red chili flakes.
Chef lesson: Sweating is essentially cooking over a low heat sometimes covered, encouraging the juices to come out of the veggies and creating a sweeter and more delicate flavor than caramelizing usually does.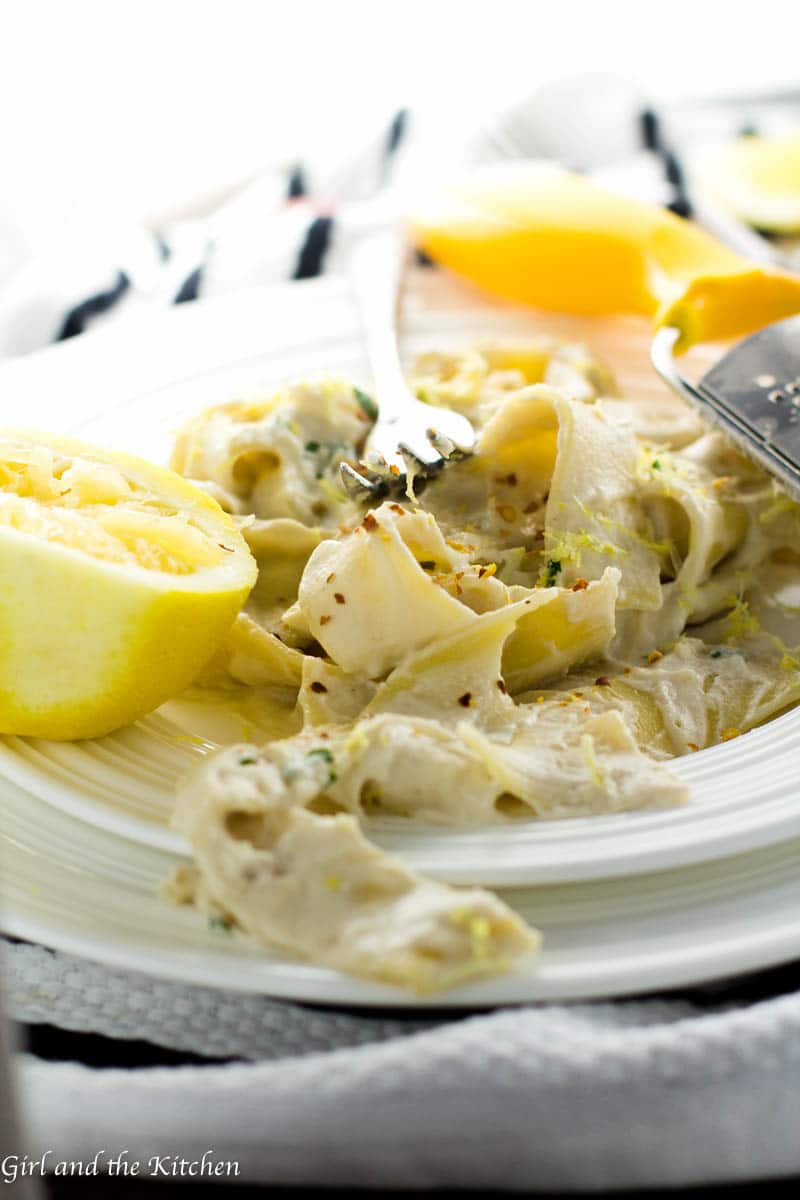 The cashews are covered with boiling water and then soaked for 30 minutes.  Soaking them allows them to become creamy goodness when pureed and out emerges a beautifully luscious and completely delicious sauce that can be used on pasta, in soups and dips.
This sauce is incredibly quick to come together as well!  A heck of a lot faster than regular fettucini alfredo that's for sure!  Neater awesome part of this sauce is that it CAN be made ahead of time and stored in the fridge for up to a week.  And then what you ask?  Well you can make a plethora of recipes!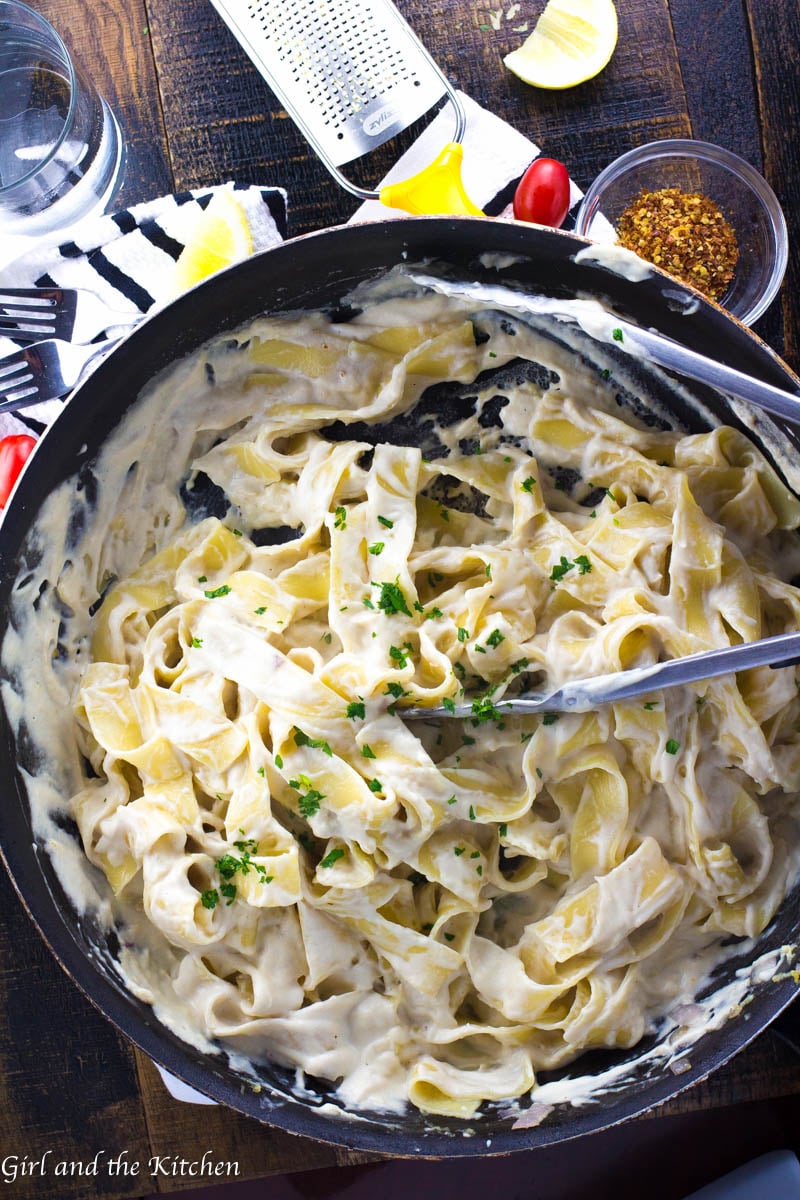 I have used this vegan and dairy free alfredo sauce more times than I can count, pairing it with pastas of different variations and even using it with chicken for a friend who had developed a dairy allergy and almost feverishly ached for a good alfredo that did not send her running in tears across the living room with stomach cramps.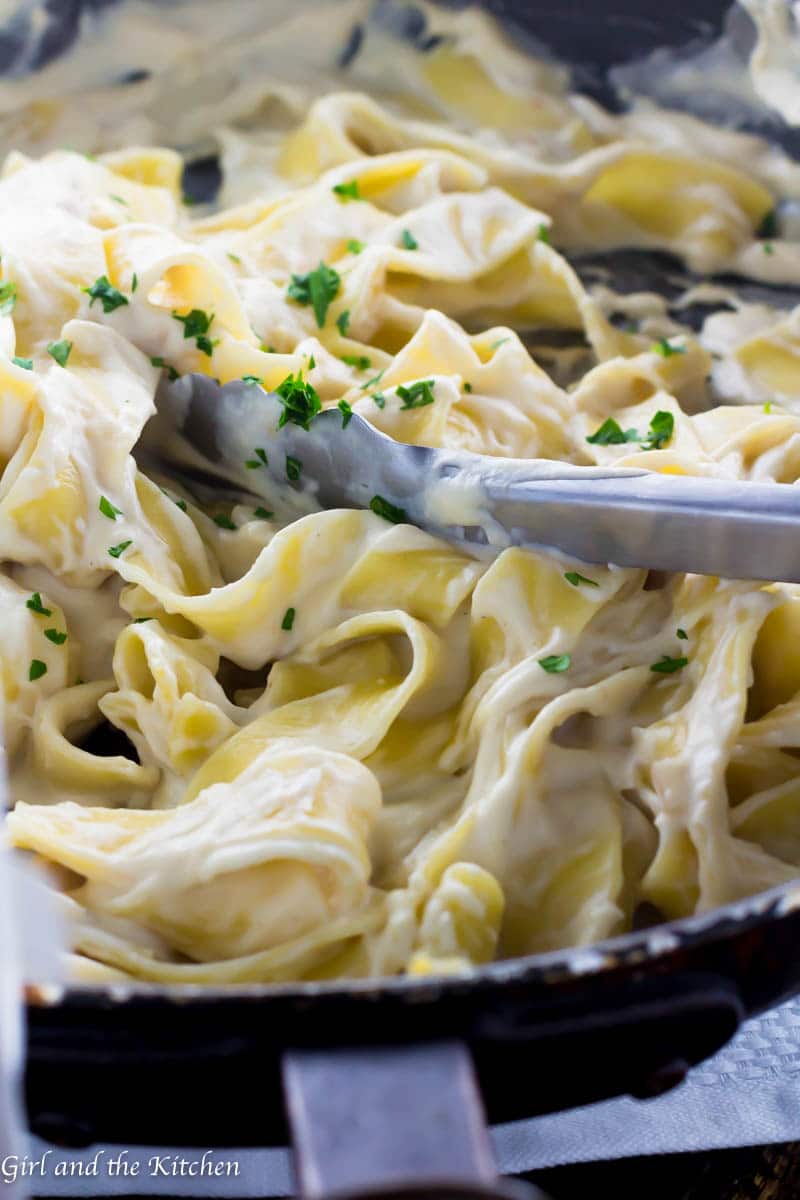 I was proud to say I had accomplished my mission.  When I first created this sauce, I served it with some fresh pasta from the grocery store and some simple shreds of lemon zest on top.  This of course is completely optional but I love the burst of freshness that the lemon zest gives the sauce.  And that fresh pasta..it ROCKED.  It was the perfect al dente chewiness and only required 1 minute of cooking time.
How good is this sauce you ask?  Well it was so good that when I asked my husband to help me with the photography session this pasta begged for… He slurped up the noodles asking me how guilty he should feel and how much heavy whipping cream was actually in THIS sauce.
None, honey bunny…none at all.  And so he continued slurping it up as I yelled at him to put the fork back down in the same artful way I had originally had it in.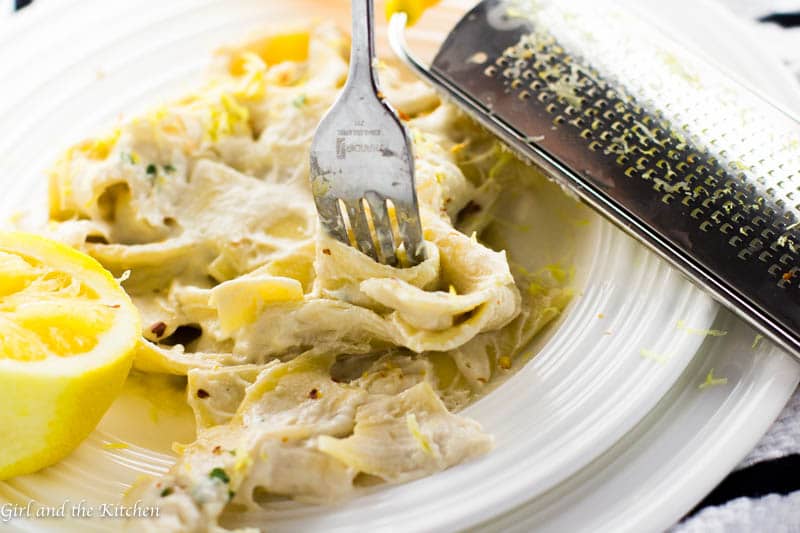 So I stand her proudly to tell you that vegan and dairy free alfredo sauces do exist…but more importantly they exist in a delicious world where dairy lovers and non dairy lovers alike can slurp up noodles side by side without any bad blood.
And peace was restored in the world again…
Print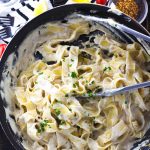 Dairy Free Alfredo Sauce
---
Author:

Total Time:

45 minutes

Yield:

4

people

1

x
Description
A ridiculously creamy and luscious sauce that is loaded with garlic and silkiness. This dairy free alfredo sauce are what all vegan dreams are made of.
---
8 oz

raw cashews

2 cups

boiling water

1 tbsp

dairy free butter (I likeEarth Balance best)

1

large shallot (diced)

3

garlic cloves (minced on a microplane)

1/4 tsp

of red chili flakes or more (depending on how spicy you like it)

8 oz

of fresh fettucini pasta
lemon zest (optional)
fresh parsley (finely chopped as a garnish)
salt and pepper to taste
---
Instructions
Pour boiling water over cashews, ensuring they are covered completely. Allow to stand for 30 minutes.*
Place a pot of water to boil for the pasta.
In the meantime, add dairy free butter, shallots, garlic and red chili flakes to a large sauce pan with all sides over medium heat.
You are going to want to sweat these veggies, meaning no color. Just allow them to get aromatic and let their juices come out and mingle together. Let them cook for about 10 minutes.
Once cooked, add the shallot and garlic mixture to a blender or a food processor. Add in the cashews that have been soaked and about 1 cup of the soaking liquid.
Puree until completely smooth and taste for seasoning.
Feel free to add more of the water if necessary to make the sauce creamier or thin it out a bit. Just do so a little bit at a time.
Place the sauce back into the pan and allow to come up to the simmer.
Cook your pasta until al dente, about 1 minute with fresh pasta.
Add the pasta into the bubbling sauce and about 1/2 a cup of the pasta water. This will let the sauce come together nicely.*
Serve immediately and garnish with fresh lemon zest and fresh parsley.
Notes
 You can also let these stand over night if you have the time. I however do not and so I just let them stand in boiling water which will create the same effect.
If the sauce gets a bit too watery, just crank up the heat to high for a minute and it will thicken up quickly.
The nutritional information is to be used for information purposes only.
Prep Time:

30 minutes

Cook Time:

15 minutes

Category:

Dairy Free, Vegan

Cuisine:

Italian