The Ultimate Crab Cake Recipe
The Ultimate Crab Cake Recipe is not difficult or particularly unique…it is however super tender, moist and full of crab! Forget the bland and dry crab cakes of the past! This super moist and flavorful crab cake is perfect on its own but elevated to superior levels with a caper remoulade!
How To Make These Easy Crab Cakes At Home
If you've ever been to the Northeast coast, you know that crab and crab cakes are basically a religion out there. And for good reason! Crab Cakes are an easy crowd pleaser for any party, gathering, or just a plain weekday dinner!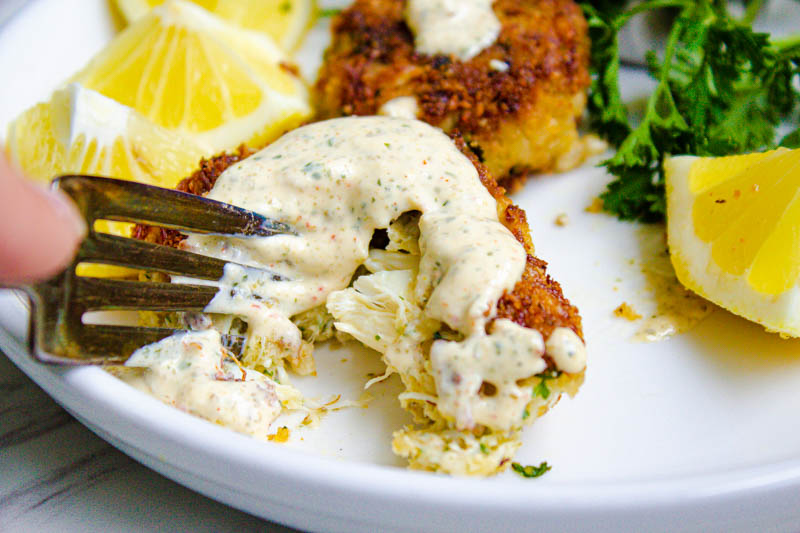 We all know and love a traditional crab cake when it's done right, but how often do you order them to find out that they are mostly filler and little crab? Say goodbye to those dry breadcrumb heavy crab cakes that leave you guessing where the actual crab is! I've got a little secret weapon for you. These crab cakes are bound with RICE. Yes you heard that- bye bye dry breadcrumbs, hello moist delicate rice! Trust me, this truly is a game changer. And if that isn't enough, I'm going to teach you how to elevate them even further, with my amazing caper remoulade. Let's learn how to take a basic crab cake and make it into a gorgeous dish!
The Technique
The Crab

: This is obviously the most important ingredient. Good quality crab meat will make or break this recipe! I use lump crab meat only. You can buy it in a can at your local super market. If they have jumbo lump crab meat, that is the most preferred! However it is much more expensive, so regular lump crab will do if you are trying to cut costs. Always pick over your crab meat for shells before adding to your mixture. You don't want anyone finding crunchy little surprises in their crab cakes!

The Rice

: Our little secret ingredient- rice! I like to use risotto rather than regular rice. This way, the binder is super creamy and moist and it stays sticky so that your crab cakes don't fall apart when you fry them. If you don't have Arborio rice however, you can absolutely use regular rice as well.

The Flavor

: If you guys know me at all, you KNOW I have to throw some zest in those crab cakes! We are adding a few extra things to give this recipe a little zing. Other than the crab and risotto, we are adding mayo (avocado oil based ONLY!), parsley, shallots, lemon zest, lemon juice, salt and pepper. These ingredients are all going to compliment the crab so well and really bring out the depth of flavor.
The Preparation: This is a very important step! Trust me you don't want to skip this! We are going to make our gorgeous crab mixture into little patties and then pop them into the fridge to bind together. Next, get a bowl, PANKO breadcrumbs. Panko really does make the biggest difference- it will leave you with a super crispy, delicate crunch. And they become really golden brown when shallow fried.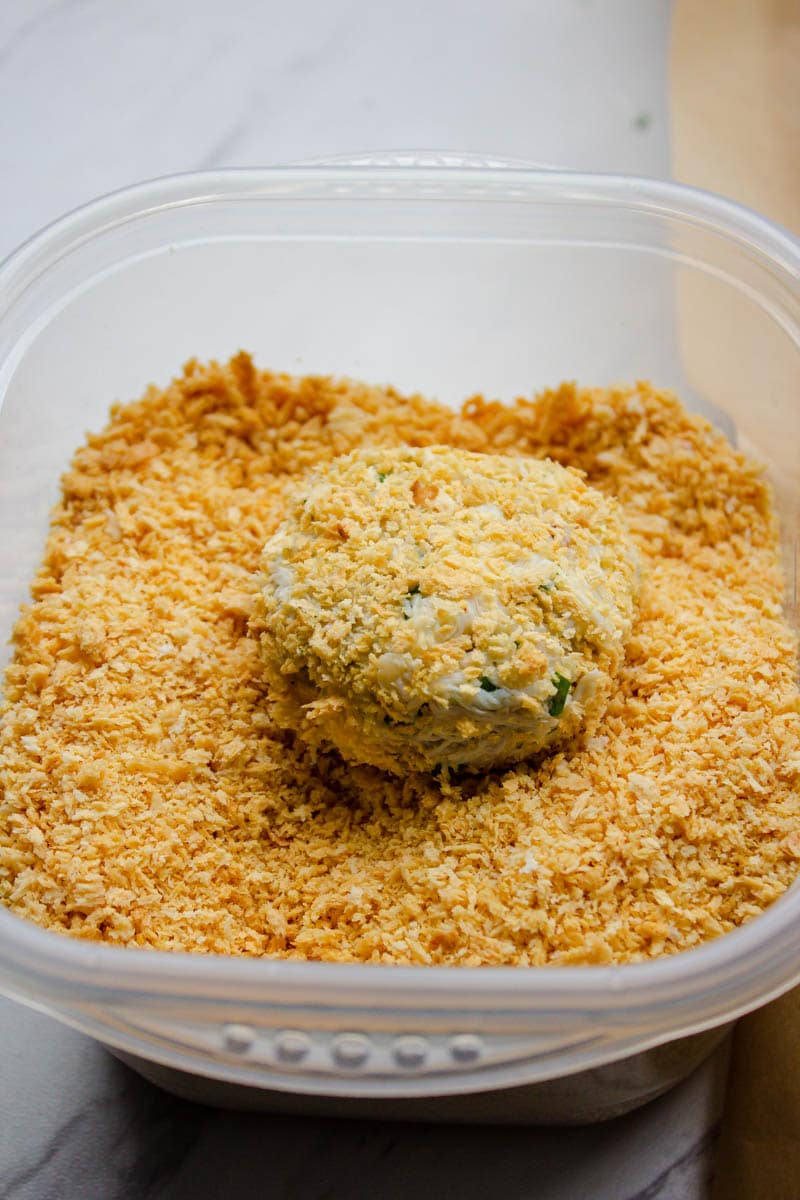 The Cooking Method

: So there are a couple different ways that you can cook these crab cakes. The best way is to pan fry them. I use a combination of butter and avocado oil. Butter will give you the amazing flavor, and we use avocado oil rather than olive because it has a much higher smoke point, meaning it won't burn. If you have a cast iron skillet, use that! If not, any regular non stick pan will do. These crab cakes can also be baked. If you are choosing this method, they won't be as crispy, but it will save you time and effort. Make sure you spray them on the top and bottom with avocado or olive oil (bonus if you add a little butter in there as well) and just bake them up at 400 degrees until gloriously brown!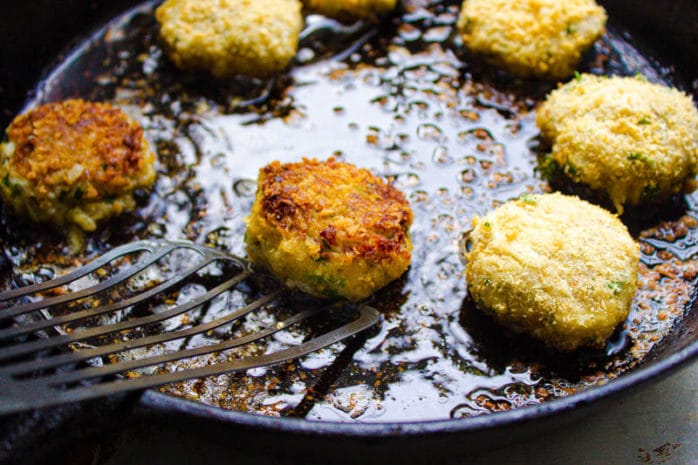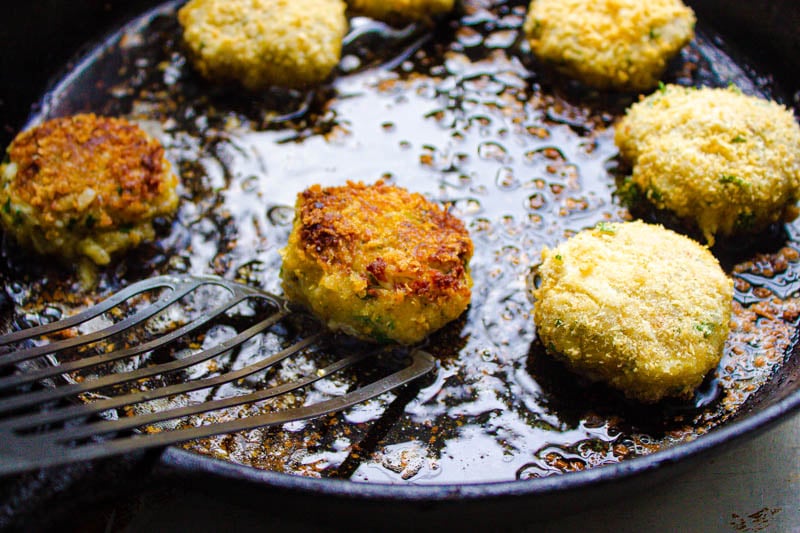 The Remoulade

: Adding on this remoulade is super quick and will elevate your crab cakes to the next level making it super easy to impress any guests! Simply make your own aioli or use an avocado oil based jar from the store. Then, all you have to do is pulse in parsley, cayenne, shallots, lemon zest and lemon juice in a food processor! And there you have it, a beautiful sauce for your crispy yet moist crab cakes.
Tools for this recipe
Print
The Ultimate Crab Cake Recipe
---
Author:

Total Time:

30

Yield:

1

6

1

x
Description
The Ultimate Crab Cake Recipe is not difficult or particularly unique…it is however super tender, moist and full of crab! Forget the bland and dry crab cakes of the past! This super moist and flavorful crab cake is perfect on its own but elevated to superior levels with a caper remoulade!
---
Crab Cakes
1 lb lump crab meat
1 cup cooked risotto or cooked short grain rice (plus extra in case needed for binding)
1/2 cup avocado mayonnaise*
3 tablespoons chopped parsley*
2 shallots, finely chopped* 
3 tablespoons capers (or more if you like things all capery)
juice and zest of one lemon (or more if you like it super lemony)
salt and pepper to taste
Panko breadcrumbs for frying
Avocado Oil for frying
Remoulade
1 cup avocado mayonnaise
1 tbsp parsley
1 shallot
1 tsp of cayenne (add more or else depending on your level of heat)
zest and juice of half a lemon
salt and pepper to taste
---
Instructions
Crab Cakes
Combine all the ingredients in a bowl and mix well.
Taste for seasoning and adjust as needed. If the mixture does not seem moist enough…add in 1 more tablespoon of a time of mayonnaise.  If the mixture is TOO sticky, add in a tablespoon at a time of rice.
Set yourself up with a parchment lined sheet pan.
Using an ice cream scoop take a scoop of the crab mixture and form it in your hand into desired sized patties.  You do not want them too thin.  You can also make massive crab cakes that will serve as a dinner item instead of little bites. That is entirely up to you.
Place the crab cakes into the panko mixture.  Gently pressing them down to make sure they are equally covered on all sides.
Once formed, place the each one onto the sheet pan and place into the refrigerator to cool for 30-60 minutes and up to 2 nights.*  
When ready to serve, grab a cast iron, carbon steel or a plain non stick skillet and add enough oil into the pan.  Turn the heat to medium.  You will know you have enough oil in the pan if when you place the crab cakes into the oil the oil comes up about halfway up on the crab cakes.  
Set yourself up with a place or sheet pan lined with paper towels to absorb any access oil after cooking the crab cakes. 
Pan fry on one side until they are golden brown, about 3-5 minutes.  Then gently flip them over with a fish spatula and cook until golden brown. Place on the paper towels to drain off any access oil
Serve warm with remoulade! 
Remoulade
Add in all the ingredients into a food processor and mix until well combined.
Taste and season as necessary!
Notes
You can use any mayonnaise you like truly.  However, classic mayonnaise is made with canola or soybean oil which is highly inflammatory.  If you are able to make your own mayonnaise by all means PLEASE DO!
Instead of hand chopping your parsley and shallots, feel free to throw it into a hand blender attachment or a  chopper and simplify your life 🙂 
Use this recipe as a base!  Add in cilantro and ginger and make them Asian style.  Add in some finely chopped chillies to spice things up.  Or substitute the crab with roasted salmon and make salmon cakes!
You can even freeze these babies.  You can freeze them after refrigerating them or after frying them up!
In order to reheat the crab cakes if they are not frozen, simply pop them into a 450 degree CONVECTION oven for 5-10 minutes until warmed through.
Prep Time:

15 minutes

Cook Time:

15 minutes

Category:

Appetizers, seafood, shellfish, pescatarian
Keywords: Appetizers, seafood, shellfish, pescatarian