Get ready for the gooeyest, fudgiest ULTIMATE brownie.  Fudgy Nutella brownies my dear friends is what all chocolate dreams are made of. 
Yup that's right…The Nutella Chronicles.  A brand new addition to the blog.  It's a slew of recipes featuring the ultimate nutty and creamy spread: Nutella.  Just the word is beautiful isn't it?  
Don't judge…but even talking about Nutella makes me need it…and…Yup I just did it… I just ran to my pantry and licked the last of the Nutella out of a jar..and I fought off some majorly dirty looks from the hubby… Sorry hubs, I totally needed that…for um… motivation.
Moving on…
In this chapter of the Nutella Chronicles I present to you ooey, gooey, so very fudgy Nutella Brownies.  My God are they heaven.  They were melty, chewy, smooth, creamy…I kind of wish I had not eaten that last bit of Nutella…could have used it right now.
Ahhh there they are.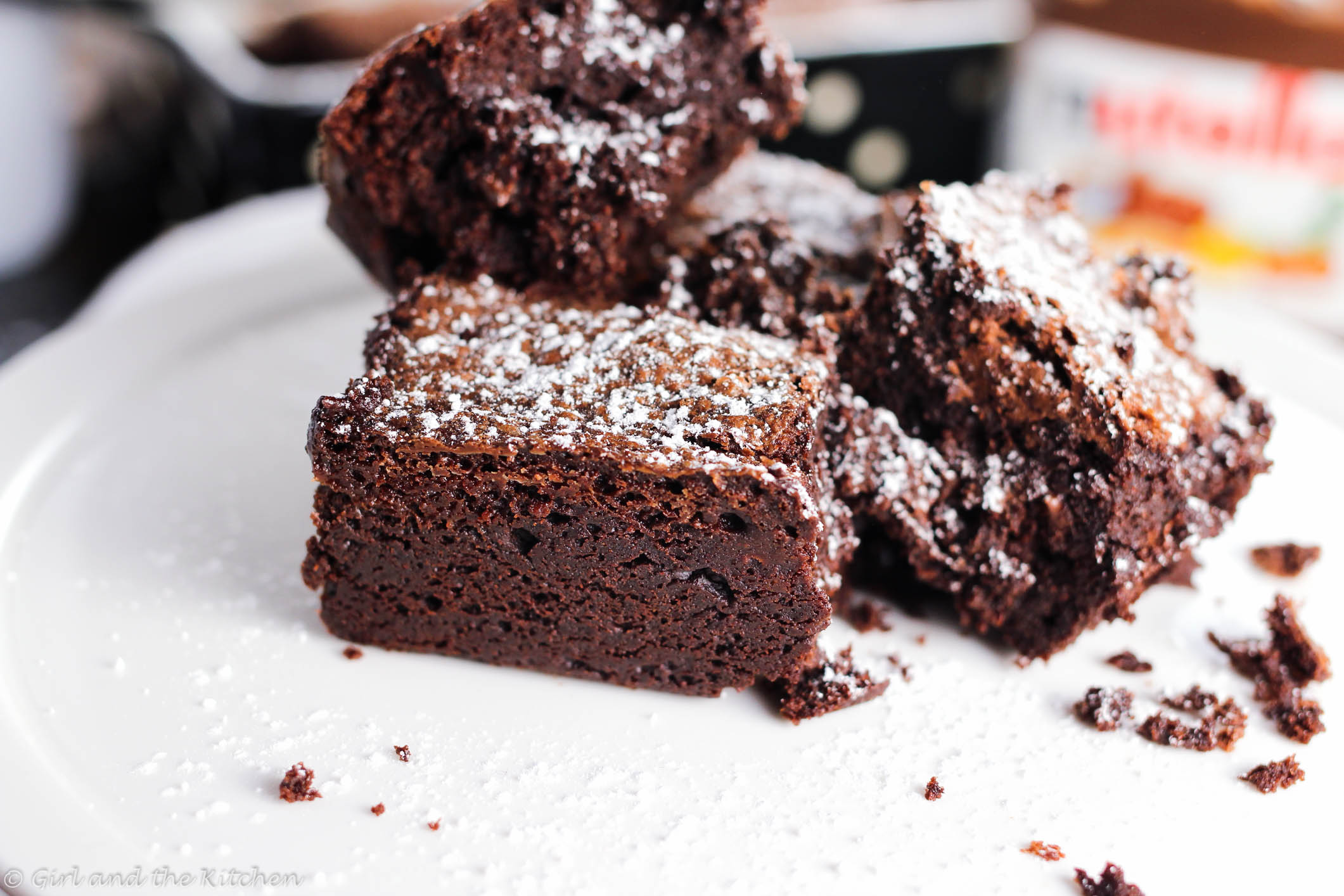 I have always dreamed of making perfect brownies.  And these SO were!  And I have the awesome Karly from Buns in My Oven to thank for them!  I just happened to be Pintersting one night when I stopped dead in my scrolling tracks and stared at her gorgeous photo of her Nutella brownies.  Salivation ensued.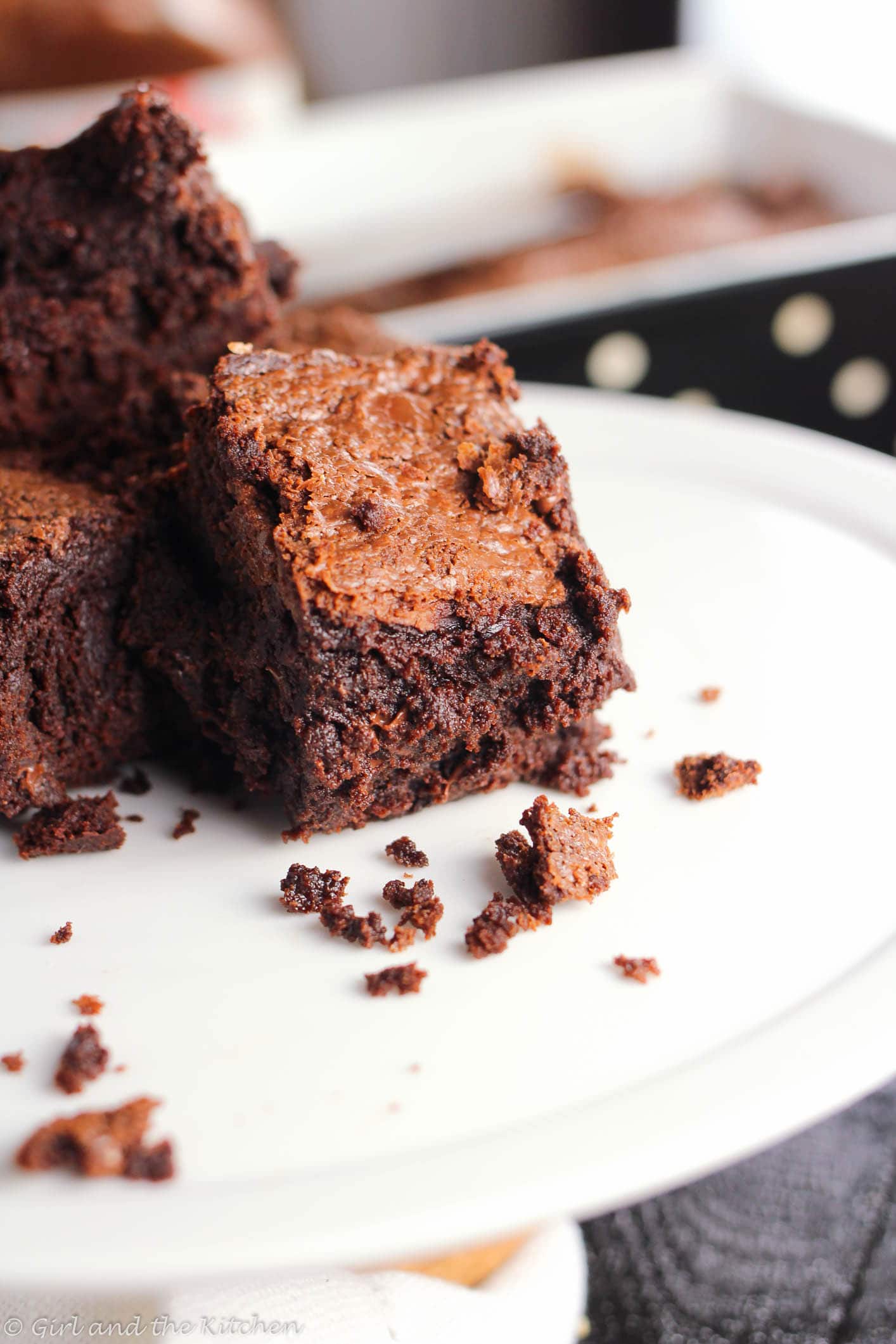 The next day, which just so happened to be Christmas Eve I whipped these bad boys up for a Christmas party I was attending.  Yea. They stole the show.  Kids went crazy for them and adults fought over them.  No really…they fork fought over each morsel.  Imagine 10 inebriated Russians stabbing at an empty dish with their forks…all swearing in each other in profanities of varying degrees as they accidentally stab each other instead of a remaining brownie crumb. Yes, I know, my evenings are hillllarious.
Hilarious or not, these are delicious.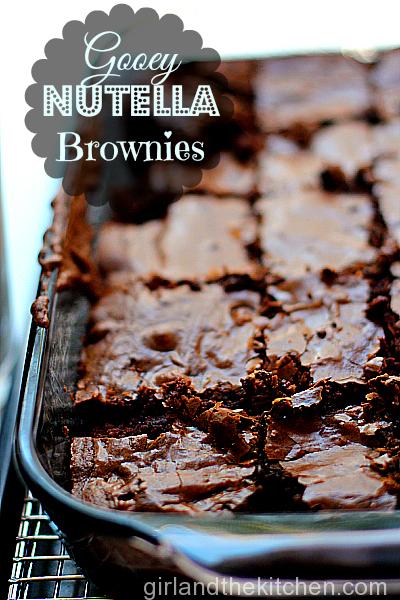 These brownies further encouraged my Nutella addiction and allowed for the creation of other Nutella treats such as my Nutella Banana French Toast: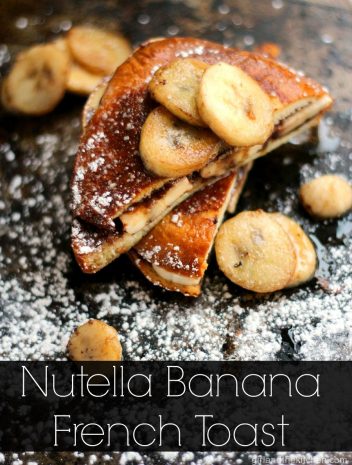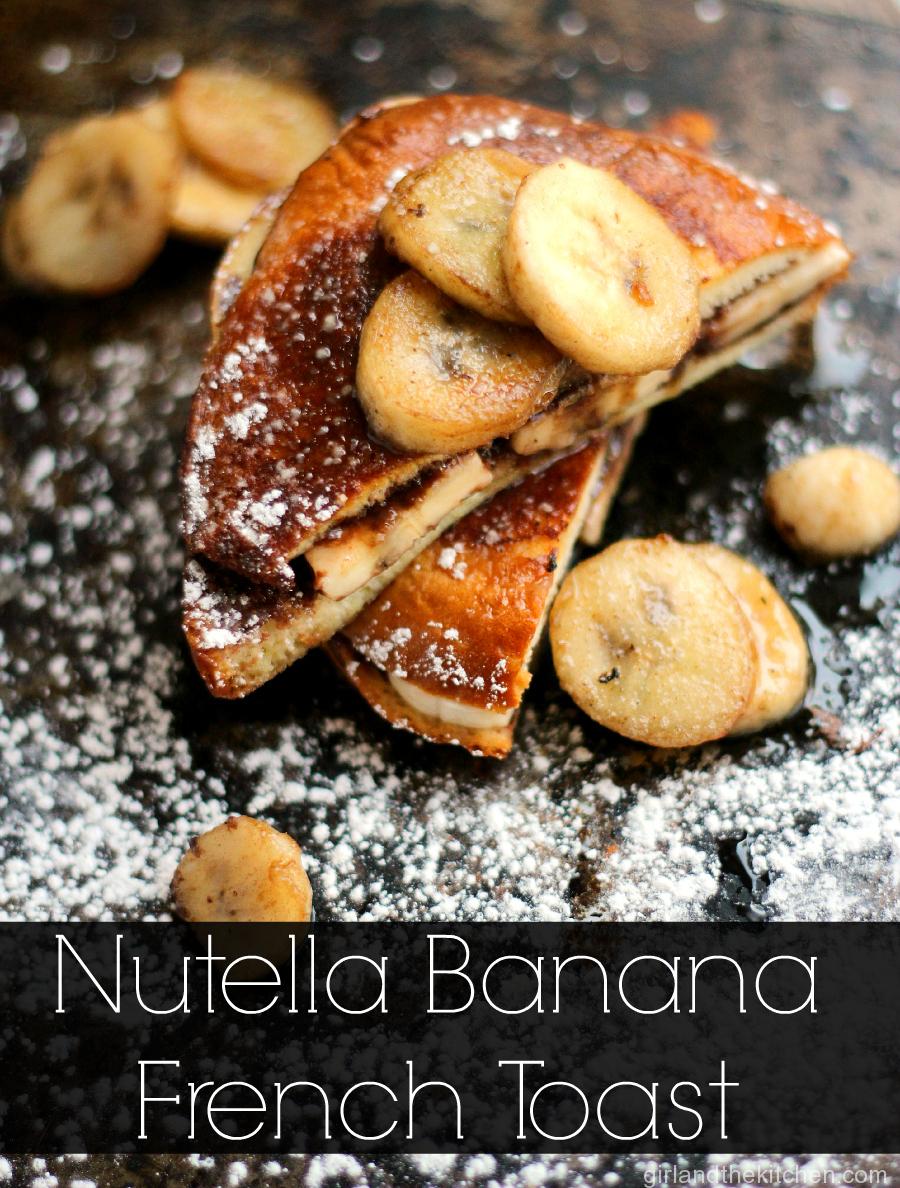 And these incredible Nutella and Cheesecake Muffins: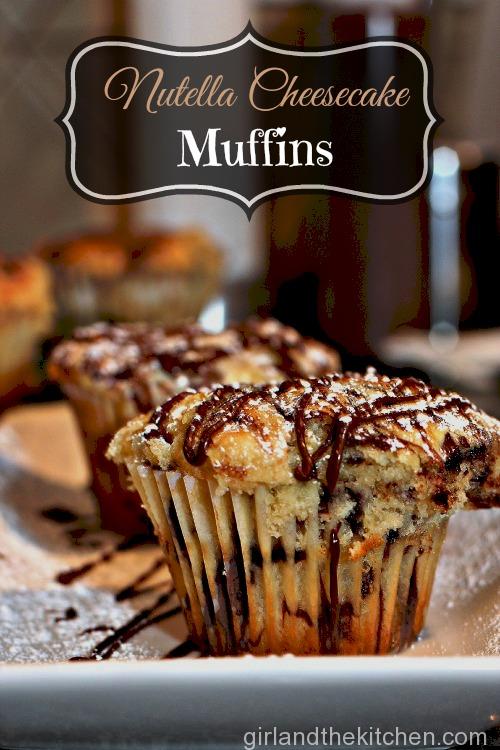 I pretty much followed Karly's recipe exactly with the exception of three things.
1. I added 2 tbsp of brewed espresso.  I always add espresso to chocolate desserts.  Especially cakes and brownies.  I find it really intensifies the taste of the chocolate.
2. I added an additional 1/4 cup of Nutella.  I figured if some was good, more was better!  Other than that I followed her recipe and I think I did it justice 🙂
3. I removed one of the eggs and added in an egg white instead.  I found it made it less dense and more gooey.
Also, do not cut into it (no matter how tempting) until it is completely cool.  Or else it will crumble as you cool it…trust me on this one, I tried.
Now go grab yourself a glass of milk and go bite into one of these babies…they will blow. Your. Mind.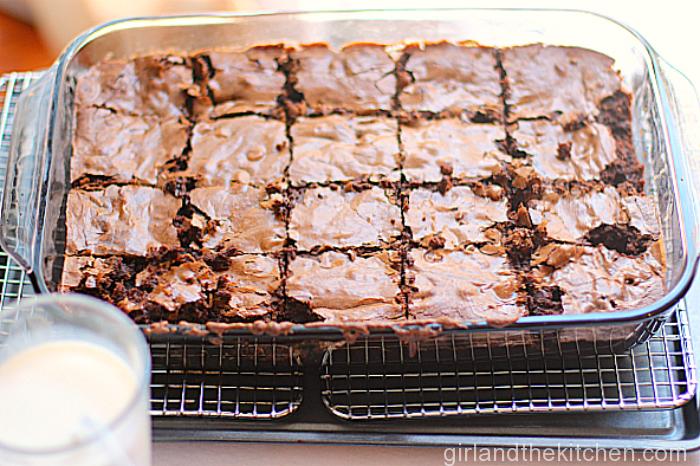 Print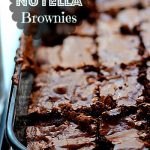 Nutella Fudge Brownies…25 Days of Holiday Treats
---
1 cup

butter (

2

sticks)

2 1/4 cups

sugar

3/4 cup

Nutella

3

large eggs

1

egg white

1 1/4 cups

cocoa powder

1 teaspoon

salt

1 teaspoon

baking powder

2 tsp

espresso

1 tablespoon

vanilla extract

1 1/2 cups

all-purpose flour

10 ounce

package Milk Chocolate chips
---
Instructions
Pre-heat the oven to 350 degrees.
Butter a 9×13 baking dish.
In small saucepan over low heat, melt butter completely. Stir in sugar and continue for 1-2 minutes, stirring constantly. Do not allow sugar mixture to boil.
Remove from the heat and stir in the Nutella until well combined.
Pour butter mixture into a large bowl or stand mixer and beat in cocoa powder, espresso, eggs, salt, baking powder, and vanilla extract. Mix until well combined.
Stir in the flour and chocolate chips until just combined.
Spread into prepared pan (batter will be very thick and sticky) and bake for about 30-35 minutes, until a tester comes out mostly clean. The edges should be set and the center should still look slightly moist, but not uncooked. Depending on the oven and the size of the pan you use, sometimes it can take all the way up to 50-60 minutes.
Cool on a wire rack.
Originally posted January 16th 2014.