Easy Mushroom Kefta Kebob Recipe

Tender and juicy ground beef and mushroom kebobs are bursting with flavor! This easy mushroom and kefta kebob recipe is a perfect way to become a "blendetarian" and enjoy all the flavors of beef but with half the calories!
One of my favorite cuisines is middle-eastern. From the complex spices to the vegetarian platters, it is always a crowd pleaser. I have mentioned my love of our local Persian restaurant, Reza's. All jokes aside here…I had my sweet 16 dinner there. You know how some girls have these obnoxious lavish parties for their sweet 16? I had dinner with my closest friends at my favorite Perisan restaurant so I could gorge on feta, pita, rice, meat and delicious grilled vegetables.
A foodie from way back when I guess 🙂 We all had priorites and mine was a combination of incredibly tender dill rice and juicy koubideh kebobs.
What the Persians call "Koubideh" the Iranians and Lebanese call it "Kefta; either way it is just a ground kebob with spices, perfectly char-grilled on an open fire. There is just the right amount of fat in the meat to keep it deliciously tender, juicy and oh so very flavorful. Ever since I went plant based and have attempted to minimize the amount of meat consumed by the family, I have been looking for ways to replace meat with either veggies or other food with textures and flavors that could easily mimic that of meat. So when recently I was invited to try being a "blenditarian" by the Mushroom Council, I was intrigued.
What is a "blenditarian" you ask?
Blend•i•tar•i•an
/ ,blend-ǝ-'ter-ē- ǝn / noun /
one who believes that the mighty mushroom has meaty powers to make meals more delicious, nutritious and sustainable, enabling us to do better for people, palate and planet!
Yup that's me! I am a blenditarian! In fact, can I get a shirt that says that? I would rock it out!!!
I know what you are thinking…no I am typically not a fan of mushrooms, not even a little bit. However, when I tasted a little piece of this Kefta Kebob I was blown away. The distinct mushroom flavor that I so highly disliked did not come through. Instead, there were sharp notes of umami flavors and bright herb and spices. It was, ladies and gentlemen delicious! Not to mention I had completed my task: I had successfully reduced the amount of meat and increased the amount of vegetables in my meal! Blending mushrooms with meat adds an easy serving of vegetables to the plate and The Blend also helps you do better for your health: Mushrooms are fat free, cholesterol free, low in calories, and provide important nutrients like vitamin D, B vitamins, antioxidants and potassium (9%).
But the best part was how easy this was to incorporate into the meat seamlessly and practically undetectably. I grilled up the mushrooms first for just a few minutes, cooled them and then placed them into a food processor with an onion, plenty of fresh parsley, sumac (a delicious tart spice), 7-spice, red pepper flakes, salt and pepper. And just pulsed it until it was beautifully pureed.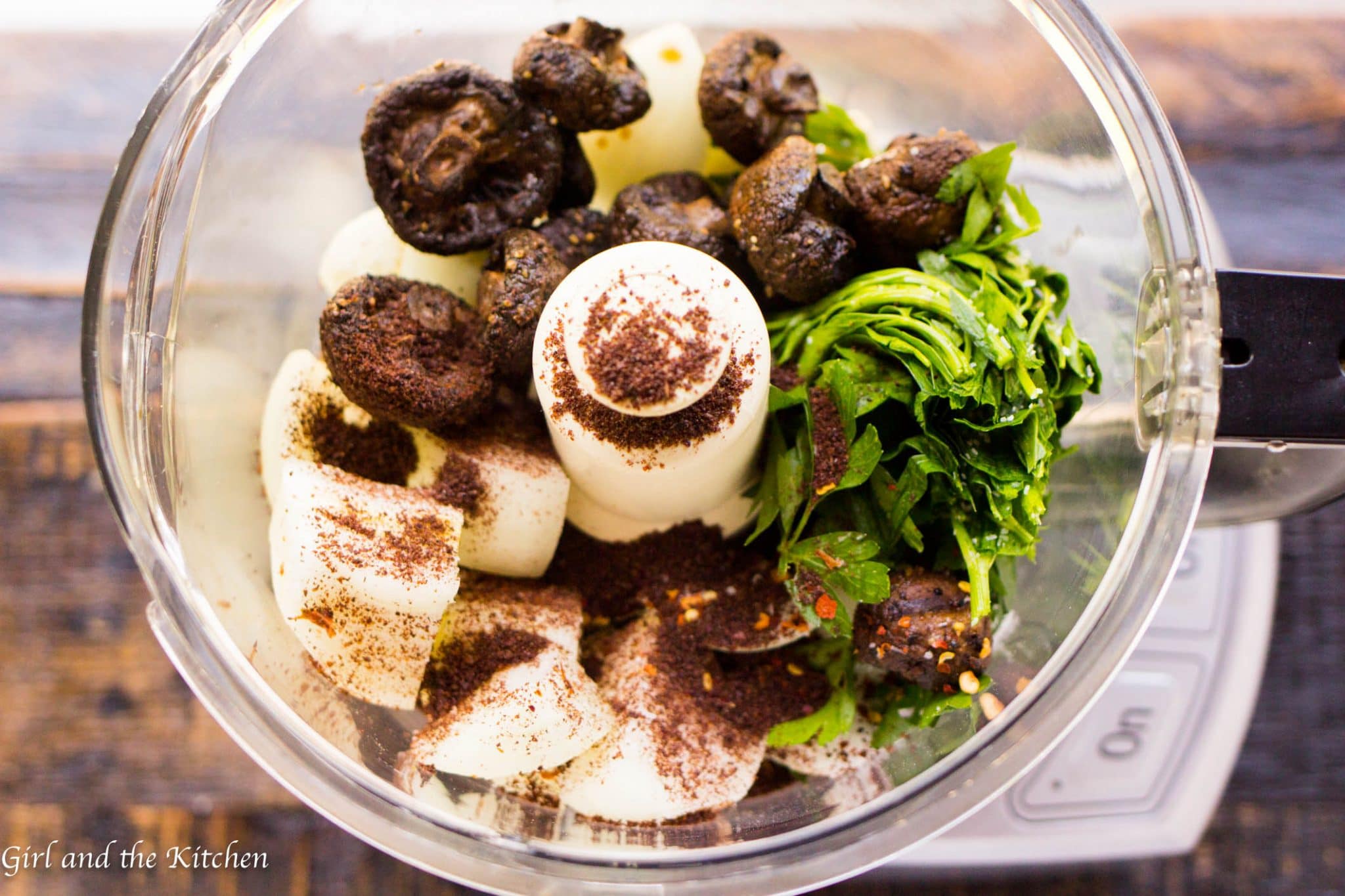 Then I added in the ground beef and just pulsed a few more times to make sure it was all perfectly combined.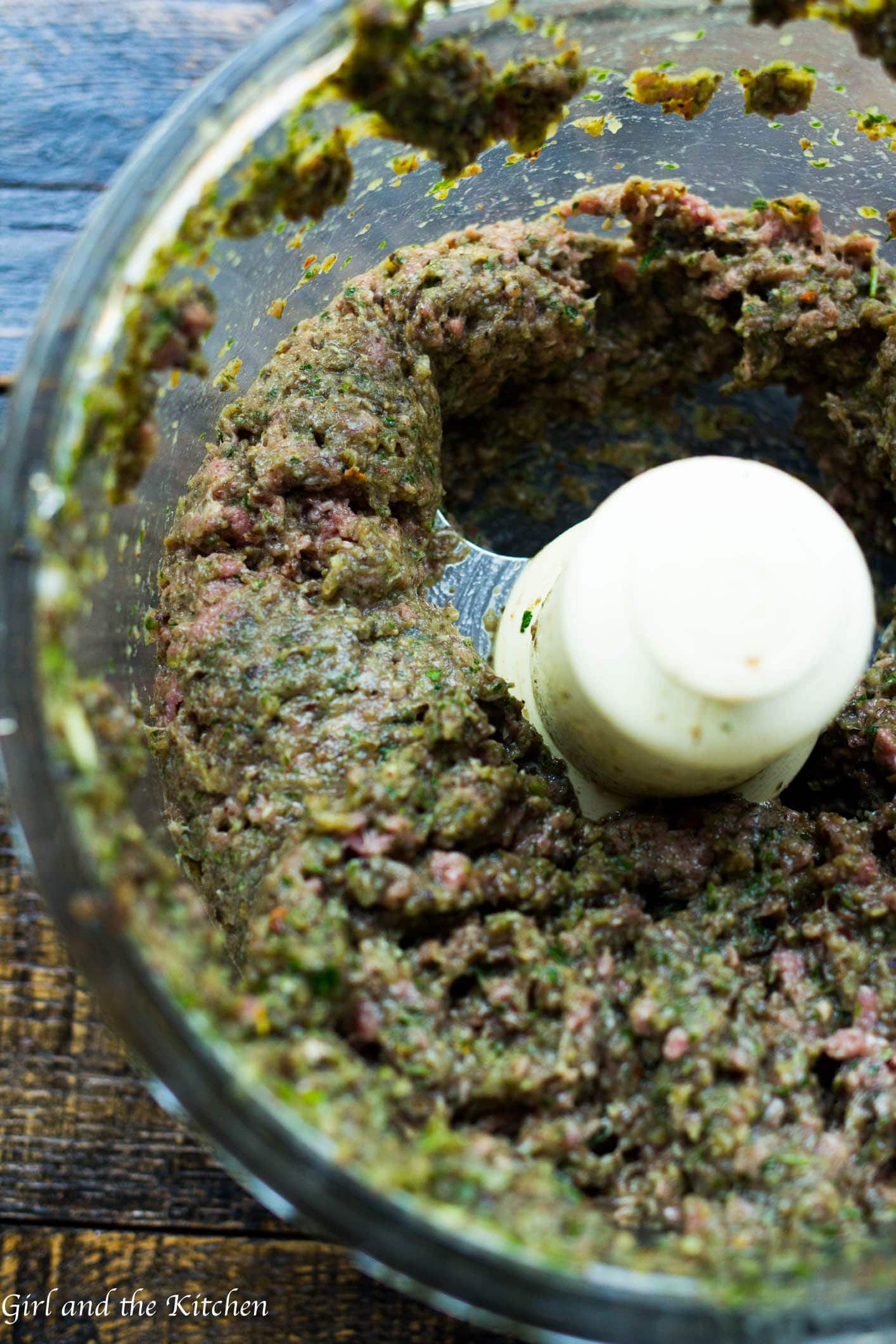 Then it is crucial to place it into the fridge for AT LEAST an hour to let it all cool so that it stays on your skewers. Then grill on high for about 5 minutes on each side and presto you are done! Throw in some grilled veggies and a platter of fresh veggies and I think we have ourselves a meal no?? Also I whipped up a super quick herbed yogurt sauce to slather on top for those who are into that sort of thing.
But let's be honest, all this is fine and all but the ultimate test is taste…and most importantly guys…it's delicious. Seriously. My next project is to recreate this recipe using just mushrooms and all the herbs and spices. A pretty tall order for someone who is not much of a mushroom eater huh?
Print
Easy Mushroom Kefta Kebob Recipe
---
1

Lb . Ground Beef 15% fat

12 oz

of crimini mushrooms

2

Handfuls parsley

1

Onion (roughly chopped into large pieces)

2 tsp

. salt

1 tsp

. black pepper

2 tsp

. sumac

1 tsp

. 7 spices
extra salt and pepper for mushroom seasoning

1 tbsp

olive oil
Yogurt Sauce

1 cup

Greek Yogurt or Labne (Middle Eastern Yogurt)

2 tbsp

chopped parsley

1 tsp

chopped dill
---
Instructions
Clean the mushrooms well and dry them thoroughly with a towel.
Place in a bowl with olive oil and sprinkle with some salt and pepper.
Preheat grill to high heat or oven to about 400 degrees and roast or grill until tender. About 10 minutes. Set aside and allow to cool.
In a food processor, add the mushrooms, parsley, onion and all the spices. Pulse a few times until everything is smooth.
Add to ground beef to the food processor. Pulse to incorporate
Chill for at least an hour in the fridge. If the meat does not cool, it has a higher risk of falling off the skewers while cooking.
Shape into long sausage shapes around thick skewers.
Preheat your grill. The ideal grill to use is one with charcoals, however if one is not available a gas grill is just fine. In the winter times I use a hot 450-degree oven and it works out great as well.
Spray down your grill with non stick spray. Place skewers on grill, careful to rotate every 5 minutes until meat reaches an internal temperature of 155 degrees F.
Yogurt Sauce
Combine herbs and yogurt and serve alongside kebobs.
Notes
1. If thin skewers are used the meat will fall off the skewers. Sometimes, the skewers just do not work for me. So I simply shape them into long sausages and grill that way. You can place the skewers in just for presentation when they are done.
2. Make sure you do NOT move the meat off the grill until it releases easily. The meat will form a nice crust when it is ready to be flipped and will not stick to the grates.
I was selected for this opportunity as a member of Clever Girls and the content and opinions expressed here are all my own.