In theory, crockpots and meatballs go together quite well.  For some reason, my brain never made this connection.  This is because I am clueless. These delicate meatballs are full of flavor, tender and freeze beautifully! Could you ask more than that?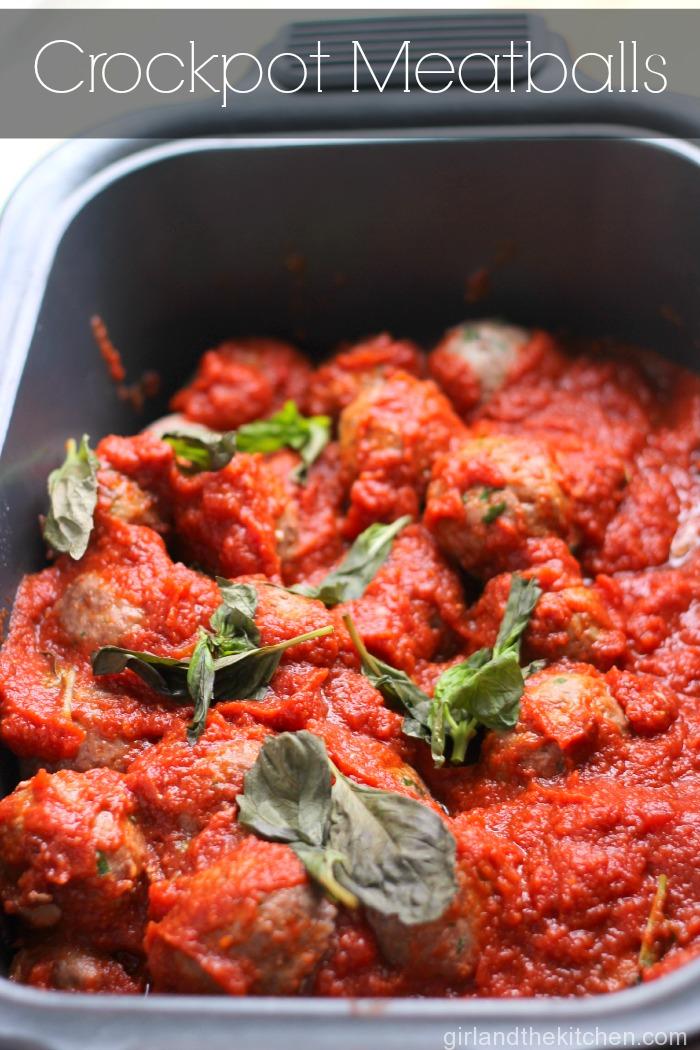 I'm not completely clueless…but sometimes the most obvious things come quite slowly to me.  I believe it is because my brain gnomes Tinsel and Tinkel (as aforementioned here) are overly exhausted and need a vacation… Jamaica is in site my precious gnomes, don't give up on me yet…
It was on a Snowmageddon Sunday, aka Super Bowl  las year…that I came up with these tender little balls of flavor.  As always, the adorable munchkin woke me up early and so I used this as a perfect excuse to get some cooking and blogging out of the way.
I stared at the lean turkey I had just purchased the night before and pondered what to do with it.  In my side view, I caught the glimmer of my crockpot that I had used the night before to make my favorite Beef Barley Soup .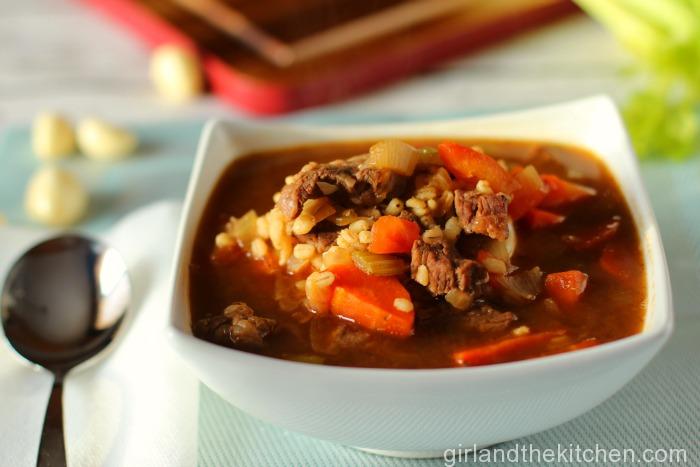 And then I stared back at the turkey, then back at the crockpot.  I started putting 2+2 together…
"I should make meatballs in the crockpot!!!"  It finally came to me…my gnomes finally made the connection.  EUREKA!
I will not bore you with anymore details.  They came together in no time.  I mixed up a very simple meatball mix in a bowl.
Used an ice cream scooper to place them on a cookie sheet before placing them in the 450-degree oven.
Stuck them in the crockpot with a batch of my frozen homemade marinara sauce.
And let them cook for 4 hours on low.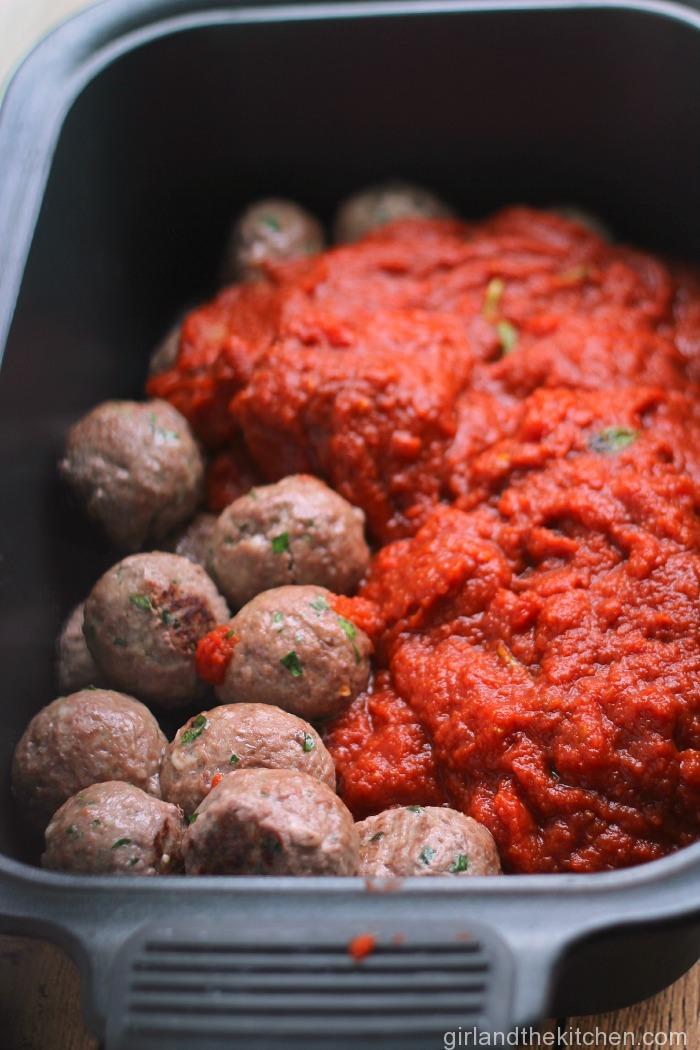 Then I added some freshly torn basil and toted them with me to my friend's Super Bowl Party.  She stuck them next to all the other apps and everyone devoured them!
The following week I did exactly the same thing, cooked up some spaghetti and voila!  Dinner for the week was done.
It was easy.  Practically mindless and oh so very delicious.  Most importantly for me, it was healthy and easily fit into my husband's clean eating meal prep for our trip to St. Martin in a few weeks.
This time around even I had to pat myself on the back for coming up with this idea…well I did eventually at least.
We did have quite a bit left…so I froze it 🙂  And they cooked up beautifully after they were defrosted in the oven the following week! 
Print
Crockpot Meatballs
---
Author:

Total Time:

255 minutes
Description
A healthy, easy and delicious meatball recipe that is all done in a crockpot. Perfect for a quick dinner!
---
2

pounds of lean ground turkey

2

eggs

5

cloves of garlic (minced)

1

whole onion (feel free to do this in the Vitamix, finely minced)

1 cup

freshly grated (Parmesan)

1

large handful of Italian parsley (chopped)

6

–

7

basil leaves.
plenty of salt and pepper to taste
Olive oil for cooking

1

Batch of my marinara
---
Instructions
Pre-heat oven to 450-degrees F and crockpot to a low setting.
Combine all the ingredients except the marinara in a large bowl.
Fry a little piece up and do a taste test to ensure proper seasoning.
Spray down a rimmed baking sheet with pan spray and lay parchment paper on top.
Using a small ice cream scooper to lay out the meatballs on the paper.
Bake for 12 minutes until nice and golden and still raw inside.
Place into the crockpot, cover with sauce and allow to cook on low for 4 hours.
Tear basil with hands combine and serve.
Prep Time:

15 minutes

Cook Time:

240 minutes

Category:

dinner

Cuisine:

Italian