I have discovered how to make seriously CRISPY oven baked chicken wings and they are legit!  Perfectly crispy, ridiculously easy and unbelievably tasty!  Learn the trick that makes them crisp up in the oven with no effort and allows for most of the fat to drip right off.  Leaving you feeling less guilty to dip away in my savory garlic butter sauce.

Jump to Recipe
I have a confession.  I have an insane obsessing, addiction to wings.  All of them.  I don't discriminate.  I am an equal opportunity wingist.  And I have a problem.
When I was pregnant I craved wings as if they were life itself.  I dreamt of them.  I salivated at the thought of them and God forbid if they were on a table… it was all over.  I had no self control.  They were going to get obliterated.  End of story.  I win.
I stocked up on the BBQ wings at Costco as if it was going out of business.  I only ate them when no one was home… it was my guilty pleasure.
That and my honey nut cheerios obsession at 2am…but that is another story.
Hubs was a bit concerned when he noticed me going to town on about 2 dozen of them at a friend's get together.   By myself.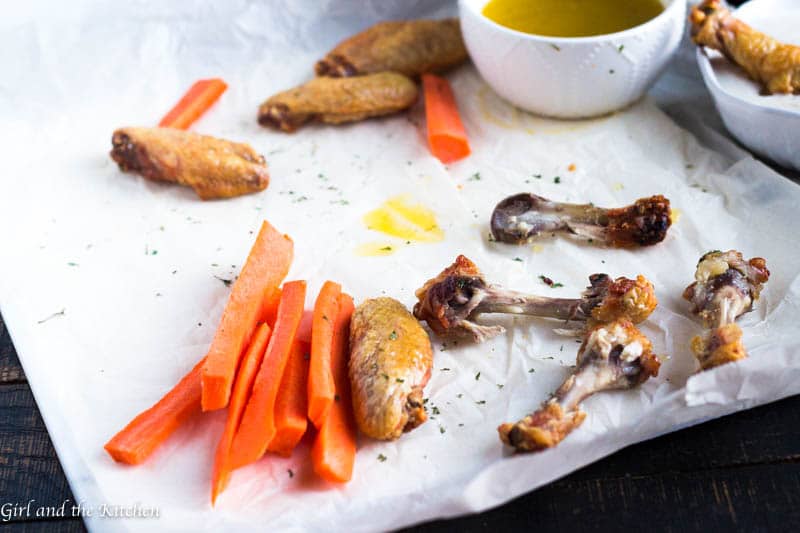 Here I was, mouth aglow from the hot, sticky sauce, eyes ablaze with excitement, hands covered in ranch and red buffalo sauce…my husband probably thought I never looked sexier.
Or not.
We are going to go with not.  Because he immediately took me to the bathroom and started delicately wiping my face off.
"Babe you gotta slow down, this can't be good for the baby.  You know all this spiciness…and fat."
I was 5 months pregnant.  Already larger than I should have been, had an insatiable appetite and was a ridiculous raging,  hormonal mess.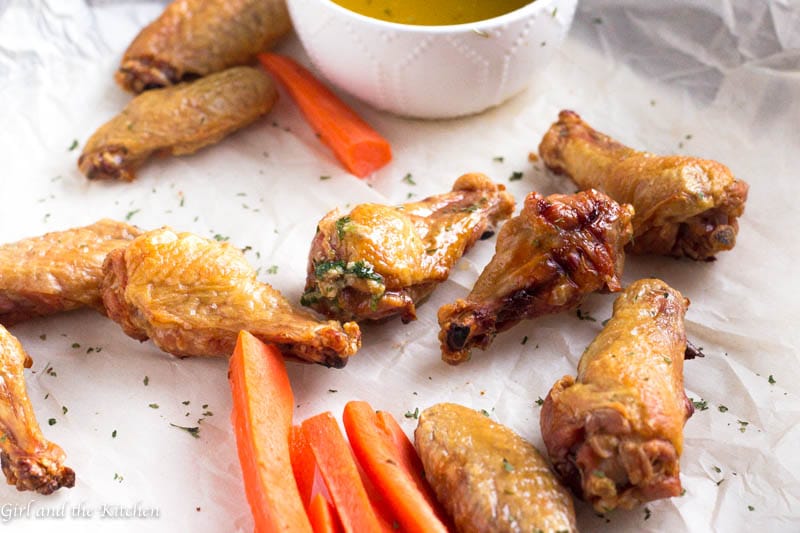 "I'll eat whatever I want!!! " I screamed at him…and as if on cue, those wings suddenly didn't sit so well with me…and they threatened to come back out…immediately.
I hate it when he's right.
Apparently the munchkin did not share my affinity for spicy buffalo wings and frankly after that, neither did I.
I didn't eat buffalo wings again until the day before I went into labor.  I was huge, tired and cranky and I wanted her out.  So my best friend and I sat down in front of pizza and some super spicy wings.
It worked.  I gave birth the very next day, on my actual due date.
And my insatiable appetite for wings was reborn once again.
Now while I am a wings enthusiast…I am also quite choosy.  And these seriously crispy oven baked wings always hit the spot.
The Technique
The very best thing about these crispy oven baked chicken wings is that…they are EASY.  And they work!  How do I know they work?  Well the fine folks at Cooks Illustrated told me they work! Plus my friend Nagi, from RecipeTinEats tried it and said it works!  And I pretty much trust her too!
Plus, It's all based on science guys. And science I trust!
First the wings needs to be cut up so that the drumettes are separated from the wing.  The little end piece, does not have much meat on it so I typically save it for my chicken soups.  Make sure you get the largest wings you can find because when these babies bake up, a LOT of the fat renders of (good-bye calories) and they get significantly smaller.  But crispier.  (I have created a nifty little tutorial for you guys below on how to cut the wings.)
Another key component to achieving these seriously crispy oven baked chicken wings is to dry them well before coating them in the baking powder and salt mixture.  I do this simple by laying the chicken wings down on a paper towel and just dabbing them dry.
The wings are covered in a very simple solution of baking powder (NOT BAKING SODA) 

and Kosher salt.  The baking powder draws out the fat out of the wings and adds that crispy crackly texture that we all love.

Then cover a rack with foil and place a wire rack (cooling rack) on top.  You want the foil below to catch all the fat that is going to drip down.  Which means easy clean up for you.  I spray down the rack with non-stick spray so that it is an even  easier clean-up.  
The oven is started at the low temperature of 250-degrees F, for 30 minutes.  This is the point that the fat slowly renders off.  After those first 30 minutes the heat is cranked up to 425-degrees and the skin get gloriously crispy.  And voila you will get crispy oven baked chicken wings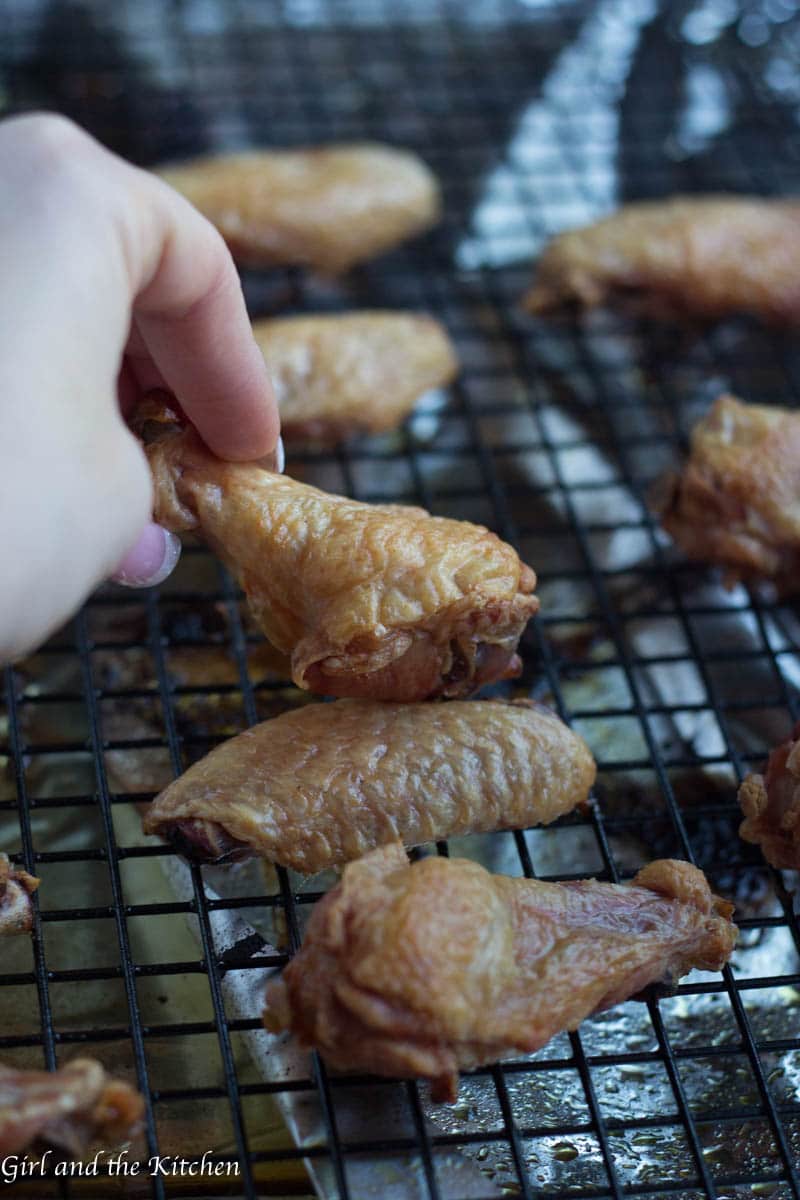 See gorgeous…crispy…delicious Oven Baked Chicken Wings .  When these came out of the oven last week, the munchkin and I ate them just as is without any sauces.  We just went to town on these delicious babies.
Speaking of sauces…as much as I love a classic buffalo sauce, I adore a good garlic herb butter with my wings.  And this was even easier than any other sauce because it came together in the microwave.  Butter, garlic, parsley and salt make for one epic sauce.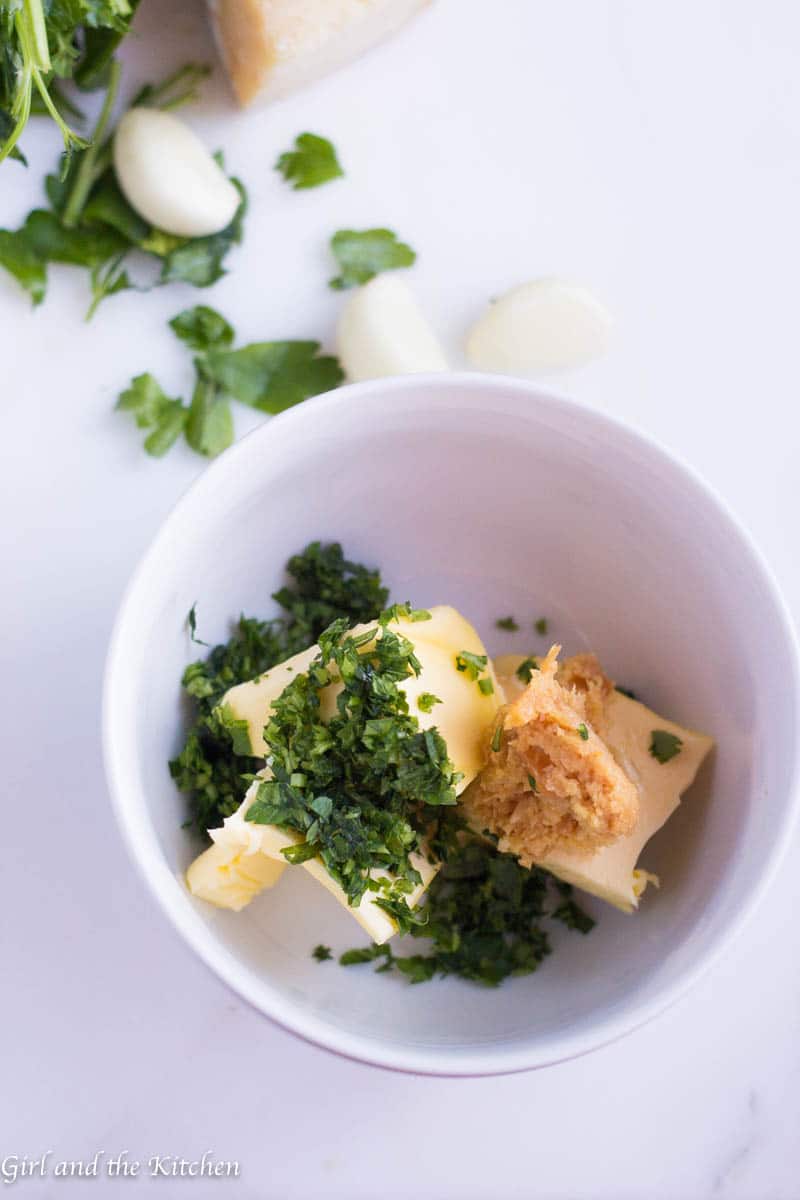 I dipped the few wings that munchkin and I did not devour into the garlic butter and it was everything I had hoped it would be.  Golden, garlicky goodness.  It covered these wings absolutely perfectly in a thin and velvety coat still allowing for all that crunch to come through.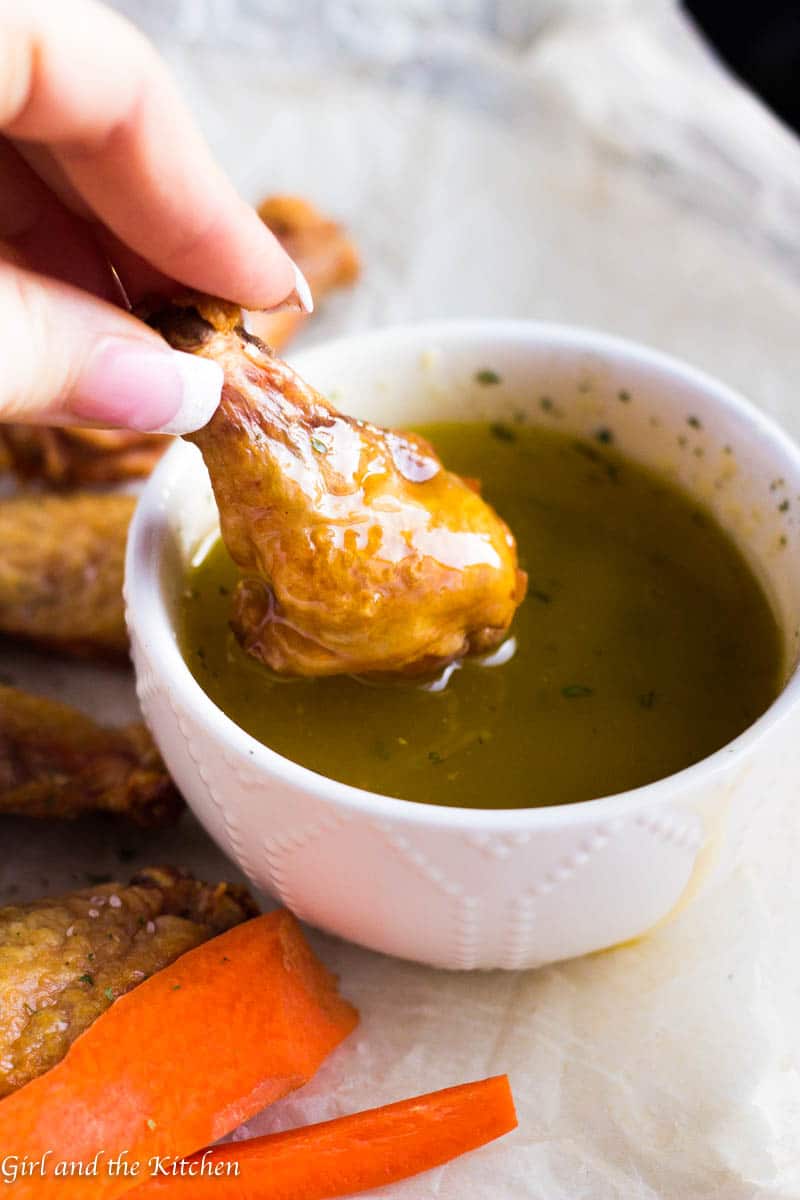 I always serve my wings the classic way with carrots, celery and ranch.  In fact, these babies dipped in ranch are divine!  Honestly,  these wings make me so happy I wish for football season every season!  But with wings this easy, delicious and with a healthy twist there is absolutely no reason to not be able to make them every weekend!  Football season be damned!  I am making these for ALL the seasons 🙂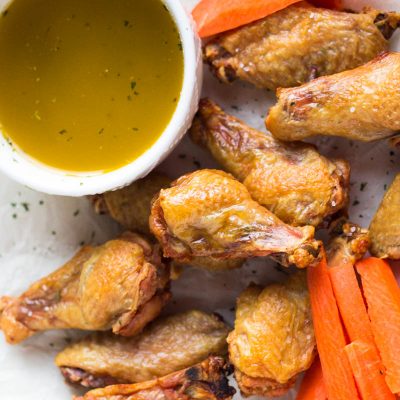 Seriously Crispy Oven Baked Chicken Wings with Garlic Butter Sauce
I have discovered how to make seriously CRISPY oven baked chicken wings and they are legit! Perfectly crispy, ridiculously easy and unbelievably tasty! Learn the trick that makes them crisp up in the oven with no effort and allows for most of the fat to drip right off. Leaving you feeling less guilty to dip away in my savory garlic butter sauce.
Ingredients
Wings
2

lb

chicken wings

see demonstration, cut into wings and drumettes

1

tbsp

baking powder

1/5

tsp

salt

Oil spray
Garlic Herb Butter
1

stick of unsalted butter

2

tbsp

olive oil

2

tsp

minced garlic

1

tbsp

finely chopped parsley

1/4

tsp

salt
Instructions
Wings
Preheat oven to 250 degrees.

Cover a

baking sheet

with foil and place a cooling rack on top.

Spray the rack with pan spray.

Dry all the wings thoroughly.

Place baking powder and salt into a ziplock bag and add the wings. Shake the bag up to ensure that the wings are covered in the baking powder and salt mixture.

Place all the wings skin side up onto the rack. If they are a tight fit it will be fine since they will shrink significantly.

Place into the oven for 30 minutes.

After 30 minutes, crank the heat up to 425-degrees and allow the wings to cook for another 40-50 minutes. Rotate the tray halfway through the cooking time to make sure that all the wings are cooking evenly.

Remove the wings from the oven and allow to cool for 7 minutes.

Toss in sauce of choice or just eat as is.
Garlic Herb Butter
Combine all the ingredients in a microwave safe container and melt in 30 second increments until melted.

If the butter solidifies a bit feel free to reheat in 15 second increments to melt again.
Notes
1. Make sure you use BAKING POWDER and not BAKING SODA. Two very different outcomes and flavors.
2. YES these can be reheated. Simply reheat them in an oven before serving at 400 degrees F for about 8-10 min. They will get crispy and delicious once again.
3. This may sound like common sense but the wings must be completely thawed out for this recipe to work. Otherwise all the water will leave the wings soggy.
4. These wings are smaller than usual because so much of the fat has rendered out. Don't worry, that just means we get to eat more.
5. The original recipe calls for different level placement for the oven racks. I however forgot to change the heights of the racks and I ended up baking them all on the middle shelf and it was still perfection every time.
6. The nutritional information should be used for informational purposes only.
Pin for Later