Easy One Pan Saffron Butter Poached Lobster
Lobster has been finally made EASY!  A sinfully elegant saffron butter poached lobster is both impressive and ridiculously simple!  Garlic and butter make this lobster dish an unforgettable entree that leaves all the guests speechless and leaves you with one pan to clean! 
Hubs has an obsession with lobster.  Always has.  Always will.  In fact anything with seafood is his life.  Me, being the pickiest chef in the world, tends to despise seafood.  Unless it's calamari, fish or scallops I am not going near it.
Any vacation we go to, he is always looking for the best seafood dive.  It has to be a local place, especially when we go the Caribbean, because frankly no other place will give us the same effect.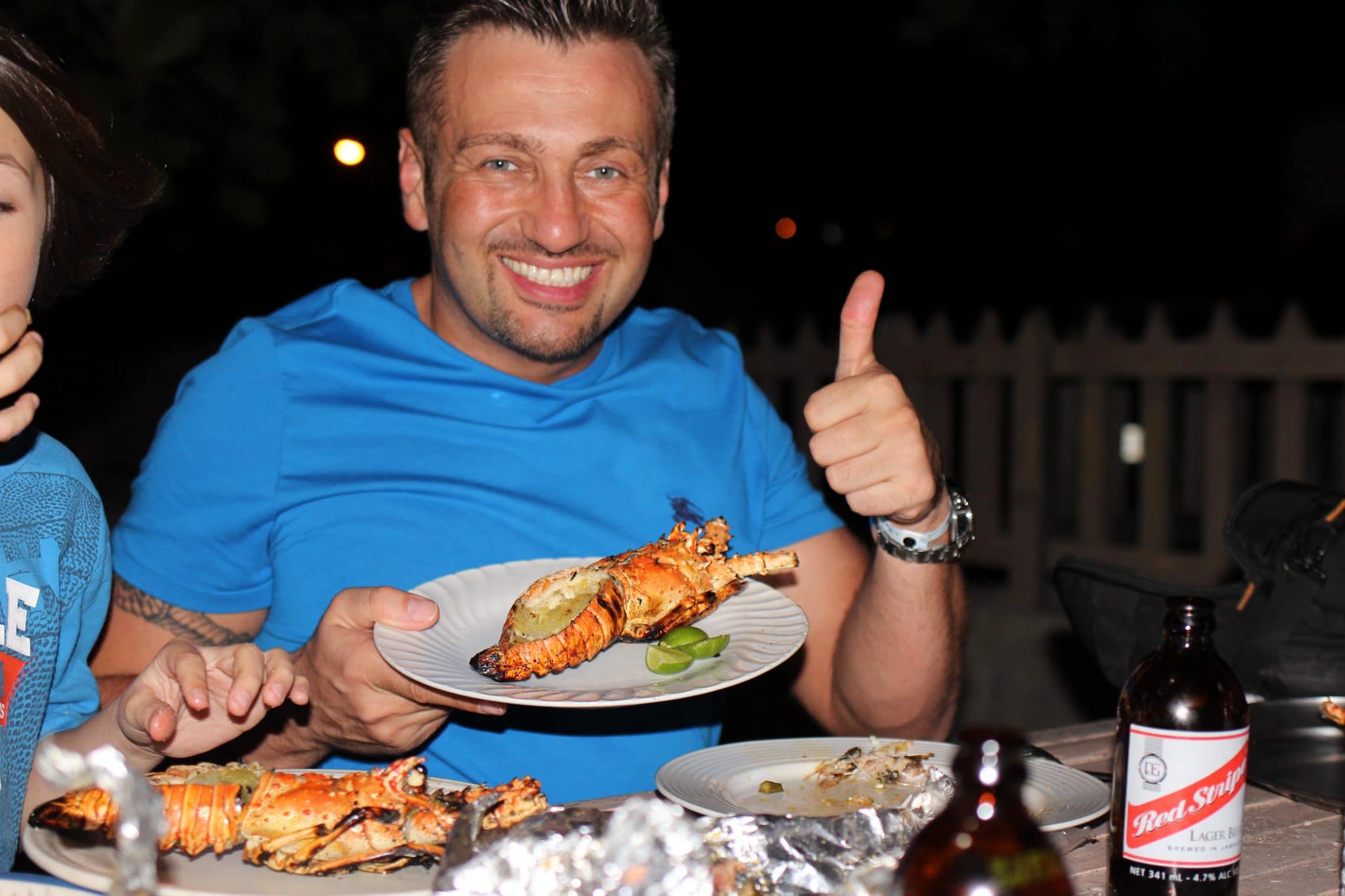 See?  This was our last trip to Jamaica.  We literally talked down every local we could find who sent us to a hole in the wall about a 5 minute drive from the hotel and we went and enjoyed the gorgeous views and the fantastic food.
I ate fish, they ate lobster and crabs, sipped on beers, listened to Reggae and watched the kids feed the stingray that were the backdrop to our dinner.  We were buzzed, full and elated.  This is how we vacation.  Dive bars and sting rays.
See the water behind us… it was filled with stingray, puffer fish and all other marine life.  Nemo made an appearance as well and made all munchkins happy.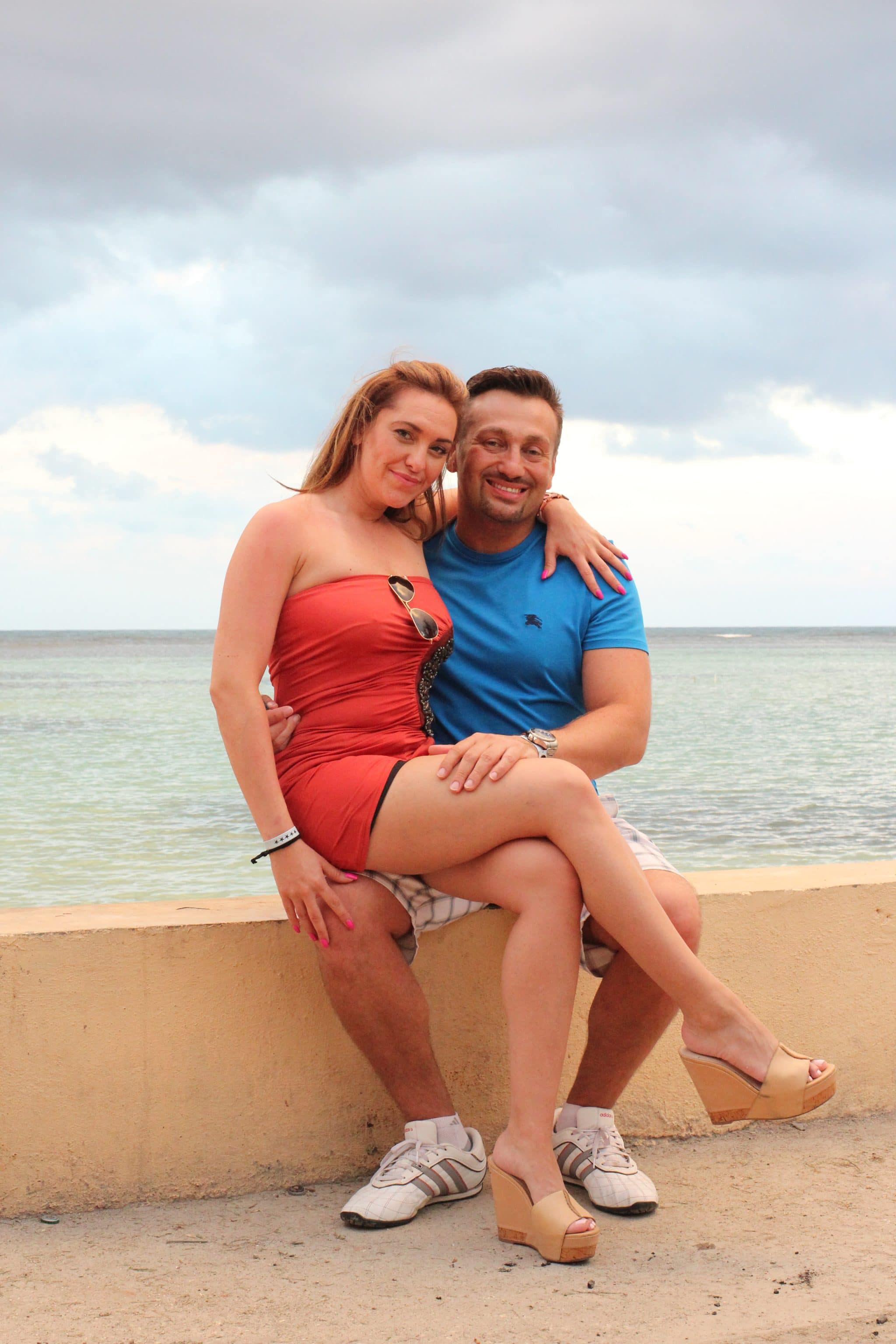 Aside from craving seafood on vacation, back at home whenever the hubs was feeling down or had a rough day at work, he would call me up and say, "Seafood…make me something… seafoody."
And so I would whip him up some of my famous Spicy Garlic Shrimp and that would usually make my man happy.
(Pssst the shrimp are really fantastic too!)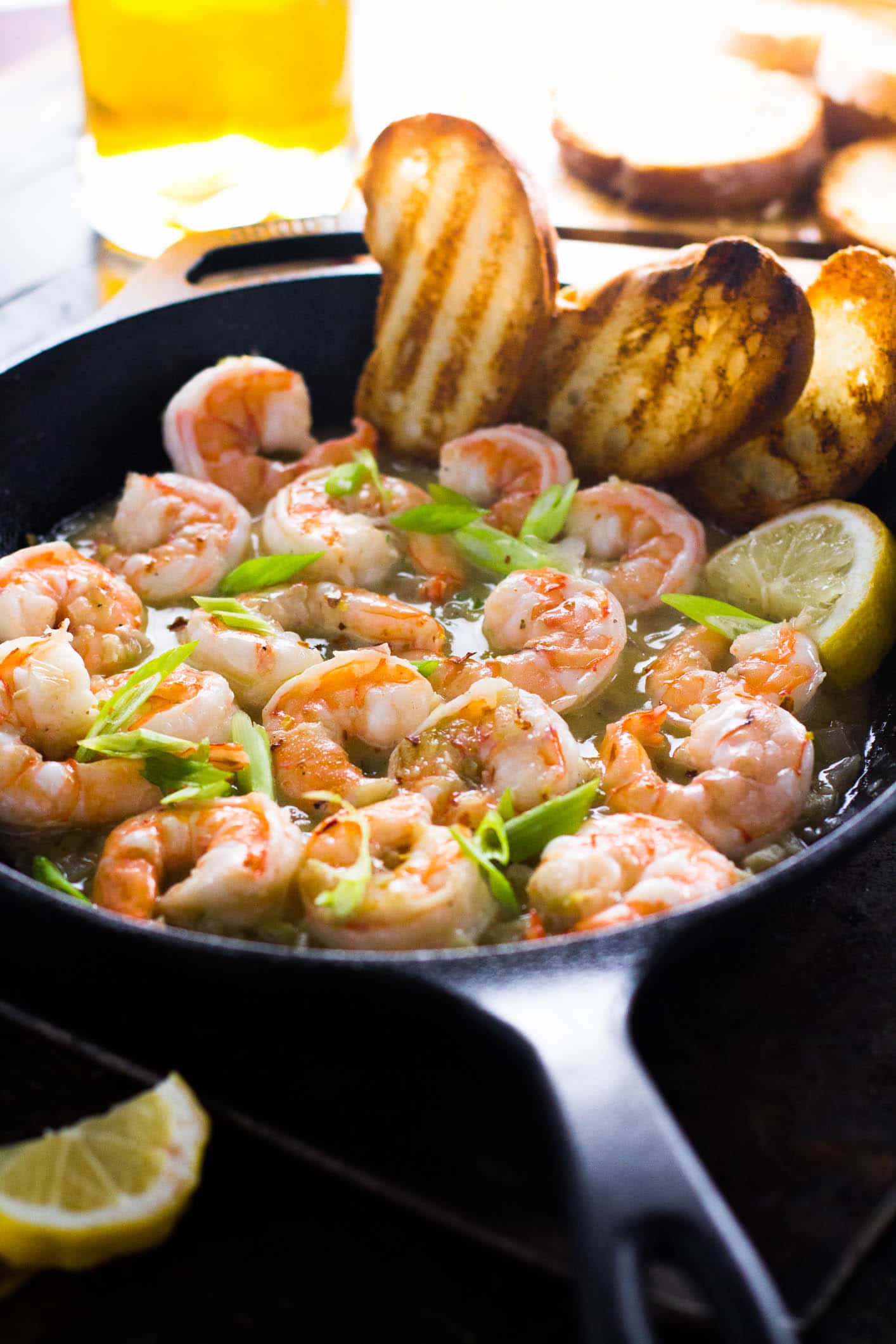 My mother-in-law is a fan of all things seafoody as well as her son.  And on her birthday last year she decided to throw a dinner for herself at home with all the seafood that they can handle.  She asked me to handle the lobster in fear of messing it up.  When I saw the lobster I was very upset.  She had bought very frozen, very measly looking lobsters.  This was a test. I knew it.  She was testing me.  Naturally, it could not be anything else.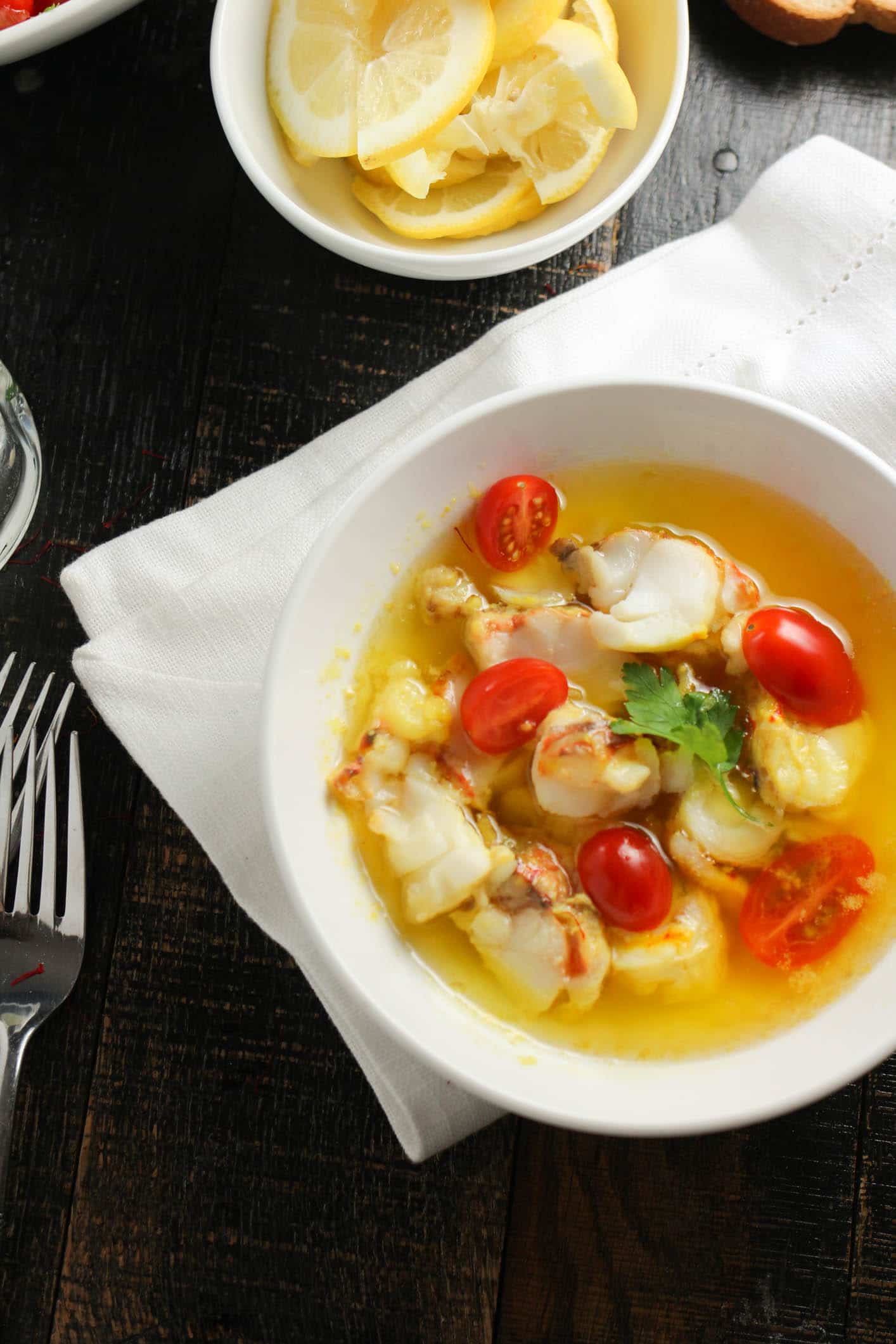 In an attempt to preserve as much lobster flavor and to save the slightly frozen dried texture, I decided to utilize Thomas Kellar's famous butter poaching technique.  I love Thomas Kellar. The man's recipes are based on utter simplicity and they just work.  Always.
So I cut open the lobster tails in the front and in the back with a pair of sharp kitchen shears.  And let me just say that cutting apart 15 lobster tails (I told you enough to feed an army) will most definitely give you blisters and minor cuts.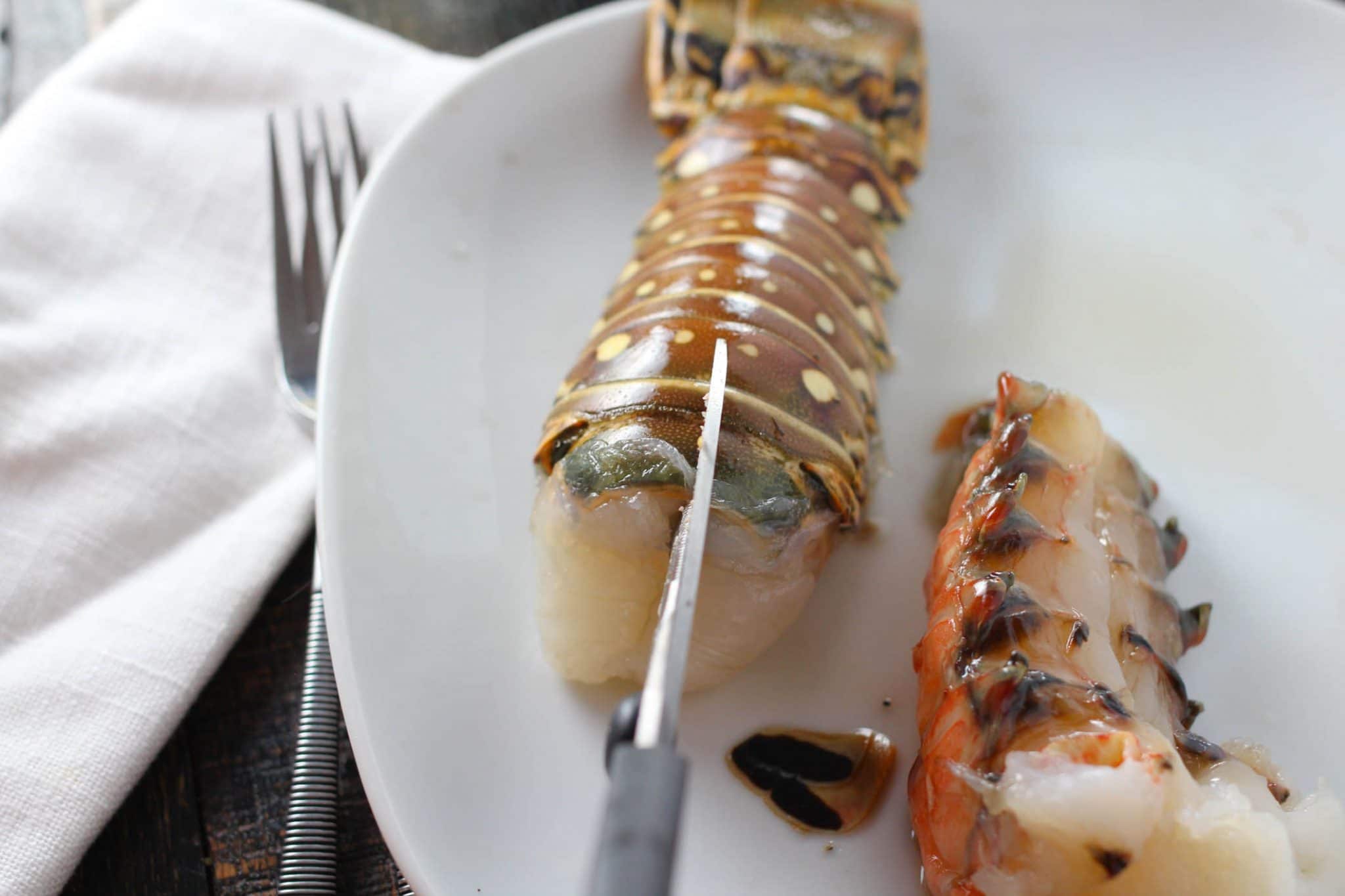 Now just so you understand, butter poaching is a VERY delicate process. The butter never reaches a boiling point.  It gently…very very gently cooks the lobster in its velvety sauciness and infuses the lobster with all the flavor in the butter.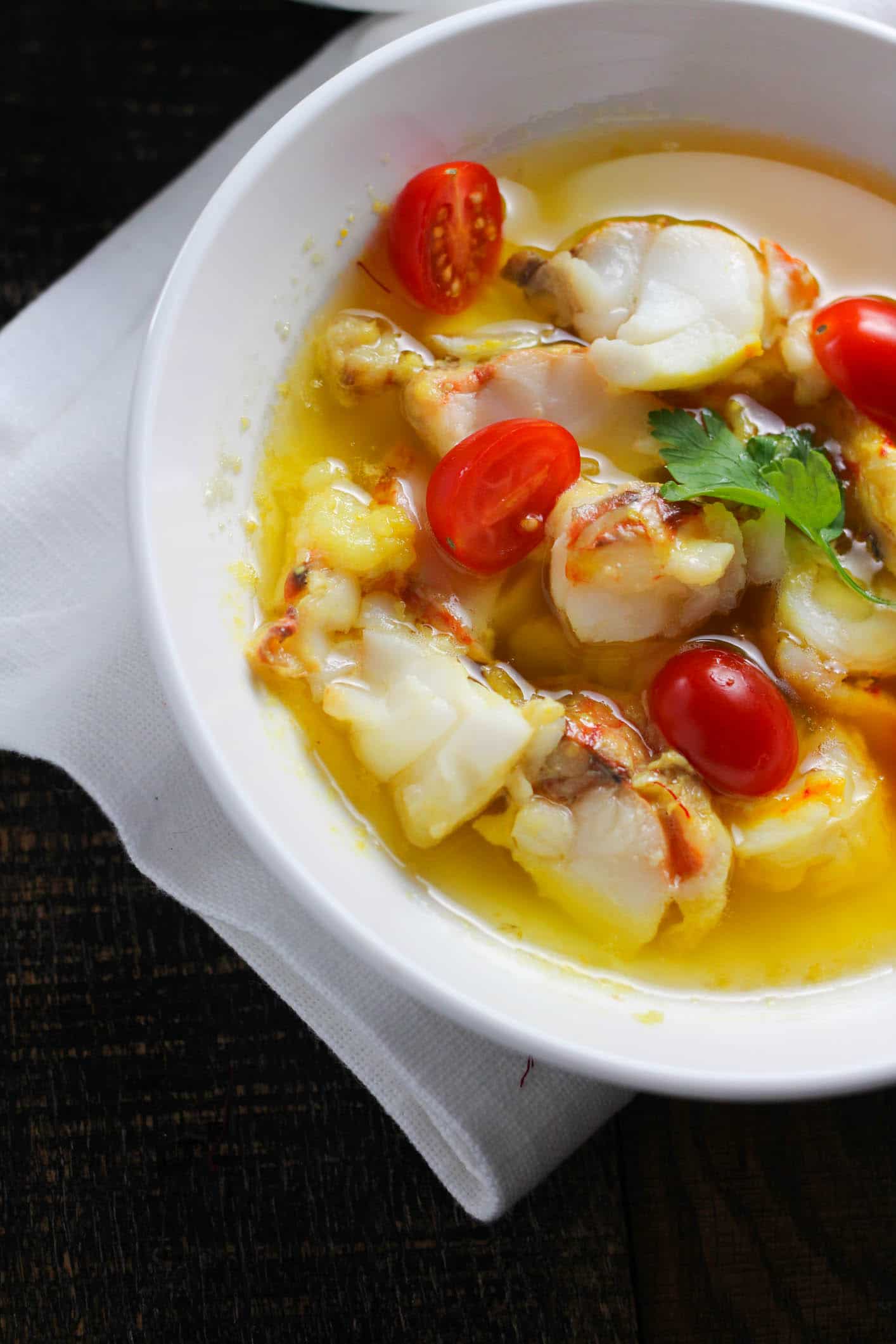 I really love the combination of saffron and garlic in this dish.  It gives it a distinct flavor yet it compliments the lobster perfectly.  Plus the saffron just gives the butter a more golden tone.
15 lobsters, several pounds of butter and 3476 cuts and blisters later, my family devoured all the lobster and smiled big.  My mother in law's seafood feast was a success and she even told me later, that was the best lobster I have ever had.
Mission accomplished: I win daughter in law of the year award.  For the time being.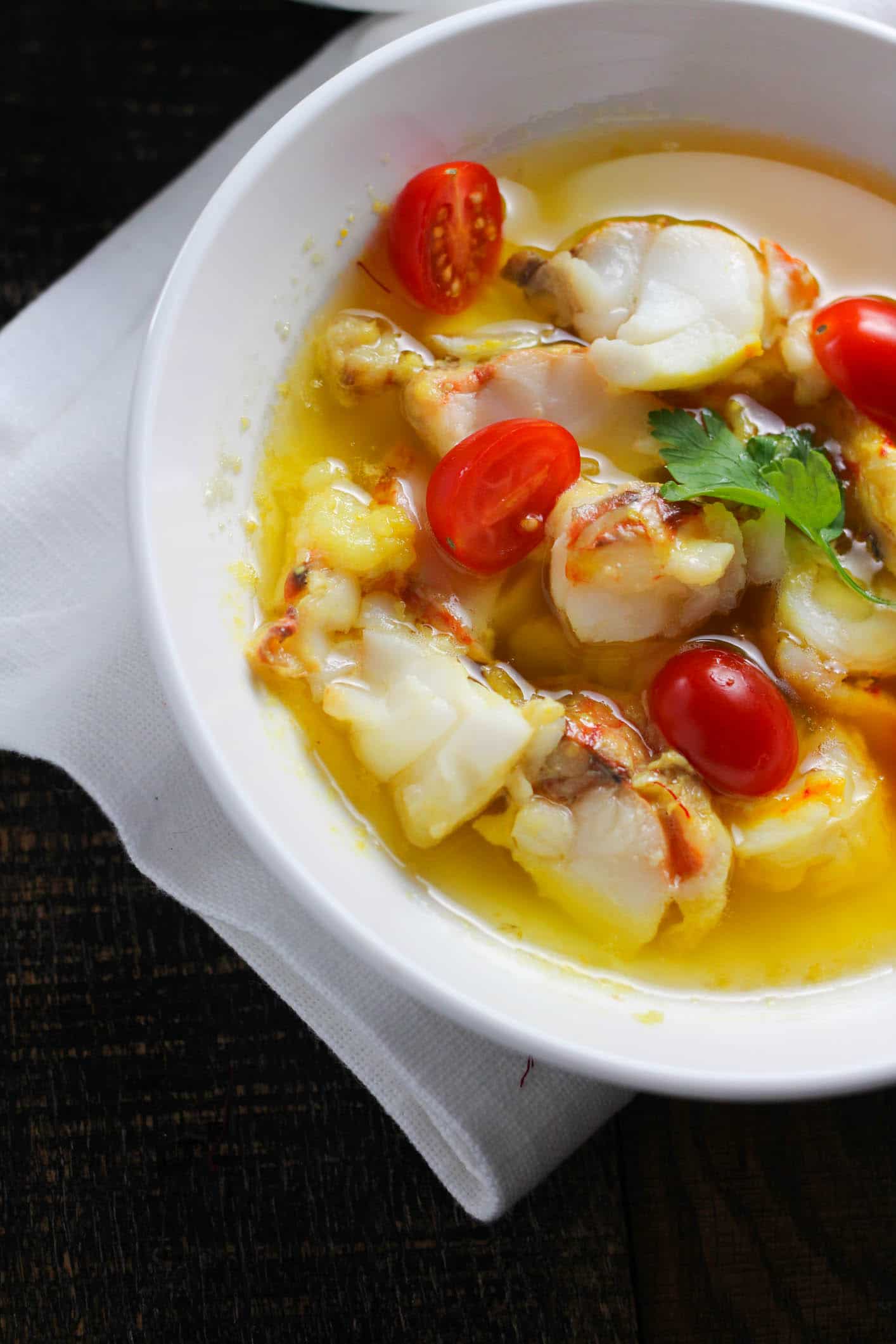 Print
Easy One Pan Saffron Butter Poached Lobster
---
Description
A sinfully elegant butter poached lobster with garlic and herbs is both impressive and ridiculously simple!
---
1

pound unsalted butter at room temperature (in pieces)

5

grape tomatoes cut in half

2

lobster tails (removed from shells* and cut up into large pieces)

4

garlic cloves (minced)

4

–

5

strands of saffron
zest of

half a

lemon
parsley to garnish

1 tbsp

of water
---
Instructions
In a sauce pan, bring 1 tablespoon of water to simmer over medium-low heat. Whisk in 1 piece of butter. When butter has melted, add another piece. Continue with remaining butter pieces, one at a time. Make sure the mixture does NOT come to a boil, otherwise the butter will separate.
To the butter add garlic and saffron. Steep over low heat until butter is melted.
Continue cooking at this rate for 5 minutes. Essentially at this point you are infusing the butter with the saffron and the garlic.
Taste the butter and add salt, pepper and lemon zest.
Add the cut up lobster pieces and cover them with the butter. Turn the lobster pieces every minute or so to ensure that the lobster cooks evenly. Continue doing this for 8-10 minutes until lobster is cooked through.
Remove the lobster with a slotted spoon onto serving bowl. Add cherry tomatoes to the butter stirring for 1 minute. Add tomatoes to the lobster and add in desired amount of butter. *
Add parsley to garnish.
Serve with crostini
Notes
Note 1: Do NOT throw away the shells! The shells are what lobster bisque is made from. Also they can be used in fish stocks, sauces etc. I'll create a post on that separately 🙂
Note 2: You can either cook the lobster tail whole or cut them into large pieces. I prefer cutting them into pieces because of the ease of eating and serving. But it's truly up to you. Keep in mind you also get more of the butter flavor into the pieces if they are cut up.
Note 3: If you have butter left over it can be refridgerated as a loaf in plastic wrap once it solidifies a bit. Add to sauces, as a spread on bread or just use it as lobster butter to add sweetness and taste to fish and seafood! Possibilities are ENDLESS.
Adapted from Steamy Kitchen
Category:

Seafood

Cuisine:

French