Baked Chebureki…Easy Georgian Turnovers (with Meat)
Chebureki are traditional Georgian meat pies that are more similar to little meat turnovers than anything else. Traditionally made with a from-scratch dough and deep fried these babies can be both difficult and loaded with fat. My recipe features a no fry method and dough that is store-bought without sacrificing any flavor!!!
When I was growing up the only food I would ever eat was my mother's. I was not just a picky eater, I discriminated.
When I was older and I started coming over to some of my Russian/Ukrainian/Belarussian friend's houses I pulled the same trick. No matter how hungry I was, I was never hungry enough to eat some other Slavic woman's food. Who knew how disgusting that food could be and what they put in it.
I know. I know. I was the worst. My poor mother.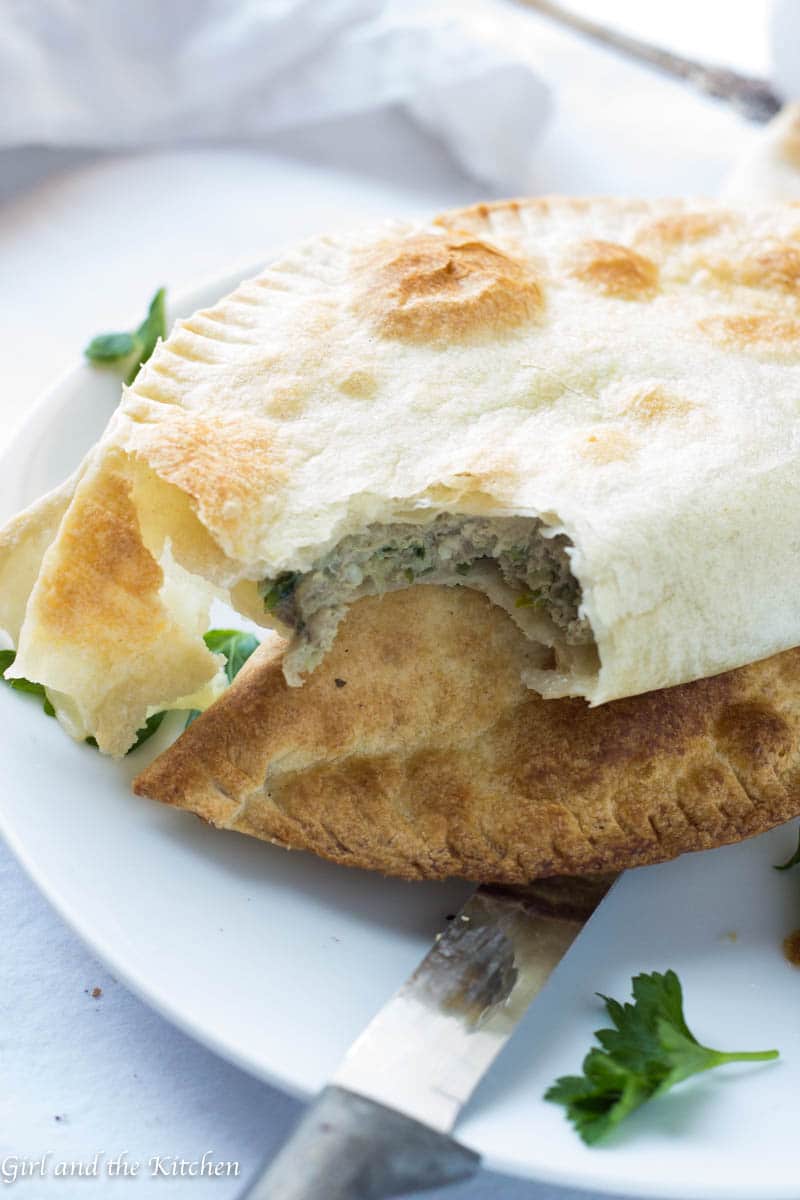 Years upon years later, my mother was able to SOMEHOW coax me into trying food at Russian and Ukrainian restaurants.
By the way guys, Russian and Ukrainian restaurants are THE BEST! They are literally a banquet hall with LOADS of food upon food upon food (we think of eating more like a marathon), our bottles of booze are ALWAYS on the table so we can pour plenty of shots at our leisure and we dance into the night with live music. We all deck out in our best. I mean it's like a wedding every time we go the Russian restaurant. Suits, swanky dresses and all the diamonds you can find. We know how to put it on. It's the best. Really. I highly recommend trying it.
The quality of the food at these restaurants clearly depends on which ones you go to. However, we always eat in courses…and I do not mean tiny little courses with miniature sized food on your plates. Oh no no no no. When we sit down at the table, the table is already loaded up with cold appetizers. Anything from compound salads, to sushi, tuna tartar, cold seared and smoked duck, whole and sliced smoked fish, caviar and blini (because duh) and LOADS more. Naturally, the booze is always there in the center of the table. This is the reason we need to start with food immediately…so we can drink, duh.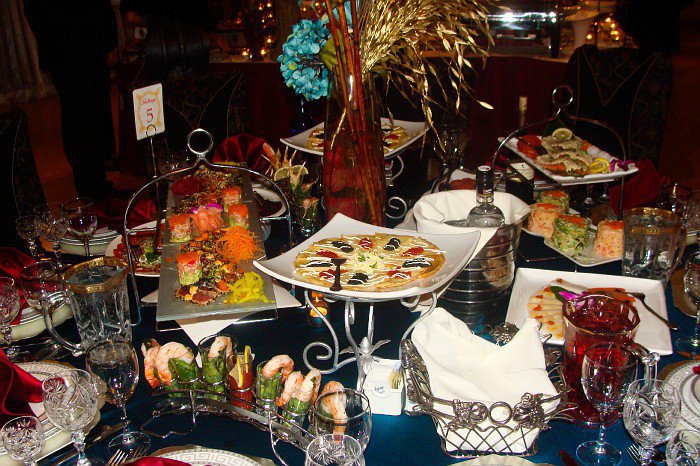 After the cold appetizers come the hot appetizers…. they are carried out one by one and served to us Russian style with white gloves. Among many others we have pelmeni served to us (little meat dumplings) fried potatoes with garlic sauce (I like to keep this bowl right next to me), julienne (a fancy way of saying little sautéed mushrooms with cheese in individual mini pots) and chebureki, savory little meat turnovers filled with a mixture of meat and herbs, deep fried to golden perfection. The Russian restaurant was where I met these gorgeous little chebureki and was forever a fan.
It was thanks to my mom that I even tasted one of them. I was off dancing to ABBA's greatest hits compilation (one of the highlights for the music selection for us) when I came back to sit down and I noticed a fried little thing sitting on my plate. As always, I scrunched my nose up, pushed the plate away and told my mom to take it away.
"Mila, try it. It's fried dough with meat inside."
"Nyet, mama, it's disgusting," I complained. FYI I was 17 years old here. My maturity nor my palate towards food had not yet developed.
"Mila, try it. If you don't like just spit it out," my mom was serious that I would like it clearly if she gave me the option of spitting things out.
So, I bit into it and held my breath as I usually do to ensure that I didn't taste it. But somehow, I breathed and I tasted it. The juicy chebureki were succulent on the inside and uber crispy on the inside. I took another bite and another and then snatched my dad's and my brother's off their plates while they were being "Dancing Queens" on the dance floor. My mom smiled, clearly very pleased with herself that her daughter finally listened to her and tasted something different.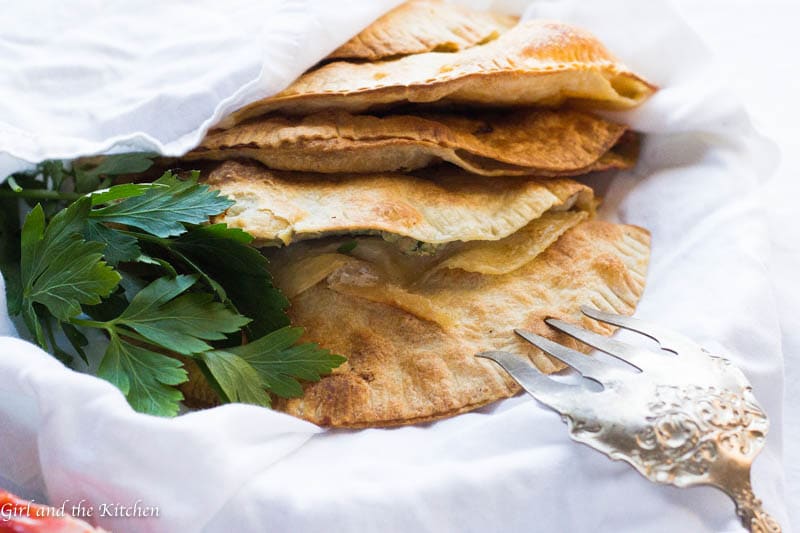 To this day, when they serve chebureki at restaurants I instantly steal my husbands and replace his with my Julienne that I never eat. It's a very fair trade. It has gotten to the point that he just gives me his because he knows that the fight is futile. Nothing stands in between me and these chebureki.
Years ago, we were having dinner at my mother in law's house and she was frying up some fresh chebureki. She placed one on my plate because in that house no one asks you if you want to eat…you just eat.
She had made them with flour tortillas which naturally, intrigued me. For years I had wanted to make these at home but never wanted to fuss with the dough or the deep frying that these delicious little meat turnovers called for. So when I tasted them and realized how delicious they were even without the deep frying or the dough…my wheels started spinning. It took me a few tries but I finally got it down and I am prepared to pat myself on the back for this piece of deliciousness.
THE TECHNIQUE
Fresh Tortillas: I soon realized after many experiments that the ultimate flavor and texture for the chebureki did not come from regular flour tortillas but from fresh tortillas. Did you know you can buy these at stores? FRESH TORTILLAS are THE BOMB! They have so much more flavor and all you do is put whatever filling you want inside, be it cheese for quesadillas or this meat filling for the chebureki and then just pan fry them. You will not believe the incredible difference in flavor. They are usually sold in the refrigerated section by some of the cheeses. Costco used to have it in bulk, but lately I have not seen them. However Walmart always carries them and because they freeze so beautifully I always load up on them and throw 2-3 packs in the freezer.
The Filling: Traditionally, chebureki are made with a mix of lamb, beef and sometimes even pork. However, in an effort to be healthier I use either ground turkey or ground chicken. The most important thing to remember is to not have the meat being used be too lean. You want a little bit of fat in there because it will keep the filling nice and juicy. The other hint is an old babushka hint from the motherland. Add in water. Just a few tablespoons will go a long way. You basically add in water until the meat stops absorbing it. Do not ask me why this works, I have yet to do the research necessary for this. The flavor components are super important here as well. There aren't a lot of ingredients and I make it even simpler by processing the ingredients right in a little food processor! All the onions, parsley and seasoning goes right into the food processor and there is no chopping necessary! Because there are so few ingredients, it is crucial to really balance out the flavors. We ensure that this happens by frying up a little piece of the filling before placing them on the tortillas. That way we know that the flavor is perfection before sealing up the little turnovers.
Baking vs Frying: I knew that there must be a way to bake these instead of frying them. Sure they taste INCREDIBLE deep fried but the calories are hefty as well. Plus it is a tad of a headache to pan fry them as the max that will fit on a pan is about 3. When baking anything that requires a crispy crust you must ensure that both the baking pan and the actual food has oil on it. That way you are achieving the frying effect without actually frying it or needing to flip them. The most important thing is to brush the tops with oil as well that way they "fry" simultaneously on the top and the bottom.
Freezing: These babies freeze beautifully!!!! You can freeze them right after sealing them up with a fork. I usually place them on a sheet pan with wax or parchment paper in-between the layers so they do not stick together. Then defrost as many as you want to eat and either heat them up in the oven or you can just pan fry them up one by one in a little bit of oil…or my favorite butter 🙂

These chebureki are serious comfort food for me. But at the same time, they make such great appetizers for any dinner party or holiday dinner! And aside from a crazy child like myself…kids seriously love these. I made them for our New Year's Eve party this past year and the kiddos ate them all! And clearly the munchkin is a fan 🙂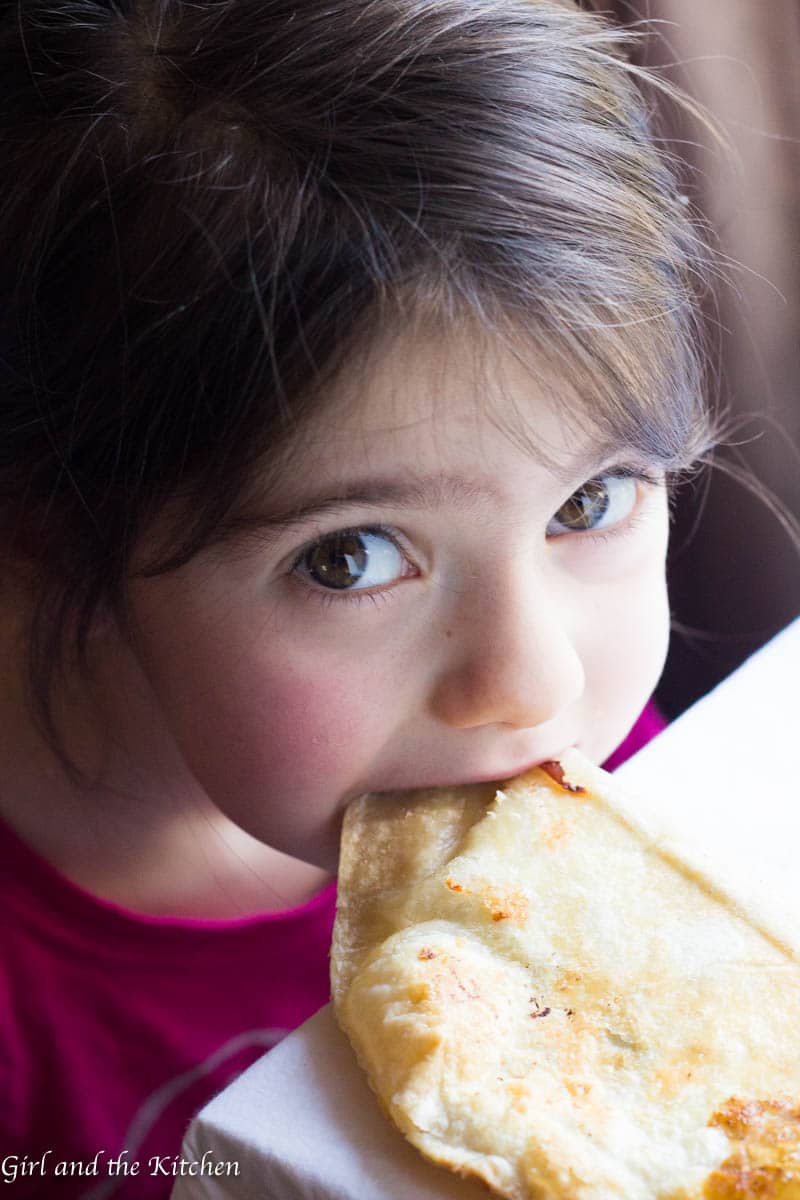 These are also super easy to modify and change up if you wanted to.
Use lamb and beef instead of chicken and turkey.
Add in cilantro and or dill in addition to the parsley.
Add in some hot peppers or chill pepper flakes to give it a nice kick!
Pan fry them instead of oven "frying" them. Or you can even deep fry them if you are feeling extra naughty. They are done when they are gloriously brown.
Regardless of whether you make these chebureki precisely like my recipe or if you add your own twists to it these will truly add a new twist to any of your dinners without much fuss!
Print
Baked Chebureki…Easy Georgian Turnovers (with Meat)
---
Author:

Total Time:

20 minutes

Yield:

8

chebureki

1

x
Description
Chebureki are traditional Georgian meat pies that are more similar to little meat turnovers than anything else. Traditionally made with a from-scratch dough and deep fried these babies can be both difficult and loaded with fat. My recipe features a no fry method and dough that is store-bought without sacrificing any flavor!!!
---
8

raw tortillas

1

pound ground turkey or chicken (not too lean)

1 cup

fresh parsley

1

medium onion

2 tbsp

of water plus more if necessary
salt and pepper to taste
olive oil for oiling pan
---
Instructions
Preheat oven to 400 degrees.
In a food processor combine parsley, onion, salt and pepper. Combine until processed finely.
Combine the ground meat with the onion parsley mixture until fully combined. Add in water into the mix 1 tablespoon at a time until meat stops absorbing the water.
Fry up a small piece of filling and taste for seasoning. Adjust as necessary.
Place about 2 tablespoons of filling into the tortilla shell. Spread the filling out so that it is even across ONE HALF of the tortilla.
Brush the ends of the tortilla with water lightly.
Press down the side of the tortilla without the filling towards the side with the filling. Using a fork, press down on the edges creating a tight seal.
Take a sheet pan and place about 2 tbsp of olive oil or butter on it.
Place the chebureki on the sheet pan, making sure they do not overlap with each other. Brush the top with olive oil or butter.
Place into the oven and bake until golden brown, about 8-10 minutes.
Notes
1. If the tops of your chebureki do not brown nicely in the oven, just turn them over for a few minutes. It all depends on your oven strength.
2.  The nutritional information should be used for informational purposes only.
Prep Time:

10 minutes

Cook Time:

10 minutes

Category:

Appetizer

Cuisine:

Russian
Pin For Later