Classic Swedish Pancakes…Super Easy
Classic Swedish Pancakes are tender, lacy crepes that are mildly sweet and perfectly delicious!  A perfect breakfast that comes together in minutes and puts a smile on everyone's faces!  Best of all they are super light on flour so feel free to have a bunch!

Classic Swedish Pancakes are tender, lacy crepes that are mildly sweet and perfectly delicious!
[wprm-recipe-jump]
One of my favorite past times is to go out for breakfast.  In Chicago and the outlying burbs we happen to have some ofthe BEST breakfast houses.  One of them is actually called the Original Pancake House and they have several locations.  I happen to have 2, both of which are within a 5 mile radius of my house.  Each restaurant has gorgeous stained glass windows everywhere and upon entering the restaurant you are filled with a strong buttery scent that enriches each particle in the air.  If you arrive on a weekend before 11am there is sure to be a wait, but it is ALWAYS, ALWAYS worth it.  Because the best part is that upon sitting down, they serve you coffee with heavy whipping cream on the side.  In today's world of diets and low calories, sometimes it is nice to have heavy whipping cream as your coffee accompaniment.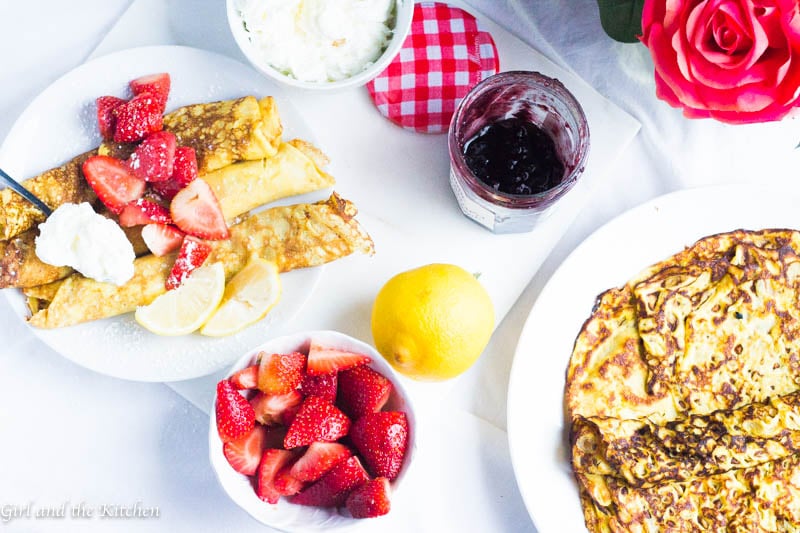 My biggest issue with Walker Brothers is that I can never decide on what to order.  Their deliciously savory, fluffy omelettes with a side of crispy applewood bacon and perfectly crunchy old fashioned hash browns are always fulfilling.  But their sweet crepes and pancakes are a rare treat.  They have an incredible apple pancake (must make that recipe) that is more of a dessert than any sort of breakfast.  And then there is the delicate and lacy Swedish pancakes.  Oh how I love thee.  How you fulfill me with your dainty texture and your sweet and lemony notes.  I swear I could write a Shakespearan play based on all of Walker Brother's breakfast items.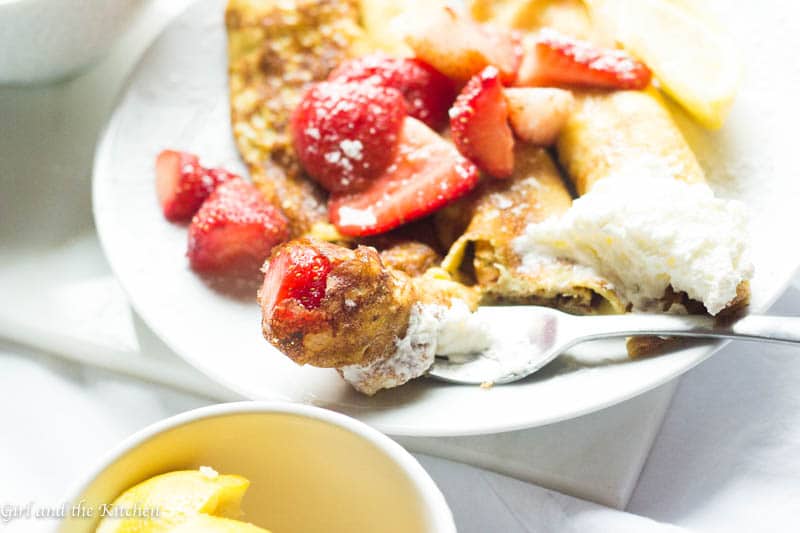 I first got the idea to recreate this at home from a local cooking group I belong to on Facebook.  I have been in this group for 5 years now and it's about 1000 people (most of whom are fellow Russians) who share all their creations.  Every once in awhile something becomes a cult classic and EVERYONE makes it.  Most recently it was these classic Swedish pancakes that were all the rage.  Everyone was making them.  And I was jumping on the bandwagon.
What I really liked about the recipe is how little flour and sugar it had in it.  For 8 crepes you only use 1/2 a cup of flour and 1 tablespoon of sugar.  That sounds like diet friendly to me.   Well at least friendlier than my traditional pancake choices that are laden with butter and maple syrup.
The Technique
The original recipe that the ladies posted in the group, comes from AllRecipes.  And while upon looking at it, it seemed fine and EXTREMELY simple, I knew I had to add some of my own flavor additions to really boost up that traditional flavor I remember from my favorite Swedish pancakes from Walker Brothers.
Wet VS Dry Ingredients: The batter starts out simple enough.  I have done it in all sorts of different orders and as long as all the wet ingredients are combined together and the dry ingredients are added in  afterwards it works out just fine.
Additional Flavors:  The original recipe that I used needed some extra flavors.  I remembered that the Walker Brothers Swedish pancakes had hints of vanilla and citrus so I decided to add some of my Madagascar Bourbon Vanilla Paste and grate in some fresh lemon zest into the wet ingredients.  Plus that vanilla paste added in those adorable little black dots to the batter which dotted the crepes beautifully. 
The Pan: The pan in my opinion is important.  Only because I truly feel the crepe pan makes life easier.  For starters it is non-stick and therefore does not require any additional oils to be used.  Plus because of the shape of the lip of the pan, it really does make it easier to lift the crepe to flip it.  I prefer to use a thin spatula to lift the crepes off the pan and then gently flip it on its other side.
The Oiling of the Pan: Now here is something interesting…as long as you use a non-stick pan you do NOT need to place any additional butter or oil on the pan.  In fact, I was not sure of this and kept brushing the pan with some butter.  The crepes ended up being different than when I stopped adding the butter.  In fact they ended up being BETTER without the added fat.  See…calorie friendly 🙂
How to get Juicy Strawberries: Ever wondered how they get gorgeous, glistening, juicy strawberries at restaurants?  I can promise you it is NOT the fact that they are better quality than yours.  It is that they add one very special ingredient.  Ready:  It's SUGAR!  When you add a tiny bit of sugar to any fruit but particularly berries they come alive!  All their juices come out and within minutes they are sexy and glistening!  Plus, it is also very important to ensure that they are room temperature.  Not only will the flavor be better, but they will release more juices.  Trust me, this is the easiest way to make mediocre berries shine like rubies. 
I served these babies up with oodles of fresh lemons, glistening strawberries, copious amounts of powdered sugar and of course some whipped cream.  I rolled some of them up and placed the whip cream and strawberries inside for the munchkin and hubby.  Munchkin swiftly unrolled the crepe and ate everything in her munchkin OCD manner, separately, like a little weirdo.
The hubby however started eating them and when I asked him how they were, he very seriously said… "Good.  Very good."  Please understand that coming from my spoiled husband this is not just a simple "very good"  this is the same response that I would get if I took him to a 3 star Michelin restaurant.  In our house "very good" is pretty much perfection 🙂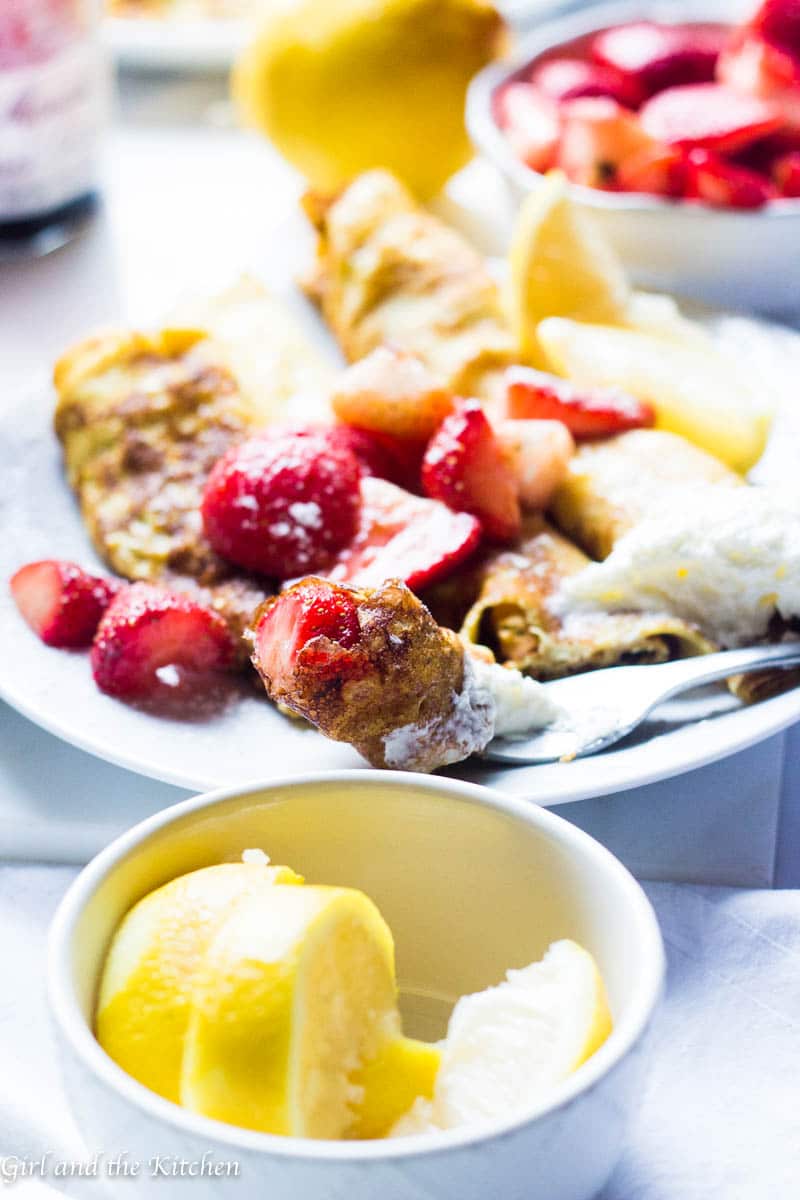 Because these crepes are NOTHING short on perfection.
Print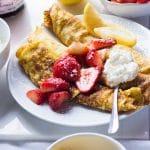 Classic Swedish Pancakes…Super Easy
---
Author:

Total Time:

20 minutes

Yield:

8

crepes

1

x
Description
Classic Swedish Pancakes are tender, lacy crepes that are mildly sweet and perfectly delicious! A perfect breakfast that comes together in minutes and puts a smile on everyone's faces! Best of all they are super light on flour so feel free to have a bunch!
---
4

eggs

2 cups

of milk (I prefer whole milk)

2 tbsp

melted butter

1 tsp

vanilla extract or my favorite Madagascar Bourbon Vanilla Paste

1/2

of one lemon zested

1 tbsp

sugar (cane sugar is just fine)

1

pinch salt

1/2 cup

of flour
sliced lemons for garnish
powdered sugar for garnish
whip cream for garnish
Strawberries
1 cup

quartered strawberries

1 tsp

sugar
---
Instructions
Swedish Crepes
Add in eggs, butter, vanilla, lemon zest and milk to a bowl. Whisk to combine with either a hand whisk or with a stand mixer. *
Add in salt, sugar and flour. Mix until well combined. Some lumps may remain and that's just fine.
Place HALF A CUP of batter onto a non stick pan. * Swirly the pan around to make sure everything is filled in. The first crepe may turn out a bit off, but that's typical 🙂
With a thin spatula, flip the crepe gently by lifting it up from the center.
Allow to cook for another 2 minutes then remove. Serve with fresh strawberries, squeeze of lemon and powdered sugar
Strawberries
Combine sugar and strawberries. Mix thoroughly.
Allow to stand for 15 minutes at room temperature.
Notes
1. You can also make this whole recipe in the blender or Vitamix. Hubby happened to conveniently break my Vitamix so I did it with a hand mixer because I am lazy. But a hand whisk will work just as good.
2. You may need to oil the pan lightly the first time around.
3. The nutritional information should be used for informational purposes only.
Prep Time:

5 minutes

Cook Time:

15 minutes

Category:

Breakfast

Cuisine:

Swedish
Pin For Later