My super simple and wholesome chicken marsala has always been an incredibly dinner!  But with the addition of Buitoni Agnolotti filled with fragrant mushrooms and creamy cheese it takes this incredibly fast and simple dinner to a whole other level!  This is the perfect meal for a crazy weeknight or a last minute dinner party on a weekend!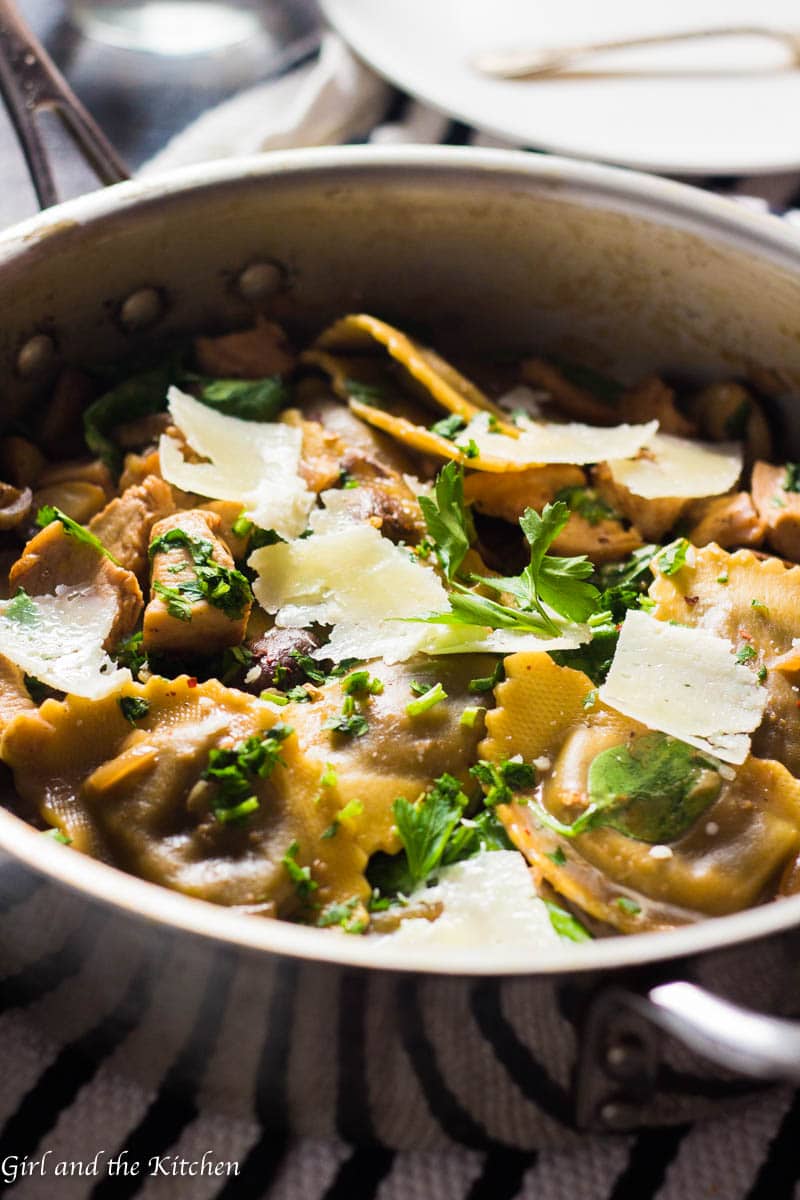 It's been a pretty exhausting month.  I have come to rely on many freezer meals (thank you well stocked freezer) and many quick one pan meals that allow me to plop everything onto a sheet pan and pull out a gorgeous meal for the whole family with minimal effort.
My freezer always has plenty of frozen veggies, veggie burgers and fresh pastas.  My grocery store features a number of different fresh pastas, but I always find myself gravitating towards Buitoni's.  They have an incredible variety of shapes, styles and flavors but more importantly and honestly they are the most wholesome brand I have found on the market.  Plus they are exclusively no GMO which is rare to find in already prepared products.  The pasta always tastes fresh and uber flavorful.  And while I may not have had an Italian grandmother make me fresh ravioli, I have spent many a days by my Italian chef's side, watching him make homemade ravioli filled with fresh ingredients.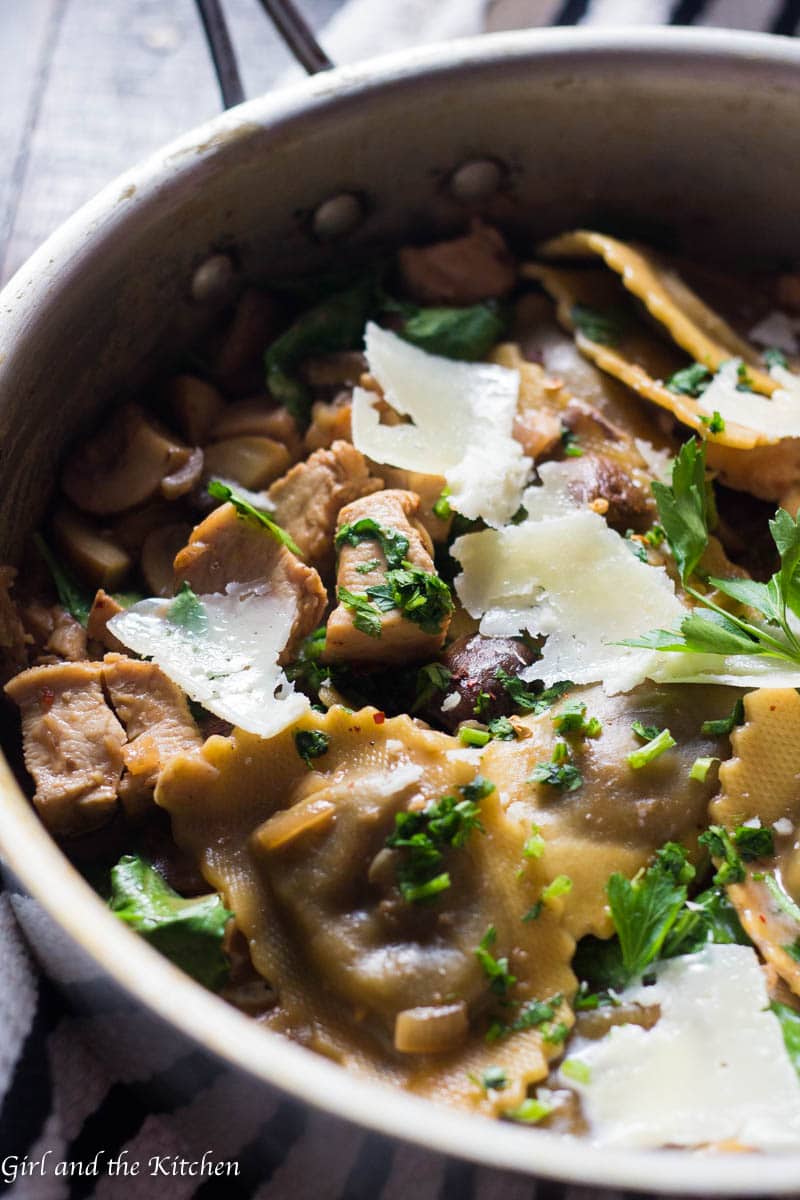 And, I must say Buitoni has created pastas that recreate that same flavor experience beautifully. It is clear that Buitoni has perfected their recipes for generations and despite being in many grocery stories around the country, they have managed to maintain that same warm feeling that one would get if they were eating the pasta right in Sansepolcro, Italy.
My munchkin shares her love for fresh pasta as her mama does.  I'll make her my classic Tortellini en Brodo soup with tiny tortellini in it that are always picked out and gobbled up first.  She always gives me a thumbs up with with her approval.
A few nights ago, I was strolling hungrily through my grocery store (big mistake) and I came to the fresh pasta refrigerated section.  I stopped and stared.  There were some of the most beautiful colorful packages of fresh Buitoni pastas and sauces!  Sauces?! In the refrigerated section?!  This was legit!  I grabbed 4 different bags of stuffed pastas and a few sauces:
Roasted Garlic and Cheese Tortelloni
Spinach and Artichoke Ravioli
Mushroom Agnolotti
Alfredo Sauce
Pesto with Basil
As I was throwing everything into my cart, I noticed a text from my hubs appear on my phone:
"Stan's coming for dinner in an hour.  Grab something from the store."
One hour?! I was still in the store!  Dinner was about to become slightly more hectic.  But something told me not to fret.  I stared at the gorgeous assortment of fresh pastas in my cart and I realized that Buitoni was about to make my life a tad easier 🙂 The mushroom agnolotti spoke to me that night and I knew that dinner was as good as done.
I was super excited to come home and get cooking.  Our friends Stan and Lilly came early and the munchkin kept them busy whirling around the living room, while I created one of my favorite pasta dishes yet. Essentially I re-created my classic chicken marsala recipe that has always been a hit because of my double reduction method.
The Technique
I reduce my sauce TWICE.  Yes twice.  I first add some marsala wine to the pan when I add the shallots and the mushrooms and let it simmer.  Why?  Because then the mushrooms soak up all that glorious wine.  Once the shrooms look how I want them to look I add the second shot of wine along with the chicken broth and then we add our chicken in.
I cook the pasta IN the same pan along with all the other ingredients.  The pasta releases some of the starch and really creates a lovely silky consistency without the sauce getting all glue like.
The pasta cooks in only 5 minutes so it's perfect for this fast and easy one pan meal!
I seared off a few chicken breasts, created the sauce and then added in the Mushroom Agnolotti  along with a smidgen of the Buitoni alfredo sauce to just richen up the sauce slightly.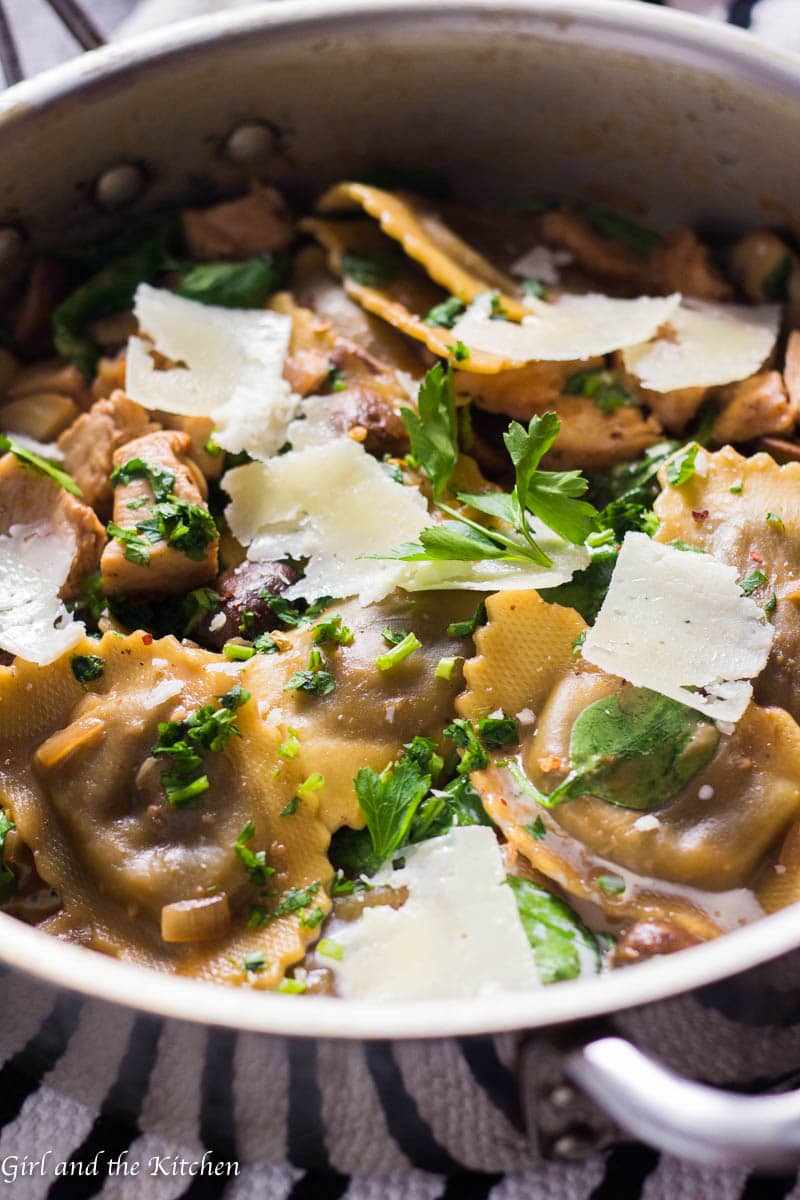 I added in some red pepper flakes, baby spinach and several slivers of really good Parmesan.  While Lilly and munchkin laughed and sang in the living room, hubs and Stan hovered over me watching me cook, while sipping their carefully selected Scotches for the night.
A few handfuls of fresh parsley and some much needed extra Parmesan slivers went on top of the dish and onto the table it went.  It was a super simple dinner that I served alongside a salad and some fresh Italian bread which was mandatory to mop up all the sauce with.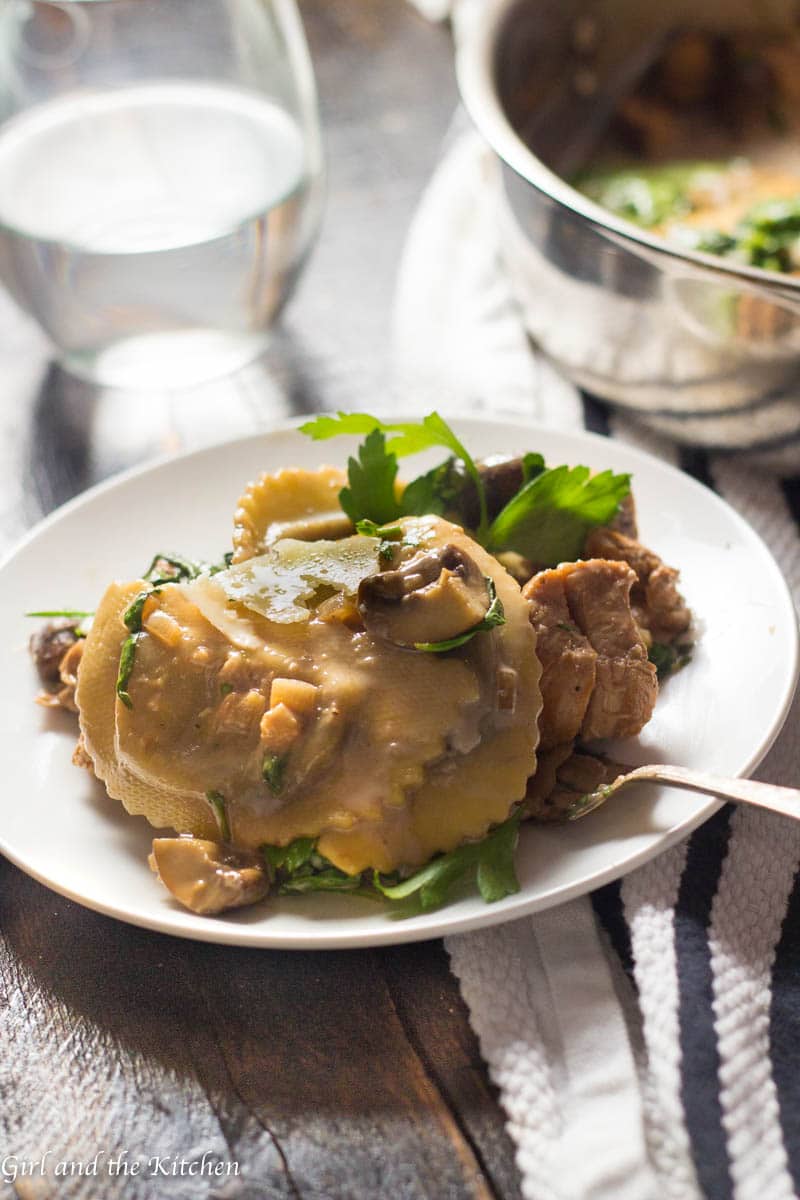 The best part was they were all convinced that these Mushroom Agnolotti were homemade.  Major win for me!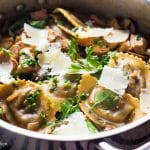 Chicken Marsala with Mushroom Agnolotti (30 Minutes, One Pan)
My super simple and wholesome chicken marsala has always been an incredibly dinner! But with the addition of Buitoni Agnolotti filled with fragrant mushrooms and creamy cheese it takes this incredibly fast and simple dinner to a whole other level! This is the perfect meal for a crazy weeknight or a last minute dinner party on a weekend!
Print Recipe
Ingredients
2

Pounds

Chicken Cutlets

or buy your own chicken breast and slice them thinly

2

packages of Buitoni Mushroom Agnolotti

1 10

Oz

Package of Crimini Mushrooms

1

Shallot

Chopped Small

3

garlic cloves

minced

2

cup

Marsala wine

or a sweet wine such as a Sherry

¼

Cup

Chicken Stock

½

cup

Buitoni Alfredo sauce

1

Cup

of baby spinach

Salt and Pepper

Fresh Parmesan for garnish

Chopped parsley for garnish

Olive oil for sauteeing
Instructions
Season chicken liberally with salt and pepper.

Heat olive oil in a large pan until it is bubbling.

Saute chicken on both sides until it develops a nice crust.

Remove the chicken to another plate and let it rest. Once it is rested about 5 minutes, cut it into bite size pieces.

Reduce heat to medium high and add shallots and more olive oil if necessary. Scrape the bottom of the pan with a rubber spatula or wooden spoon and scrape up the bottom to remove all the yummy bits.

Add the mushrooms and ONE cup of Marsala wine.

Continue sauteeing until the sauce is reduced and the mushrooms are rich in color, about 15 minutes.

Pour in marsala wine. Again scrape the bottom of the pan with the rubber spatula or wooden spoon. This is called deglazing.

Add in chicken back into the pan along with the mushroom and nestle into the sauce and mushrooms.

Let reduce by half and add alfredo sauce, chicken stock and the pasta. Taste the sauce and season with salt and pepper.

Cook for 5 minutes.

Turn off heat, add in spinach and combine.

Sprinkle with fresh chopped parsley, red pepper flakes and plenty of freshly shaved Parmesan.

Serve immediately.
Notes
The nutritional information should be used for informational purposes only.
Nutrition
Calories:
535
kcal
|
Carbohydrates:
23
g
|
Protein:
51
g
|
Fat:
11
g
|
Saturated Fat:
3
g
|
Cholesterol:
165
mg
|
Sodium:
555
mg
|
Potassium:
1370
mg
|
Sugar:
11
g
|
Vitamin A:
15.4
%
|
Vitamin C:
7.3
%
|
Calcium:
4.6
%
|
Iron:
9.5
%
I was selected for this opportunity as a member of CLEVER and the content and opinions expressed here are all my own.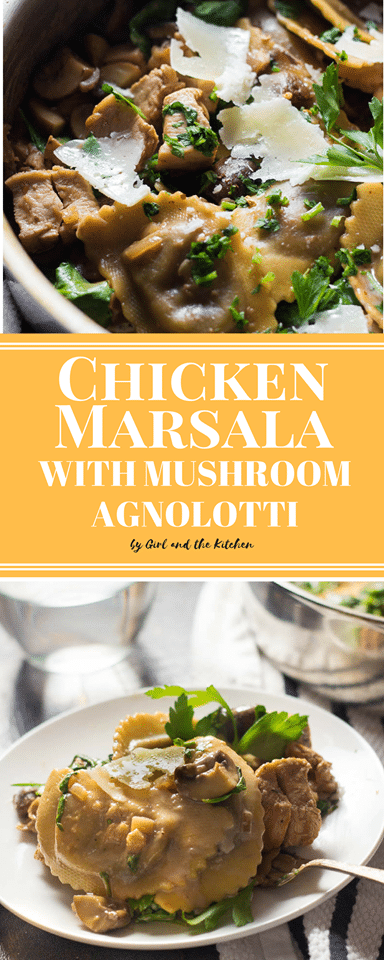 SaveSave