Ricotta and Apple Syrniki (сы́рники)…Russian Cheese & Apple Fritters…
Get ready for a life changing new breakfast recipe. We Russians tend to take our meals pretty seriously. And breakfast is no exception. This is not a pancake or a crepe. These plump and delicious "syrniki" are Russian cheese and apple fritters filled with creamy ricotta and tart apples! The child in me begged for me to share them with the world as they are pretty incredible.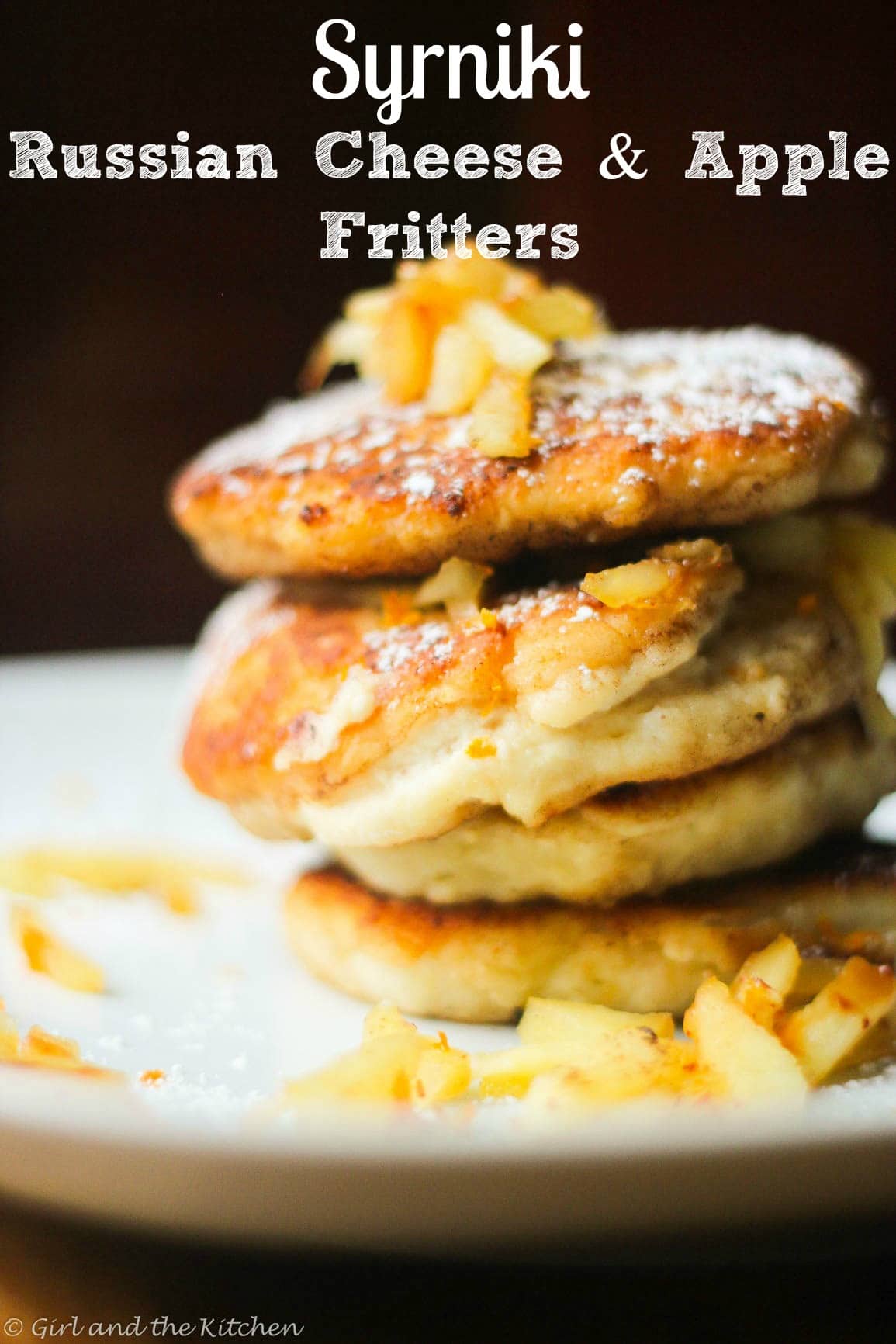 In Russia, breakfast was sometimes anything but ordinary. In the frigid and snowy winters we like them stick to your ribs breakfasts featuring classics such as Russian home fries and perfect fried eggs. In the hot summer months when veggies are fresh and fragrant we like to incorporate fresh salads and simple sweet items like my mom's crepes.
And these little beauties are a perfect addition as well.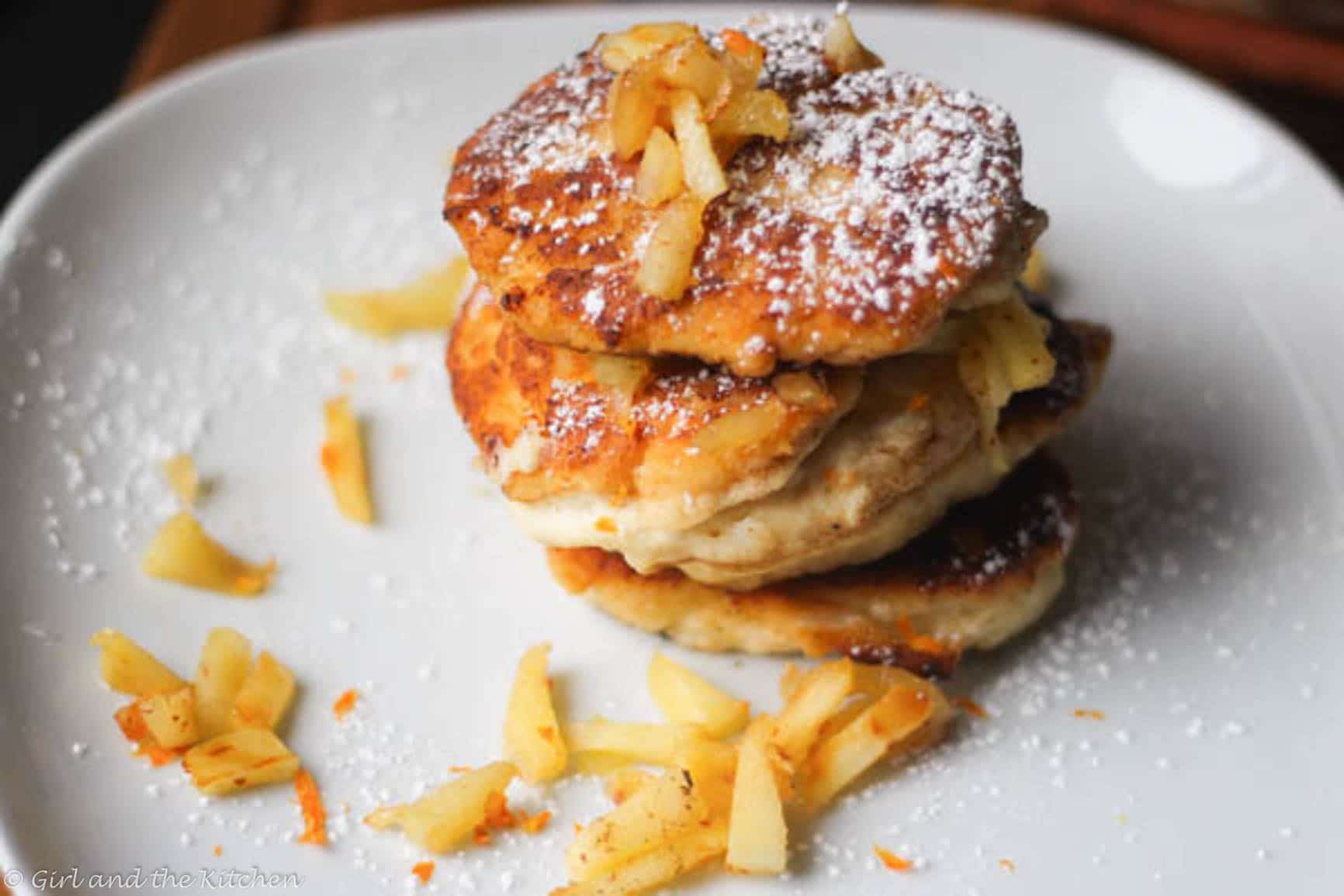 In our household and many other Russian or Slavic households, we had syrniki more often than any kind of pancake. My babushka used to whip them up on a whim on Saturday and Sunday mornings when we were growing up. The smell of these sweet cakes frying up in golden butter had me and my brother running to the kitchen. We ate them with some homemade jam, sour cream or just plain. And both of us could put away 3-4 of these little fritters easily.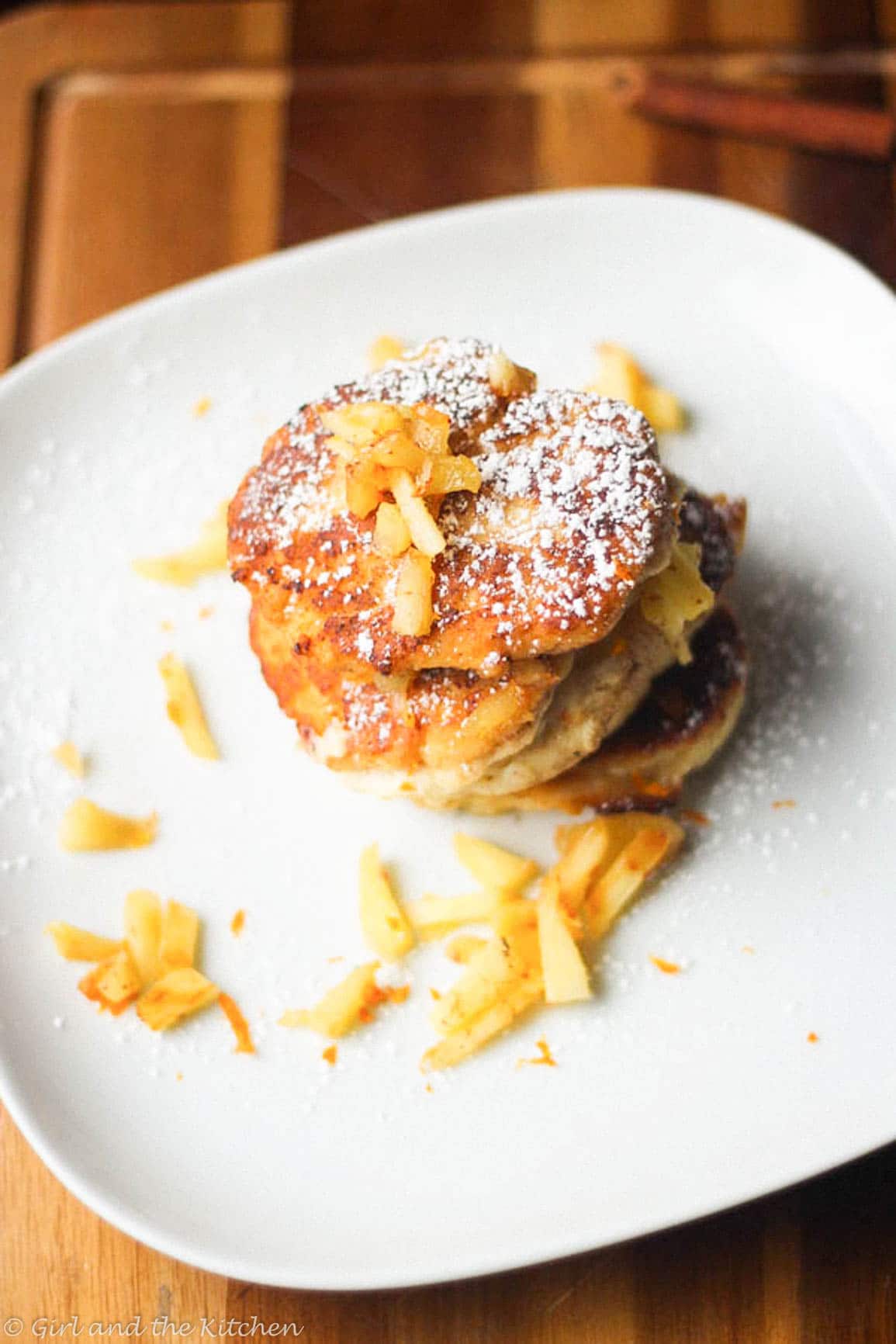 Syrniki are delicious little fritters that are mainly made out of a type of homemade farmer's cheese called Tvorog. Tvorog was typically made at home by warming sour milk until it coagulates to the desired amount. And then it is strained, placed into a cheesecloth and hung to drip. The longer it hangs the drier the tvorog will be. It is traditionally eaten for breakfast with some nice dark tea. It has tons of probiotics that reoccur naturally. More so than most yogurts.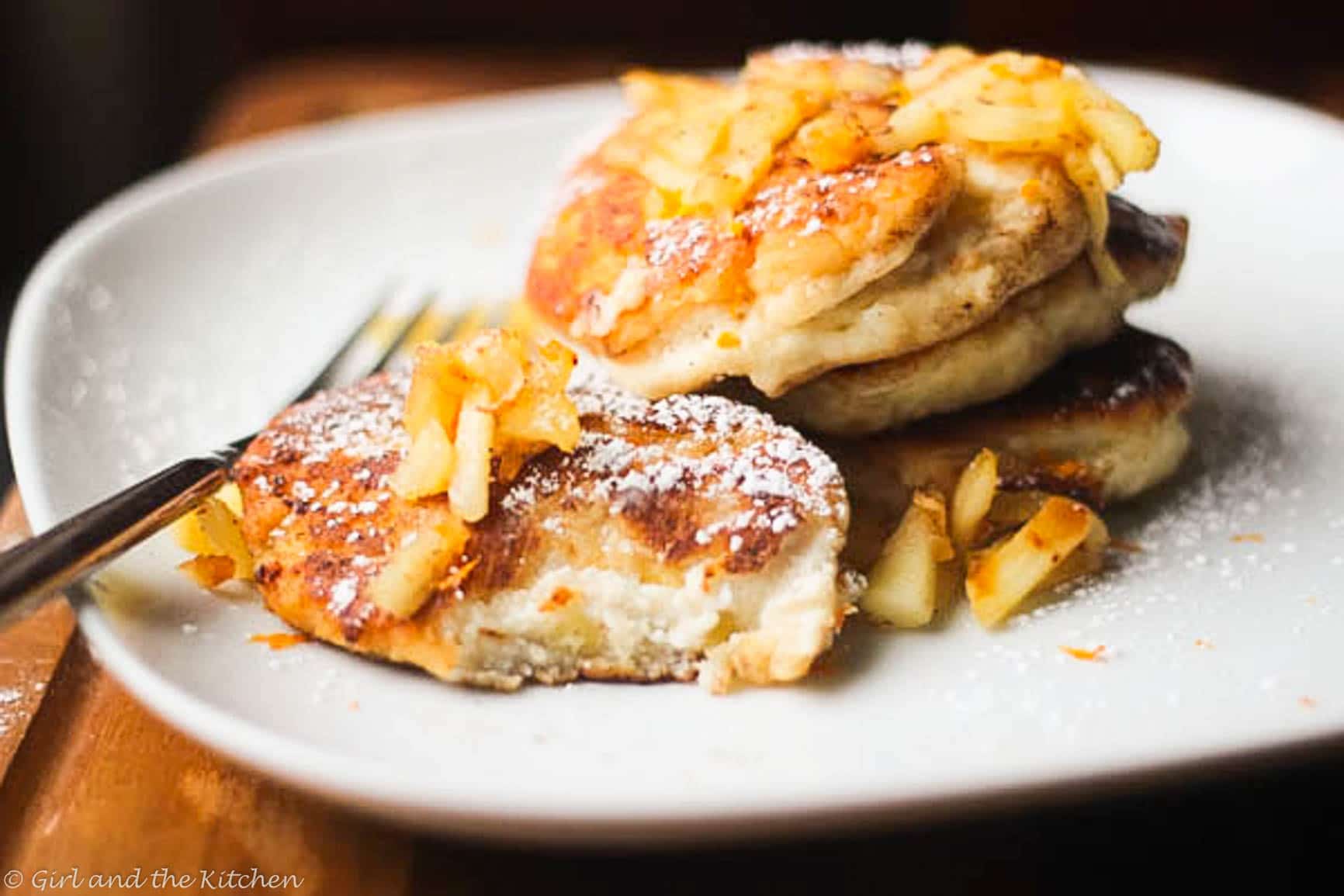 When I make mine at home I cheat and make it with lemon juice so that I do not have to have it sit out until it goes sour. Which reminds me…I really need to do a recipe for you guys 🙂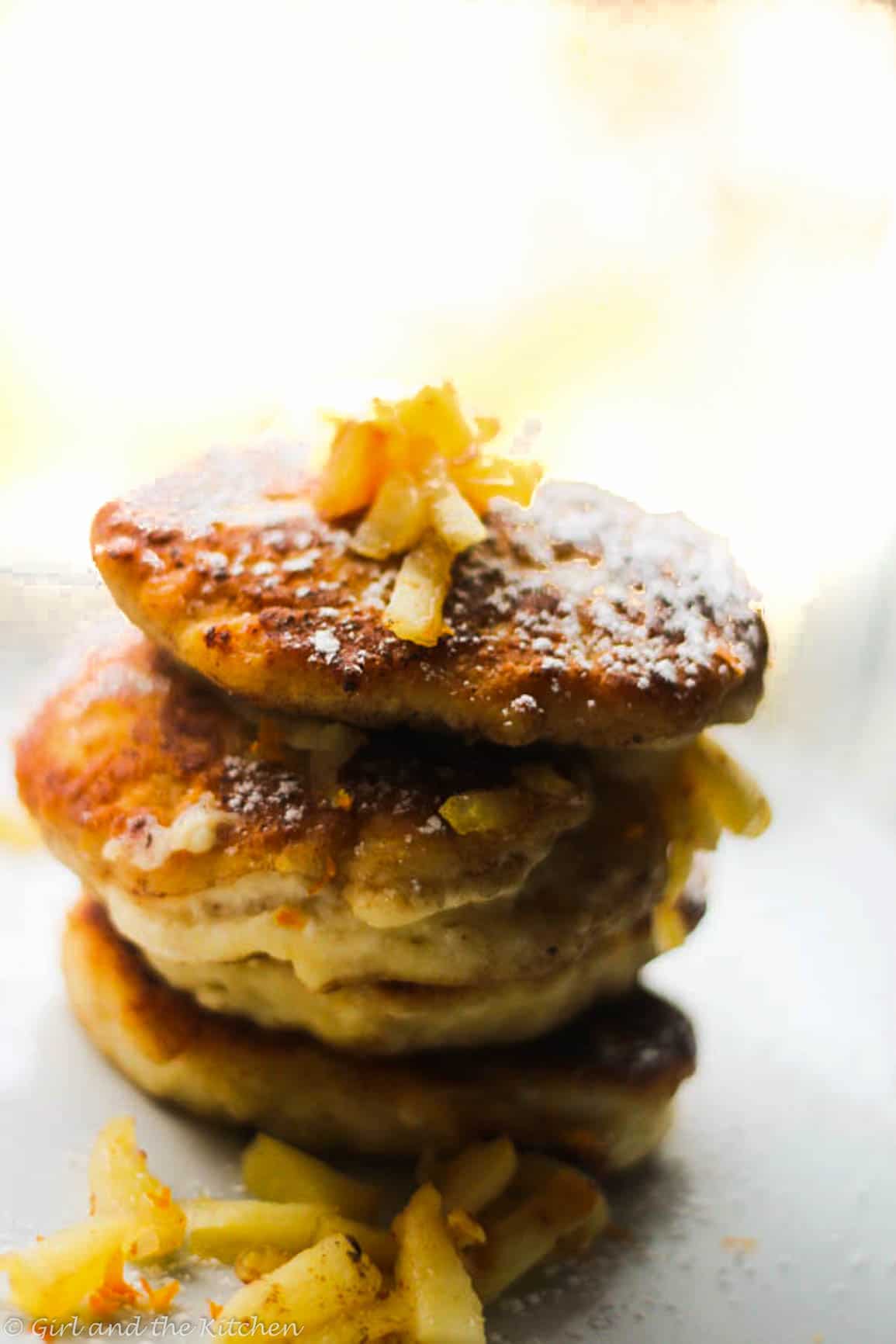 Nowadays you can buy Tvorog in many stores. Lifeway makes a few really great ones.
This time around however, I did not have any Tvorog. I did however have a ridiculous amount of ricotta cheese I needed to use up. So I decided it was time for a classic Russian breakfast. And the munchkin seemed all for it.
First I peeled some apples. Then I sliced them and diced them. Just nice and small because they are also going into your batter.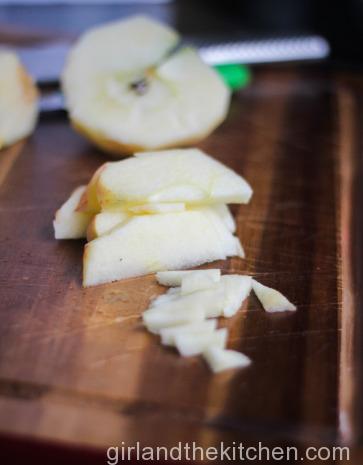 Place a tablespoon of butter into a medium sized pan and allow it to melt over medium heat. Place HALF of the diced apples into the pan, along with 1/2 a tsp of FRESH cinnamon. I prefer to just grate a bit from a fresh cinnamon stick. It is actually much milder that way. Let them sautee slowly until they are nice and soft. Set aside.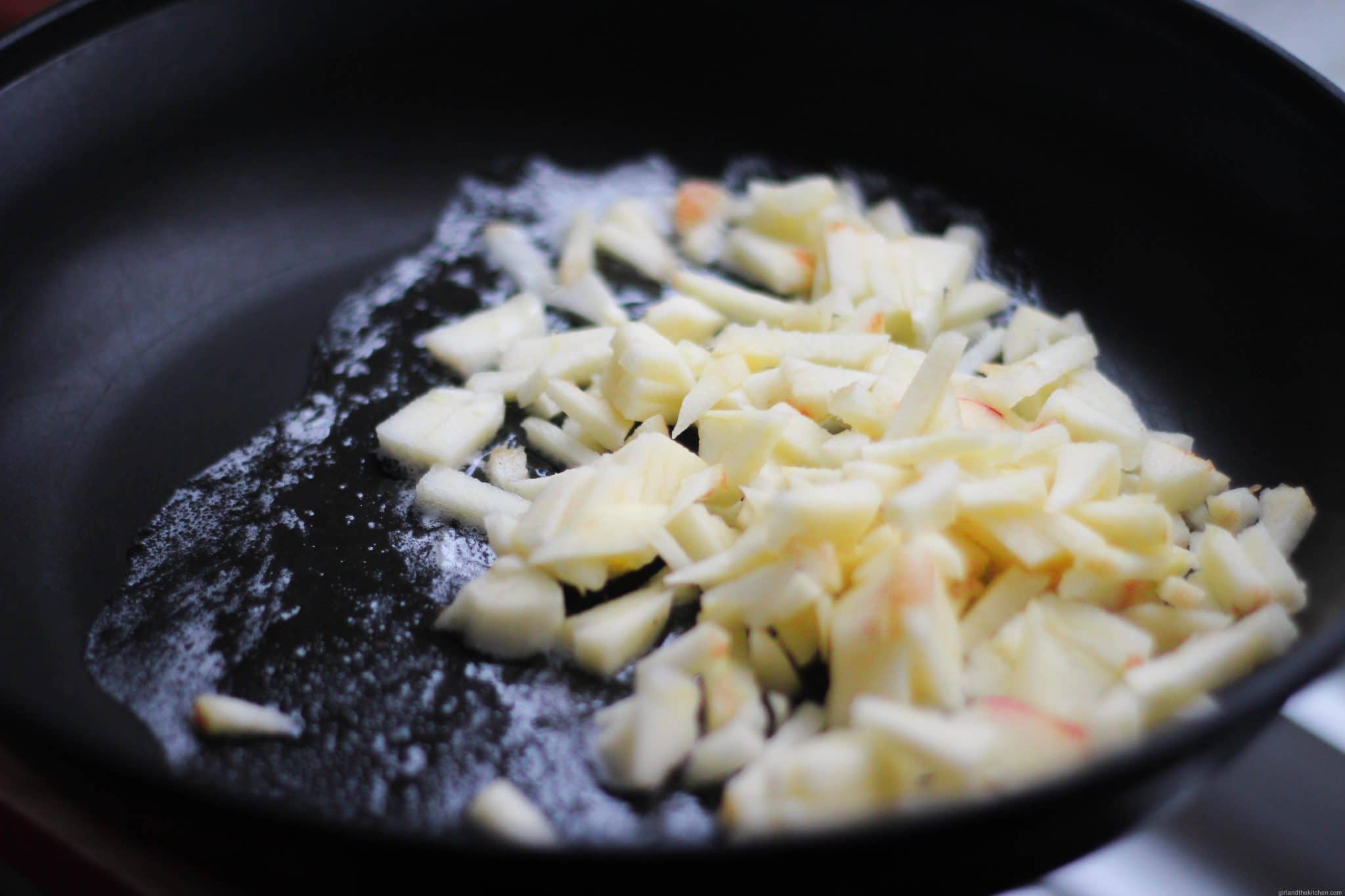 Because I like everything fast, I mix my batter in a mixing bowl. Babushka never had a mixer, she used a bowl and a wooden spoon. Feel free to be authentic.
Add in your ricotta, HALF of the diced apple, 2 eggs. zest of an orange, 2 tbsp sugar, 1 tsp baking powder and 3/4 cup flour into a mixing bowl fitted with the paddle attachment. I really love the orange zest in here. It just totally brightens up the flavor.
Mix until JUST combined.
Here is where things get a little tricky… The batter SHOULD be sticky. In the next step you will be ensuring that that stickiness doesn't get out of hand 🙂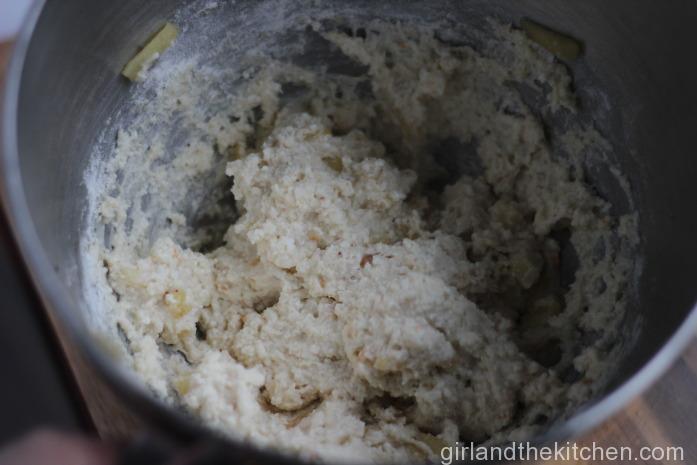 Place about 1/2 a cup of flour into a plate and get out your ice cream scoop. I learned this neat little scooper trick from Natasha's Kitchen Syrniki recipe. Scoop a nice ball of batter into the flour, cover it all with the flour.
Now that the flour will no longer stick to your hands go ahead and shape it into a patty.

Warm up about 2 tbsp of butter in a pan and fry each syrnik until golden brown over medium heat, about 4 minutes per side.
Remove from pan and drain on a few paper towels to remove any access fat. Serve with the sauteed apples and a few more sprinkles of cinnamon and orange zest. Plus some powdered sugar for good measure 🙂
***Originally published December 23rd 2015***
Print
Ricotta and Apple Cinnamon Syrniki (сы́рники)…Russian Apple & Cheese Fritters…25 Days of Holiday Treats
---
Author:

Total Time:

20 minutes

Yield:

4

1

x
Description
These plump and delicious "syrniki" are Russian cheese and apple fritters that are filling, healthy and creamy. Perfect for any breakfast, brunch or snack!
---
1

apple of choice (I like a slightly tart apple like a Honeycrisp or a Pink Lady, even a Granny Smith will work)

1 cup

of ricotta (about

8 oz

)

2

whole eggs

3/4 cup

flour plus 1/2 a cup more for dredging

1/2

a tsp of baking powder

2 tbsp

sugar
zest of an orange

1/2 tsp

of freshly ground cinnamon
powdered sugar to garnish

4 tbsp

of butter for frying
---
Instructions
First I peeled some apples. Then I sliced them and diced them. Just nice and small because they are also going into your batter.
Place a tablespoon of butter into a medium sized pan and allow it to melt over medium heat. Place HALF of the diced apples into the pan, along with 1/2 a tsp of FRESH cinnamon. I prefer to just grate a bit from a fresh cinnamon stick. It is actually much milder that way. Let them sautee slowly until they are nice and soft. Set aside.
Because I like everything fast, I mix my batter in a mixing bowl.
Add in your ricotta, HALF of the diced apple, 2 eggs. zest of an orange, 2 tbsp sugar, 1 tsp baking powder and 3/4 cup flour into a mixing bowl fitted with the paddle attachment. I really love the orange zest in here. It just totally brightens up the flavor.
Mix until JUST combined.
Here is where things get a little tricky… The batter SHOULD be sticky. In the next step you will be ensuring that that stickiness doesn't get out of hand 🙂
Place about 1/2 a cup of flour into a plate and get out your ice cream scoop. I learned this neat little scooper trick from Natasha's Kitchen Syrniki recipe. Scoop a nice ball of batter into the flour, cover it all with the flour.
Now that the flour will no longer stick to your hands go ahead and shape it into a patty.
Warm up about 2 tbsp of butter in a pan and fry each syrnik until golden brown over medium heat, about 4 minutes per side.
Remove from pan and drain on a few paper towels to remove any access fat. Serve with the sauteed apples and a few more sprinkles of cinnamon and orange zest. Plus some powdered sugar for good measure 🙂
Prep Time:

5 minutes

Cook Time:

15 minutes

Category:

Breakfast

Cuisine:

Russian