A zapekanka is a super easy cheesecake that comes from Russian roots.  Speckled with dry fruits, plenty of good vanilla and some orange zest, this will be your new go to dessert when you want plenty of flavor without much effort!A zapekanka is a super easy cheesecake that comes from Russian roots.  Speckled with dry fruits, plenty of good vanilla and some orange zest, this will be your new go to dessert when you want plenty of flavor without much effort!  Best of all I even include an Instant Pot option!
I am not much of a baker…this has been discussed before.  However, every once in awhile I can get my baking sh*t together and rock it out!
This zapekanka is extremely near and dear to my heart.  But before we get to the story, let's talk about what a zapekanka is.
Essentially a zapekanka is just a super easy cheesecake that comes from slavic roots.  It is typically made with a homemade cheese called t'vorog, essentially a farmers cheese that is similar in texture to a dry ricotta.  In fact, majority of the time I make zapekanka, I use leftover ricotta.  Traditionally, dry fruit were used in the zapekanka, but frankly anything will do.  Berries, apples, pears or nothing at all.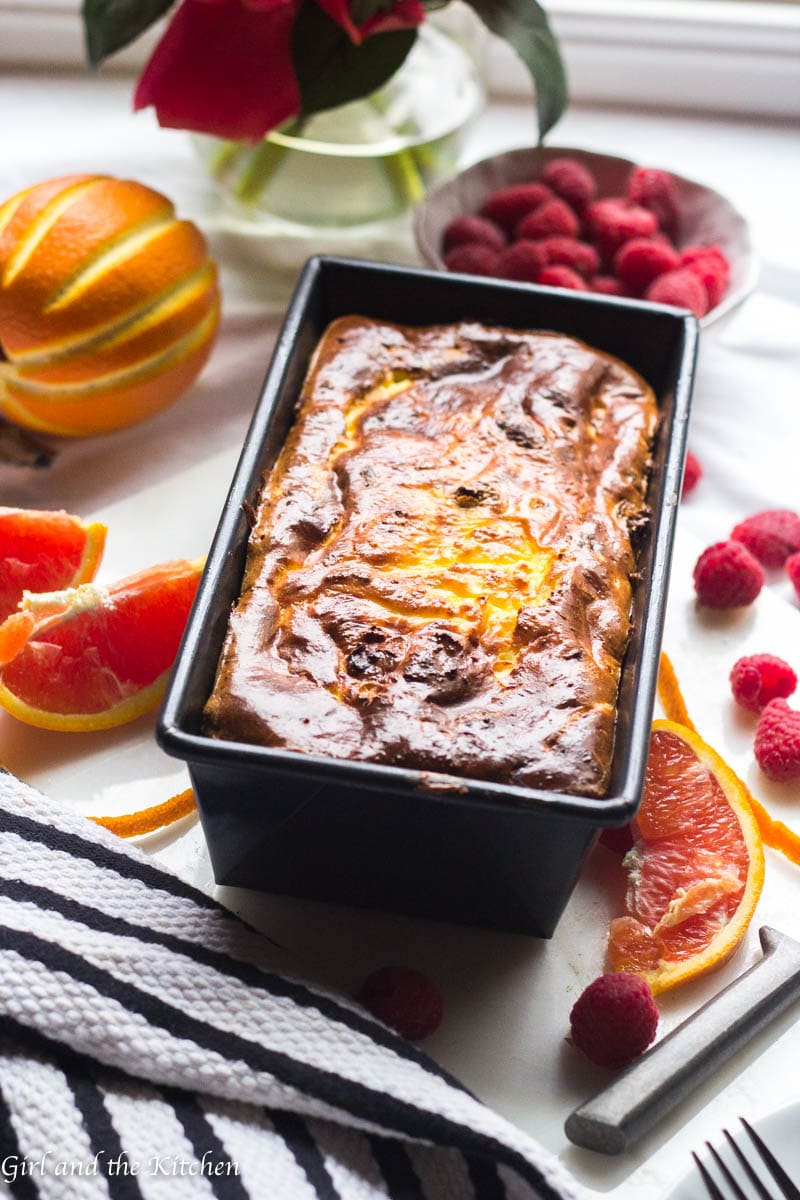 I belong to this cute little group on Facebook, called "Cooking with Friends".  It was created by a few young girls back in 2012 who happened to be Russian , who also happened to want to share their love for cooking as well as some of their favorite recipes.  Slowly, this group grew from just a few local girls to over 2000 girls and guys from all over the world!  Most were in love with cooking, but some just needed to learn how to cook homemade meals for their families like their moms used to.
It was this wonderful group of people, who were my original fans.  They read my blog before anyone else did, they supported me when I wanted to start cooking classes and as of recent when I threw myself into private cheffing and catering full time…it was them who not only vouched for me but actually became some of my favorite clients.
Over time, I became the resident chef in this group and happily answered all and any of their recipe questions and even created some of their favorite recipes with my own unique twist.  There were certain times however…that these lovely ladies inspired me to create certain recipes that became cult favorites within this little group.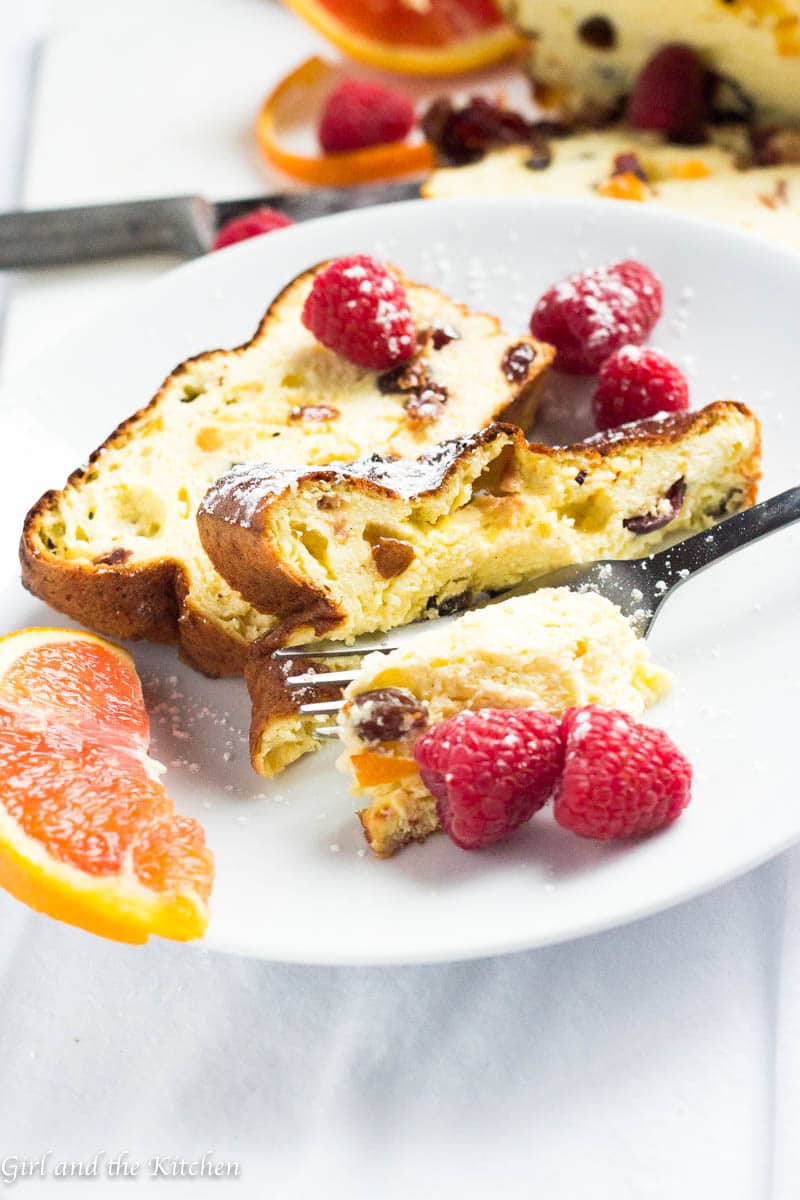 One particular week I saw this easy cheesecake popping up all over the place on our little Facebook group.  Everyone was making this "zapekanka" and I was afraid to admit that I had never made one.  I knew my mother in law had made them frequently but being the sad little baker that I was, I never had.
So after looking through the Cooking with Friends group and realizing how incredibly simple this easy cheesecake was to make, I put my big girl baking panties on and went to work.
The Technique
Cheese: In my experience whether I used ricotta or t'vorog, the taste really did not change.  What did change however was the texture if the cheese was super wet.  If your ricotta is super wet, just place it in a strainer and let the extra moisture drip out a bit.  Otherwise you may need to add more flour, which I prefer to stay away from, just to make it a tad more waistline friendly 🙂
Flavors: Truly, I have seen all sorts of zapekanka flavors.  Fresh berries, pear, apple, dried currents, dried cherries and loads more!  I personally love to keep it simple.  I use orange zest because the fresh orange citrus flavor combined with the creamy cheese is just perfection.  I prefer to actually take strips of zest off the orange and dice it up.  I also added in some raisins and dried cranberries.  My favorite part of this zapekanka is how beautiful it looks when you cut into it.  It almost looks like stained glass because of the tiny little pieces of orange zest and dried fruits.  Not only is it gorgeous but it's incredibly delicious.
Oven vs Instant Pot:  Naturally due to the popularity of the Instant Pot, I had to try making this super easy cheesecake  in the Instant Pot.  In all honesty, I really could not tell the difference in taste between the oven or the Instant Pot.  They were both delicious and tender.  However, it did not get the same gorgeous color on the outside as it did in the oven.  It resembled more of a classic white cheesecake.  Neither one is better it is just a matter of preference.  The Instant Pot version needs to chill for at least one hour before consuming so that it sets nicely.  Just another little tip to consider before making the decision of which method to use.  Again, both are delicious so you really cannot go wrong with either.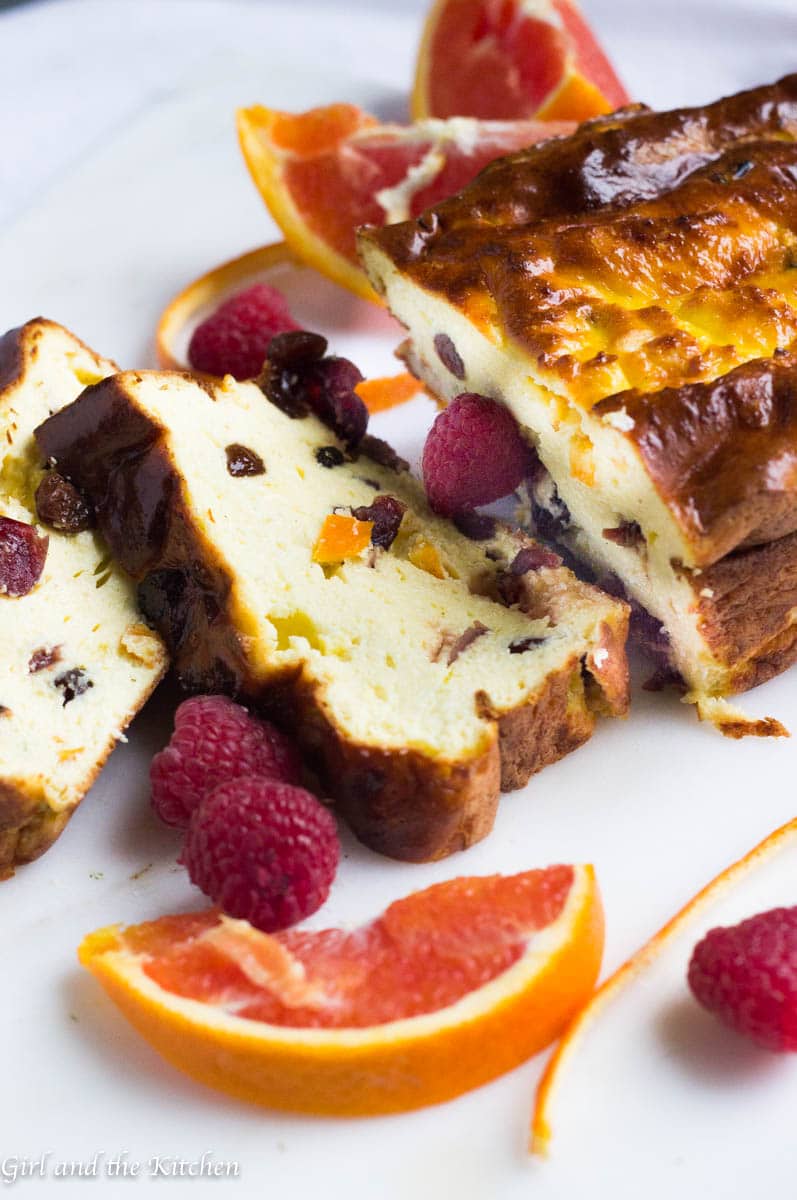 After pulling out this beautiful zapekanka out of the oven I could not help but marvel at the beauty that stood in front of me.  It took all my patience and will power to let this baby chill for a few minutes before cutting into it. Hubby came home and saw me delicately cutting into this golden piece of art.  Naturally, I gave him a slice immediately and watched hime enjoy it  After 16 years of marriage and countless of fancy desserts made for him…I had learned that it was the classic zapekanka that was the hubby's fave.  Apparently my other fancier desserts were all a waste of time as I could have just won him over with this simple dessert all along.  Oh well…at least now I know.
After sharing my photos with my friends in my Cooking with Friends group, and hearing all the praise, I knew I had a winner on my hands.  However, I am ashamed to say that this took me a year to write up.  So with sincerest apologies and a lot of love, I finally give this recipe to you my lovely friends…you know who you are 🙂 xoxo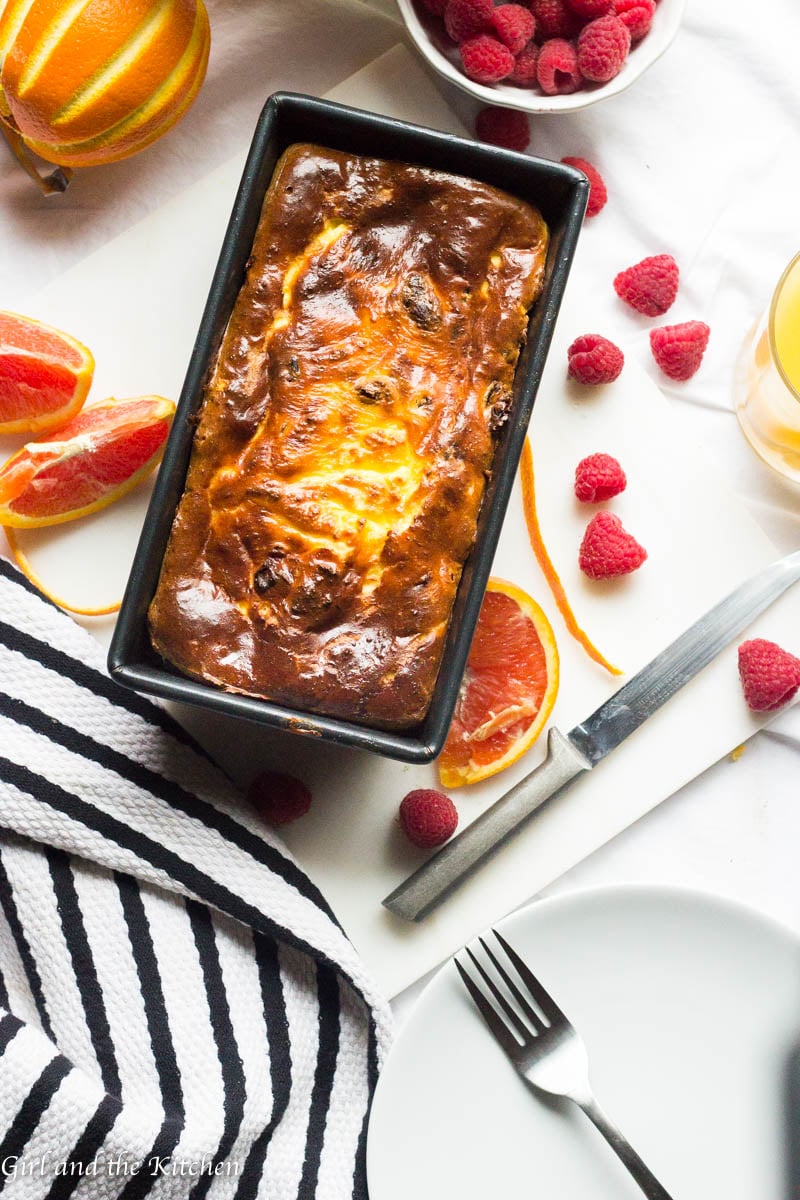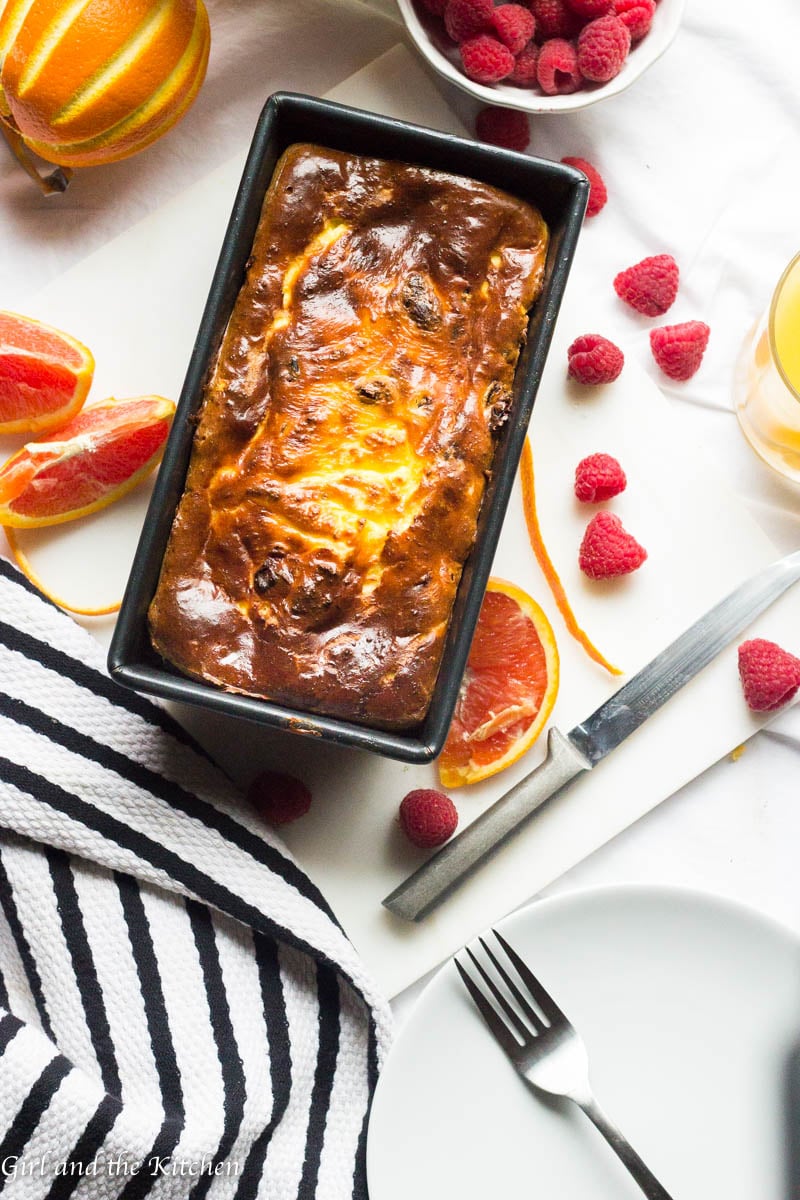 Helpful Tools for the Zapekanka
Zapekanka...Russian Easy Cheesecake (Творожная Запеканка)
A zapekanka is a super easy cheesecake that comes from Russian roots. Speckled with dry fruits, plenty of good vanilla and some orange zest, this will be your new go to dessert when you want plenty of flavor without much effort! Best of all I even include an Instant Pot option!
Print Recipe
Ingredients
4

eggs

1/2

cup

sugar

1/2

tsp

kosher salt

1/2

tsp

baking soda

1 /2

cup

sour cream

1

lb

ricotta cheese

drained if too wet

2

tbsp

farina or flour

1

whole

orange

zested

1

tbsp

orange juice

2

tsp

vanilla paste

1/4

cup

golden raisins

1/4

cup

dried cranberries

butter

to butter a pan
Instructions
Instructions for an Oven
Preheat the oven to 325 degrees F. Butter a 9-by 5-inches loaf pan.

In a mixing bowl, beat the eggs and sugar until light, fluffy and pale yellow, about 8 to 10 minutes.


In another large bowl whisk Ricotta, orange zest and juice, baking soda, salt, sour cream and vanilla until very smooth and well combined.

Slowly add the egg and sugar mixture until fully incorporated; then mix in the farina.

Using a rubber spatula, fold in the orange peel, raisins and dried cranberries.

Spread the batter in the prepared loaf pan, place in the middle rack of the oven and bake for about 40-50 minutes, until the cake is golden brown and isn't loose in the center.


When the cake is done, allow it to cool in the pan for about 20 minutes on a wire rack. Then run a paring knife around the edges and carefully invert to a serving platter. Serve with fresh and berries and powdered sugar if desired.
Instructions for the Instant Pot
Make the batter per instructions above.

Butter the cake insert and pour in the batter into the pan evenly.

Cover the pan with foil.

Place the trivet that comes with the Instant pot inside and add in 1.5 cups of water.

Place the pan with the batter into the Instant Pot.

Turn the Instant Pot to "Manual" or "Pressure Cook" on high for 35 minutes. Allow for a natural release for 15 minutes.

The next step is crucial!!! Ensure that the zapekanka cheesecake chills for an hour in the fridge before cutting into it. Then it will have the perfect texture.
Notes
If you do not want to cut up the orange zest, you can also use a grater to just take the zest off and use that.
Nutritional information is for guidance purposes only.
Nutrition
Calories:
219
kcal
|
Carbohydrates:
24
g
|
Protein:
9
g
|
Fat:
9
g
|
Saturated Fat:
5
g
|
Cholesterol:
110
mg
|
Sodium:
83
mg
|
Potassium:
123
mg
|
Sugar:
18
g
|
Vitamin A:
7.4
%
|
Vitamin C:
1.7
%
|
Calcium:
15.2
%
|
Iron:
8.9
%
Pin For Later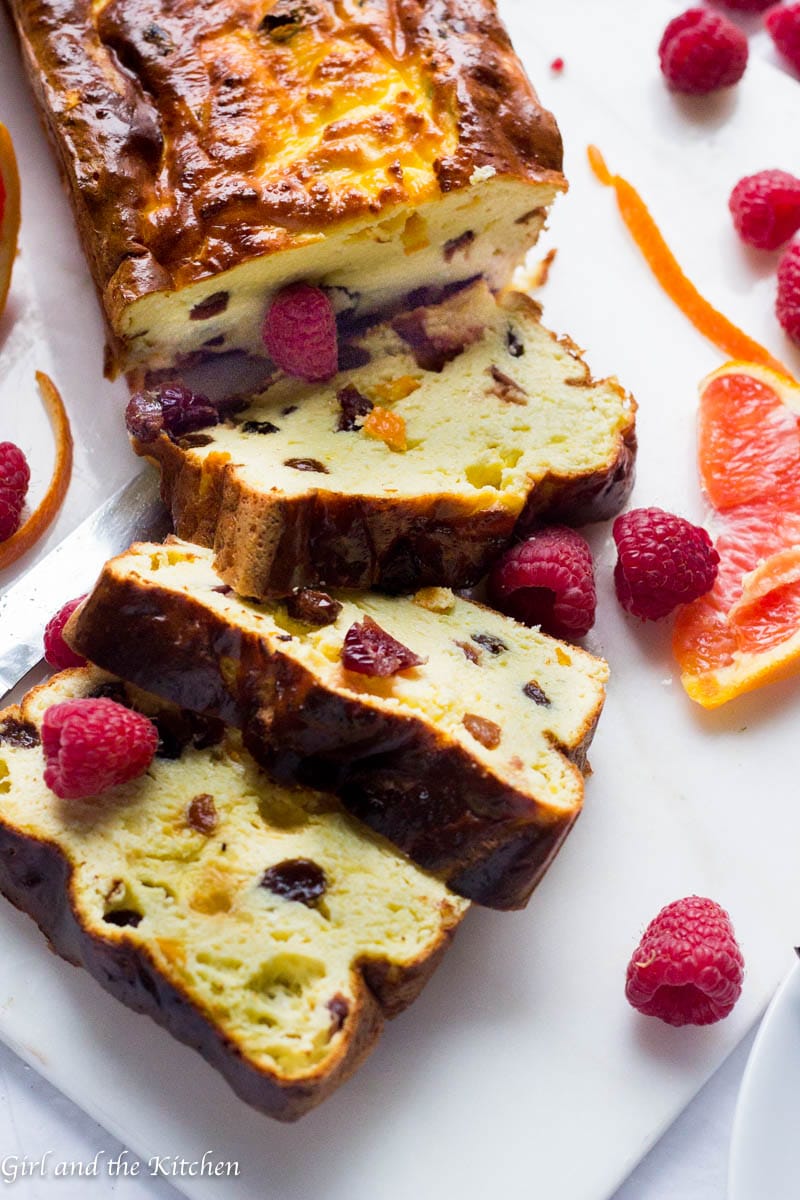 SaveSave
SaveSave