Puff Pastry Caviar Canapes
Canapes are just a fancy French way of saying mini appetizers.  These little bite size puff pastries are stuffed with a savory butter and bright, briny caviar.  Better yet, stuff them with anything else your heart desires, if you aren't in the fancy caviar mood!
"When a table has caviar on it, it makes the table look much classier."  Those are the wise words of my caviar loving husband…and I cannot disagree.
Just take one look at these beautiful little canapes and you will see why these tiny bubbles of salty goodness make any table look a bit more aristocratic.
You see I grew up eating caviar…as did many of my other Russian born friends.  For us it was a part of life.  A thick coat of butter on top of a dark rye bread sprinkled with caviar was prevalent at most breakfasts, lunches and even dinner parties.
Growing up in America, I came to the realization that many of my American born friends were not at all familiar with caviar, let alone fans of it.
And when I gave them the explanation of what they actually were…they just about lost their lunches right there.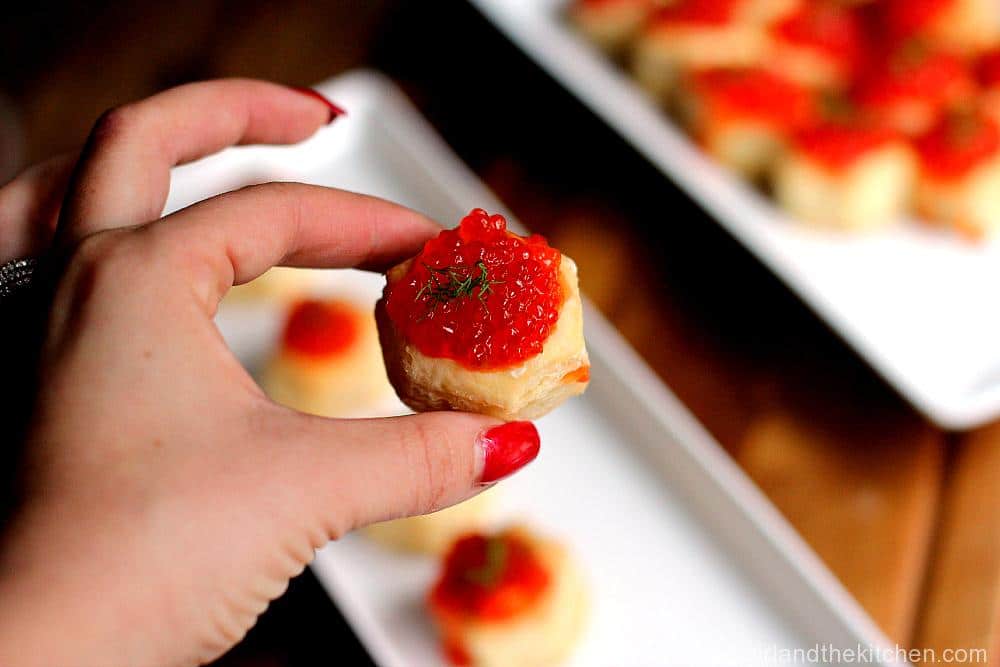 Lets talk caviar for a bit.
Literally it is fish roe…aka fish eggs that have been treated with salt.  And there are MANY different types of caviar.  I grew up eating mostly red caviar, as you see pictured here but black caviar was also a frequent visitor to our dinner tables.  It was quite the trend in Russia to have caviar open faced sandwiches on any dinner table in the old country.  And we were no exception.
The king of all caviar is the one that comes from the extremely endangered Beluga Sturgeon.  A large fish that swims in the Caspian sea and is characterized by its gorgeous large black pea size caviar pearls.  These gorgeous pearls don't come cheap…a kilo (about 2.2 pounds) will run you about $12,000.  But it sure is tasty 🙂
The beluga is followed by the rare Sterlet caviar, harvested from the Sterlet fish, a smaller species of the Sturgeon family.  The roe is beautiful and a greyish gold color.  And was once solely reserved for Russian, Iranian and Austrian royalty.
The last in line was the he medium-sized, gray to brownish osetra followed by the smaller, gray sevruga caviar.   Which was the type of black caviar we were used to eating.
I remember my mom making me little black caviar sandwiches when I was small.  I went through a period (apparently a costly one) where all I wanted for breakfast was caviar sandwiches.  Snob.
My mom started introducing red caviar to me.  And I loved that even more because of the larger size pearls that would pop in my mouth with every bite.
In culinary school, we had a class where we were able to taste all sorts of different caviar.  And all the other students stood and looked at the chef like he was insane as he smeared some butter brioche toast points, piled on the caviar and took a hefty bite.  I looked at this as a more for me type of situation and joined the chef in our caviar tasting portion of the class.
When I told hubs about this…he questioned why I did not bring some home.
Just an FYI…more expensive does NOT necessarily mean that it's the best.  Yes it's the rarest, but that does not mean that it is the best.  Caviar is a very particular flavor and that flavor varies on where the fish was harvested from, what kind of waters it was raised in and the particular species of the fish.  I for one do not like a VERY fish salty tasting caviar.  I like one that is milder in flavor.
Today we are going to be discussing red caviar.  From salmon.  And this particular caviar was made by my father in law.  Crafty one he is 🙂
My FIL loves to fish.  And every fall he knows just the right time to fish.  And so several times a month, sometimes several times a week, he drives up to try his hand at catching some very large salmon.  This year he had quite the turn out.  He cleaned it and salted it on his own.  Creating darn tasty little red pearls.
Munchkin is a huge fan and eats it by the spoonful!  Look at those little droplets of caviar on her chin 🙂  Piggy.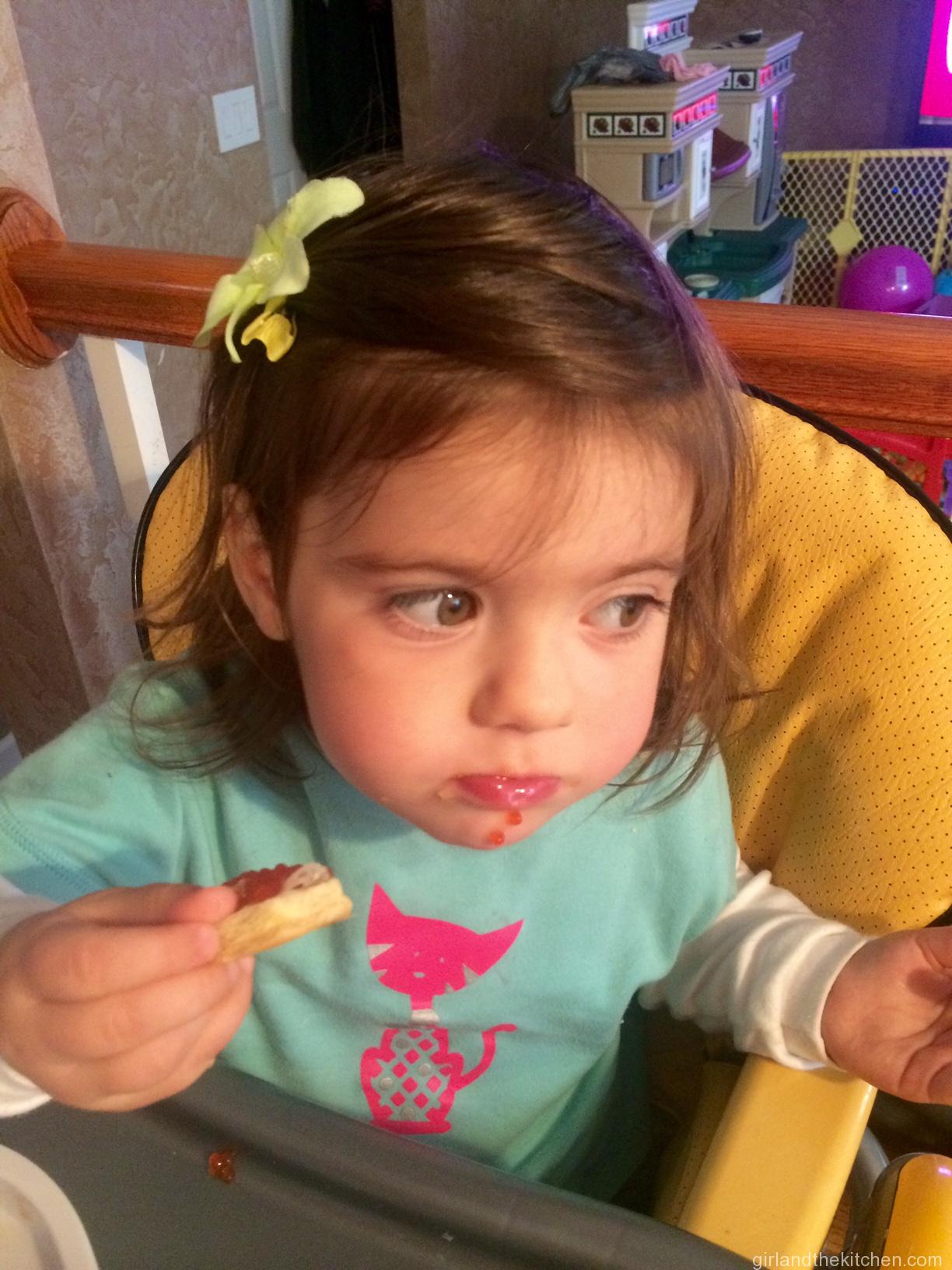 Caviar is typically served super simply smeared on savory crepes or little blinis.   Or in my house we just serve it on bread with butter.  But I decided to kick it up a notch…and serve it on puff pastry baskets.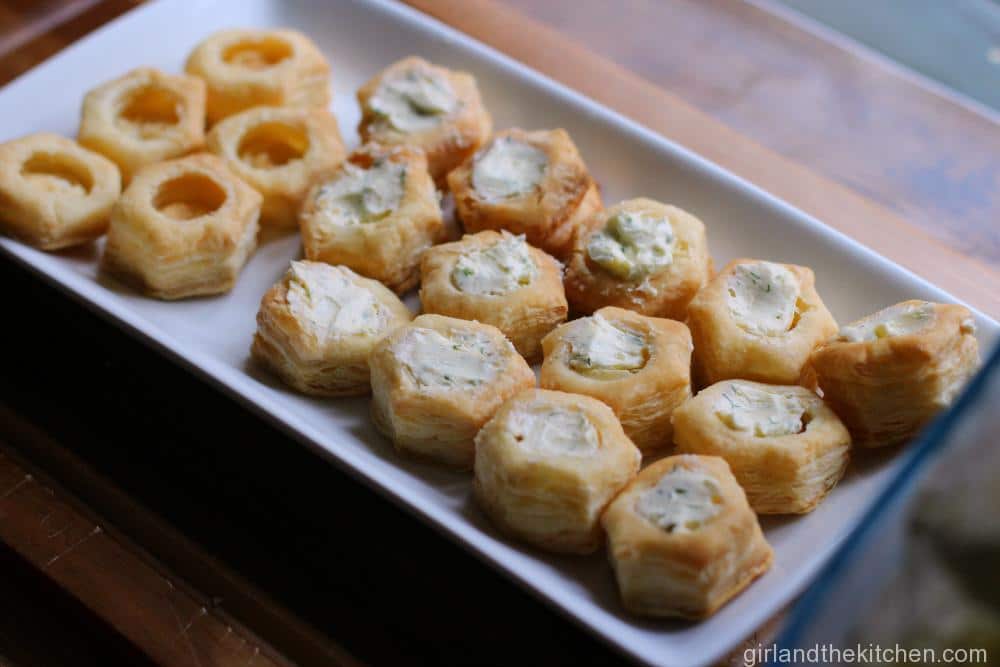 I took some help from the store and bought frozen puff pastry puffs that bake in your oven with practically no effort.
I simply lined them up on a parchment lined baking sheet and baked them according to the package instructions.  Now see those little circles in the middle of the hexagons?  Those will need to be pushed out once they are done cooking and have cooled.  And is easily done with the back of a wooden spoon or your fingers.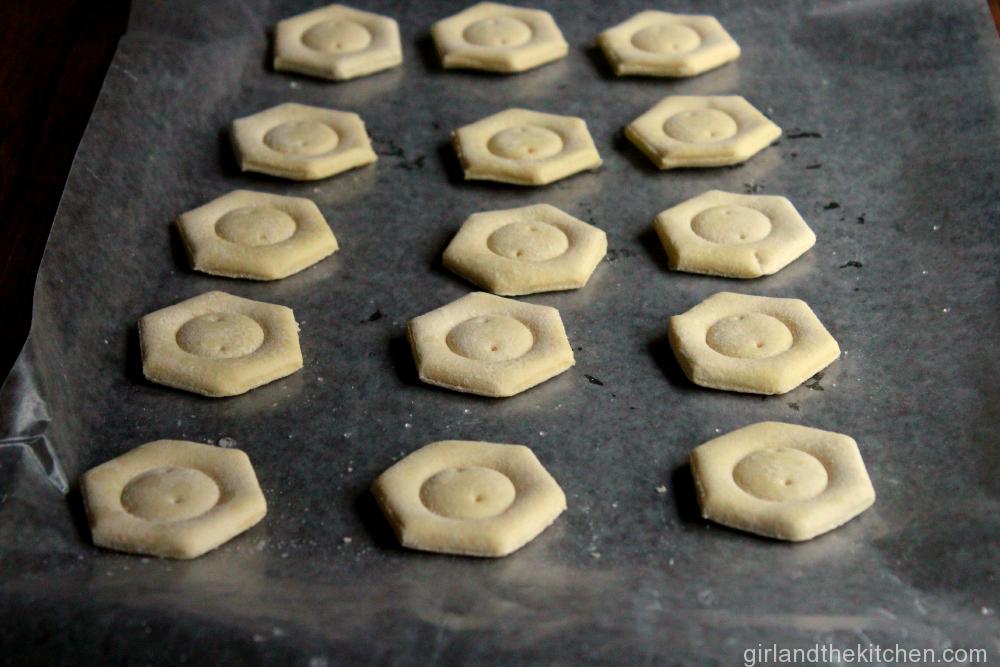 While they were baking I mixed up some room temperature butter, salt, lemon juice and dill in an electric mixer.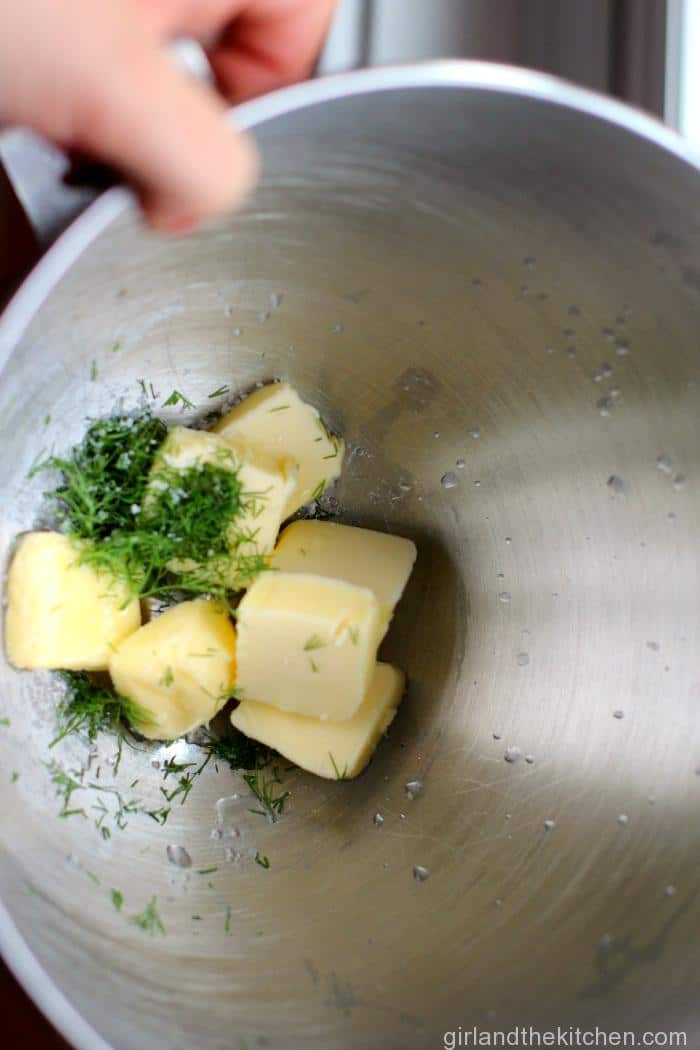 Then I had my babushka take over 🙂
I told her to pipe in the butter mixture but she preferred to go the old school way and use her hands.  Either way works.  You can even use a spoon.  The tops will be covered with caviar anyhow so no need to be super neat.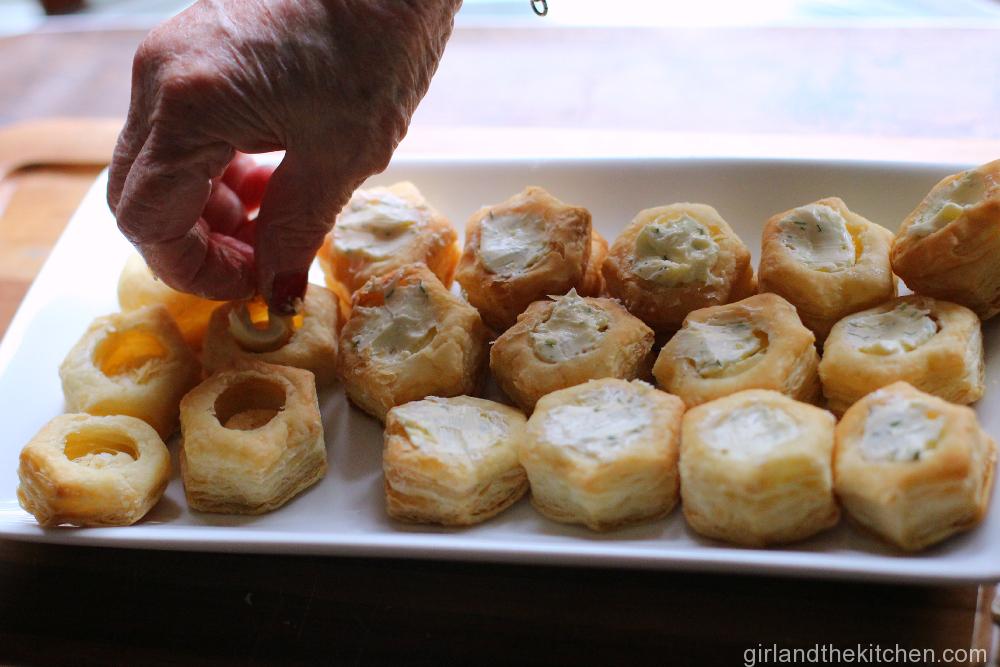 And then just pop on about a tsp of caviar and garnish with a sprig of dill.  *** Not sure where to buy caviar?  Check your European grocery stores and deli's they will typically have it for you.***
Voila!  Your very own fancy shmancy caviar puffs!
I just love how festive these little puffs look too!  Perfect for your holiday party in all its red and green beauty 🙂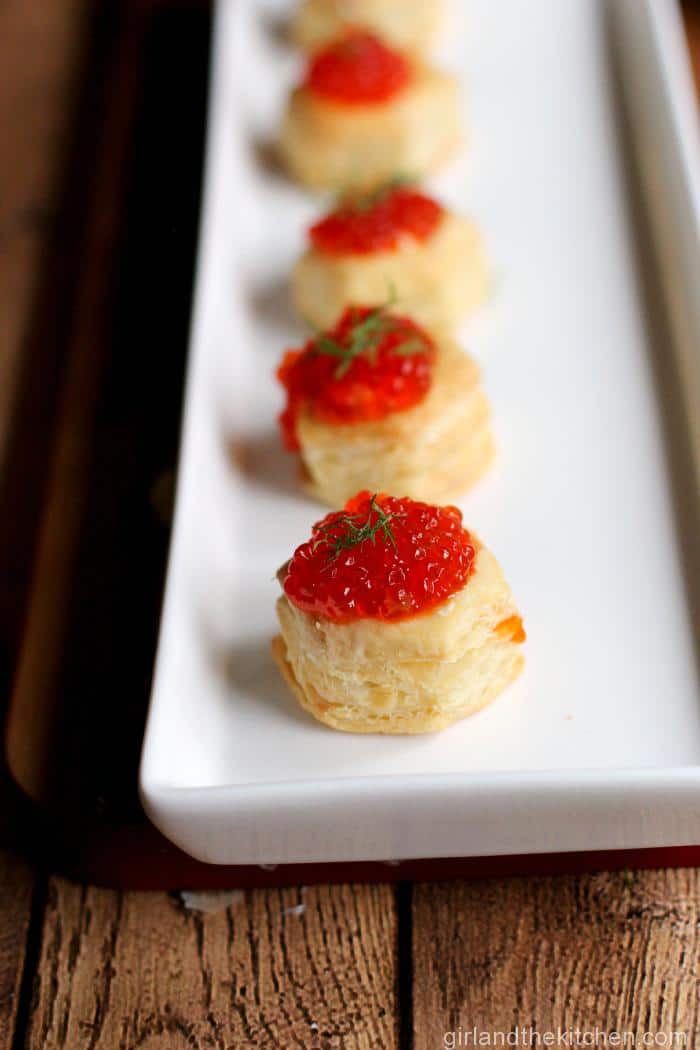 Print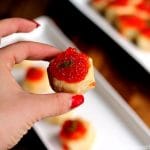 Caviar Canapes
---
Description
These may look fancy but I promise they are super simple and ridiculously festive looking for any holiday party!
---
1

package of frozen puff pastry baskets (prepared according to package instructions)

1

stick of butter at room temperature

1 tbsp

of dill finely chopped (plus more whole sprigs for garnishing)

1/2

a lemon squeezed

4 oz

of red caviar
---
Instructions
While the puffs are baking according to package instructions, combine room temperature butter, chopped dill, lemon juice, salt and pepper in a mixer and whip it up until all is combined. Taste to ensure it's seasoned properly.
Once the pastry puffs are cool enough to handle, punch out the little center with your finger or the back of a spoon.
Use a piping bag or a spoon to fill in the little holes with butter.
Top with caviar and a sprig of dill.
Keep refrigerated until ready to serve.
Category:

Appetizers

Cuisine:

Russian