Crispy Cheesy Bacon Flatbread
 This cheesy bacon flatbread comes together in one bowl without the need for any kneading!  In no time at all, you will have a crispy flatbread loaded with the most delicious of goodies!  Prepare for the crispiest and easiest flatbread ever! 
[wprm-recipe-jump]
On a particularly rainy Friday afternoon, the day after Thanksgiving I entered the house after running errands all day and was greeted by two adorable laughing munchkins.  My brother and hubby had plans and I was naturally the babysitter of my munchkin Charlie and my equally adorable nephew Mitchell.
Mitchy is only 7 months older than Charlie.  They also go to daycare together and therefore see each other daily.  They play with each other, hug and kiss each other and also have some serious moments of clawing at each other.  They are the true epitome of a brother and sister.
And I got to spend a day with them…naturally to SnapChat we went 🙂
Aren't they the greatest!!! Seriously I entertained them with this for 15 minutes!  Which in munchkin land equals hours! I am definitely getting aunt/mom of the year award!
Naturally, I had to feed the munchkins.  And while my Charlie is the best eater EVER…Mitchy takes after his aunt (me) and is the pickiest eater ever.
"Mitchell, what do you want to eat."  I figured it was smarter to ask him then to try and please him with my own concoctions.
"Bacon pizza."  Clear as day, Mitchell informed me.  Grilled cheeses won't fly for him…but bacon pizza would.  Alright Mitchy, challenge accepted.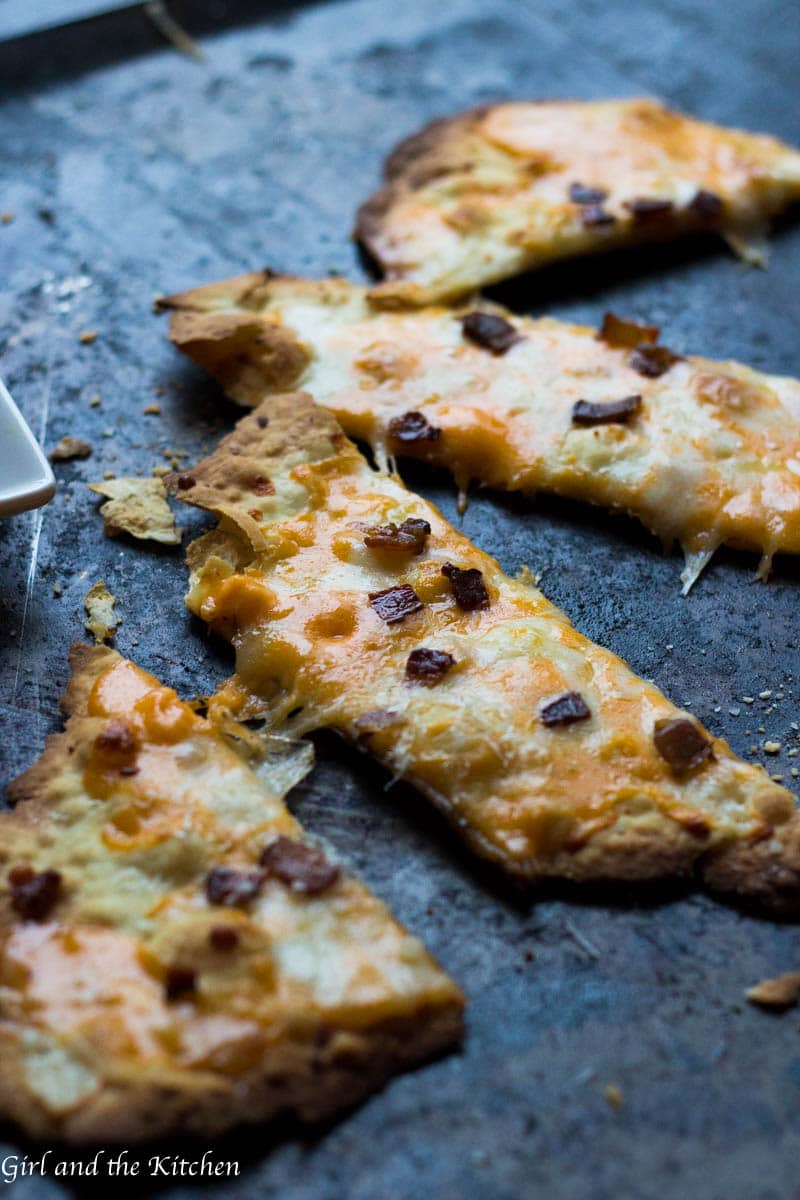 Years and years ago, I created a flatbread recipe on my very old and original site. That was my OG blog 🙂
The flatbread is yeast free and requires zero time to rise, making it the perfect choice for my cheesy bacon pizza.  I knew how picky Mitchy was…so literally the only ingredients that go into this bacon pizza is the crust, cheese and bacon.
The Technique
This is a bit of a different flatbread…It is SUPER crispy!  I would describe it as a mix of a classic thin crust and a crispy cracker.  If you love thin crust pizza you will totally love this!
The crust is a super easy combination of flour, salt, baking powder and water.  Sure you can add in some garlic powder or some herbs of your choice, but in a nutshell that is it!
The best part is that this all comes together in ONE bowl.  With your hands or a wooden spoon, your choice of course.  Just mix it until it comes together and then wrap it up in plastic for 15 minutes so that the dough rests a bit.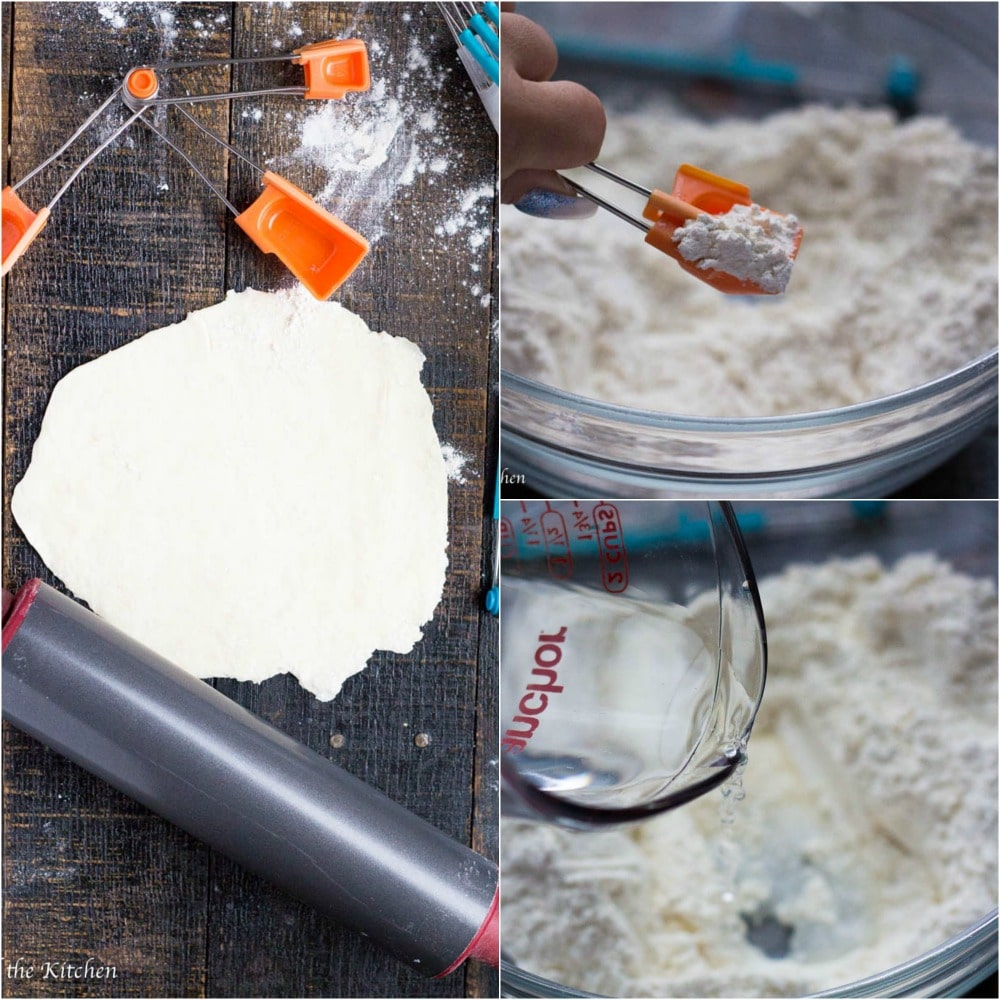 OH!  And do you guys see those incredible spoons and measuring cups?  They are actually called Levoons  and Levups.  And they are from this fabulous company called DreamFarm!  See what they do is…they LEVEL off your flour, or baking powder or whatever else…without ever reaching for a knife with the other hand.  They instead…just use the cute little level attachment to smooth off the excess.
Oh and a great deal of their tools come in the color orange…which is a winner for me because orange happens to be this girl's favorite color!
When the munchkins saw me bust out my new measuring tools they ran at me, grabbing them, measuring out flour and naturally getting it all over the floor.  It was a ridiculously fun mess that my Dyson had the pleasure of later taking care of.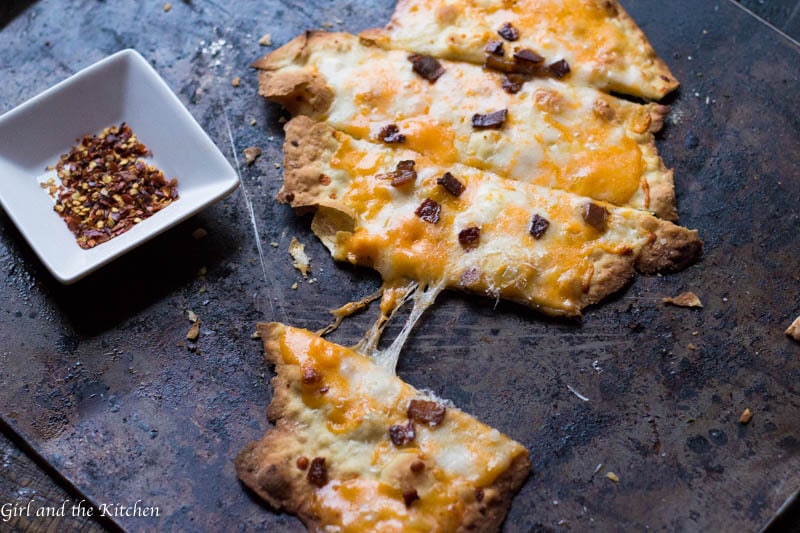 This crust is actually baked twice.  It is baked once for about 7 minutes to just precook it and then the second time it is baked with all the ingredients topping it and to ensure that everything is bubbly and delicious.  An important note to remember is to POKE HOLES in the flatbread. This will prevent your dough from bubbling up.
Now here is the funny part… I actually made 2 pizza's.  I made a really incredible bacon pizza with loads of Parmesan and fresh thyme.
Gorgeous right?  Total perfection.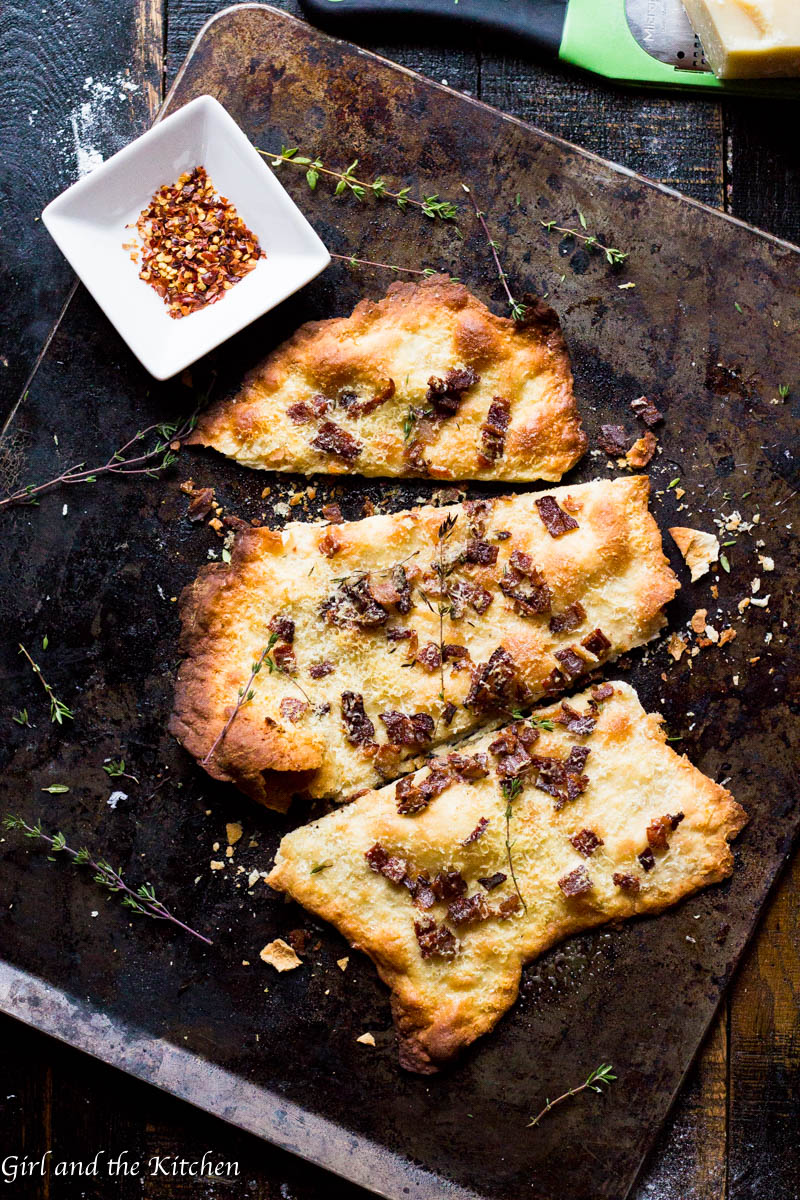 But the munchkins wanted nothing to do with it because apparently, according to Mitchell "there isn't any cheese on here."  Ahhhh the things I do to please the munchkins.  So… I loaded up the Cheddar and mozzarella on the next one…and the royal munchkins seemed to be pleased.
I had dinner on the table for them in the same amount of time that it took them:
to throw all my pillows on the floor off the couches
induce a panic attack in my cat
get bored of 3 random Youtubers they watched
open up 9 tubs of Play-doh and dry it out
manage to spill the 1/2 a tsp of flour that I let them pour into the bowl…all over my kitchen
In real time, this was 45 minutes.  Maybe 30…I am giving them more credit here.
But in the end…the munchkins were fed, entertained and I got a bloggy post out of it.
Perhaps next time I will just cellophane the whole kitchen and attempt to make cookies with them…
Print
Crispy Cheesy Bacon Flatbread
---
Author:

Total Time:

30 minutes

Yield:

6

servings

1

x
Description
Prepare for the crispiest and easiest flatbread ever! This cheesy bacon flatbread comes together in one bowl without the need for any kneading! In no time at all, you will have a crispy flatbread loaded with the most delicious of goodies!
---
1 3/4 cups

unbleached all-purpose flour

1 teaspoon

baking powder

1/4 teaspoon

salt

1/2 cup

water

5

slices of bacon (cut up into bite size cubes)
I cup shredded cheese (Parmesan, Cheddar, Mozzarella or a combination of them,)

1/3 cup

olive oil plus more for brushing
sprigs to thyme (optional)
---
Instructions
Preheat oven to 450°F with a heavy baking sheet on rack in middle. I used a pizza stone instead.
Stir together flour, chopped herbs of choice, baking powder, and salt in a medium bowl.
Make a well in center, then add water and oil and gradually stir into flour with a wooden spoon until a dough forms. Knead dough gently on a floured work surface a few times.
Divide dough into 3 pieces and roll out 1 piece on a sheet of parchment paper into a 10-inch round or ovals. Make sure you cover the others with plastic wrap so they don't dry out.
Lightly brush top with additional oil and poke holes with fork.
Sprinkle with sea salt. Slide round with parchment paper onto preheated baking sheet and bake until it is a pale golden color, about 5-8 minutes. Transfer flat bread to a rack to cool, then make 2 more rounds (1 at a time) on fresh parchment.
While the flatbreads bake, place bacon cubes into a large COLD pan. Turn the heat to medium and let the pan heat up. By doing this slowly you will render the fat out of the bacon.
Once the bacon has crisped up, remove with a slotted spoon and reserve.
Once flatbreads are cooked and cool to handle you can assemble the flatbreads.
Sprinkle the bacon, cheese and thyme leaves equally on all the flatbreads.
Bake for 8-10 minutes or until bubbly and crispy.
Notes
1. Flatbread can be made 2 days ahead. Just cool it completely, and keep it in an air tight container at room temperature.*
2. If you do not have a cooling rack, just take out one of your oven racks ahead of time and used that as your cooling rack.
Prep Time:

15 minutes

Cook Time:

15 minutes

Category:

Appetizer

Cuisine:

Italian