Double Chocolate Chip Cookies
These Double Chocolate Chip Cookies are the gooiest most chocolaty cookies ever!!! Filled with white chocolate chunks!  These double chocolate chip cookies are the ultimate cookie for ANYONE!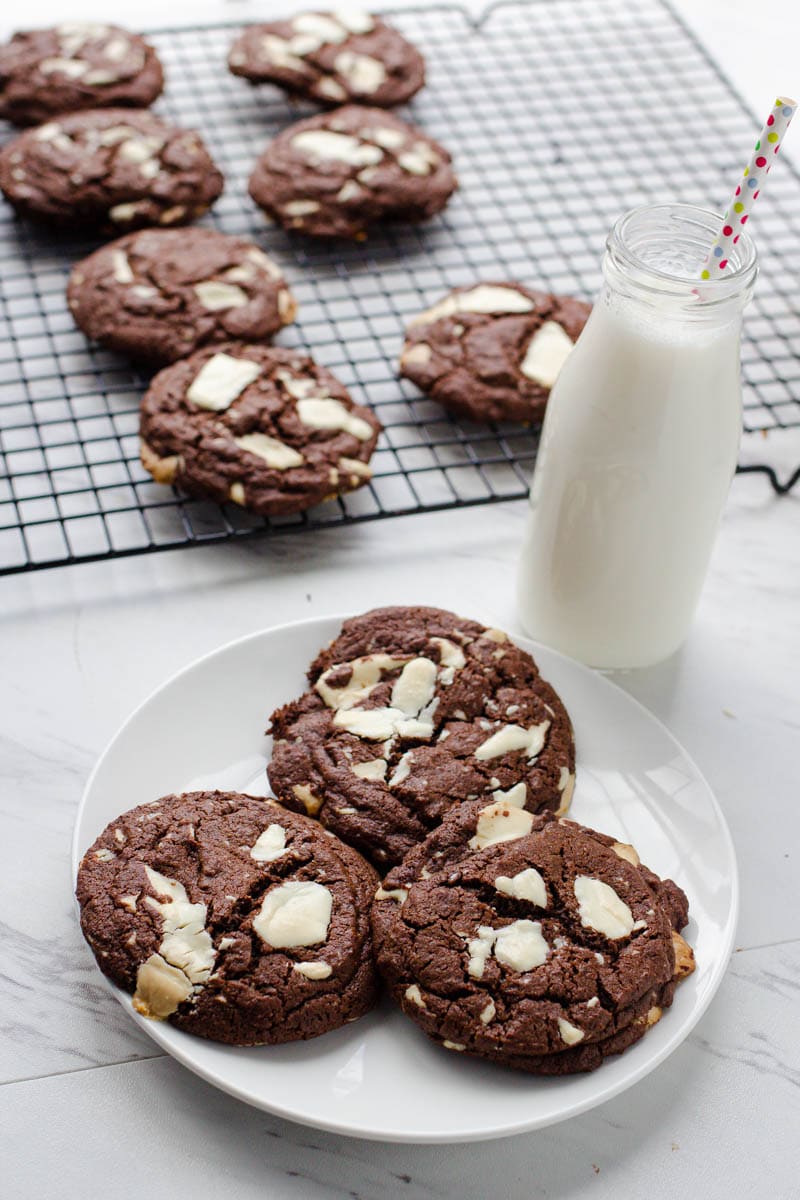 [wprm-recipe-jump]
These cookies are the kind of cookies that all children scream for and all adults sneakily eat in the corners of their kitchen after the children have gone to sleep.
I discovered these cookies back in high school…devouring 3 cookies every morning without gaining an ounce…to be a teenager again.   And after high school I never saw them again.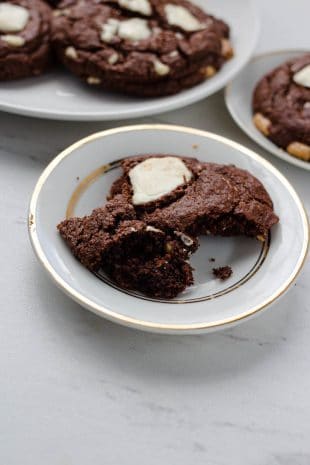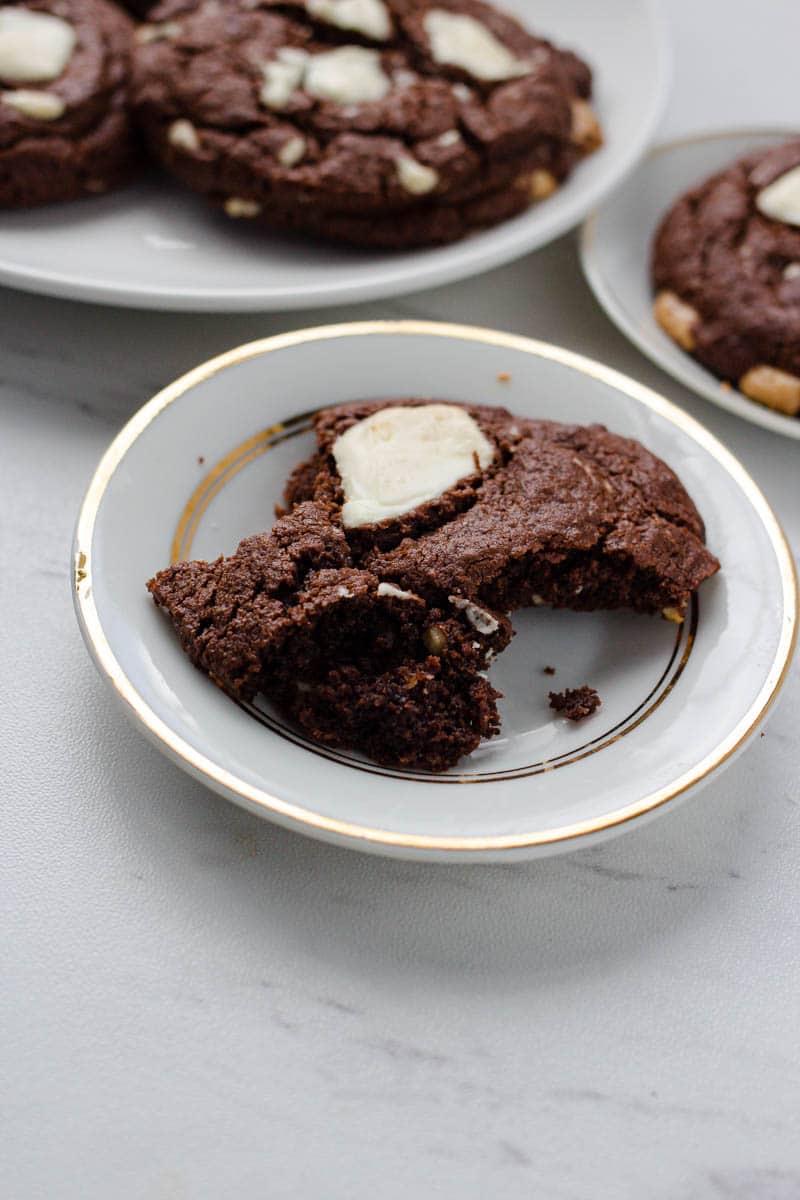 Years later, when I worked in a corporate cafeteria I discovered these cookies again.  And when I discovered they were made in a factory…I was pissed.
I was never much of a baker…but at this point I decided I am DEFINITELY creating my own recipe…
It was a necessity.
It was fate.
It was the right thing to do.
And I knew that my previous success with my Chocolate Chip Cookies would be the guiding light to make this recipe just as fantastic!
The Technique Explained
The magic of these cookies is the same magic as the Chocolate Chip Cookies. The combination of flavors is absolute perfection.
Flour

: So many recipes that I tasted…tasted like blah. And they were almost cakey. Even in my limited baking skills I knew that the issue was…the flour. There was entirely too much flour in the recipe and it just fell flat. There was a recipe that even used cake flour but the results were not fabulous enough for me to use another flour in a classic cookie recipe. This recipe stands out because it is a classic pantry staple that everyone has!
Salt: For me the saltiness in a cookie is truly what makes it addictive. This recipe increases the amount of salt and by default accentuates the entire flavor profile of the cookie. I took it up a notch (because that's how I roll) and added some flaky salt to the tops of the cookies before baking them. For me this was the extra salt bite I needed 🙂 but it is completely optional…I just happen to be a salt feign.

Butter

: I absolutely loved that this recipe had both regular butter and brown butter in it! Not only is there valid science (long story short the water in butter is cooked out not allowing as much gluten to be activated) but the actual browning of the butter adds so much nutty flavor and color to the cookie.
Sugar: There is both brown sugar and regular granulated sugar in this cookie. The brown sugar gives the cookie its chew factor and regular granulated sugar will give the cookie its crispy edges. Plus brown sugar, which is made from molasses, will give the cookie a caramel like flavor as well. This combination makes the perfect chocolate chip cookie.
Baking Soda: There was one recipe I used that was REALLY recommended. But the recipe had so much baking soda in it that I could actually TASTE IT! When I looked at every recipe there after I noticed that many of them had an insane amount of baking soda. This recipe had just the perfect amount to actually make the cookies puff up without leaving a gross taste in my mouth. #yuck.
The Eggs: This was the first cookie I came across that used both a whole egg and only egg yolks. The number of yolks really add to the texture and the flavor of the cookie.

The Chocolate

: So. Initially when I made batch 1 of this recipe, I decided to use chocolate chips…because frankly it just looks really pretty on pictures. But…the next day, when I was re-making the cookies to confirm the recipe, I decided to stay true to the original Chocolate Chip Cookie Recipe and use chocolate chunks that I cut myself. The results were ASTOUNDING! Truly changed the cookie and made it so much more memorable and glorious.

Vanilla

: I have always been a snob when it came down to vanilla. I always found that the weird vanilla extract stuff just did not do much and may as well be left out. I prefer to use a really good natural vanilla paste. It adds loads of flavor and happens to have little black specks in it because it is actually made from the caviar of the vanilla bean.
Espresso or Coffee: I have always added a little bit of coffee to my chocolate desserts. It just brings out all the flavor from the chocolate out! This is totally optional but OMG so so encouraged!

Combining the Ingredients

: Typically when making any cookie recipe I had to take out my hand mixer or stand mixer which is typically the most cumbersome part for me. This recipe does not use any mixers! Just a whisk and a spatula! For me this was the best part. Minimal clean-up and equipment is a win for any busy mom…especially when you are on batch 3846 of chocolate chip cookie testing.
To Chill or Not to Chill: So many recipes that I used asked to chill the dough before baking. Let's be frank here, if it is a Friday night and you decided to make cookies with the kids, how happy are those kids going to be if you ask them to wait 20 minutes for the dough to chill. Not happy guys, I say that because I have done it… So when you have a dough that goes from the bowl stray to the tray it makes mom's life that much easier.

Parchment Paper vs Silicone Mats

: I liked baking the cookies on silicone non-stick liners. The ones I own actually have little marks on them so you can have perfect placement of the cookies. That being said there is nothing wrong with parchment paper…I just ran out after my last batch…typical I know.

Flaky Salt

: Do I think this is slightly boujee? Perhaps…but if you are serving this to adults that slight add off flaky salt really takes it to the next level!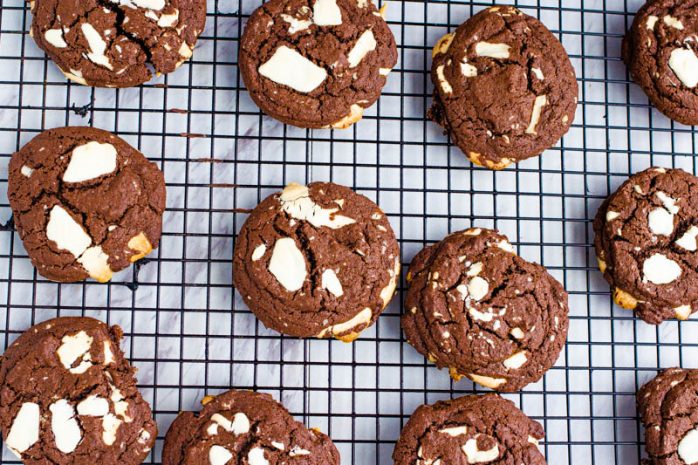 Other Add-ins and Options
Truly this recipe has become such an easy one for me to whip up…it will now serve as a base for all other recipes. With just a few replacements I can change the entire cookie! And the fact that I do not need to bust out a heavy stand mixer or even a hand mixer makes this recipe doable even on a Tuesday night… which also makes it quite dangerous!
Here are a few favorable add-ins that I think will make these cookies even more phenomenal!
Nuts:

Obviously nuts are highly encouraged! Walnuts would be absolutely fantastic. As would some macadamia nuts. Because then…well then you have a white chocolate macadamia nut cookie…and that just gave me another idea 🙂
Dried Fruits: Don't underestimate the magic of dried fruits. Some dried cranberries or tart cherries would be absolutely marvelous in here!
Swap Out the Chocolate: Feel free to use milk chocolate, dark chocolate or even chocolate candies! Use chips or crumbles! The world is your oyster…or cookie 🙂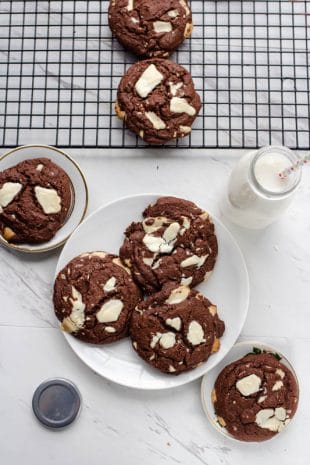 When my munchkin was little she loved it when I made these cookies for her 🙂 Eating the cookie dough and all!
Print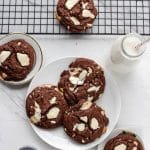 Double Chocolate Chip Cookies
---
Description
These Double Chocolate Chip Cookies are the gooiest most chocolaty cookies ever!!! Filled with white chocolate chunks!  These double chocolate chip cookies are the ultimate cookie for ANYONE!
---
1½ cups

all purpose flour

1/3 cup

good cocoa powder

1¼ tsp

Kosher salt

¾ tsp

Baking Soda

¾ cup

Unsalted Butter (

1.5

sticks of butter)

1 cup

Dark Brown Sugar (packed)

¼ cup

Granulated Suger

1

Large Egg

2

Large Egg Yolks

2 tsp

Vanilla Paste or Extract

6 oz

White Chocolate Chunks
Flaking Salt (For finishing)

2 tbsp

Brewed Strong Coffee or Espresso 
---
Instructions
Place racks in upper and lower thirds of oven; preheat to 375°.
Whisk flour, salt, cocoa powder and baking soda in a small bowl; set aside.
Cook ½ cup (1 stick) butter in a large saucepan over medium heat, swirling often and scraping bottom of pan with a heatproof rubber spatula, until butter foams, then browns, about 4 minutes. Transfer butter to a large heatproof bowl and let cool 1 minute. Cut remaining ¼ cup (½ stick; 56 g) butter into small pieces and add to brown butter (it should start to melt but not foam and sizzle, so test with one piece before adding the rest).
Once butter is melted, add both sugars and whisk, breaking up any clumps, until sugar is incorporated and no lumps remain. Add egg and egg yolks and whisk until sugar dissolves and mixture is smooth, about 30 seconds.
Whisk in vanilla and coffee or espresso if using. Using rubber spatula, fold reserved dry ingredients into butter mixture just until no dry spots remain, then fold in chocolate (the dough will be soft but should hold its shape once scooped; if it slumps or oozes after being scooped, stir dough back together several times and let rest 5–10 minutes until scoops hold their shape as the flour hydrates).
Using a 1½-oz. scoop (3 Tbsp.), portion out 16 balls of dough and divide between 2 parchment-lined rimmed baking sheets. Bake cookies, rotating sheets if cookies are browning very unevenly (otherwise, just leave them alone), firm around the edges, 8–10 minutes. Let cool on baking sheets. (PLEASE REVIEW NOTES ON HOW TO TEST FOR DONENESS)
Notes
Recipe can be made up to 3 days ahead of time and sealed in air tight container.
To freeze the dough: Scoop out the dough.  Package and freeze: Wrap the disks in plastic or wax paper and transfer to a plastic freezer bag or other freezer container. Press out as much air as possible, label the bag, and store in the freezer for up to 3 months.
OVENS!!!! Every single oven cooks differently!  My convection oven at home makes them in 11 minutes.  My convection oven at the commercial kitchen baked them in 8 minutes! Start with 8 minutes and check the edges.  The best sign of doneness is that the edges are starting to get crispy!  
Category:

Cookies

Cuisine:

American