Peanut Butter and Jelly Overnight Oats
Breakfast will never be forgotten again with these Peanut Butter and Jelly overnight oats!  Full of fiber, protein and pure deliciousness, this is one breakfast that the whole family will enjoy.
I am not one for food trends.  Even as a food blogger, I never jump on the bandwagon of the crazy trends bombarding my Pinterest and Instagram feeds.  It seems too generic for me and just because I am a little stubborn rebel I will not cave in and follow the trends.
I am unique.
Naturally, a great deal of the time, I will try the trends out when the craze has passed.  And most of the time I am quite please that I actually did so.  Because, truth be told, it is pretty tough for something to gain so much popularity and Pinterest mobility without it actually tasting relatively good.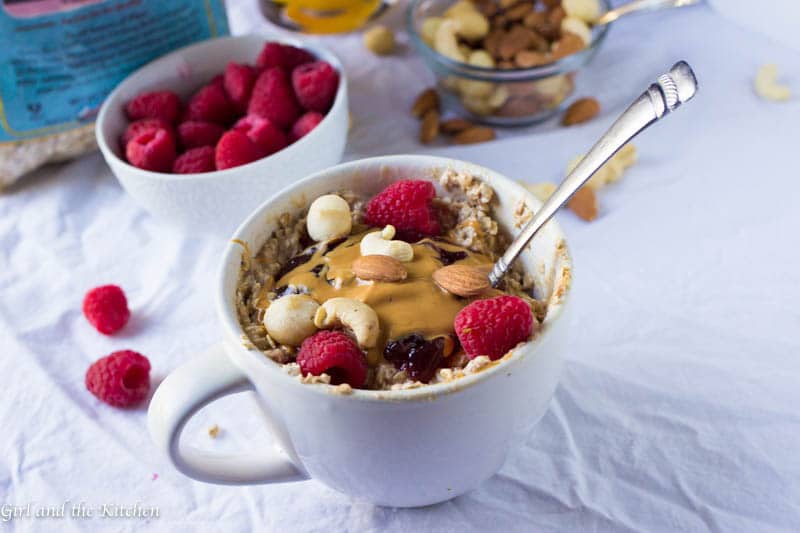 For years I have been eating oatmeal for breakfast.  I have made my Strawberries and Cream Oatmeal for quite some time.  It was the perfect breakfast for me.  It came together in minutes and it just so happens that oats are an incredibly versatile whole grain that are rich in dietary fiber and can help reduce cholesterol.  Any breakfast that is so darn filling, easy, delicious and healthy for you are a definite win in my book.   I didn't need any Pinterest, Instagram or Facebook feed to tell me how awesome oatmeal was. I already knew.
I had been buying steel cut, instant and rolled oats for ages at this point.  And I always found that they were the best quality with the least amount of processing.  In fact, all Bob's Red Mill oats are kiln roasted to give them that wholesome flavor you come to expect from our oats.
A year or so ago, I noticed that my Pinterest feed was blowing up with something called, overnight oats.
"Yuck, that's disgusting" I thought as I looked at the overflowing mason jars of oatmeal and brightly colored fruit.  Essentially, anything in a mason jar is #trending.  I always thought mason jars were used to can items but no, leave it to the bloggers and Pinterest mavens to turn anything that looks vintage and funky into a trend.
Anyhow…it took me quite some time and a surplus of Bob's Red Mill oats to finally create these so called overnight oats.
Being the little rebel that I am…I wanted to hate them.  I wanted them to be a #epic fail.  But…they were not.  They actually rocked!
It was so perfect!  I simply spooned them out in the morning, garnished with some more fruit and put it in a to go cup for myself and then another one with extra strawberries for the munchkin to eat in the car on the way to daycare.  I knew I scored a real winner when out of the back of the seat, the munchkin made lip smacking sounds with a mouth full of oats and happiness exclaiming to me how delicious this was.  Indeed munchkin.  Indeed.
We experimented with loads of flavors.  Sometimes sticking to simple basics like chia and strawberries.  Other times something more fun like peaches and cream with pecans.  But my personal favorite happened to be a divine peanut butter and jelly over night oats that had my name written all over it.  It was mildly salty and perfectly sweet because of the homemade jam I put in there.  And I added a few nuts for crunch and some fresh berries to finish it off.  Have. Mercy.  This is GOOD.
Oh and vegan.  This is ALL vegan guys.  Totally and happily dairy free 🙂
So what did my little rebel self learn?  Well for starters not ALL trends are bad and sometimes…Just sometimes…it's worth it not to be a rebel and actually give new things a fair taste.
If you are a huge fan as I am of Bob's Red Mill Oats, then feel free to use this coupon they have so kindly provided for us!
Print
Peanut Butter and Jelly Overnight Oats
---
Author:

Total Time:

5 minutes

Yield:

4

1

x
Description
Breakfast will never be forgotten again with these Peanut Butter and Jelly Overnight Oats! Full of fiber, protein and pure deliciousness, this is one breakfast that the whole family will enjoy.
---
1 cup

rolled oats or instant oats

1 cup

vanilla almond milk (unsweetened)

1/2

a cup vanilla soy yogurt (feel free to use coconut, almond of Greek yogurt)

1/4 cup

creamy natural peanut butter

1/4 cup

strawberry jam (I prefer my babushka's)
berries to garnish
nuts to garnish
extra peanut butter to garnish
extra jam to garnish
---
Instructions
Add oats, milk, yogurt, jam and peanut butter to a mason jar or tupperware container.
Mix everything up and place into the fridge overnight or for 6-8 hours.
Place a tablespoon of peanut butter in the microwave for 10 seconds.
Drizzle melted peanut butter on top along with another tablespoon of jam before serving.
Top with nuts and berries and enjoy!
This can be enjoyed either warm or cold! It's always delicious!
Notes
The nutritional information is to be used for information purposes only.
Prep Time:

5 minutes

Category:

Breakfast

Cuisine:

American
I was selected for this opportunity as a member of Clever Girls and the content and opinions expressed here are all my own.
Pin For Later