Nothing is better than candied apples…except eating them without making a mess.  With my Halloween Candy Apple Pops you get all the flavor and the fun and none of the mess! Plus the kiddos love making and eating this healthier snack.
I have not been one for Halloween treats.  I am not one of those crafty moms so those fun and artistic looking treats were never my thing.  But as my munchkin gets older, I realize how much fun she has being in the kitchen with me…and how much fun I have sharing that special time with her.
So while scrolling through FB one day I came across one of these incredible treats that for the first time ever I KNEW I could make.
I have personally always loved caramel apples and the flavor of these tangy apples and caramel mixed with chocolate.  However, those were some impossible suckers to eat.  Biting a huge apple covered in caramel was no easy feat.
Enter these adorable apple pops.
These pops were such a blast to make!  The munchkin and I made them together first and her face lit up when I told her she got to EAT and PLAY with the chocolate.  We dipped the apples and decorated them in all sort of candies and sprinkles and she continuously thanked me and kissed me for such a fun activity.  She totally and completely warmed my heart and convinced me that no matter the age…and no matter how much chocolate you end up getting on the counter…and the floor…and in your hair…and on your face…it's all worth it.  It just is.
I had promised my 8 year old niece Zoe that we would do one of my now famous "Facebook Live" together.  Naturally, Zoe had very intricate plans for us.  But I had convinced her to make these fabulous little apple pops.    Thankfully she was in agreement with me.
It was one of my most commented on Facebook Live's because Zoe proved to be such a little rock star.
This happened to be one of my favorites.  Full of the multicolored sprinkles and look at that shiny chocolate.  Plus they are so much easier to bite than those gigantic caramel apples.
The awesome part about these treats is how versatile they are.  Here are just a few of the fun things you can use to make your apple pop decorating fun:
M&M's
Caramel
Sprinkles
Pretzels
Crumbled Oreos
Crumbled Snickers, Twix or any other candy bars
Nuts
Nutella
Peanut Butter
Mini marshmallows
My personal favorites were the ones with dark chocolate, caramel and pretzels.  Those are every dieters nightmare.  Salty, sweet and crispy.  But hey how often do we get to make apples as awesome as these?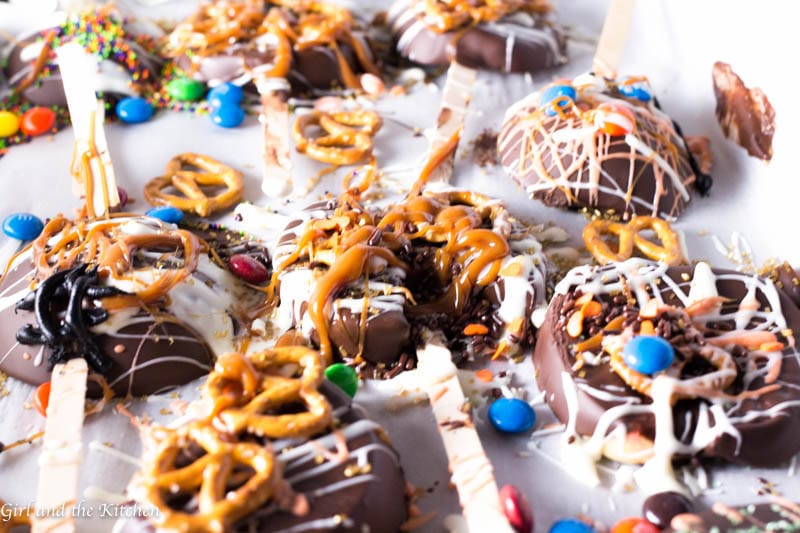 Halloween Candy Apple Pops
Nothing is better than candied apples...except eating them without making a mess. With my Halloween Candy Apple Pops you get all the flavor and the fun and none of the mess! Plus the kiddos love making and eating this healthier snack.
Print Recipe
Ingredients
1

cup

large semi-sweet chocolate chips

1

cup

white chocolate chips

divided

2

tbsp

coconut oil

divided

2

large apples such as Granny Smith or Honey Crisp that have some tartness to them

Caramel sauce

for drizzling*

Crushed Pretzels

sprinkles

M&M's

Gel food coloring

popsicle sticks
Instructions
Line a baking sheet with parchment paper.

Melt the chocolate in either the microwave or over a double broiler in on the stove. If doing so in microwave, melt them in 30 second increments stirring in between each time.

Once the chocolate is melted add in 1 Tbsp of coconut oil into each cup of chocolate chips.

Split the white chocolate chips into two batches and color one orange or any other color you prefer.

Wash your apples and place apples upright on a cutting board. Cut the apples into 1/2" to 3/4" slices.

Carefully slide the popsicle sticks right through the bottom and until they are nice and stuck.

Dip the apple pops into the dark chocolate and place on the sheet pan fitted with parchment paper. Cool in the fridge for 10-15 minutes until the chocolate has set.

Drizzle with caramel, white chocolate, colored chocolate and decorate as necessary.
Notes
1. I bought the little
Kraft Caramel Bits
and melted them CAREFULLY in the microwave. Be careful, very similarly to oatmeal these will blow up. Just melt them in 15 second increments and stir as you do so. You can also melt them in a pot over a low flame on the stove.
2. The nutritional information is to be used for information purposes only.
Nutrition
Calories:
304
kcal
|
Carbohydrates:
31
g
|
Protein:
2
g
|
Fat:
19
g
|
Saturated Fat:
12
g
|
Cholesterol:
6
mg
|
Sodium:
22
mg
|
Potassium:
240
mg
|
Fiber:
2
g
|
Sugar:
26
g
|
Vitamin A:
0.9
%
|
Vitamin C:
2.7
%
|
Calcium:
6.1
%
|
Iron:
8.5
%