Print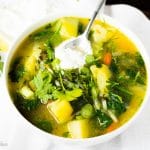 Russian Green Chicken Soup...Зеленый борщ
A hearty Russian style chicken soup loaded with tons of fresh herbs and veggies! Perfect for the spring time when all the fresh greens start popping up and we still need some warm comforting soup.
Add chicken and water to a large pot. Allow for it to come to a boil and skim all the foam off the top.

Once the broth is clear and no more scum comes up then add in the onions and the carrots.

Allow this to simmer for 15 minutes then add in the potatoes and the rice.

Once the potatoes are ready, add in scallions, dill, parsley and the spinach.

Incorporate everything in and add in salt, pepper and lemon juice. Taste and adjust accordingly.

Serve with sour cream and delicious sour dough bread.
I have rarely seen sorrel in the stores so I have to use baby spinach. If you can find sorrel, of course use that instead of the baby spinach and just remove the lemon.
I use Yukon Golds because of their similarity to the potatoes we had back in the motherland. Plus they tend to be creamer and add to the beautiful golden richness of the broth.
This broth will not produce a lot of "scum" aka the coagulated blood and proteins that come off the "first boil" of the soup. Since we are using bone in chicken breasts and not the dark meat there will be far less scum coming off the chicken.
Nutrition Facts
Russian Green Chicken Soup...Зеленый борщ
Amount Per Serving (1 g)
Calories 268
Calories from Fat 72
% Daily Value*
Total Fat 8g 12%
Cholesterol 57mg 19%
Sodium 91mg 4%
Potassium 823mg 24%
Total Carbohydrates 24g 8%
Protein 23g 46%
* Percent Daily Values are based on a 2000 calorie diet.