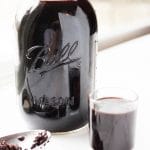 Print
How to Make Elderberry Syrup in the Instant pot
This recipe for elderberry syrup calls for the magic of the Instant Pot. In just a few short minutes and some yummy ingredients you will have a super tasty immune boosting mixture that is perfect for these awful flu filled months!
Place elderberries, water, cinnamon sticks, ginger and vanilla into an Instant Pot.

Zest the orange and the lemon. Juice the lemon and orange. Throw the remaining orange and lemon into the pot after juicing. As it cooks, it will melt down and all the parts of the fruit will flavor the syrup.

Seal the Instant Pot and set it to "MANUAL" on "HIGH PRESSURE" for 7 minutes.

Once the timer goes off, set the valve to "VENT" and strain the mixture into a sieve over a bowl. Squeeze the mixture through the sieve with the back of the spoon until no more liquid comes out. Discard the remaining berries and citrus.

Once the syrup has cooled to room temperature add in your honey. Feel free to add in more if you require more sweetness.

Pour into a refrigerator safe container. Drink each morning to boost your immunity!