Print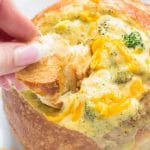 Copycat Panera Broccoli Cheddar Soup
My version of the ever so popular Panera Broccoli Cheddar Soup is loaded with flavor and comfort galore but comes together in just 30 minutes on your stovetop! Plus I have a nice tip to decrease the calories and still keep the flavor!
I started out with 2 tbsp of butter in my large dutch oven and 1 large chopped onion plus two medium carrots, shredded.

I seasoned them with salt and pepper and let them sweat for a bit. No need for color remember that, just get those juices flowing!

Once they are all nice and translucent sprinkle in about 1 tbsp of flour. And toss it with all the veggies.

Let the flour cook out for about 1-2 minutes and then add in your half and half mixing as you do so. Now I made mine with almost ALL half and half. Feel free to make it with some chicken stock for a lightened up feel to it. You can also use skim milk, lowfat milk etc. But I really wanted it to be nice and creamy.

Then add in about 4 cups of broccoli florets, salt, pepper and some fresh grinds of nutmeg. The nutmeg makes ALL the difference. Now just let it simmer over medium heat until your broccoli is nice ant tender, about 20 minutes.

Now at this point you have two options. You can leave it as is or puree it with a stick blender or a blender.

Now comes the fun part. The cheese. I used really great Cheddar cheese here. But you can use whatever cheese you like. Be as creative as you want! But I like the sharpness and creaminess Cheddar cheese gives this soup.

Then just mix it in. Simple as that.

I kind of want to dive right in there....IF it's too thick, then thin it out with some milk.

IF you want it a bit more rich, add a few splashes of half and half.

Serve with bread bowls or in regular bowls with cheese on the side for sprinkling.
1. Feel free to use milk instead of half and half.
2. Make sure you use the Sharp cheddar it really does a lot for the flavor.
3. This soup freezes beautifully so make a double batch and freeze!
4. The nutritional information should be used for informational purposes only.
Nutrition Facts
Copycat Panera Broccoli Cheddar Soup
Amount Per Serving
Calories 369
Calories from Fat 252
% Daily Value*
Total Fat 28g 43%
Cholesterol 89mg 30%
Sodium 258mg 11%
Potassium 544mg 16%
Total Carbohydrates 17g 6%
Protein 11g 22%
* Percent Daily Values are based on a 2000 calorie diet.