These one pot roasted chicken thighs are ridiculously simple and so delicious!  They are roasted until golden brown in a delicious Cajun red wine sauce!    
Sometimes getting dinner on the table is not as easy as I would like it to be.  So I have a few recipes that are my go to that can cook in the oven while I run after my rambunctious  toddler.
I actually did not create this dish all on my own so I cannot take credit for it. I came over to our friends house on a Saturday afternoon to take my girlfriend shopping with me. As I entered the house a smell permeated my nose that I can only describe as roasted goodness.
About 2 years ago I came over to our friend Alex's house to pick up his wife for some shopping escapades with me.   Alex was making lunch for his twin boys.   I smelled the chicken cooking in the oven immediately and started salivating.  I saw him open the oven, pour in wine into the roasting pan and shoved it back into the oven. When he offered me some, I gladly had three drumsticks along with his twin boys.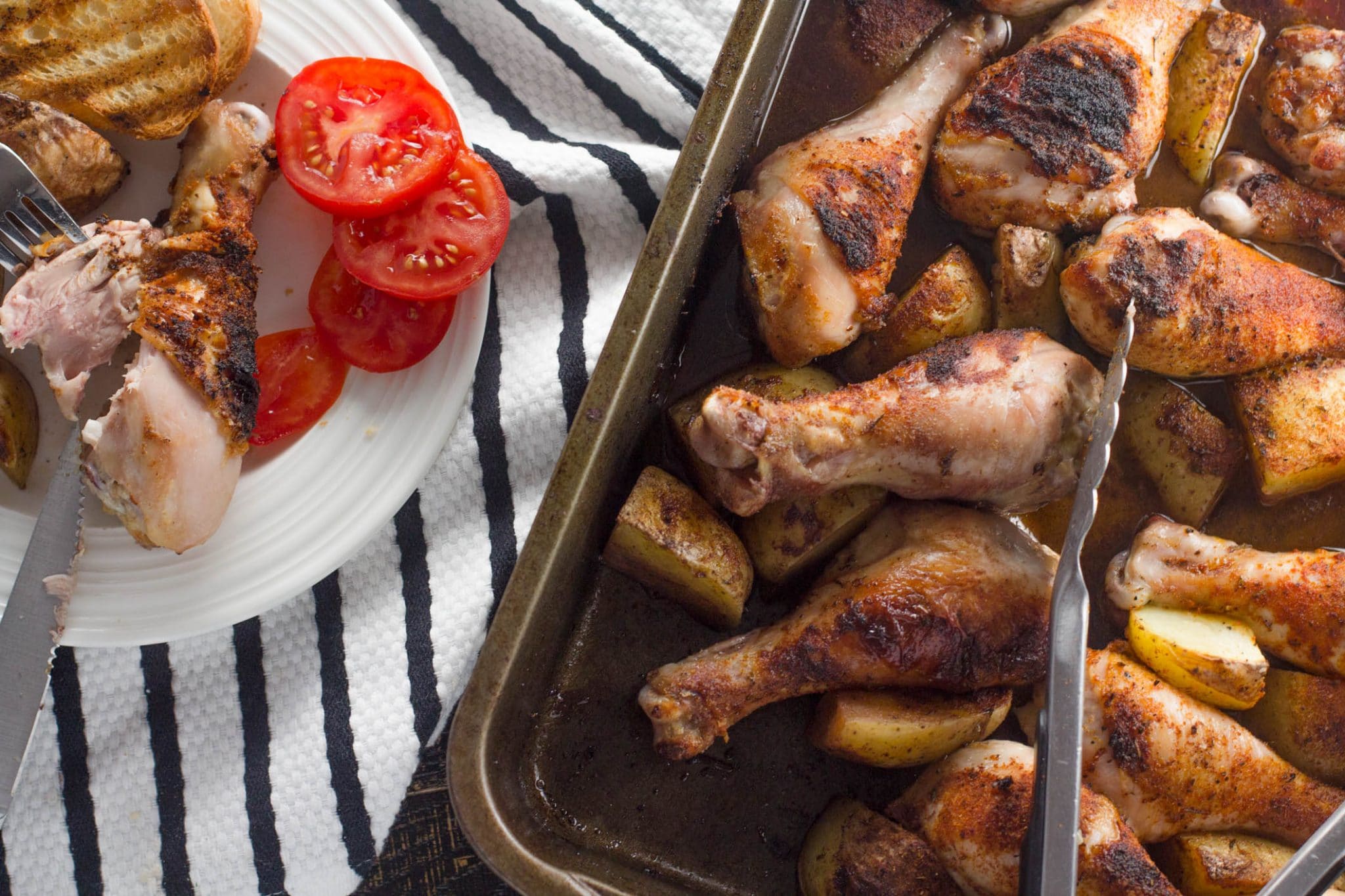 "Wow this is really good!" I said to him.
"Yea? You think so?" He asked me rather surprisingly… He then gave me a little cocky smirk and walked away. Nice. Give men one compliment and they are suddenly the Iron Chef.
The one thing I added to this recipe is potatoes.  Because, well, I LOVE POTATOES.  And these little babies…mmmmmm.  They soak up all that spectacular wine and they are even better the second day.  Honestly I may have to come up with a recipe that is JUST wine soaked potatoes.
One Pot Wine Roasted Chicken Thighs with Potatoes
These one pot chicken thighs are ridiculously simple and so delicious! They are roasted until golden brown in a delicious Cajun red wine sauce!
Ingredients
3

pounds

of chicken thighs or drumsticks or both

3

tbsp

Cajun seasoning of choice

3

tbsp

garlic powder

2

Pounds

Yukon gold potatoes

quartered

Salt and pepper to season

1

cup

of a good red or white wine

Olive oil or pan spray
Instructions
Preheat oven to 450-degrees

Season chicken and potatoes with Cajun seasoning, garlic powder salt and pepper on both sides.

Spray a pan with high sides (foil pan is fine) with pan spray or oil down with olive oil.

After the chicken had been in the oven for 20 minutes, add wine on the bottom of the pan. Cook for 10 more minutes or until juices in chicken run clear.*

Plate chicken and potatoes with some of the pan and wine drippings in the pan. Enjoy!
Notes
Sometimes the chicken is done before the potatoes. Just remove the chicken and let the potatoes cook for a bit longer.
BY THE WAY: This recipe is also posted at Southern Fairy Tale Mouth Watering Mondays!