I cannot believe it's been two weeks since I shared my faves with our readers!!! Good lord, time flies in the sun…
Yes, I was in the beautiful country of Jamaica for 10 sun-filled, glorious days.  I cannot say I didn't love it…I have been there 4 times…I will go 44 more.  And I am seriously considering dedicated an entire post on my love of the country filled with places to go and amazing things to see.
***LET ME KNOW IN THE COMMENTS IF THIS IS SOMETHING YOU WOULD BE INTERESTED IN***
But now that I am back to the polar tundra we have come to know as Chiberia…I am glad I have some awesome foods to distract me from the craziness outside.  As I write, there is a snow storm of sorts happening outside my office window, causing all sorts of chaotic traffic conditions.  Yay!  Fun drive home for me!
Oh well…
While I was gone much stayed the same.  However, we did get a new logo up in here!
Yup…we are now accepting your DIY's and your recipes in case you didn't know!
Have you joined our Group board on Pinterest yet? We would love for you to join us! You are welcome to pin anything you share with us at the party, as well as up to 10 posts a day. Your pins do need to be food or DIY related though (crafts, tutorials, and organizing is fine).  The rules are listed on the board.
If you'd like to be added, please follow the board above, as well as all of the hosts of this party (see below).
Mila at Girl and the Kitchen
Michelle at A Dish of Daily Life
Christie at A Kitchen Hoor
Petro at The Seaman Mom
Christine at Curried Cantaloupe
Jenny at Honey & Birch
Then fill out the information on this Google doc, and you will be on your way to joining us!
We also now have a Facebook Community, which is growing. This is a place you can promote your recipes and projects, and we're offering multiple boosting threads a week. If you are interested in joining us, please fill out this Google doc.
So onward we go to some heavenly yums!
I haven't made scones in quite some time…years actually.  But I secretly LOVE them.  And somehow I do always end up having extra bananas with loads of brown speckles collecting fruit flies on my counter by the weekend.  Christine's Nutty Banana Bread Scones just may be my answer…and she said I don't even have to cut them out!  Score! Perfect for a quick Sunday morning treat!
I'm a sucker for brightly colored food!  So when I saw this beautiful Tikka Masala from My Natural Family…I knew it would be a keeper 🙂 Especially since I am a huge fan of cooking it up myself!
Have I mentioned that I love pasta?  No.  You cannot recall?  Let me remind you… I LOVE PASTA…I like a whole lot!  And I really love it when it's coupled with gooey cheese and a savory meat sauce.  Kind of like these world's greatest lasagna roll-ups from Pink When.    Yup.  Loving.  Pinning.  Making.
Mmmmmm.  Salted Caramel. Mmmmm Biscoff.  These two magical flavors come together in the form of crepes in these salted caramel crepes with a Biscoff cream filling. Nuff said right?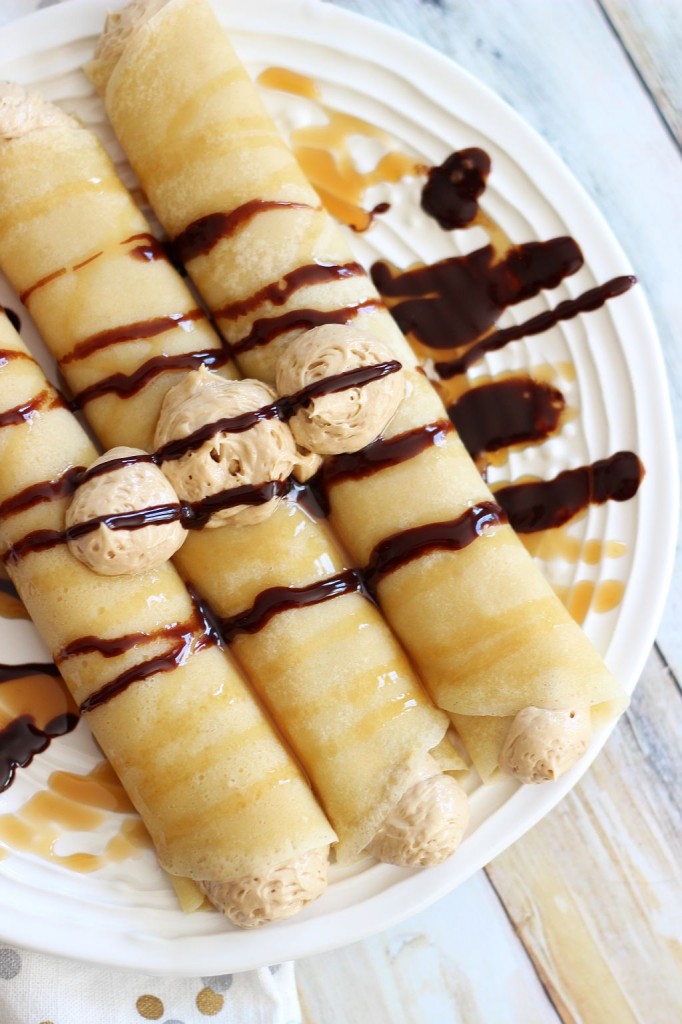 And in the event you need some tartness and crunchiness in your life… I think that these Berries and Cream Merengue nests will do the trick nicely!
Let's get a linking shall we!?
[inlinkz_linkup id=500158 mode=1]